Next in our series about Philly's changing public spaces, Ashley Hahn explores the Discovery Center, a new environmental education center opening September 28 in East Fairmount Park. What will it take for the Discovery Center to grow into an ecosystem where diverse communities intersect in nature?
Look at a map of Strawberry Mansion and X marks no spot. But there it is – a large, oddly shaped body of water in the middle of East Fairmount Park. To find it, a few directions: From Reservoir Drive, walk 250 paces up a gently sloping hillside, heading west from the parking lot near the Oxford Street basketball courts. The path will be lined with ferns and native flowers. A wall, nearly 500-feet long, of char-black wood boards will give way to panels of slender cedar planks, smooth as a ship's hull, tilting toward a deep threshold. The entrance is guarded by a set of metal gates.
Over the last year, this low-slung black structure with a glass and wood tower punctuating one side has risen on the hill across Reservoir Drive from Smith Memorial Playground. It looks as though an experimental spacecraft might have tucked itself into the hillside, almost windowless and hugging the terrain. Just beyond it is a series of platforms, ropes and cables giving the feeling that a pirate ship might have run aground here, too.
Neither UFO nor Black Pearl, but these structures cut a striking profile in the landscape and are designed for exploring a long-lost neighborhood treasure.
Walk through the gated portal and you enter a Strawberry Mansion Shangri-La, a 37-acre lake that has been secured behind chain link and barbed wire for nearly five decades. You have ascended to a peaceful idyll that might seem a more fitting finish to a Pocono hike than a walk in North Philadelphia.
In this serene spot, it feels possible to shed the familiar things you've just passed to get here — the park landscapes and landmarks, the bustle of 33rd Street, the density of rowhouse life all seem to disappear. On the trail that circles halfway around the lake, the songs of crickets and cicada replace the hum of cars. But look back across the lake, through a clearing, and you see part of the city skyline above the tree line.
The lake is technically the West Basin of the East Park Reservoir, a 130-year-old man-made piece of city water infrastructure that has been out of service since the 1970s. Since then, minimal human disturbance has let this landscape turn into a rich urban oasis for wildlife, particularly for native and migratory birds.
The new black building is the Discovery Center, the result of an unusual marriage between the National Audubon Society (Audubon Pennsylvania) and the Philadelphia Outward Bound School, where a strategic self-interest overlaps with a powerful public good.
For older Strawberry Mansion natives, the reservoir is a paradise lost.
As Strawberry Mansion CDC's executive director Tonnetta Graham likes to tell people, "The Discovery Center may be a new discovery for you but it's a re-discovery for us."
It is a place neighbors of a certain age miss, and younger ones have entirely missed out on. Those old enough to remember the reservoir also remember that it was closed not just because of the city's declining population – we didn't need all that water anymore – but due to drownings.
On September 28, the center's heavy gates will swing open, and the reservoir will become publicly accessible again. But it's not yet clear what kind of habitat the Discovery Center will become.
Healthy ecosystems require balance, where differences are supported by interaction and ultimately interdependence. The Discovery Center will need to balance the needs of the two outdoorsy, private nonprofit groups who built it — both nonnative species with their own respective, public-oriented missions and cultures and communities to serve — with the desire of Strawberry Mansion natives to reclaim the reservoir for the neighborhood's enjoyment, too.
The new environmental education facility, which cost $11 million to construct, has the potential to become a piece of valuable civic infrastructure, to become the kind of place where people from across the city and region meet and share experiences. But it also risks joining the ranks of park assets, managed by public-facing private nonprofits that cater to niche audiences, of questionable relevance to the neighborhood where it stands. Neighbors just don't want to lose the reservoir twice.
Paradise lost
Ask Strawberry Mansion residents, now in their 50s or older, what they remember about the reservoir and they begin with the neighborhood high school's track team running laps around its perimeter. They also share more personal memories of childhood days roaming East Park, splashing in its creeks, tromping in the woods, or maybe even filling jugs of water from the park's springs. The section of East Park, just across 33rd Street from Strawberry Mansion's tight-knit rowhouse blocks, was for family picnics, early experiences in nature, even a first kiss. It was room to roam free.
Sitting at her kitchen table on the 3200 block of West Oxford Street, Linda Strum-Copeland, 58, tells me about growing up a couple of blocks down Oxford from the park entrance nearest to the reservoir. The youngest of six, she was a tomboy who spent long summer days in the park. "I was the dirtiest little kid — clean going, dirty coming back," she recalled of days at Smith Playground or ambling the reservoir's steep edge with her siblings. They liked to play just above the reservoir's driveway, paved with silvery blue bricks. "It was almost like our own secret spot," she said. "We never felt scared or unsafe."
Across the street, sisters Sandy and Laura Horsey are home health aides in the house next door to the one where they grew up. Sitting here, in Sandy's house, they reminisce for my benefit, fleshing out each other's childhood memories of growing up half a block from the park entrance.
Laura, 61, remembers sitting out on the stoop as a family, dreaming up stories about the park's imaginary inhabitants, or slow-cruising it with their father, its curving roads lolling them to sleep. The park was for flying kites and nature. "It was for the moon and the stars, the sun and the sky," she said.
Sandy, 60, had her daughter as a young teenager and remembers how isolating the experience was. She loved her child but felt so alone; sent to a separate school, judged by her family and peers. The park was her refuge.
"I remember going around the reservoir, with the sun beaming on me, and all of the nature that it was, and the solitude that it was. I felt like I was gaining God's acceptance. I remember the feeling to this day – like all of a sudden it was alright to be me," she said.
It's a story she'd shared at a recent community meeting about the Discovery Center. She said before that evening, she hadn't ever said it out loud.
For so many neighbors, the reservoir holds memory as much as water. And collective memories like these contribute to a powerful sense of neighborhood identity, tied to a place.
Audubon and Outward Bound built the Discovery Center on public property, but also in this delicate space of hazy-gold childhood experiences and deep personal connections. To a person, neighbors who remember the reservoir are excited to get to know it again, ready to for new experiences and memories made there. Many just want basic, regular access to the space – not all that different from how it was used in their past.
Strum-Copeland says she wants to go enjoy the view of the reservoir and hopes neighborhood children can have as much fun learning and exploring there as she did as a child.
Judith Robinson, 61, a real estate agent and neighborhood activist, recalls having total freedom to roam the park. Growing up nearby, she says she took full advantage of all of its rich amenities. "I knew nothing about being poor, not living near a park," Robinson told me as we took a neighborhood walk this July.
Much as she can see herself using the reservoir as a peaceful space to decompress or get in her steps with the neighborhood's We Walk PHL group, she imagines taking her bird-loving young grandson to an Audubon program for kids. To her mind, the biggest gains could be for the black and brown kids of North Philadelphia. The center offers a chance to experience scientific wonder without leaving the neighborhood, connecting Strawberry Mansion to a much bigger world of opportunity. She is adamantly hopeful that local science teachers will incorporate the Discovery Center into their lessons.
"I understand what it means to have a park in your backyard – all kinds of possibilities."
Habitat found
On a steamy late-summer afternoon, Strawberry Mansion's lake reflects streaky clouds, stirred only by a slight breeze. Chimney swifts, small migratory birds that winter in the Amazon, swirl in the distant sky. Katydids sing as we walk the grass trail, along the fence line following the lake's edge. Four Double-crested Cormorants splash off a log, swimming away after noticing our presence on the trail. I recognize any of this happening because my guide is Keith Russell, Urban Conservation Program Manager for Audubon Pennsylvania.
Russell, a lifelong Philly birder, can tell the sounds of a Red-eyed Vireo from a White-breasted Nuthatch (both of which we see) as easily as you'd know the difference between Cardi B and Cher. Perceptive and soft-spoken, Russell started birding at the reservoir at 16, and has continued throughout his career as an ornithologist. He picks up bird calls as we walk, peering through binoculars and describing the birds in residence at this late summer moment.
"It's really an oasis," Russell said as we stroll, the right speed for observation, but also the way you might step when a place isn't yours alone. "It's so peaceful, which is a quality we should preserve as much as possible."
That's an appreciation neighbors and birders share about the reservoir landscape. But even something that sounds so simple is complicated by the intersecting needs of Audubon, Outward Bound, and public access at the site. And until it opens, no one knows quite how it all will work together.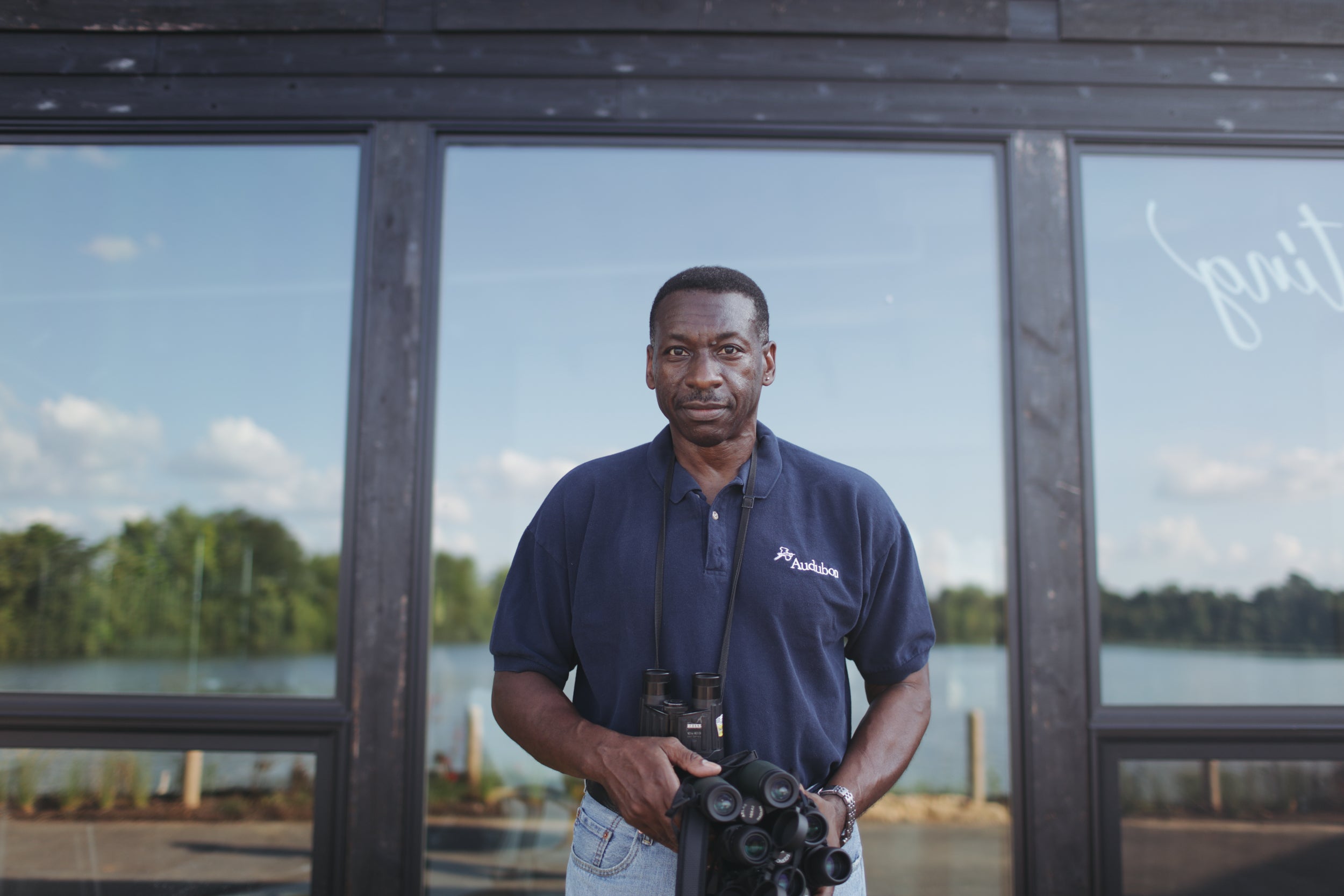 Visitors will be allowed into the center and to walk the lakeside trail from 10 a.m. to 4 p.m., Wednesdays through Sundays, from May through October. Through the winter, the center and trail will be open Thursday through Saturday. Birders will want quiet hours at dawn and dusk to do outdoor observations. In between, Audubon will offer workshops and classes and Outward Bound will lead boisterous crews on its impressive challenge course. Visitors heading out on the trail may pass groups on the Outward Bound course, which presents its own set of potential challenges. Everyone hopes it will be a place that buzzes with activities. They are cautiously optimistic that the space will allow everyone enough room to move without tripping over each other.
As we walk, Russell shows me where Student Conservation Association crews, including some neighborhood teens, removed invasive plants and tagged trees along the trail this summer. Encouraging native plants supports an array of insects that feed the birds, Russell explains. The Discovery Center, he hopes, will be a place where people will learn about the natural systems around us, bringing city dwellers closer to what he calls "the web of life." He thinks a lot of good can come from closer contact with nature, appreciating instead of fearing the complex world we share.
"You have to have dreams," he said, smiling gently. In a way that's entirely how the Discovery Center came to be.
Urban habitat might not be what you think of when you imagine wildlife conservation, but that's what Russell focuses on. Starting in 1987, he organized a volunteer-powered, mid-winter bird count in the city, including at the reservoir. Some birders wrote the city off as viable habitat, but these counts prove otherwise. Fed by rain and snow, the reservoir is relatively pure for an urban waterway, and left undisturbed it became habitat for both native and migratory birds traveling the Atlantic Flyway. To date, 178 different bird species have been documented there.
When the Water Department started draining the West Basin of the reservoir in the late 1990s, Russell used these counts to help persuade the department of the reservoir's significance as wildlife habitat. It worked, but the reservoir water level had been dropped from about 20 feet to 8 feet, where it remains today. That's when the first serious conversations about the reservoir's next chapter began.
The near-loss brought naturalists, Audubon Pennsylvania, and Strawberry Mansion residents together, recognizing a mutual interest in the reservoir. They began talking about renewing some kind of public access to the site. The vision evolved, over time, from basic access to a public nature center where Audubon could research and teach. In 2006, Russell joined Audubon's staff. But by 2008, facing tough fundraising headwinds due to the Great Recession, Audubon's plans to build a nature center looked dead in the water.
Meanwhile, just down the hill from the East Park Reservoir, the Philadelphia Outward Bound School was struggling with the challenges of success. When Outward Bound moved into the historic Sedgley Porter House in 2002 it was a younger, smaller organization, serving about 250 Philadelphia school children. By 2008 it had 10 full-time staffers, serving 3,500 students, and had totally outgrown the small building. (Still in that space, bursting at the seams, it served 6,000 Philadelphia students last year.)
In late 2008, Audubon shared its plans for an environmental center at the reservoir with Outward Bound, which was looking for room to grow. The organizations quickly found enough common ground to pursue the center jointly. In 2014, the project secured an initial 30-year lease after satisfying the public process, environmental assessment, and alternatives analysis requirements under the city's 2011 Open Lands Protection Ordinance, designed to protect public parkland. Under the terms of the lease, Audubon and Outward Bound pay the city an annual rent of $1, and paid a one-time $5,000 fee. The center must also abide by a 2013 public access plan requiring that programs be well-publicized, educational, and public-oriented, and that the center maintain hours for public visitation.
Through a decade of partnership they established and built the new center, collectively raising $18 million toward the project, primarily from private sources, including $1 million given as part of the $11 million Reimagining the Civic Commons grant package from the John S. and James L. Knight and William Penn foundations. [Disclosure: Both foundations provide grant support to WHYY. This series is supported by a grant from the Knight Foundation.] The $18 million includes a $5 million endowment to operate the facility.
For Audubon, the new center helps advance its organizational interest in building a broader, more urban conservation movement. It will have its first Philadelphia offices, classrooms and a gallery to interpret the region's ecology on site. The Discovery Center gives Outward Bound more room to operate its experiential learning and outdoor leadership programs, serving thousands of school kids annually, on new indoor climbing walls and outdoor challenge course.
"As a neighborhood, we get it, everybody has needs. But that wasn't our draw," Graham said, explaining how the conversation about reusing the site evolved from a focus on simple recreational access to more ambitious plans for a center.
"As a young person, I would hike the trails along the reservoir. Of course, we saw some wildlife, but that wasn't the primary focus. It was just cultivating a love for that open space, for that park, for nature," she said. On a fundamental level, that's what she hopes her neighbors will be able to enjoy again.
But Graham knows the Discovery Center will draw people from well beyond Strawberry Mansion, and she doesn't want the neighborhood's interests to be overlooked. "We will not, as a community, let that happen. So many of our residents have taken ownership of that space, even though we were unable to access it for years. It was still something that we called our own."
She's heard plenty of residents say they think the Discovery Center isn't for people from Strawberry Mansion. "They think it's for white people and people that are not from the neighborhood, people that are moving in from Brewerytown," Graham told me this summer. "We were okay with walking up, just having access. Now you got all this big stuff, that's going to attract a lot of attention. How do we deal with that?"
Philadelphia Parks and Recreation Commissioner Kathryn Ott Lovell said she can appreciate that tension, but sees the Discovery Center as similar to any number of other public-private partnerships in the park, where sites are managed privately for the public's benefit.
"There will be, hopefully, a lot of public-facing opportunities, hours of the public being able to have access to the trail and the facility. It's still a work in progress," said Ott Lovell. "It's really hard, before anything got built up there, to think about how people can really be engaged and really want to be engaged. A big part of this [project now] means being responsive, really having a finger on the pulse of the community's needs and wants."
Unlocking the gates
Early on, Keith Russell gave the Discovery Center's design team a tour about the site's ecology. Someone asked him what types of new species Audubon might want to attract here, and project architect Jules Dingle remembers everyone scribbling down his answer.
"He said we should ratchet up what's unique about this place rather than adding what is common," recalled Dingle, principal of the firm Digsau. "He was talking about bird species and plant species, but we took that as a charge for the whole project, and a delightful one at that. We have this incredible, novel ecology and human-made landscape to work with and that's enough."
For the design team, Russell's insight meant considering how to create a simple, bird-friendly building that accommodated all of the program needs for Outward Bound and Audubon in 14,000 square feet, working with the landscape features as their guide. Digsau, with the landscape firm Ground Reconsidered, chose to design the walk up to the building to accentuate the idea of an ascent to water, like hiking up to a high mountain lake. And the design's big public gesture is a threshold through the building that enables public access to the reservoir – the site's clear star – without having to go into the building itself. During hours when the center is closed, the entrance will be gated off but visitors can look through the gates to see the water. When it's open, anyone can walk up to the water's edge through an open courtyard.
Russell's advice about building from the site's strengths could also be useful to extend to Outward Bound's and Audubon's work with the neighborhood. Even though staff from the two groups has been working in Strawberry Mansion and with community organizations there for years, the Discovery Center was not derived through a community-engaged design process. And its programming focus, while public-facing, will begin by largely serving Outward Bound's and Audubon's existing communities.
Being responsive to neighborhood needs remains a tension that continues to inform questions about the project. The partners could have eased the Discovery Center's arrival by hiring community organizers to embed early on in the neighborhood, or bringing in skilled civic engagement facilitators to help the community put its imprint on the Discovery Center earlier in its development. They could have made sure the project had better informational signage during construction, or stuffed neighborhood mailboxes with informational flyers that would be harder to miss than Facebook posts or a website.
Instead, the two nonprofits leaned on fellowship positions to help with neighborhood outreach this summer. A small team of consultants started work on the project in July, backed with Knight funding, to help guide community engagement for the rest of the year. That's meant better-run meetings, with stronger turnout and more active listening by project partners. There was somehow money for public relations in advance of the Discovery Center's opening, but not for investing in organizing around the project earlier.
In a fundamental sense, these struggles revolve around resources and power – who gets to claim what space, who gets what information or access to decision-makers, and who controls the outcomes? It's not necessarily willful, but it does reflect what the Discovery Center chooses to do with the privilege of its position.
For the last several years, Outward Bound and Audubon have focused on getting the Discovery Center built and open. They have, by their own admissions, stretched to achieve this goal while running their existing programs. Though each has worked with neighborhood organizations, like the Strawberry Mansion CDC and Neighborhood Action Center, they have not prioritized sustained outreach and engagement with Strawberry Mansion residents about the Discovery Center until more recently.
No one says much about the neighborhood's power dynamics or the backdrop of race. But Audubon and Outward Bound join a list of white-led organizations in Fairmount Park, with powerful enough friends enough to raise $18 million toward the Discovery Center, adjacent to an overwhelmingly black neighborhood, where its well-used recreational amenities, like Mander Playground a few blocks away, are tired. (Though, it must be said, Mander is a site selected for Rebuild improvements.) The optics remain challenging.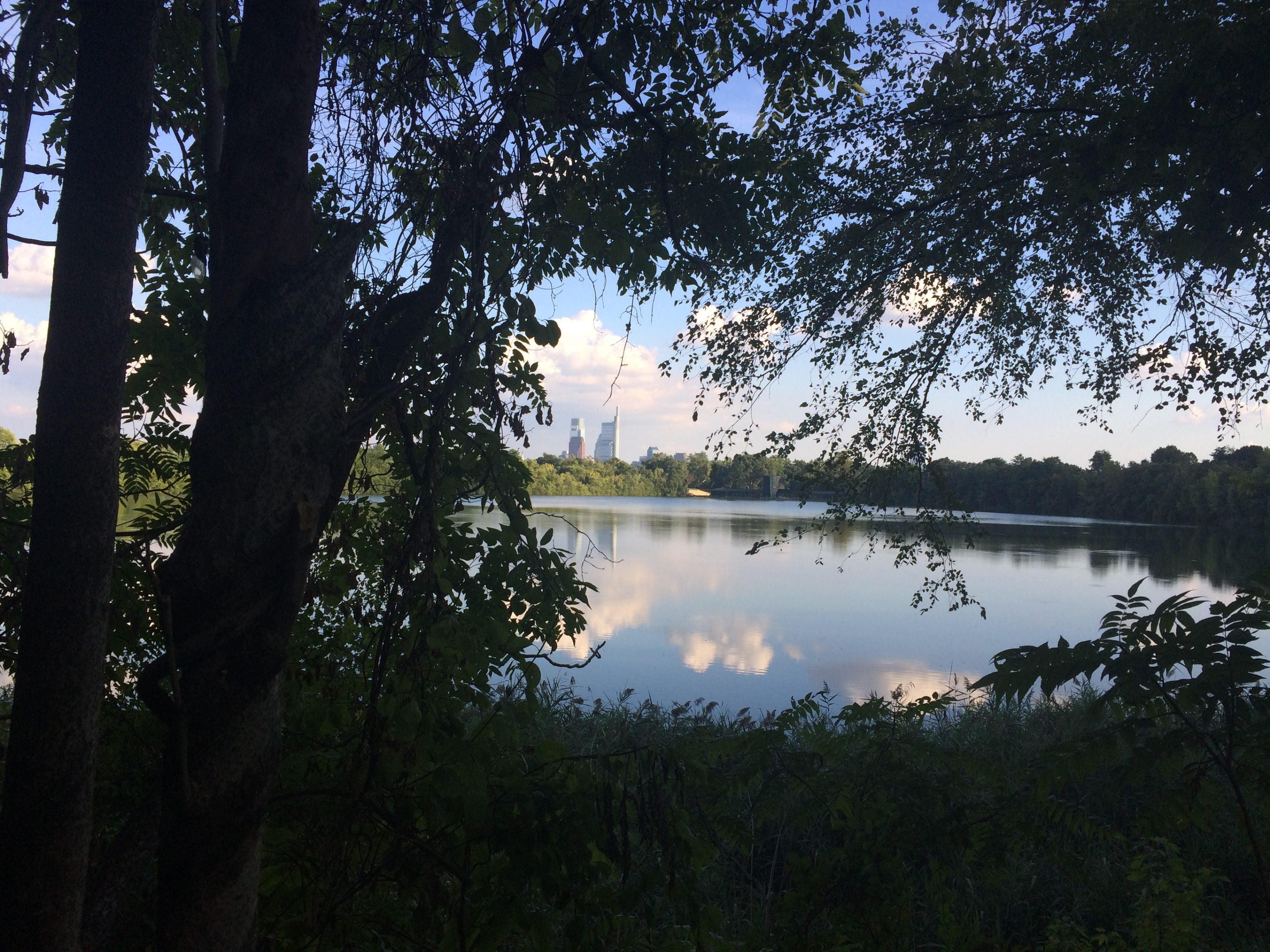 Recognizing that strong community relations would be key to the project's success, and the continued support of some major funders, the Discovery Center team began hosting monthly community meetings in Strawberry Mansion in February. The basic hope was to improve communication about the project and give neighbors and staff opportunities to get to know one another in advance of the center's September opening. For the first few months, attendance was sparse and there was no clear feedback loop between project partners and neighbors who shared questions or ideas.
Both organizations professed an earnest desire to be responsive to neighborhood input, but often gave 'wait and see' responses to direct questions. They were leery, they said, of over-promising and candid about the need for each organization to figure out how this experimental center would work. It's new for everyone involved.
Concrete answers about community benefits have proven hard to come by.
At a community meeting in March, Outward Bound's scholarship manager Jennifer Raymond, told neighbors about the leadership and conflict resolution work it does with groups of high school students. Community members perked up saying, this neighborhood could use those kinds of experiences – for whole blocks, for families, for young people – as a way of unlocking its latent potential. Outward Bound serves neighborhood youth in schools, Raymond said. It has, over time, worked with students from eight Strawberry Mansion schools.
The root question that all neighbors want answered still lingered: How can we all take advantage of all you offer?
"We don't have all of the answers and we don't have all the money," said Outward Bound's Katie Pastuszek, throwing a little cold water on the scene. "We are not going to open with everything solved."
But that's not enough for community leaders like Graham. "Nobody is expecting unlimited anything. But we expect something," she told me in late July.
Audubon and Outward Bound have somewhat different approaches to neighborhood relations, but both want to build trusting relationships with neighbors over time.
"I came with this real sense of urgency that things have to be done and fixed and ready and everything has to be set by September 28," Greg Goldman, Audubon Pennsylvania's executive director told me in late July. "I'm coming to realize that that's actually just not possible. It wasn't actually a good position to hold. The building and the programming and the relationships have to always be evolving." What feels important now, he said, is working to establish ways to be responsive to neighborhood feedback and staying open to adaptation. The Discovery Center's opening, he stressed, is really a new beginning.
For neighbors who remember the reservoir, it's picking up where they left off years ago. An hour and a half into the April community meeting, Tonnetta Graham asked what felt like a fundamental question: "How do we want to see our community represented in the building? What about our narrative and the story of our connection?" It was a telling ask from someone who has had a seat at the table with project partners for years. And even she has felt on the outside at times.
In early September, the Discovery Center began collecting people's stories about the site. Photos and a video of Strawberry Mansion residents sharing these memories will be on display in the center when it opens and posted on the center's website. The West Basin will also be rededicated as Strawberry Mansion Reservoir.
But where does the relationship with neighborhood residents go from there?
"We know that our existence depends on good, solid relationships with the community," Katie Pastuszek, who recently became Outward Bound's national director of advancement, told me this summer. "Does that mean we've been out on the streets in Strawberry Mansion trying very hard to engage with a neighborhood that quite honestly doesn't really understand Outward Bound yet? Well, we're not there yet."
Audubon and Outward Bound are also not of one mind about how their public-oriented work should serve the neighborhood. "That is an area, to be honest, where the two organizations have not quite been able to come to the same place," Goldman acknowledged. "We are still working that out."
Shifting that dynamic is a change in leadership at Outward Bound. Its new director, Meg Wise, knows the territory. She ran Smith Memorial Playground across the street for the last seven years. At Smith, Wise set out to build stronger relationships with the neighborhood, growing visitorship and the funds to support it. And she was part of a coalition of East Park sites collaborating to make the park function better for everyone.
Coming into the Discovery Center, Wise said, she will bring the same "deep and real commitment to listening and responding" she had at Smith, focusing on ways to strengthen both Outward Bound and the neighborhood. "It's not just what could Outward Bound give to the community, but it's how can the community make Outward Bound better? It goes both ways and it's not easy," she said. And, she stresses, community engagement isn't just something to check off her to-do list. "Doing it right means the work goes on forever. Forever."
One of the tests for the Discovery Center is that there haven't been a lot of major public space investments in North Philadelphia, Wise said. "So the challenge is that this has the potential to get over-weighted with significance. It can't be everything. It's actually kind of a little center, it's a 37-acre lake, it's a pond. In the grand scheme of things, it's a little space, and [the Discovery Center] can't be everything to everybody. And everybody probably has a really strong opinion right now about what it should be." There isn't one right answer.
"There's the potential for conflict with every single person sitting at that table," Wise said. "But the thing that makes my eyes light up is, if we can align those things, then it's like a rocket."
All this hidden beauty is yours
To understand the potential of the Discovery Center, all you have to do is walk up, take in the view of the lake and talk to someone seeing it for the first time. I've heard cops, kids, city staffers, and neighborhood leaders say, upon approaching it, this is just beautiful.
"The view is gorgeous," neighbor Linda Strum-Copeland told me after her first visit to the Discovery Center in July. "It is so picturesque that I find it hard to believe all that beauty was hidden."
That experience belongs to everyone who chooses to visit. The reservoir makes a great first impression, but it can't do all of the heavy lifting.
The first community meeting held at the Discovery Center drew a big crowd because, finally, there was something to see. People were curious and enthusiastic. Now it's up to Discovery Center staff to ensure that everyone who walks through its gates feels welcome, and to try offering new neighborhood-focused programs. Each visit, each point of contact, is a chance for the Discovery Center, Audubon and Outward Bound to make positive connections.
"I think it's so delicate for our neighborhood right now because if, say, two people from our community go to the Discovery Center and feel like they're not welcome, and they are the right two people or the most vocal, that's just going to set it back so much," Graham cautioned.
Starting this month, the Discovery Center gets its first three staffers. The Center Manager, Damien Ruffner, comes from a position managing school programs at the Schuylkill Center for Environmental Education. RaeNa Johnson, a Strawberry Mansion native who has lifeguarded at Mander Playground's pool, will be the center's Community Engagement Coordinator. And Amani Reid, who had an environmental fellowship at the Discovery Center this summer, was hired as the Center Assistant.
The Discovery Center is currently seeking volunteers to be greeters, starting in early October, and ultimately for other public-facing functions soon. The hope is that by bringing neighbors on board, a familiar face at the door will help others feel welcome.
The first big public test for the Discovery Center will be its inaugural "Discovery Day," a free, half-day of community-oriented, family-friendly programs planned for one Saturday each month. The first is September 29, from 11 a.m. to 3 p.m., featuring bird walks, live bird demonstrations, a mini challenge course, crafting, a cookout and music in the parking lot.
In an effort to raise the project's visibility and invite people to visit, Audubon and Outward Bound had a Discovery Center table at Strawberry Mansion Day, an annual neighborhood festival at Mander, on September 8. Staff gave out temporary bird tattoos to kids and tote bags with information to anyone who came by their booth to chat.
Everyone I stopped carrying those orange Discovery Center totes was new to the project, leaving seemingly plenty of room for first impressions among neighbors.
Rosemary Tarver, 52, was wrangling her family at a bouncy house and had never heard about the Discovery Center. "I never even knew that place existed," she said, excitedly realizing she forgot to ask if it is free. "They were hiding all this beauty. It's like we're discovering Discovery."
Sisters Kiarra and Kayla Sils were happy to hear about something new to do in the neighborhood. Kiarra, 12, said she's not old enough to go many places by herself yet but hopes she will get to go to the Discovery Center with her family or school soon. "I would like to share the experience with my friends and enjoy nature," she said confidently.
Kayla, 9, said she especially loves nature walks during her summer camp. "I'm excited to learn about helping animals in the neighborhood."
Teenagers Branden Williams, 15, and Kameron Smith, 16, said they play basketball at the Oxford Street courts just below the reservoir. They agreed they would go check out the Discovery Center but didn't think it had anything to offer them. Instead they were quick to point out a few simple things that would make their experience in the park better, like water fountains and benches at the courts. Nets on the hoops, too.
Commissioner Ott Lovell agrees, but notes the capital budget for parks is limited. "Right now what we've got is Rebuild," she said. But, she added, "the city needs to do more to make people feel park investments are not just coming from the outside."
The good news for those outsiders, Graham said, is the neighborhood is in it for the long haul. "We're not really a transient community. They're working with people who have been around for a minute. But we need a platform for our voice to be heard," Graham said. Monthly community meetings will continue. And the community advisory committee for the Discovery Center will be revived.
"I've been with this project for a long time, with all the ebbs and flows," Graham said. "The place itself is so beautiful. It is just a gift that we are able to reintroduce it to Strawberry Mansion."
The Discovery Center's biggest opportunity is its wildest challenge: weaving all its reasons for being into something more than the sum of its parts. For it to become a meaningful place for communities to grow new relationships – to each other, to nature, to place – it will have to turn the many intersecting interests that drove its creation into the source of its power.
—
In Common is made possible through support from the John S. and James L. Knight Foundation.
WHYY is your source for fact-based, in-depth journalism and information. As a nonprofit organization, we rely on financial support from readers like you. Please give today.