Bethel Burying Ground memorial to advance in 2019, creating learning opportunity for the living at Weccacoe Playground
Before it became Weccacoe Playground, it was the Bethel Burying Ground, established by Mother Bethel African Methodist Episcopal Church in 1810.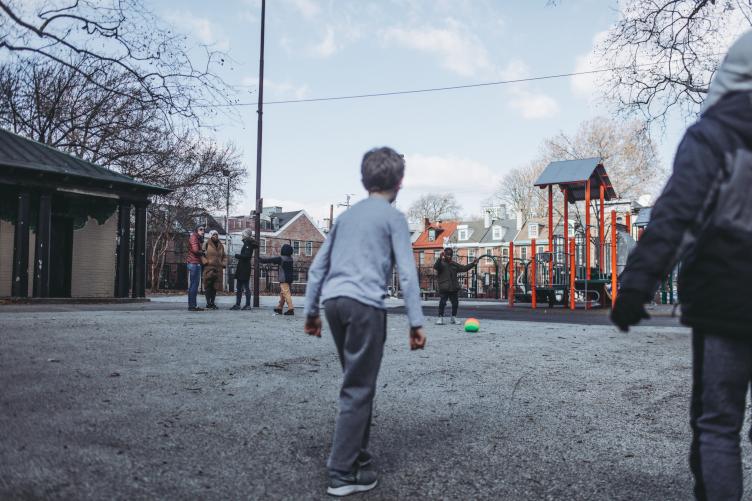 Our 2018 series about Philly's changing public spaces concludes in Queen Village where a new memorial is being developed to honor a historic black cemetery within a popular playground. It's a rare chance to rewrite a forgotten chapter of history back into the life of a public space.
For more than a century, Weccacoe Square Playground in Queen Village has hummed with the rhythms of daily life. On the surface, it is the kind of place anyone would want around the corner – pretty but not too precious, well-loved and tended by an active group of neighbors. Kids have room to play kickball, swing, climb and splash, and adults share time on a tennis court. For decades, Queen Villagers used the park's old community building for meetings, classes, or to vote on Election Day.
But beneath Weccacoe Playground, under the southwest third of the square, black history is quite literally underfoot. Below a thin shell of asphalt paving, under and around the two-room rec building, lie the remains of an estimated 3,000-5,000, 19th-century black Philadelphians.
Before this place became Weccacoe Playground, it was the Bethel Burying Ground, established by Mother Bethel African Methodist Episcopal Church in 1810 and used until the end of the Civil War. It was Philadelphia's first private cemetery for black people, providing a secure, final resting place for the founding generations of both the A.M.E. church and what was once the largest free black community in the nation.
Unlike other cemeteries in Philadelphia that became parks and playgrounds, Bethel Burying Ground's dead were never removed when the church sold the property to the city in 1889. But that fact became obscured as time passed, eventually becoming as buried as the dead. There the remains stayed while above them, gardens grew and generations of children played in a city-owned public space.
It wasn't until 2010, when Philadelphia officials announced a playground renovation that Bethel Burying Ground reentered public consciousness. Independent historian Terry Buckalew had been researching the burial ground and believed its remains were never moved, which archaeologists subsequently confirmed.
"I went to anybody that would listen," Buckalew, an affable white-haired white guy, told me. He started out with Mother Bethel, Queen Village Neighbors Association, public officials, and historians. Where some politicians were disinterested, or neighbors surprised, others rallied. "I was a peace activist in the 60s and 70s, trained by old Quaker organizers… I knew what it takes, how hard it is, to build a coalition. But I had to do something and do it right."
After the burying ground's rediscovery, the city moved forward with a scaled-back Weccacoe Playground renovation that didn't touch the burial areas. Work there ended in 2016 but the rest of the site is still in limbo.
Bethel Burying Ground has too often been treated like a problem to solve, rather than an extraordinary chance to confront the history it surfaces. For close to a decade, its proper commemoration has stalled.
Now, the city is banking on its public art process, and the power of a site-specific artwork, to find a way to bring the past forward where other attempts have fallen short.
In June 2018, the City of Philadelphia announced plans to create a memorial at Weccacoe Playground to commemorate the Bethel Burying Ground.
A call to artists is expected to go out early in 2019 and the Office of Arts, Culture and the Creative Economy has a $150,000 budget to begin the project. Beyond plans for the memorial, Bethel Burying Ground was recently listed in both the Philadelphia and National Registers of Historic Places.
A committee comprised of advocates, historians, artists, descendants, religious and community leaders is advising the city's process, held together by shared interests in the site but representing often divergent perspectives. Their fundamental task is to find common ground enough to advance understanding and memorialize the dead while making room for the living. To start, the memorial committee is working to get a state historic marker installed at Weccacoe Playground.
They agree that Bethel Burying Ground is here to teach us if we let it. It is a profound chance to tell the whole story of a beloved public space, to learn from its truth, and to right an old wrong. What comes first is honesty and compromise.
"A chance for us to do something right by the folk who are buried here…"
On a frosty November day, I met Rev. Mark Kelly Tyler at the proud Romanesque edifice that is Mother Bethel A.M.E. Church, its fourth building, constructed in 1889 at the corner of 6th and Lombard streets. The church sits on the oldest, continually black-owned piece of property in the United States. Both the church and the burial ground were born of self-determination in the face of segregation.
Establishing a burial ground for black Philadelphians, also open to those who were not church members, was a major achievement that ensured dignity in death. At the time, black people were denied burial at the city's white churchyards, instead interred anonymously alongside the poor and indigent in potter's fields, where body snatching for medical experiments was common.
Rev. Tyler and I took a walk, retracing the path a funeral procession might have taken from the church, south on 6th Street and east on Queen Street, to reach the burial ground. After a eulogy in the church, he said, there would be a recessional to the burial site, for some final words – ashes to ashes, dust to dust. A graveside benediction would conclude the service. We imagined that happening thousands of times on this route, in these places.
And for Tyler, the way A.M.E.s think about death matters when we reconsider the congregation's trustees' willingness to abandon the final resting place of their ancestors and predecessors in selling the land to the city.
"We respect the remains, but that's all it is, what remains. We take very seriously this phrase that you will typically hear in almost any sermon in the A.M.E. church for a funeral, which is 'to be absent from the body, is to be present with the Lord.' That means in that, that I am still here, but I'm not in this anymore," he said, a gloved hand lightly tapping his chest. "I have to think that went into the decision that was ultimately made about this burial ground."
The church stopped actively using the burial ground around 1864, after struggling to maintain it. In 1869, Bethel trustees rented out the property to a sugar refiner to use as a storage yard, with the condition that the burials would be "allowed to remain there undisturbed."
But by 1873, A.M.E. Bishop Benjamin Tanner described the site as "a most shameful spectacle – old hogsheads, and barrels and lumber of every conceivable shape. Not a gravestone unbroken, not a grave to be seen…."
In 1889, Bethel trustees sold the property to the city, knowing it would become a public space.
It was not unlike the tradeoffs churches make today, Rev. Tyler empathized. The trustees may have felt they couldn't say no to the city, which was trying to build public gardens and parks in its most crowded neighborhoods at the time. But we don't know, based on the trustee records, their reasons for selling, Mother Bethel's archivist Margaret Jerrido told me. "But they're desperate for money, you can tell that by the minutes."
Jerrido, who formerly ran Temple University's Urban Archives, is one of the keepers of Mother Bethel's history. At Mother Bethel, she said, the past is as present and plain "as 6th Street is outside. It's part of our life, like having two arms." But, she said, she doesn't think most congregants seem deeply invested in the burying ground's fate.
"The story has been out there, but you don't hear people talking about it," she told me when we met in her cozy archive adjacent to Mother Bethel's basement museum, emphasizing she was speaking only for herself. "I feel flustered because people are not engaged. It's baffling to me."
Both Jerrido and Tyler serve on the city's memorial committee and see it as a way to collaboratively write a new ending to the burying ground's story. Yes, there's still some tension, but it's productive, they agreed.
"It's a chance for us to do something right by the folk who are buried here that maybe our ancestors just couldn't," Rev. Tyler said, as we stood in the wind-swept playground. "We're here in a much better position and we have more resources. We have more agency and advocacy. So maybe we can find a way to actually honor the people who are buried here and at the same time also be consistent with what I think the church has always wanted to be… We've always thought we had something to teach and to tell about how we get along as brothers and sisters in the world. This place can kind of continue in that same spirit for us."
"I would like people to get goosebumps."
On a clear, blue morning in early November, Mother Bethel A.M.E.'s choir concluded Sunday service in song. Rev. Tyler stood at the back of the sanctuary and reminded congregants they were invited to join a conversation downstairs in the fellowship hall about creating a Bethel Burying Ground memorial.
Some filtered downstairs, joining dozens of neighbors and interested Philadelphians for the first of four public meetings convened by the city's Office of Arts, Culture, and the Creative Economy to gather input about the would-be memorial's tone. Meetings were also held in November at the Logan Library and the Lucien E. Blackwell West Philadelphia Regional Library, and in December at St. Philip Neri Church in Queen Village.
"When we do our call for artists to do the design, we will take in all of your input, so that they understand what feelings this physical piece of artwork should evoke," explained Kelly Lee, Philadelphia's Chief Cultural Officer.
At each session, city officials explained its public art process, offered a refresher on Bethel Burying Ground's history, and used the same three discussion prompts: Reflecting on its history, what words best describe the site? What emotions should this memorial make people feel? What do you want people to remember after they leave the memorial?
Across the four meetings, attendees used works like sacred, pride, resilience, ancestral, and freedom to describe the burying ground, but words like selfishness, forgotten, disconnected, oppression, and disrespect also resonated. And the site conjured two distinct clusters of emotions – feelings of anger and sorrow as well as love and awe.
The most aspirational and thoughtful comments came as people considered what about the memorial should stick with visitors. The memorial, many said, should help advance racial reconciliation and renew honor and respect to these early black Philadelphians.
It should reflect "the determination of our people to create a just society," an attendee at the Mother Bethel meeting suggested.
It should convey "hope and healing, which as a city and a country we need," said Aisha K. El-Mekki, who came to the Queen Village meeting. "And give the sense that justice has been served."
"I think specific stories of real people stay with you," offered Lynne Haase, a librarian at Logan, one of few attendees at a meeting held days before Thanksgiving.
"I want it to be creative and to know that the ancestors are satisfied. If they're satisfied, I will be satisfied," said Ron McCoy, Mid-Atlantic president of the Association for the Study of Classical African Civilizations, at the Blackwell Regional Library in West Philadelphia.
At almost every session someone asked if a black artist could get the memorial commission. As one woman at the Mother Bethel meeting put it, "because these are our stories and these are our people." The city can't stipulate that, said Kelly Lee, herself a black woman, but it can take into consideration the relevance of an artist's work to this subject matter.
"When I talk about this job, I talk about this project and how important it is," Lee said, her voice cracking as she choked up. "I would not be able to do it this way under any other administration. It doesn't matter the race of the leader, it's what's in their heart. So I do think we'll et it right." The crowd applauded.
While very experienced in creating new public artworks, Lee and her staff have never done a memorial so freighted. It's a sensitive, high-stakes project and in the end, the native Philadelphian will bear a responsibility for its success or failure. But, she stressed at each meeting, this is very much the work of a committee.
As she put it at the Blackwell Library, "We have the right voices around the table to make sure we do this right."
To that, Ron McCoy said, "The community is not going to let you get it wrong. We'll be watching."
It's not just the people who want to right this old wrong who will be scrutinizing what happens. Queen Villagers have a distinct set of concerns, shaped by their use of the playground and tradition of its stewardship.
Both meetings closest to the site, at Mother Bethel and St. Philip Neri, drew a diverse crowd of interested people in terms of age, perspective, and ethnicity. But the meeting in Queen Village drew a whiter crowd of near-neighbors than the others. As a result, there were more oppositional, if polite, opinions about the site on full display.
Neighbors are broadly supportive of commemorating the burying ground, aware that means more change ahead at Weccacoe. Some expressed the sincere hope that a memorial makes amends for forgetting, for so long, and creates powerful educational opportunities, especially for young people. Yet, many remain wary of the city's process, in part because they've received mixed messages over the years about what would happen at the playground, and how much say they'll have in the tradeoffs required. And they still have concerns about how the public space will make sense as a whole in the end.
Queen Village Neighbors Association voted this past summer to officially close the recreation building, its longtime home. Standing on top of the burial area, with plumbing pipes from an old bathroom running through this sensitive zone out to the street, it has a particularly unsavory, if unintentional, message of dominance. It will be demolished by hand when the site is eventually prepared for the memorial, to avoid further disturbance to the remains below.
Giving up the building was a "significant concession," said the neighborhood association's president Eleanor Ingersoll, who is also on the memorial committee. And there are more compromises ahead.
Lee informed neighbors at the Queen Village meeting that they'd also be losing the playground's tennis court, which overlaps with the burial ground's boundary by a few feet. What gets built in its stead, she said, would be the subject of future meetings with the Department of Parks and Recreation and Councilman Mark Squilla and not something she could address.
But Duncan Spencer, chair of the Friends of Weccacoe Playground and memorial committee member, notes that the burying ground also stretches under the playground's western fence line, beneath Lawrence Street. Why, he wonders, is it necessary to scrap the tennis court, when the Lawrence Street boundary is not also being as strictly respected? "What are we really attempting to do with removing amenities? Is it about preservation? Or is it somehow punitive? Or punitive toward 'tennis' and all that's wrapped up in it?"
Or, as Ingersoll summarized to me, "You don't get to pick a convenient boundary."
"I'd like to see an acknowledgment of the actual boundaries," Spencer said. With a background in archaeology, he has high hopes for the site's history to be better told and for its genealogical potential. But, he says, the project needs to be honest and fair.
Overall, Queen Villagers said they hoped the memorial would support a sense of community and invite interaction. Some expressed the desire for a "fun," child-appropriate space that emphasizes respect, inclusion, and "cheerful, peaceful, togetherness," as one neighbor suggested.
But those desires don't reflect the vision of many African Americans involved in the process.  People like Ron McCoy who said this place should be treated like the hallowed ground it is, not as "a plaything for white people."
Karen Warrington, a committee member and staffer for outgoing congressman and city Democratic party leader Bob Brady, wants to see the memorial directly address site's full truth about segregation, in death as in life. She imagines the site as a place to grapple with the struggles black people experienced in the city that birthed American democracy.
"I appreciate what this community is attempting to hold onto in terms of a space," she said in the Queen Village meeting. "But I think it's important we remember its history because those people that are buried there made a way for the people who now live there…. that these people, who were not even allowed to be buried within the city limits and who were just out of being enslaved, came to this city and tried to build a life for themselves, to just be forgotten."
For Warrington, we need to look a few brutal historical truths in the eye, and connect them to experiences of inequality and the potential for justice today. This place makes those vivid and important challenges come alive. Plunking down some statue, she says, isn't going to cut it.
"I hope that this memorial doesn't reinforce a lack of inclusion. To me that's troubling," Warrington said.
That may be something neighbors agree with Warrington on, but it is an open question how much this memorial should emphasize the unjust history embedded in the site, or celebrate the lives that intersect there.
"I'm so proud that this place is in our neighborhood," Ingersoll told me the day after the neighborhood meeting. "This could be the beginning of something great that celebrates the lives and the names of the people buried there. I would be sad if the memorial was based on contention… I would like people to get goosebumps. I want it to rise above all of our personal grievances."
But she added, it's extremely important that after the ribbon is cut, Queen Villagers become the practical stewards of the space. For that to happen, they need to feel a real sense of ownership.
The memorial will be a part of the city's public art collection. Yet, for as many people are interested in creating a memorial at Weccacoe Playground, there is still no single entity angling to help tell Bethel Burying Ground's story. In a way that's good because it's a collective responsibility.
Site of memory
In August 2018, young boys, black and white, hung a black baby doll from a telephone wire noose in Weccacoe Playground because, they said, it was creepy. The kids were evidently oblivious of their deed's message of racial intimidation, and the weight it carried at the site of Bethel Burying Ground, but it was easy to jump to horrified conclusions. Regardless of their intent and ignorance, the noose was broadly seen as a wake-up call that raised the specter of hate in this peaceful place.
Philadelphia's conversations about honoring Bethel Burying Ground, are taking place against the backdrop of national protest movements, demands for dismantling historic symbols and systems of oppression, and calls to reinterpret other forgotten sites of conscience and memory. If there ever were a time for creating a new kind of memorial, it's now. And Philadelphia has a chance to lead.
During 2017's Monument Lab, artist Marisa Williamson offered a tempting provocation with "Sweet Chariot: The Long Journey to Freedom Through Time," She used augmented reality tools to reveal hidden aspects of Philadelphia's black history, including Bethel Burying Ground. In a video, Williamson inhabited the figure of Amelia Brown, a woman whose headstone was rediscovered during archaeological exploration, and placed in Mother Bethel's museum.
And after years of what advocates and neighbors have characterized as "lip service" and "Family Feud" style conversations about memorializing Bethel Burying Ground, it feels like there's finally momentum.
Once artists respond to the city's call for memorial concepts, the committee will review and narrow down the field of applicants to a handful which will be invited to make full proposals. Those final proposals will then be shared with the public for some form of input before the committee makes its selection and recommends a proposal to the Art Commission for its approval.
While there is demonstrable political will, including a supportive administration, the memorial process could well outlast its tenure in office. The plodding pace may ultimately help build greater understanding and empathy within the committee, afford time for fundraising after a design is selected, and give an artist room to invite deeper engagement than the city has yet been able to deliver.
The call to memory is being made richer by a parallel research effort to learn more about who is buried at the site.
"This is not a generic space. These are not unknown ancestors. We know their names. We know how they were laid to rest," Rev. Tyler reminded those gathered at Mother Bethel.
Historian Terry Buckalew, whose research brought the burial ground back from the past, is still on mission to find as many names as possible. He retired from his job working in facilities management at the University of Pennsylvania a few years back in order to devote more time to this volunteer research.
Mother Bethel doesn't have its burial records anymore. But Buckalew has, so far, found 2,484 names of people buried at Bethel Burying Ground. Of these, he said, 37 percent are children under the age of two, including those stillborn. It is some small measure of recompense to know their names, their families, and to put their stories in context.
He does what he can to unearth their stories, publishing them online and in an index. It's not enough to constitute even a small measure of reparation, he told me, but it's what he can do personally.
"We owe our people of color that commitment. It's the right thing to do," said Buckalew. He plans to continue until there is nowhere else to look and hopes he can pass his research along to an African American scholar to build upon.
Documentation like this is a form of preservation that, along with the site, presents a potent opportunity for learning. And its educational potential is something everyone involved in the Bethel Burying Ground project wants to see realized, so young people can learn a more truthful version of the American story, grounded in a familiar place.
"Black children and white children, if they don't know this history, then they don't have to respect people that don't look like them," Karen Warrington told me after the meeting at Mother Bethel.
"It's a hard subject because we think we're over it. But we're not post-racial… Black people have experienced what would be tantamount to collective abuse," she said, which won't begin to heal "until we start to unmask some of that and how that anger comes up… When we are having this polite discussion about public art and politics, there's so much under there. Just like all these 5,000 people laid under there and we didn't know."
If Weccacoe Playground's neighbors can gracefully cede space to commemorate Bethel Burying Ground, some measure of reconciliation could be won It is a chance at realizing the highest callings of public space, where we collapse the things that divide us.
In Common is made possible through support from the John S. and James L. Knight Foundation.
WHYY is your source for fact-based, in-depth journalism and information. As a nonprofit organization, we rely on financial support from readers like you. Please give today.