Selling happiness and finding it in the process
Social media can feel fake — until it brings real joy. By being more herself, one influencer found her community.
Listen
6:39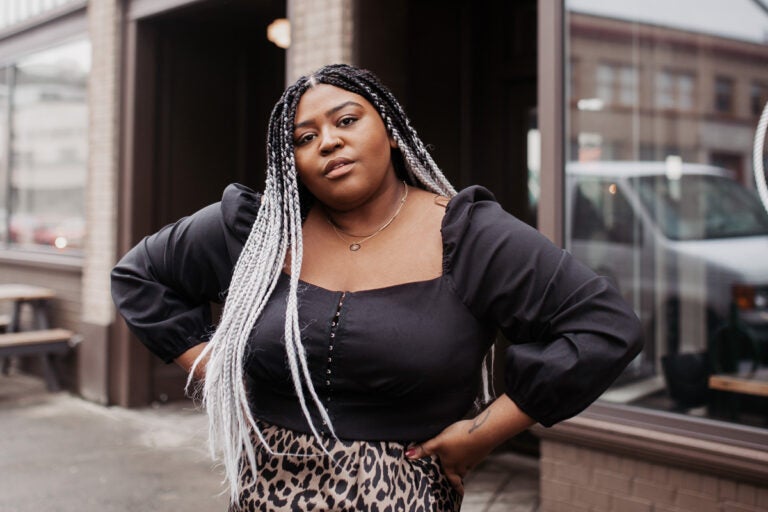 This story is from The Pulse, a weekly health and science podcast.
Subscribe on Apple Podcasts, Stitcher or wherever you get your podcasts.
---
Candace Molatore, a photographer and social media influencer, joined Instagram in 2013.
For years, her feed, which she describes as "very light and bright and airy," showed a happy mix of concerts, coffee shops and plants. She documented places she visited and people she met, whether in her hometown of Portland, Oregon, or in her travels.
But Molatore hardly ever posted pictures of herself.
Then one day, she decided to change that. She picked out a picture of herself in a bathing suit.
"I was super nervous about it," she said —and posted it, bracing for the worst, not knowing how the world would react.
"Sometimes with the internet, especially being a fat, Black woman, you just never know," she said.
But the responses were positive, and the post got significantly more likes than her other pictures. "So I eventually started transitioning my feed to be a little less about my photography projects, and a little more about me and my story."
Her story, Molatore said, goes like this: "I grew up a fat, Black girl in a really white town in Oregon." She described not having much of a community at school, and how some of her classmates would arrive in the parking lot waving Confederate flags.
"Trying to be the bigger person, moving past it, almost in some ways being told that your experience is invalid … you know, it gets to you," she said.
That's one of the reasons she turned to the internet and to Instagram — to find community. But Molatore realized that to do so, she had to be authentic and share her own story, not just pictures of coffee shops.
"And that's when the community really started to grow," she said.
She got more and more popular on Instagram and eventually started to get paid for posts that promoted products. Molatore has since worked with brands like Adidas and Bob's Red Mill — and part of her appeal has been the happy aesthetic she's maintained in the process. In her pictures, she might be laughing on a beach or dancing in a field of sunflowers.
"The vibe, overall, that I try to give is something that's very positive and approachable," she said. "You know, the color palette tends to stay around a little bit neutral."
That's what clients and followers have come to expect, but it's sometimes in contrast with Molatore's experiences — with her story.
"I felt like I didn't fit in. I was adopted into an all-white family," she recalled. "I didn't feel like I looked like the average Instagram girl. I didn't feel like my life was, like, glamorous."
But she realized there were other people like her out there. She began to feel more included, she said, when she "stopped following the Kardashians" and started following other body-positive women of color, and now she exists as a similar role model for her own followers.
In that way, the allure of being an influencer goes beyond the money she might make from a partnership.
"Sometimes, it's just that I really feel like my audience would like this and want to know about it," Molatore said. "From the influencer standpoint, yes, I'm able to share cool things and partner with companies and create income for myself that way, but, I mean, there's so much more to the relationship."
She described how followers might come to her when they're having relationship trouble and are looking for recommendations for spending quality time with their partners. And girls who have struggled with self-esteem have been inspired by her body confidence, enough to reframe how they view their own bodies.
Molatore has come to realize her influence isn't just over which products people buy. It's over how people feel about themselves, something she didn't anticipate when she first started posting pictures of herself and felt like she was taking a risk.
Since then, she has figured out a way to both be authentic and create a calm and light atmosphere on social media.
"Even if the imagery is beautiful, the caption could be talking about a day where I didn't feel very beautiful, and those are all things that I kind of share with my community on Instagram," she said. "I talk about all things, but I especially am talking about, you know, what it feels like to be a Black woman living in Portland. Especially right now."
By "right now," she meant the summer of 2020, when Black Lives Matter protests started, continued, and didn't stop. They played out right in her backyard, in Portland.
"I've talked about race and racism on my platform, obviously being a Black woman in Oregon," she said, "but when everything sort of compounded online, I really wasn't sure what the reaction from my community, and from my peers, was going to be."
But, for the most part, she said, she was "blown away by the amount of support." People have reached out to her, inquiring about her health and expressing solidarity for the pain she has shared about racial injustice.
"I get emotional talking about it," she said. "Being Black in America, and in a predominantly white city, just doesn't always feel like a safe space."
But, she said, "I'd like to think that I carved out a safe space online."
For Molatore, there is joy to be had by logging on and connecting with her followers.
"When I go online, it just really feels like another version of coming home," she said. "I feel like the internet can be an extremely good place to find community—and to find happiness."
WHYY is your source for fact-based, in-depth journalism and information. As a nonprofit organization, we rely on financial support from readers like you. Please give today.