Does the feedback in creative writing workshops make for better writing?
Listen
12:06
This story is from The Pulse, a weekly health and science podcast.
Find it on Apple Podcasts, Spotify or wherever you get your podcasts.
---
When Yi Wei was a young child, she would write down snippets of English conversations and phrases she heard while watching television. And soon this practice followed her to her early classrooms, where her written responses in her schoolwork would come in fragmented sentences.
"At the time my teachers would be like, 'Oh, this is a poem.' And it was because when I was growing up, I kinda learned to speak through the TV."
Wei is a Chinese immigrant, and she said this is an experience she shares with many immigrants in the United States. She has been writing for years, and now she's a graduate student in New York University's poetry MFA program. But Wei didn't begin writing poems until high school. And she says there was little opportunity for feedback, with the exception of small, informal writing groups she started with close friends.
DeeSoul Carson can relate. Carson and Wei are students in the same master of fine arts program at NYU. And like Wei, Carson started writing poems in high school. 
"For the longest time … I was the poetry kid," Carson said. "So there wasn't really a space for me to get feedback on poems from any of my peers or anything like that. But people just kept being like, 'Good job,' you know, 'Keep going.'"
Carson kept writing. And then in ninth grade he discovered a spoken word poem on YouTube.
He loved the style, the combination of writing and performance. He wanted to try it for himself, and started to go to open mic nights in San Diego. These were intimate venues, where writers of all skills and abilities gathered to perform new and old work, work in progress. This was a space where poets could take risks and test out new ways to read their poems — and meet other writers to carve out a community for themselves.
Open mic nights opened up a whole world of feedback he hadn't had before, Carson said. 
"Sometimes, when a Baptist preacher is preaching, you'll hear things like, 'Amen, pastor' or 'Say that,' things from the congregation that lets the pastor know that he is saying something that's resonating with the people," said Carson. "There's a very similar thing that happens with the pulpit of poetry."
As Carson would read his poems aloud, he would be greeted by emphatic snaps and words of encouragement from the audience, all signs his poems were landing. That made his writing better, sharper, more in tune with the community he was writing for and about, he said.
In 2021, Carson wanted to continue his study of poetry and decided to pursue graduate studies in creative writing at NYU's masters of fine arts program. An MFA program is one gateway for writers who want to get serious about their craft and need financial and community support to do so. It's typically a one- to three-year commitment, and aspiring writers get precious time to work on long-term projects away from the distractions of the real world. 
Competition for these programs is stiff: Thousands of writers apply for highly coveted scholarships and stipends to pay for their degrees. Along the way, they get structured feedback that looks and feels very different from the friendly nods and snaps Carson heard at open mic nights.
One of the hallmarks of the creative writing MFA is the writing workshop, which, in the U.S., has been around for at least 100 years.
"[The MFA] was essentially based on the art studio, if you will, the idea of a writer [or] artist bringing in a piece of work for critique and getting feedback from students and instructor," said Chris Dombrowski, assistant director of creative writing and faculty member in the University of Montana MFA program.
Typically, eight to 12 students gather in a room for an hour at a time and workshop one student's submitted work, Dombrowski said. The idea is that through routine practice and access to feedback from dedicated writing peers and a teacher, writers develop a keener sense of their readers, learn how to translate their life experiences to the page, and develop key writing skills along the way.
But does the feedback students receive in this highly organized and academic space actually make for better writing? 
According to Dombrowski, in the traditional workshop model, the student whose work is being critiqued isn't allowed to speak until the very end of the class — only then does that student talk about the process and ask peers questions of clarity. But for many writers, like DeeSoul Carson, that can be frustrating. Sometimes, he said, he has to practice restraint as other writers discuss his work in front of him.
"It's hard to watch people argue about what I'm thinking in front of [me]," said Carson. "I was the one thinking it — I can tell you." 
Carson's classmate, Yi Wei, agreed. Wei writes a lot of poems about rage, love, and identity, themes that are deeply personal to her. And sometimes feedback in the workshop can leave her feeling vulnerable, she said. She remembered a time when that feeling was especially strong.
"I felt like I was bleeding in the room, so that was kind of like a visceral feeling," said Wei.  
And sometimes it's hard for writers not to take feedback on their work as a personal attack on them. Anne Malin Ringwalt graduated from the poetry MFA program at the University of Notre Dame in 2019, and she said that was something she had to actively work through during her workshops.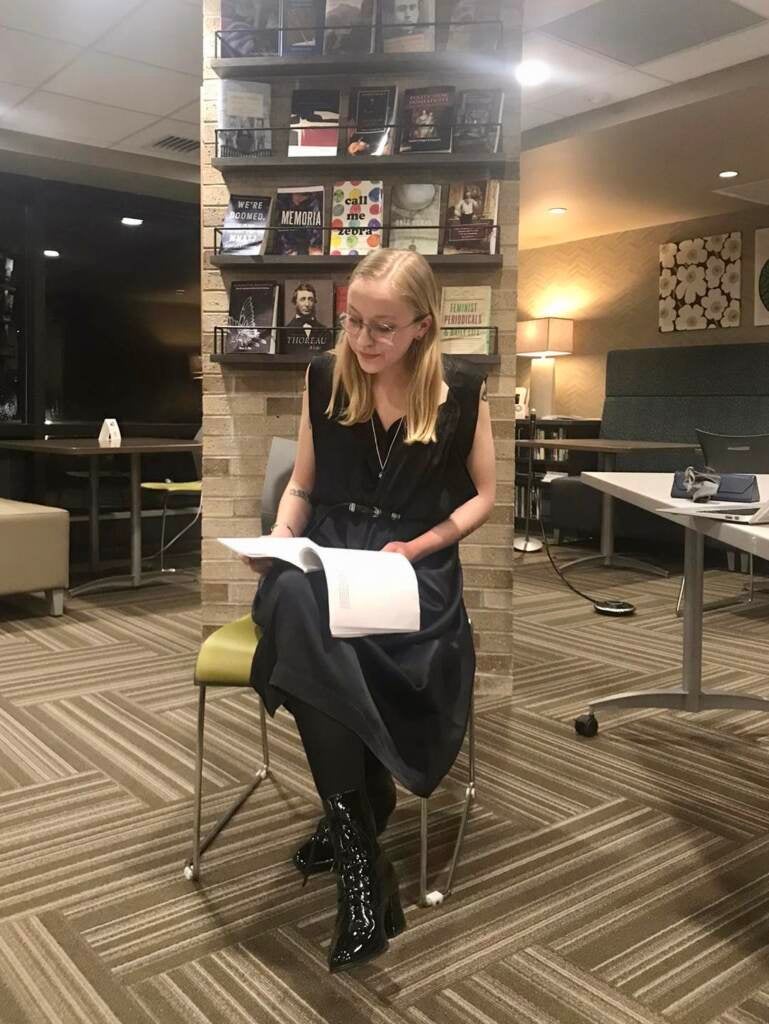 "I'm a sensitive person, and if I don't know someone really well outside of the workshop environment and they're being really direct about their feedback, I might interpret that as … an ambivalence or an indifference to what I'm trying to do," Ringwalt said.
The aim of the workshop is to help writers develop their voices and make their writing sharper and more focused. And though it can conjure up feelings of stress for students, Carson said it's a bit like being a fly on the wall while people experience your work. 
"When people are reading my work outside of the workshop space … I wouldn't be able to hold a person's hands and [say], 'This is what this poem was trying to say,' said Carson. "So it's helpful for me to watch how a small group of people do that work of figuring out for themselves what a work means."
Wei said the workshop is almost like having a focus group for your poems. Students might not agree with every piece of feedback they receive, but it's a way to get a sense of how their work is landing and where it could be more effective at communicating what they set out to say. 
Yet the sheer volume of feedback these students receive can be overwhelming.
In a classroom of close to a dozen students, plus the instructor, a writer has to wade through the onslaught of feedback to revise their work. For Carson, prioritizing feedback from a few trusted readers has been a game-changer in weeding through all his revision notes. That's been especially true as a Black writer presenting work in a predominantly white workshop environment, where cultural and historical references are not always shared.
"Sometimes, I'm doing the work of having to lay ground for people before they can actually see my work," Carson said. "And as a Black person, I don't always want to have to explain myself or my work. And so it's really helpful when there's people in the room who have experiences with the thing that I'm talking about or can …  grasp on to it without me having to explain everything."
Like Carson and Wei, every writer has a sense of the work they're trying to produce. And the biggest part of navigating feedback comes down to balancing what you know with what you don't know and what you can learn from others. Over the weeks, months, and years of hearing and applying feedback, writers start to develop a keener sense of all the decisions, perspectives, and approaches to writing they take on over the course of their lives. 
"Doing a lot more writing has made me more acquainted with my own language and how I can better communicate the things that I want to say," Wei said. "And so I think the poems that I submitted in the very beginning of workshop, I'm now starting to rewrite with the better understanding of language that I have now at the end of the semester."
The process isn't for the faint of heart. According to Dombrowski, it can take a lot of drive, risk, and failure. 
"We put our work out there, and we are asking for our cohort to give us the full, brutal story about it," said Dombrowski.  "And sometimes, that's tough to take. But in general, the more open we are to those critiques, the more we're going to take into revision — not only the revision of that given piece that was up for workshop, but into future pieces that we generate as well."
Students come to the workshop with raw talent. Dombrowski said that's not something that can be taught through feedback. But a good teacher and a community of dedicated writers can help refine and build on what Dombrowski calls individual genius. 
"One of the things that we can do as workshop instructors is to turn the faucet on for students, and make sure that their creative faucet keeps flowing," Dombrowski said. "We're way more likely as writers to stumble upon our own genius if we're practicing actively the discipline of writing and aspiring toward some certain level of craft."
WHYY is your source for fact-based, in-depth journalism and information. As a nonprofit organization, we rely on financial support from readers like you. Please give today.