Indigenous traditions get science backing
Scientists are learning from farmers and traditional healers — and documenting what powers their success.
Listen
8:22
Thousands of years ago, Chinese and Greek civilizations used the bark of willow trees as medicine to treat pain. Centuries later, scientists studied willow bark to find out if it was anything special. It turns out it is. We now use a synthetic version of the active chemical, and call it aspirin.
Researchers in the United States and South Africa are now taking a closer look at the knowledge that farmers and traditional healers have used for decades.
My parents taught me
At Sankofa Community Farm in Philadelphia, co-director Chris Bolden-Newsome stands over the sweet potato plants, bows his head, put his hands together, and speaks softly.
He comes from a long line of African-American farmers and embraces the ideal of sankofa — a symbol that depicts a bird carrying an egg in its mouth. With feet facing forward and head turned backwards, the bird represents the power of taking the good from the past and bringing it to the present.
Bolden-Newsome says he wouldn't put anything in the ground without praying.
"It's what I learned to do, it's what my parents taught me, and it's what their parents taught them," he said.
On this farm, they use traditional farming techniques: No tractors. No chemical fertilizers.
Bolden-Newsome says his father would soak seeds in his mouth before planting, which he later learned was an ancient practice found in countries around the world.
To prepare the field for a new growing season, he uses a hoe to scrape the top off the soil. He doesn't dig in deep, or turn over the soil completely. He also leaves bits of left-over plants from last year's crop, along with the roots of weeds. He says they're a part of the earth now, and shouldn't be disturbed.
"This is controversial," he said. "Organic American farming even would cringe at this."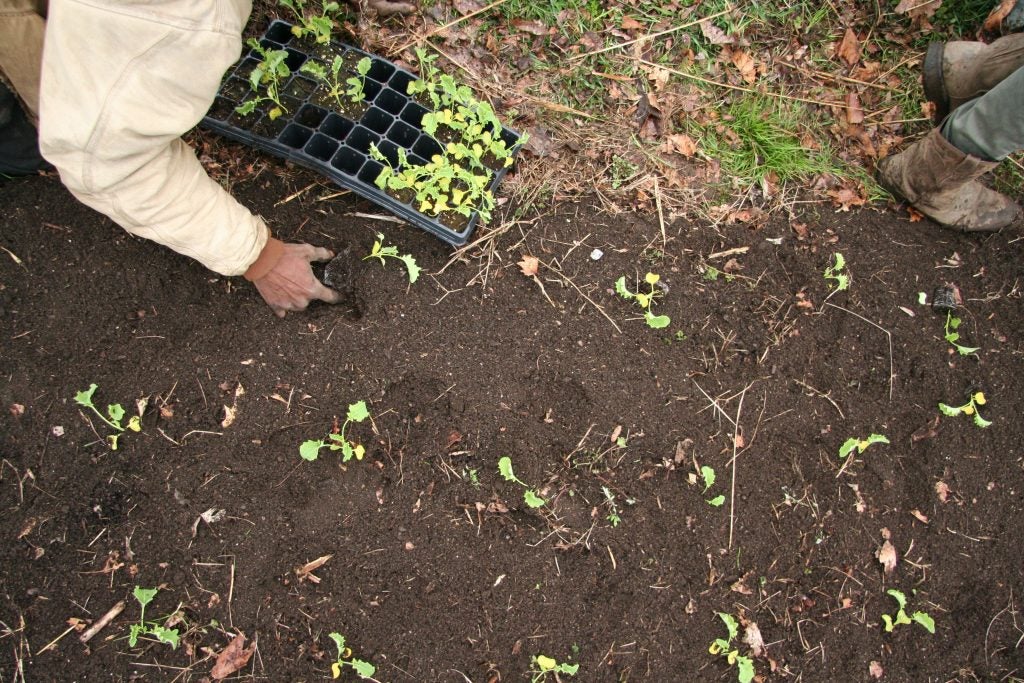 He farms this way to uphold tradition. Praying to plants, soaking seeds in your mouth, leaving bits of last year's crop undisturbed … Bolden-Newsome doesn't worry about whether or not those practices are scientific.
"It doesn't matter so much, not to me," he said. "I'd be much more comfortable with science trying to come and learn what we're doing."
"I'm also a scientist"
Leah Penniman is a farmer and activist at Soul Fire Farm in New York state.
"I'm also a scientist," she said. "My undergrad [degree] is in environmental biology, and I teach high school students science, so I love science, and don't see it as incongruous with other ways of knowing."
Penniman points to sorrel as an example: studies show the plant has promise as a treatment for high blood pressure.
"You can analyze sorrel and find out that it has malic acid, and tartaric acid, and hydroxycitric acid, and so it has all these active compounds that (lead) to the medicinal properties that we speak of," she said. "It's really just two complementary ways of knowing."
Penniman shows me the little details of the farm designed after indigenous farming practices:
Penniman is part of a team of farmers and activists that implements Afro-indigenous practices at Soul Fire Farm. The team includes Larisa Jacobson, Lytisha Wyatt, and Damaris Miller.
Ultimately, Penniman says the team does all this because it works. It works so well that many sustainable and natural farmers have adopted these practices, as part of what's called permaculture.
"It's a whole collection, a compendium of indigenous practices that were rebranded and now make a profit for mostly white college-educated men," Penniman said.
Medical pluralism
Scientists are also interested in learning more about these practices, to see how indigenous knowledge translates to the lab. Nokwanda Makunga, a plant and molecular biologist at Stellenbosch University in South Africa, studies the plants traditional African healers use.
"Some people associate their use with witchcraft, so there are all kinds of negative connotations that are aligned to the use of traditional medicines in Africa," she said.
The scientific community was not interested in studying or funding studies of traditional medicine, Makunga says.
In fact, it was outlawed in South Africa during apartheid, which Makunga says was another form of oppression — taking away traditional medicine, and the spiritual and religious connections that came with them.
She says the negative image of traditional medicine was tied up in who was using it — "mainly people of color, black people, Indian people, and a community of people which are classified as colored in South Africa," she said.
"Post apartheid, things really changed. The South African government realized the value of traditional medicines and indigenous knowledge as a whole. Acceptance is actually growing as we discover new chemicals that have pharmaceutical importance."
Makunga says people might change their minds once they realize just how much of Western medicine comes from our knowledge of plants.
For example, taxol comes from the Pacific Yew tree, and now it's used to treat cancer. The opium poppy led to morphine.
She says maybe we don't think about it explicitly, but lots of us rely on traditional remedies. The approach is called medical pluralism.
"When we're sick, we go for a home remedy," she said. "Say if you've got a cold, this might involve lemon, garlic, and household things that are actually available in our homes or a therapy which your grandmother might have passed on to you."
Still, there's a reason why most doctors don't prescribe powdered tree bark as medicine. They draw on the work of scientists, who can study a plant, find out what chemical makes it useful, and figure out what the right dose is to make it most effective.
Makunga travels to rural areas to talk to traditional healers.
"People are often excited because they know that they hold something of value but they just don't know who they can share this information with, who might be able to discover this value from a scientific point of view," Makunga said.
And now, scientists like her are listening.
WHYY is your source for fact-based, in-depth journalism and information. As a nonprofit organization, we rely on financial support from readers like you. Please give today.