Burn pits: A sick veteran waits for science to confirm his suspicions
In his last days in Iraq, Army Specialist Thomas Fitzinger's job was to burn mounds of garbage. He says he inhaled soot and smoke, and that today his lungs are damaged.
Listen
11:33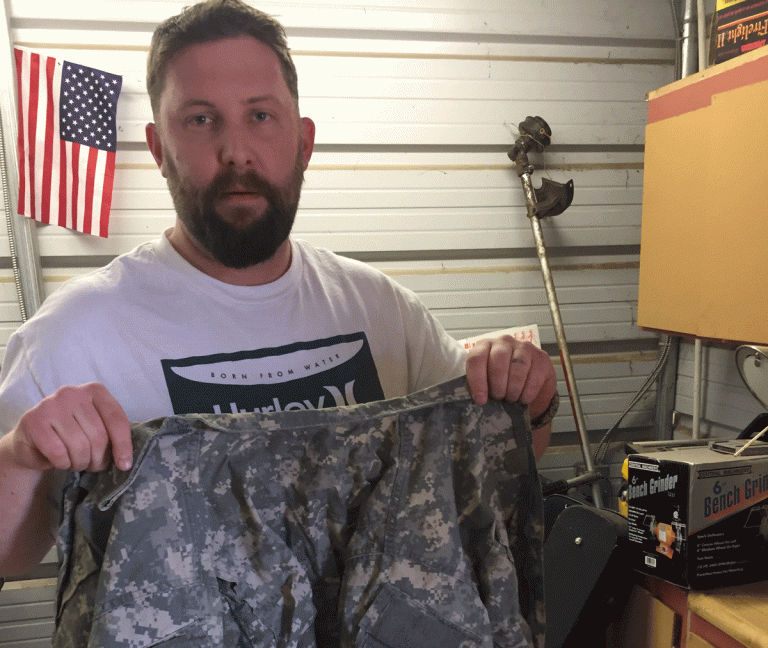 Across most of the United States, it is illegal to burn garbage in your backyard. But in Iraq and Afghanistan, that's how scores of American bases disposed of trash.
According to a 2010 Department of Defense memo, in Afghanistan alone as many as 184 military locations burned waste in the open.
This disposal method creates what is commonly called a burn pit.
Veterans and watchdog groups say the burned garbage included paint cans, batteries, plastic, chemically-treated wood, metal, clothing, medical supplies, and food waste. And when winds whipped up, a deluge of burn pit smoke descended on the bases and the people still there.
In 2009, Anthony Szema, a one-time Veterans Affairs allergist, warned the U.S. Senate Democratic Policy Committee that young veterans were coming home with strange lung problems.
Then in 2016, Joseph Hickman's book "The Burn Pits: The Poisoning of America's Soldiers," was released.
The Department of Defense and the Veteran Affairs Administration say there is no conclusive science linking burn pits to veterans' health problems. The scientific connection has become a seemingly intractable point of debate.
This is the story of what science has discovered, and what remains unproven.
In 2011, Thomas Fitzinger was stationed in Iraq at Camp Adder. It was a forward operating base in southeastern Iraq, nearby an ancient ziggurat in the desert and the city of Nasiriyah.
When the United States pulled out of Iraq, Fitzinger and the remaining troops were suddenly alone on the huge empty base. He was given one last job: burn everything.
"We were actually really trying to clean the FOB up to make it look good for the Iraqi Army. So, we would just make like these eight-foot mounds of fire, of garbage and wood and whatever we felt like, 'Will this melt?' You know, we didn't know any better," he says.
Back home in the United States, he became sick with a debilitating lung issue.
An MRI scan of his lungs showed they were inflamed and cloudy, he says.
He was not alone. In 2013, Congress ordered the U.S. Department of Veterans Affairs to create a questionnaire for veterans so they could report their exposure to the smoldering garbage. It was called the Burn Pit Registry.
The registry showed that soldiers exposed to burn pits were more likely to have high blood pressure and asthma.
Later, the National Academy of Science reviewed the Burn Pit Registry. The data was deemed invalid, which knocked down the findings that burn pit smoke causes lung problems.
A new comprehensive epidemiological study could settle the debate.
But Remington Nevin, a former Army epidemiologist says "the epidemiology is beside the point! We have a clear biological understanding of how exposure to harmful chemicals in burn pit smoke causes various cardiopulmonary diseases and various cancers."
In an email, the U.S. Department of Veterans Affairs reiterated their stance: "At this time, research does not show evidence of long-term health problems from exposure to burn pits."
Nonetheless, Brown University epidemiologist David Savitz says the Burn Pit Registry does let us know one thing for sure: tens of thousand of soldiers were likely exposed to burn pit smoke.
At recent count, the number is 134,620.
WHYY is your source for fact-based, in-depth journalism and information. As a nonprofit organization, we rely on financial support from readers like you. Please give today.