Adaptation after amputation: An acrobat finds new ways to fly
Listen
6:23
For a decade, Erin Ball has been a circus performer, climbing strips of fabric hung from the ceiling and doing daring drops like the acrobats of Cirque du Soleil. She owns a circus studio in Kingston, Ontario, where she teaches her students tricks on the aerial silks, hoop and trapeze.
When Ball was first training to be a coach, her instructors asked if she wanted to teach circus classes to people with disabilities. "I have no idea how I would do that," she remembers thinking at the time.
Then, several years ago, she was lost in the woods for days and got severe frostbite. Surgeons eventually had to remove her feet.
"I do kind of remember at one point hearing something about 'we're not going to show her her feet yet.' And when they did, they were unrecognizable: purple and bloated, and starting to fall off themselves."
She didn't know anyone else who'd lost a limb, and couldn't see any way to continue the work she loved. Before the accident, she'd made a living performing and teaching. Now she was in a wheelchair.
"I just thought that my circus career was over," Ball says. "I just couldn't understand how my life had done this huge flip."
She asked someone to help her kill herself, but didn't go through with the plan. She spent months in the mental health ward of a hospital, struggling to deal with her new reality.
Finally, something shifted inside her. "I can always die later if I need to," she remembers thinking. "And that's when I decided to start moving."
Ball started by learning to walk with prosthetic legs. Next she got back into the air. But to do that, first she had to climb several flights of stairs to a friend's fitness studio, where Ball had permission to rig her silks.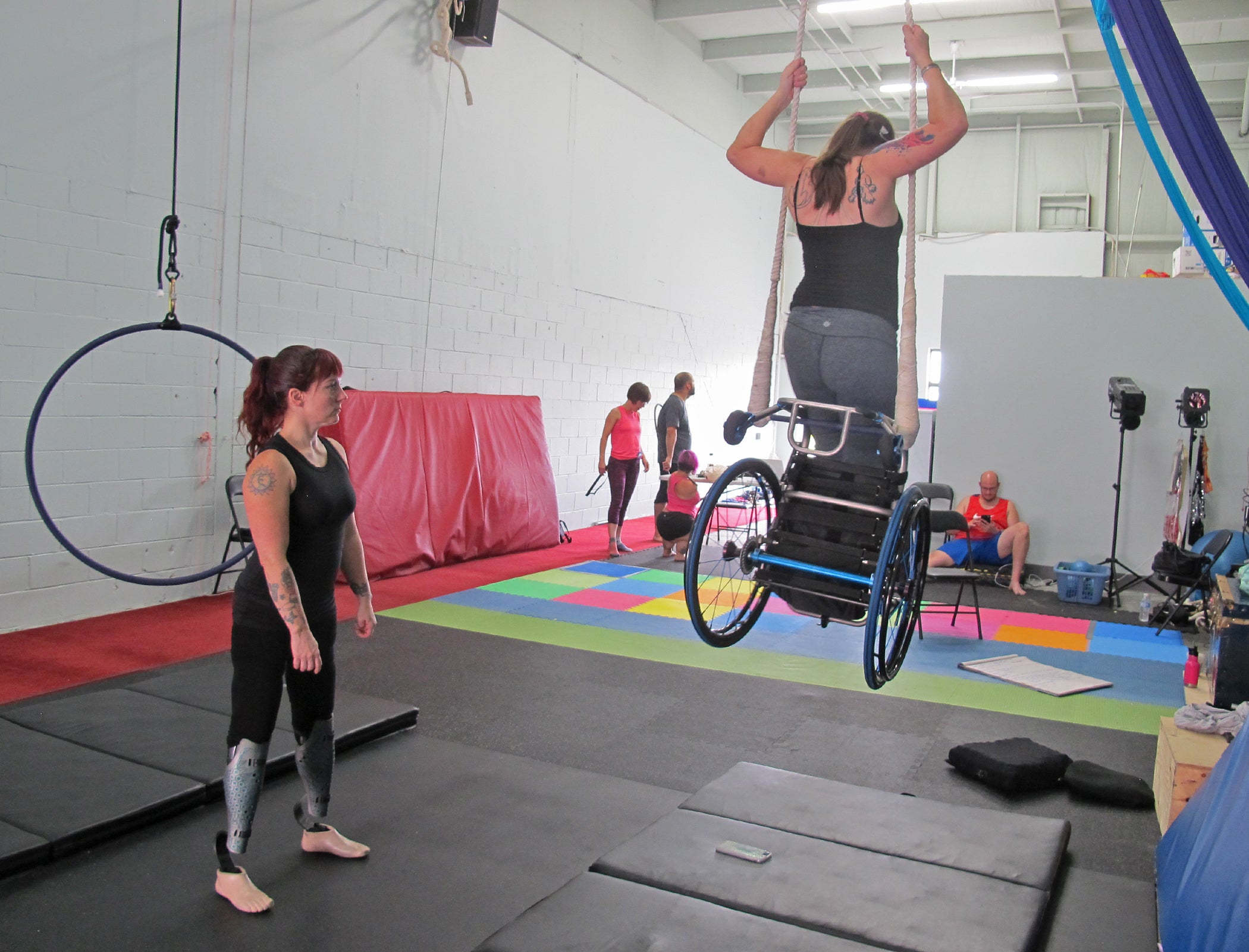 "I really wasn't proficient at walking at that point. And it took me so long and it was so painful and it was so hard — stairs are hard!" she said. "But I got there and I was like 'ah!' at the top."
She wasn't sure what she'd be able to do after spending nearly a year in a hospital bed. She didn't know how the circus moves would work with her prosthetics. But once she got in the air, she felt at home.
"It was kind of familiar and foreign at the same time," Ball said. "Oh my gosh, how am I going to do this with these feet? And also like, oh yeah, this is me, this is my place."
Ball found ways to make the tricks work for her and even discovered new moves she couldn't do before the amputation.
She started performing again. But she still struggled to accept her new body and her first pair of prosthetic legs, which looked like red sticks.
"I was trying to cover my legs with leg warmers and I would shove a whole bunch of pairs in there, and it still looked really ridiculous," she said. "It was very obvious that I had the skinniest ankles. My stepmother saw how upset I was. So she put Pringles cans on there and duct taped them on and then I put the leg warmers over that and away I went."
At one performance, Ball's dad encouraged her to take off the leg warmers and leave her prosthetics exposed. She wasn't sure she was ready to be stared at all the time, but she decided to give it a try.
She took the leg warmers off and never put them back on.
Now her prosthetics are part of the show. "When I really started to accept my situation, I started going to the dollar store and just started thinking about like, what random objects can I attach to my legs today?" Ball says. "Confetti cannons are always a big hit."
Ball identifies with the term adaptive. She sees her life as a series of adaptations: "Something happened, and I moved through it and I figured out how to make it work. And I still am constantly figuring out how to make things work."
"One thing I can do now that I couldn't do before is just take my legs off at the end of the day," she laughs. "It is honestly the most satisfying thing! It's like taking a bra off, only times a thousand."
WHYY is your source for fact-based, in-depth journalism and information. As a nonprofit organization, we rely on financial support from readers like you. Please give today.