Will whistle for work: Orchestra whistles tribute to Philly's labor history
Temple art gallery has commissioned a UK artist to compose and assemble an orchestra of local whistlers in Philadelphia.
Listen
3:36
An orchestra of 31 whistlers will perform in Old City Philadelphia's Christ Church Neighborhood House on Saturday.
The Temple University art gallery, Temple Contemporary, brought them together and commissioned a composition written specifically for them, based on the tradition of work songs in Philadelphia factories.
"Music at work has a fascinating history — how we use music at work as a tool to create our own antonymous space," said Emma Smith, a U.K.-based artist and composer.
In her historical research, she found that not only could music be used to rally workers for the cause of unionized labor, but factory owners could use music to keep employees on task.
"Certain types of music would be pumped into work environments at certain times of day to keep people going and wake them up," she said. "But you don't want to wake them up too much. That's why the music had to have a 4/4 rhythm and it not too big a range of notes because then it might be interesting. It's supposed to keep you ticking along like a machine."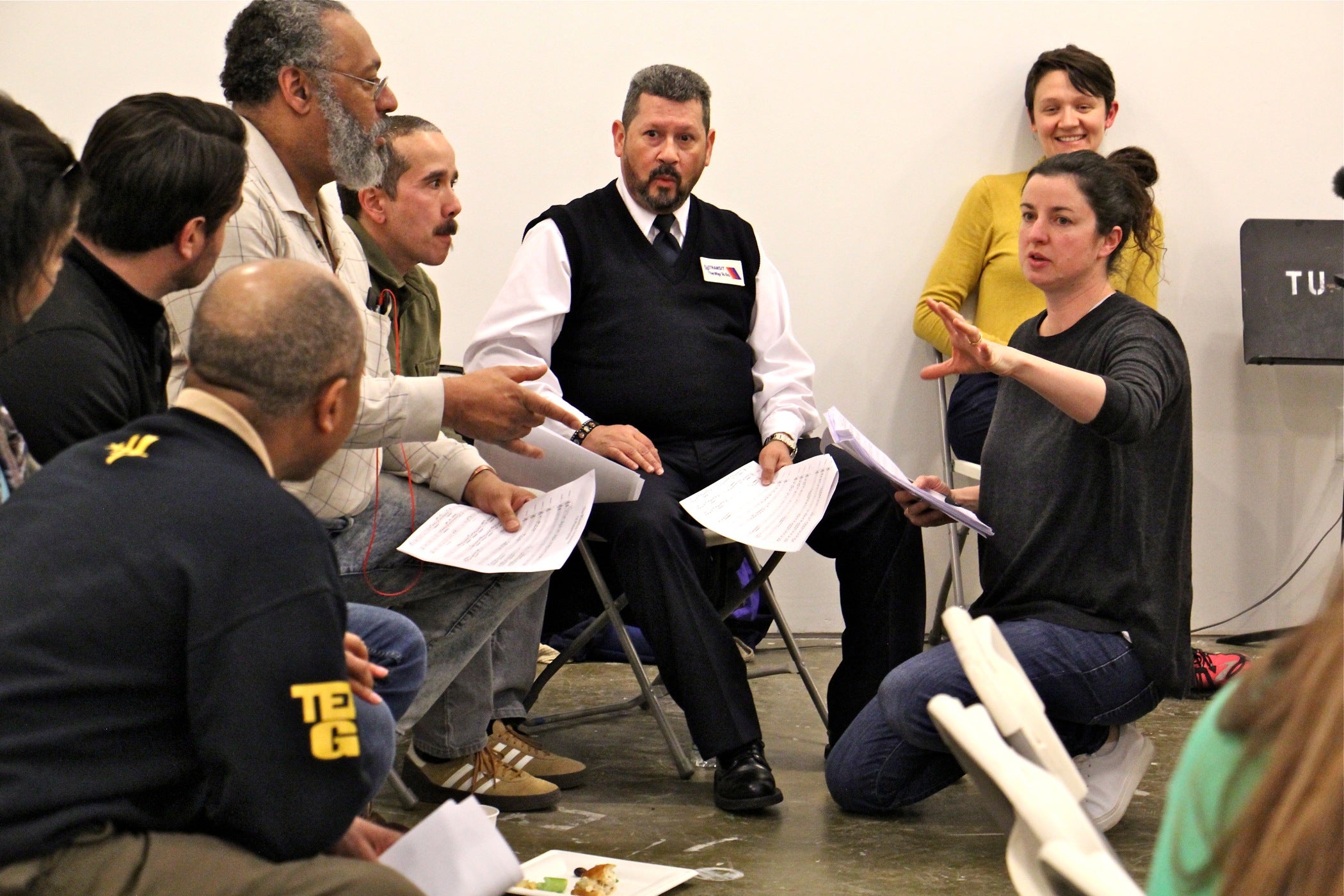 Smith was asked by Temple University's art gallery to write a piece of music that would honor the history of work in Philadelphia — the former "Workshop of the World" — and it should be written for an ensemble of whistlers, because, you know, "whistle while you work."
This isn't the first whistling orchestra for Smith. She created a similar composition and ensemble in Nottingham, England, a historic factory town that followed a trajectory of industrial glory and post-industrial downfall very similar to Philadelphia.
Music in modern workplace
The way people used music on those 19th-century factory floors is very different from the way people use music at work now. Few whistle at their computers, for example.
"Work practices have changed dramatically," said Rob Blackson, director of Temple Contemporary. "People are in cubicles with earbuds. They don't want to hear other people. So you have this dying talent. But there are still beautiful whistlers in Philadelphia."
Blackson said there was a "beautiful explosion" of talent that answered the call for orchestral whistlers. He and Smith had to turn people away to keep the ensemble at 30 members. All will be paid a stipend to appear at a few rehearsals and single performance on Saturday evening, because work isn't free.
Actually, there are 31 whistlers. After the orchestra's 30 positions were filled, Blackson and Smith got an unsolicited audition on voicemail, whistling the flute part from Chicago's "Color My World."
Anthony Feaster, a long time bike messenger and amateur whistler, became the 31st member of the orchestra.
"It's good to find a venue to do the things I've been doing for so many years," he said. "I thought is was an unappreciated skill. I do it on the bus subconsciously. It raises eyebrows, especially when you're on pitch. Because everybody can't whistle."
It's not unusual to whistle subconsciously. When Smith put out a call for participants, she included people who might recommend a friend with an unbeknownst talent.
"People who whistle the most often don't realize they are doing it," said Smith, who admits she will catch herself whistling on trains and busses. "You're creating your own revelry. It's as natural as walking or breathing."
One ringer
This orchestra of amateurs actually has one professional whistler. Mimi Drummond is a champion whistler, having competed on the whistling circuit (yes, there is such a thing) since the 1980s. She will be the lead, similar to the first chair violinist in a more traditional orchestra.
"You have whistlers that sound like strings, some sound like winds – like a clarinet," said Drummond. "It's all based on the shape of your mouth and how you use your air. You get an astonishing number of sounds."
Through her decades of whistling, Drummond has never before performed with an ensemble. Whistling is usually a solo practice, often done for one's own personal amusement. The whistling orchestra is an experiment in taking a private act and making it public.
"We are whistling as an orchestra. What does it mean to whistle together?" wondered Drummond. "How is that different from whistling to yourself?"
The event at Christ Church will include a couple of run-throughs of the short composition, a presentation of the history of work songs in Philadelphia, and a whistle-along for the audience to get their puckers up.
WHYY is your source for fact-based, in-depth journalism and information. As a nonprofit organization, we rely on financial support from readers like you. Please give today.