When will construction start on Phase 1 of the Rail Park?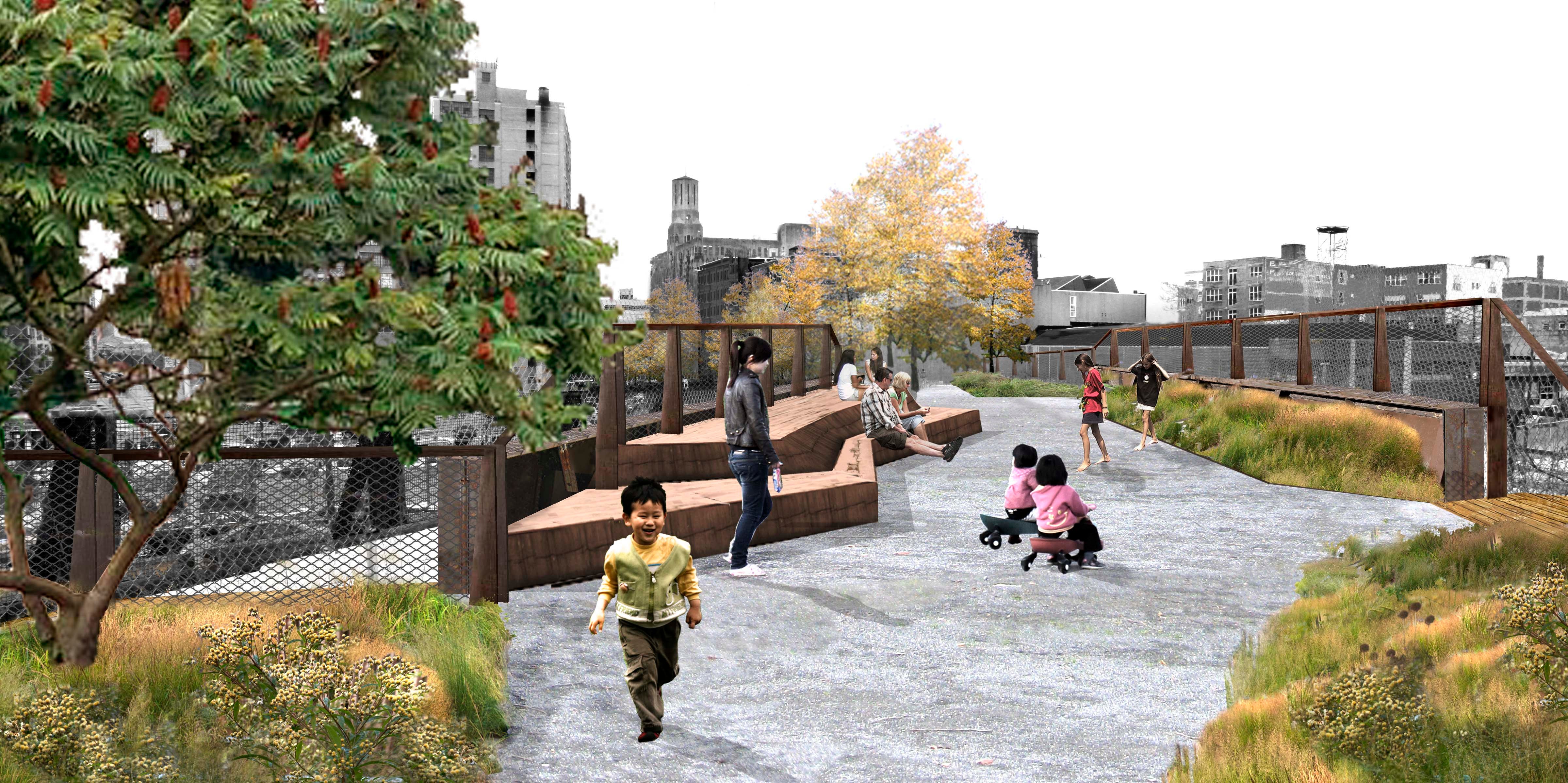 Creating a linear park out of the whole Reading Viaduct and City Branches may be a long way off, but last year hopes were high that Phase 1 of the project – a small park made from the SEPTA-owned Noble Street spur – would start construction this year.
So what's it going to take to get Phase 1 of the Rail Park built?
"Several stars to align, and they're all moving in that direction," said Center City District's Paul Levy via email. Levy is helping shepherd the project forward along with Friends of the Rail Park, the nonprofit group dedicated to creating a park on the former Reading Railroad tracks.
But don't expect construction to begin on the Rail Park in 2014, even though there is much positive energy around the project becoming a reality.
One essential piece that hasn't been finalized yet is an agreement with SEPTA to convert the Noble Street spur into a micro "rails-to-trails" project. Levy characterized ongoing conversations between SEPTA, the city, and Center City District as "productive" in terms of reaching the legal agreements that will make the park possible.
Studio Bryan Hanes has completed construction drawings, which are being reviewed by the city's Streets Department, Licenses & Inspections, Water Department, and Parks and Recreation for necessary approvals.
But even though construction drawings are ready, approvals are pending, and an agreement with SEPTA seems nigh, project financing is not in hand.
Phase 1 of the Rail Park is anticipated to cost about $8.5 million, and without a clear majority of the funds in place it doesn't make sense to bid out the project to contractors yet, Levy said. And that's really why construction won't get underway this year.
"The bid process will be very much driven by the fundraising process. With a lot of luck and generous donors, it could be bid this year, or it might be bid in winter 2014-2015 for a spring 2015 construction start," Levy said.
Fundraising from private, public, and philanrhopic sources is well underway.
Friends of the Rail Park held two successful fundraisers at the end of last year and are continuing public outreach work to drum up support and enthusiasm for the project.
"More than $75k was raised in 2013 [after expenses], towards the project through fundraiser events alone," said Leah Murphy, Friends of the Rail Park president.
Private foundations are also starting to nibble. The William Penn Foundation has pledged a "generous" grant toward construction of Phase 1. This grant has yet to be formally announced, however, so no details yet as to just how generous it is.
The state's Redevelopment Assistance Capital Program (RACP) has a preliminary allocation of up to $3.5 million for the project. Levy said a formal application will be submitted to compete for these grant funds.
Meanwhile Friends of the Rail Park intends to keep fundraising and finding other ways to keep people interested in the development of a linear park from the old Reading Viaduct and City Branch.
"We have to keep in mind that Phase 1 is the beginning of a much larger scale project with transformative potential that will bring benefits to the City and its residents on a number of levels–and it will only happen through both public and private support. As much as successful efforts to raise the profile of this project have advanced our goals, they can also have the unintended effect of belying the fact that there is a lot of ground to cover, figuratively and literally," Murphy said over email.
"While making Phase 1 a reality is a major focus of our efforts, we are always aware of the big picture," Murphy added. "The future of the City Branch is very much on our minds and we are involved in decision-making processes underway related to what's next for the Rail Park west of Broad. We plan to continue outreach to the many stakeholders along the City Branch over the next several months, in tandem with our efforts towards making Phase 1 a reality."
Renderings of Phase 1 of the Rail Park
(Studio Bryan Hanes)

(Studio Bryan Hanes)

(Studio Bryan Hanes)

(Studio Bryan Hanes)

(Studio Bryan Hanes)

(Studio Bryan Hanes)

(Studio Bryan Hanes)

(Studio Bryan Hanes)

(Studio Bryan Hanes)

(Studio Bryan Hanes)

(Friends of the Rail Park)
"Become a Friend of the Rail Park" mini documentary
WHYY is your source for fact-based, in-depth journalism and information. As a nonprofit organization, we rely on financial support from readers like you. Please give today.