'We're going to be processed to death': Activists push Kenney to do more on gun violence
Even activists and city leaders paying close attention to Philadelphia's gun violence prevention efforts say they don't know specifics about how funds are being spent.
More than 50 women community leaders and activists gathered in front of Philadelphia City Hall Wednesday evening, wearing red and holding roses to commemorate loved ones they've lost in shootings.
They were the second group this week calling on Mayor Jim Kenney to do more to address violence in the city, which is on pace to break a record number of homicides this year.
"We demand this administration involve citizens on every level and assure the outcomes focus on derailing and ending gun violence in our community," said Rita Hill, WURD show host.
Hill was joined by Philadelphia Sheriff Rochelle Bilal and Register of Wills Tracey Gordon as speakers, with Councilmembers Jamie Gauthier and Helen Gym showing their support in the crowd.
The rally organized by Black women made a point to call gun violence a racial equity issue, which affects Black and Latino communities the most.
As of Tuesday, 322 people have been killed in the city and more than 1,300 people have been shot — an increase of more than 22% from this time last year. Gun violence was the leading cause of death among young Black and Latino men in Philadelphia in 2020, according to the city.
Philadelphia is not the only city to see a surge in shootings following pandemic lockdowns, though activists say the increase in violence was building in the years leading up to 2020.
Those pushing Kenney to do more accuse his administration of failing to communicate how the city is investing $155 million earmarked for violence prevention. (Here is a general breakdown of where the money is going, courtesy of WHYY's Billy Penn.) For instance, activists and some members of City Council want specifics on how city agencies like the Commerce Department will reach the people most at risk of picking up a gun or being shot.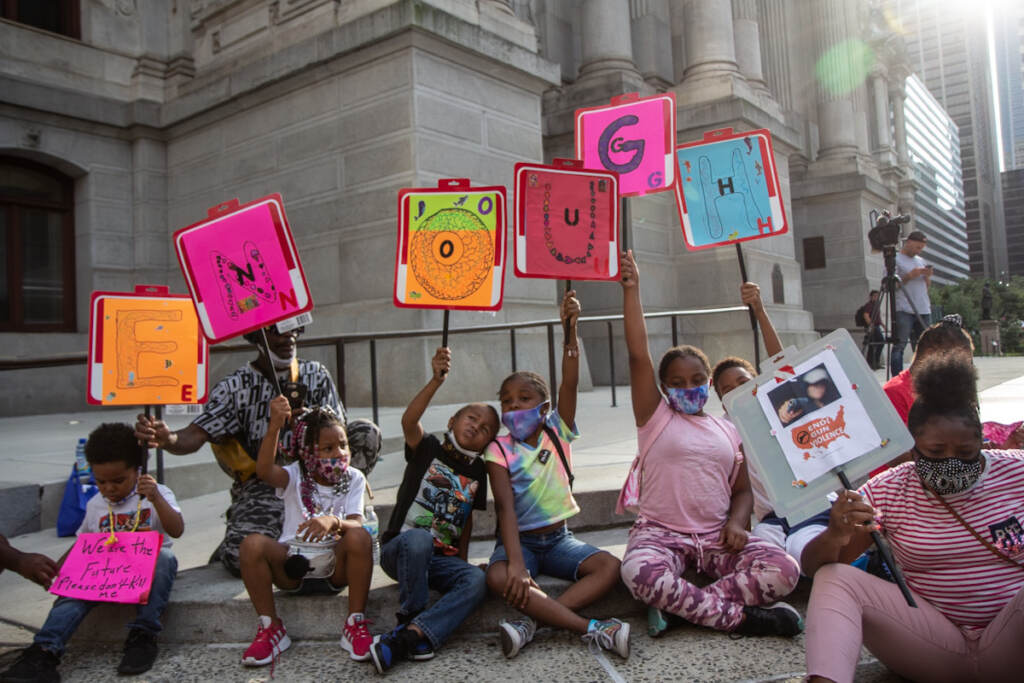 Another point of tension is the $20 million set aside in the budget for grassroots groups working in violence prevention. The funds were appropriated July 1 and the Kenney administration says it worked quickly to establish the award process for the new grant program, but activists say the city has been slow to release the funds.
"We're going to be processed to death," said Joann Bell with the Black Women's Leadership Council. "By the time you see that money, we will have more deaths in the city."
During his bi-weekly gun violence update Wednesday, just hours before the rally, the Kenney administration announced mid-size organizations can begin applying for grants Friday. Applications will be considered on a rolling basis starting Aug. 16. Early awards could reach organizations in September.
The city's bi-weekly gun violence response briefing should be starting shortly. You can tune in live at the city's Facebook page: https://t.co/yNY0GpmdmN

— Billy Penn (@billy_penn) August 4, 2021
Paula Peebles, one of the protest organizers, echoed Bell, and said while it's understandable the city wants to distribute funds to organizations with proven track records — the city has been criticized for not being able to say which programs receiving taxpayer dollars work at preventing violence — the traditional application process excludes small organizations and creates too much red tape.
"We want to offer to him the input that is needed so that these funds could be allocated properly and we could make visible, transformational change in our communities," said Peebles.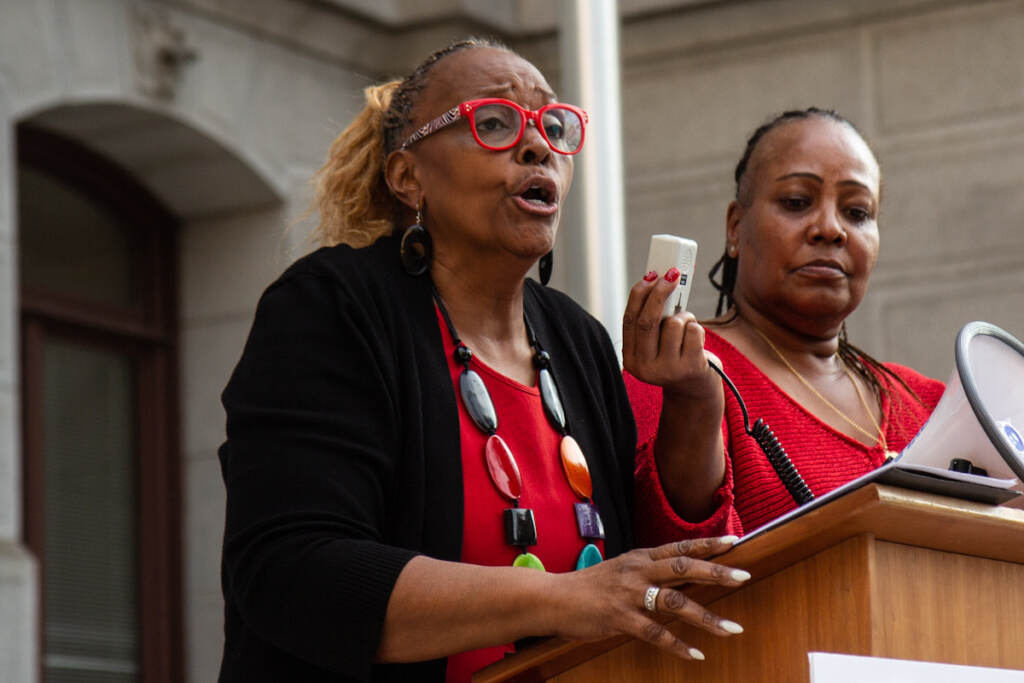 The Kenney administration has maintained it's taking an all-hands-on-deck approach to respond to shootings, pointing to investments in workforce development and expansions of recreation center hours.
During National Night Out, a national effort to build community-police relations, Kenney responded to critics saying the city has had less violent weekends recently, adding his administration can only do so much.
"It's the criminal court system, it's the availability of guns, it's the people that get guns that shouldn't have them," Kenney told 6ABC at a West Philly event Tuesday.
Anti-violence activists agree with Kenney on those points, but they insist they want more from him, including his presence in the ZIP codes most affected by violence.
"We need to see him more visible in those targeted ZIP codes," said Peebles.
In addition to a detailed breakdown of how the city is spending funds for violence prevention and speeding up the grant distribution process, the advocates at Wednesday's rally want the city to do more to partner with community groups and private businesses.
The group said it's not going anywhere until they see urgent and aggressive action from Kenney.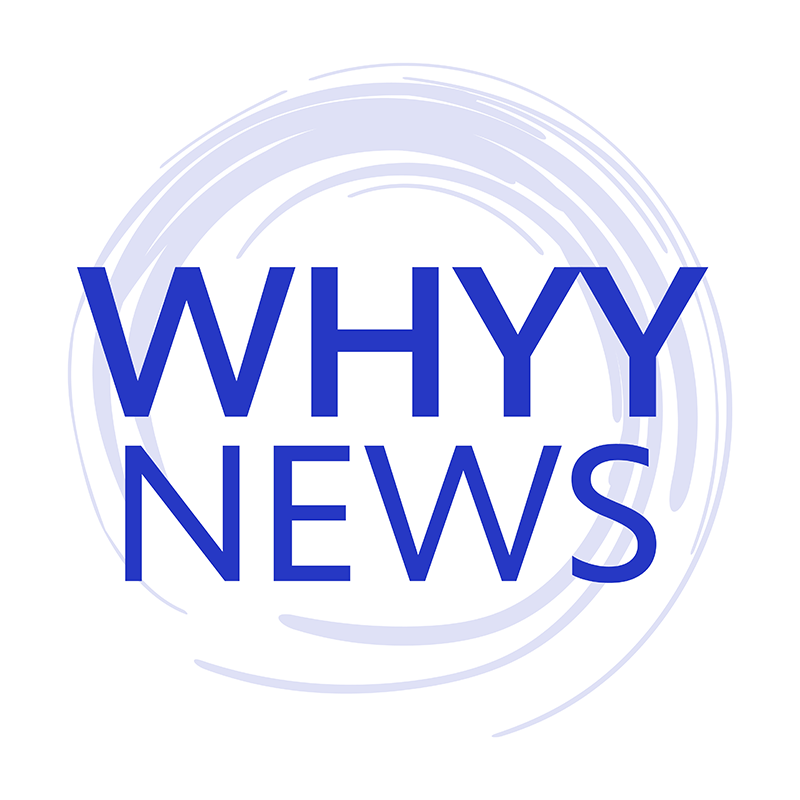 Get daily updates from WHYY News!
WHYY is your source for fact-based, in-depth journalism and information. As a nonprofit organization, we rely on financial support from readers like you. Please give today.