South Philly supermarket artfully measures social distancing
The ShopRite on Oregon Avenue partnered with Mural Arts to create floor decals to show customers where they can safely stand during the pandemic.
To protect its staff and customers from the viral outbreak, the ShopRite on Oregon Avenue near the Walt Whitman Bridge has restricted the number of people allowed in the store, placed a portable hand-washing station at the entrance, installed Plexiglas screens in front of the cashiers, and put blue tape on its floor to direct people where to go and where to stand in order to keep a safe distance.
Safety is the number one priority.
But it looks ugly.
"We take pride in the appearance of our store, we want our customers to have a welcoming experience in the store," said co-owner and COO Jennifer Colligas-Moyer. "With everything that's happening, it's kind of sad to see all these blue arrows, black and yellow instructions: Stop! Stay six feet apart!"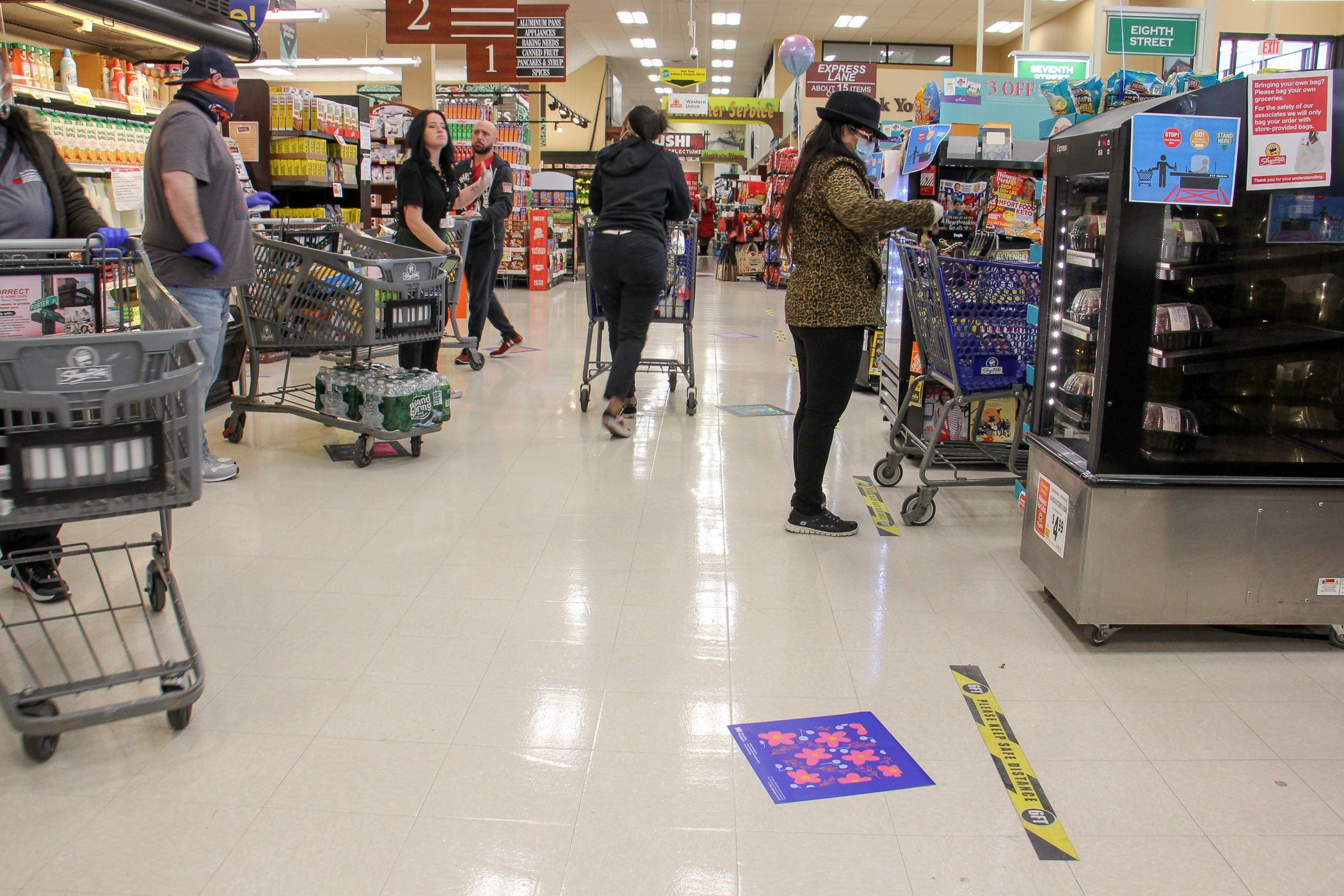 When Mural Arts Philadelphia reached out to Colligas-Moyer on a way to make safety directives more attractive, and hopefully, more visible, she immediately agreed. In less than three days, Mural Arts installed customized vinyl decals to show people where to stand while waiting to check out. They look a bit like lily pads on the floor.
Called "Safety Pads," the vinyl decals are designed by local artists with imagery, color and text – even haiku poetry – arranged six feet apart in rows stretching back from the checkout.
"We hope people appreciate that little bit of artwork, but also we're helping them get used to a spatial analysis: this is what six feet looks like," said Kate Jacobi, program manager at Mural Arts.
The project came together at a breakneck speed. Just a few days ago Jacobi hatched the idea and approached Colligas-Moyer, who had partnered with Mural Arts several years ago for a project at her previous location on Snyder Avenue.
"We were emailing at 2 a.m.," Colligas-Moyer said.
"Wednesday evening, for some reason, we were both up at 2 a.m.," Jacobi added.
Artists were immediately hired and started working.
"They can design these from home. They email them over to us, we get them vetted by the store, who said thumbs-up. We get them printed and here we are," said Jacobi, adding that the vinyl printer put a special one-day rush on production. "This has all happened in three days."
Speed was critical for the project because the COVID-19 spread is accelerating.
"We can't take two weeks to get this done," said Jacobi. "We're trying to use art as a way to communicate to people about this pandemic crisis."
Right now there are about 20 decals in the ShopRite, with more coming next week.
"Space Pad" is a pilot project, which Mural Arts hopes to spread to other stores around the city.
WHYY is your source for fact-based, in-depth journalism and information. As a nonprofit organization, we rely on financial support from readers like you. Please give today.