Rowan's veterinarian school breaks ground and gains a name
J&J Snack Foods chair Gerald Shreiber's name was added to Rowan's School of Veterinary Medicine after he gave $30 million for scholarships.
Rowan University has broken ground on its new veterinary school at their West Campus in Harrison Township, the first school for animal doctors in New Jersey. It also announced that the school will be named after the chairman of J&J Snack Foods.
Officials announced at a ceremony on Friday that the university will honor Gerald Shreiber for his $30 million gift to the university in support of scholarships at the new school. It's the third largest gift Rowan has ever received.
Shreiber is an animal lover who has a host of rescue animals at his farm in Mullica Hill. He has supported the university for more than two decades. He said his most recent gift to the university was very important.
"It's one thing to make money, which I've done," he said. "But to be able to use that money where it helps students like this and an area like this is even more important."
Unable to afford college after graduating from high school, Shreiber went to work. He eventually bought a bankrupt pretzel company in 1971 and turned it into a multi-billion dollar business. His three adult children went on to college, including one son who is a veterinarian.
Officials say the donation was a natural progression of his family's devotion to animal welfare and education. In 2019, Shreiber gave $3 million to establish the Shreiber Family Pet Therapy Program, which currently has 26 active therapy dog handlers and 28 active therapy dogs.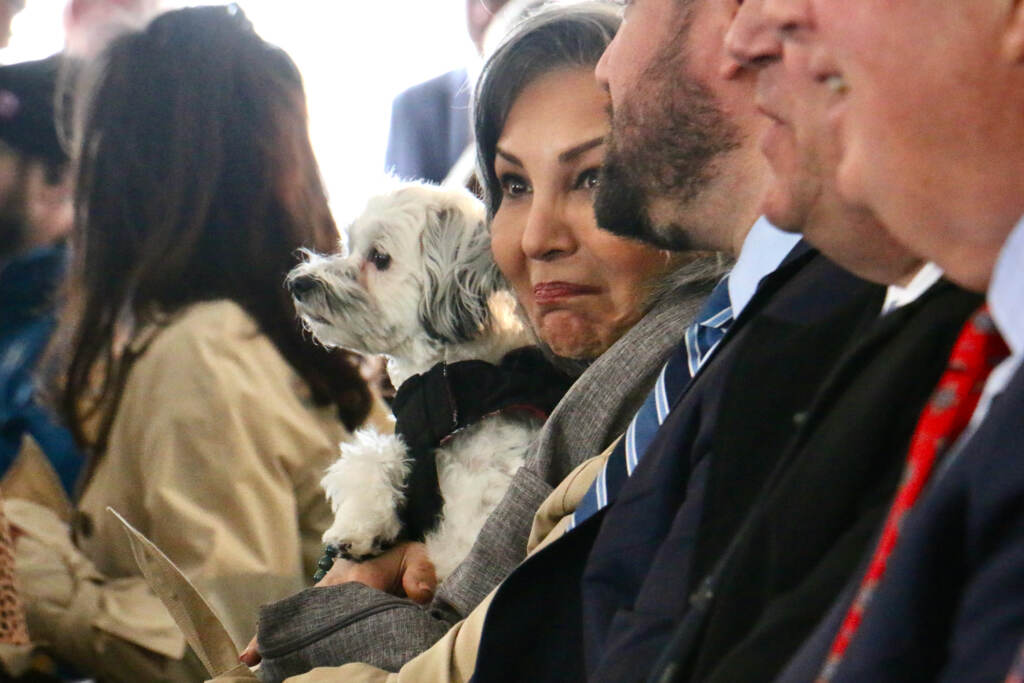 Dozens attended the ceremony, including Gov. Phil Murphy and former Senate President Steve Sweeney. Shreiber and his wife, Melanie, were pleasantly surprised by the turnout.
"It's just overwhelming," she said. "They've done such a beautiful job."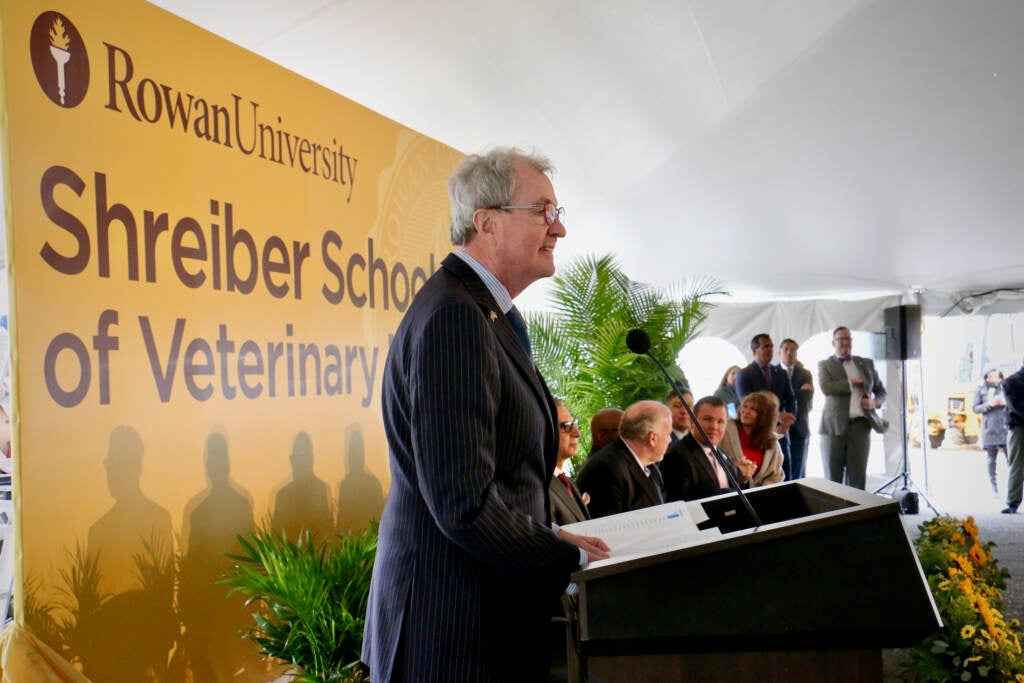 Rowan announced it would host the Garden State's first veterinarian school in December 2021. The legislature approved $75 million for constructing the facility that will be 108,000-square feet. It will include classrooms, educational and diagnostic laboratories, a teaching hospital, and offices.
Out of the nearly three dozen veterinary schools in the United States, five of them are on the East Coast. It will also be one of the rare schools to offer doctorate degrees in medicine, as well as veterinary and osteopathic medicine.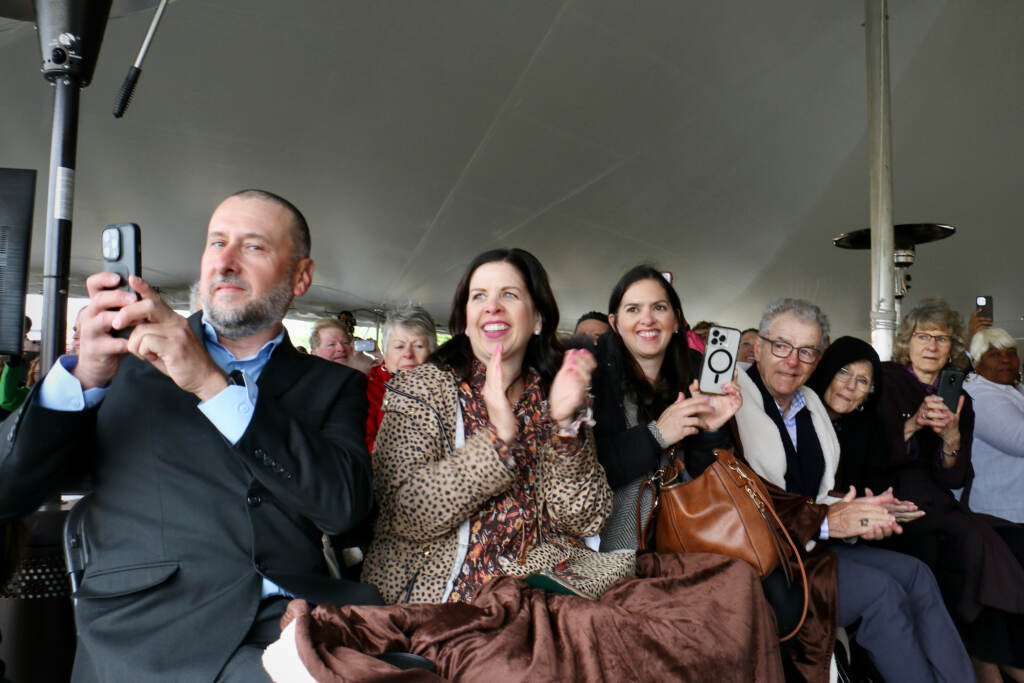 Officials hope that once the Shreiber School opens, future veterinarians in the state will choose to stay in New Jersey to study. They also noted the opportunity to add to an industry that is in need of people.
"It allows them to follow their dreams right here at home," said Asm. Bill Moen, a Rowan alum. "It also gives that opportunity a bridge for those that might not live in New Jersey to think about South Jersey, to follow that dream."
The inaugural class of at least 60 students is expected to begin their studies at the Shreiber School in 2025. Among them is Ethan Buzinkai of Bayonne, who will begin attending Rowan in the upcoming academic year. He decided his career path at three years old at the breakfast table.
"I actually told my parents that when I grew up, I was going to be a vegetarian, and I had just finished my breakfast with sausage and bacon," he said.
"We were a little confused," his dad, John Buzinkai, said.
"I think I was definitely confused," added his mom, Debbie Buzinkai. "He had a ton of bacon."
After explaining that he wanted to help animals, Ethan Buzinkai's parents explained that he meant veterinarian.
"I've always had a passion for animals my whole life," said Ethan Buzinkai, adding that he has two dogs, two bearded dragons — one of them he is rehabilitating — and a king snake.
"I do believe that veterinary medicine is a vocation," he said.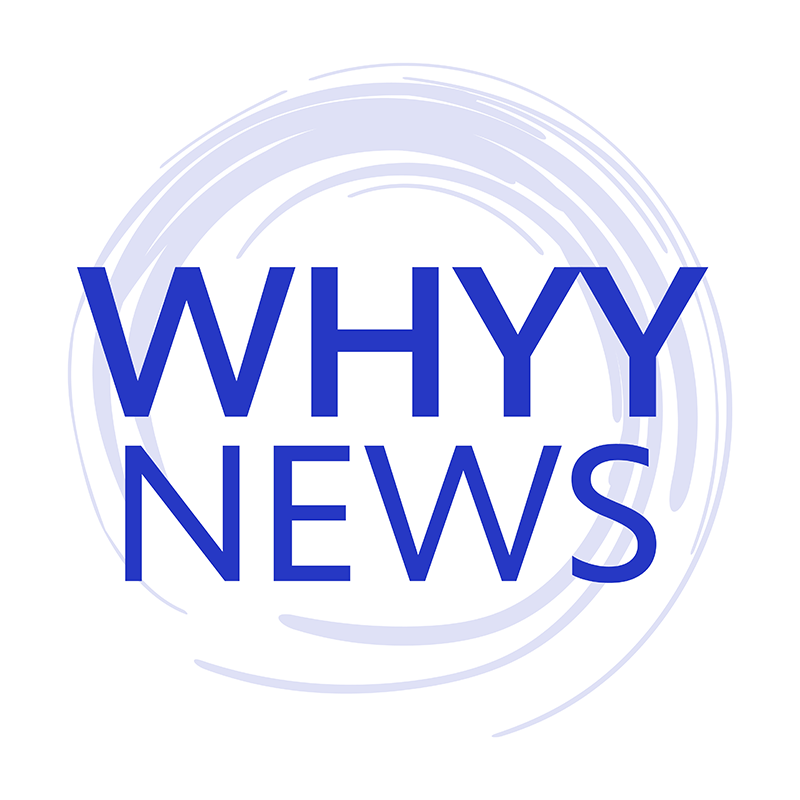 Get daily updates from WHYY News!
WHYY is your source for fact-based, in-depth journalism and information. As a nonprofit organization, we rely on financial support from readers like you. Please give today.