Puerto Rican community in Pa. displaced by Hurricane Maria eager to vote in 2020
Three years after Hurricane Maria, Pennsylvanians displaced from Puerto Rico and now able to vote for president reflect on priorities for the 2020 election.
Listen
6:00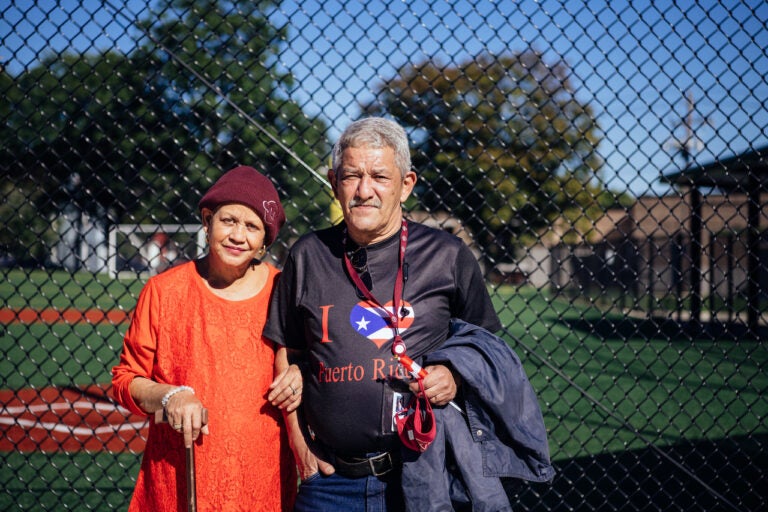 When Hurricane Maria hit Puerto Rico in September 2017, Consuela Bourdony's neighborhood in Aguadilla was under siege from floodwaters. She had just given birth to a newborn.
"I remember I was outside breastfeeding the baby when the lights went out. And the wind started getting heavy and you could see the palm trees swinging back and forth," she said.
Inside the eye of the storm, the sky was sunny, the air calm. But Bourdony could hear the winds gathering around her. Then the storm was on them again, she said, worse than before.
The wind made "a sound like death," she said. When the storm passed, people began rebuilding, dragging debris out of the street.
"We could not wait. People were not going to be able to wait for the government or the agencies," she said.
Three years later, Bourdony, who resettled in Lancaster, is one of the many people who were displaced from the island following the storm. The U.S. Census Bureau estimates the Puerto Rican population in the United States grew by more than 200,000 from 2017 to 2018. In Pennsylvania, the increase was nearly 32 thousand – more than for any state except Florida.
Displaced Puerto Rican voters are among the half-million Latinos eligible to vote in the commonwealth, a presence that could prove critical as both President Donald Trump and former Vice President Joe Biden see Pennsylvania as in their grasp in November.
As Puerto Rico continues to face the long aftermath of the storm, it is also dealing with new crises. The coronavirus has added to existing economic stress. For the southern part of the island, 2020 began with a series of severe earthquakes. In the days leading up to Maria's anniversary, both Trump and Biden unveiled plans aimed at voters who are concerned about the well-being of people still living on the island.
For Bourdony, the journey to this moment was not easy.
Following the storm, there was no electricity or running water in Puerto Rico for months. Some lived without power for more than a year and the grid is still unreliable. Food and gas were scarce. Bourdony has a Bachelor's Degree in English and is certified to teach in Puerto Rico. At the time of the storm, she worked for an airline, which gave her more opportunity than many.
"My employer was letting employees leave on humanitarian flights," she said. "They would drop off supplies and they would take passengers and leave."
A week after Maria, Bourdony, a single mom, left Puerto Rico with her baby and two older children, without even a chance to say goodbye to her relatives.
"They didn't know I was in the States. So, they were surprised," she said.
At random, based on flight vouchers, she ended up in Pennsylvania. After seven months in shelters, she got an apartment in Lancaster. Now, she has a steady job and this year, as a resident of the mainland, she'll be able to vote for president in the general election for the first time. Puerto Ricans living on the island can vote in primaries and send delegates to conventions, but their votes do not count towards general elections unless they reside in a U.S. state.
Bourdony said she doesn't like politics, but this election does feel important to her. She's not a typical partisan voter, though. Her views currently are driven in large part by anxiety about the spread of the coronavirus.
"We want this to end," she said. "We should work together. And just end this. This disease and this virus and try to look for ways to have peace."
From a public health perspective, that's made her uneasy about the racial justice protests that began in May following the police killing of George Floyd.
"As soon as this protest started people started going out, not wearing masks, not social distancing," she said.
Bourdony grew up in a Republican household. But she remains unsure of who she wants in the White House.
"They say whatever they want to say; they tell you what you want to hear, but when they're in power they do whatever they want."
'Now that we need help'
Ramón Diaz, another Lancaster resident who left Puerto Rico after Maria, sees no middle ground. Nothing will stop him from voting for Biden.
Diaz has voted on the mainland before, with a voting history that he says includes ballots for Ronald Reagan and Al Gore.
One of the many critiques he has for Trump is an accusation that emerged last month. An ex-Department of Homeland Security official told reporters that Trump considered trading Puerto Rico for Greenland, disparaging the U.S. territory.
"Now that we need help from the United States, Puerto Ricans are dirty and poor," he said.
Over the weekend, Diaz was one of 25 people gathered in Lancaster's Roberto Clemente Park for the anniversary of Maria. They stood at the top of a grassy hill, in front of the baseball diamond, taking turns at the microphone as passing cars punctuated their speeches with honks or music.
The message was both one of outrage — at long-running environmental and economic burdens on Puerto Rico — and one of empowerment, calling on the Puerto Rican and Latino communities to see their power to make change at the polls.
"That is how we get out of two things — what we have, and what could happen again," Diaz said in Spanish, referring to the ongoing recovery from Maria and the threat of future storms, as climate change drives more frequent extreme weather.
Diaz was born in New York City, but spent most of his adult life on the island, where he was a cop. He explained, in all the time he lived there, Puerto Rico never suffered two hurricanes back-to-back, until Irma and Maria, which continues to affect people on the island.
"If you don't believe in climate change, you're not living on this planet," he said.
Vicenta Ortiz Rivera, who is married to Diaz, spoke after him. As a cancer patient, she explained at the event, she had to leave after the storm.
"In Puerto Rico, there are many dialysis, cancer, and diabetes patients," she said in Spanish. "Many died because they couldn't get to their appointments."
Nearly 3,000 people died because of the hurricane, by one estimate, and many of those deaths were linked to complications with medical care.
'The Puerto Rico that everyone deserves'
Since Maria, natural disasters and how they've been handled by both the U.S. and territorial governments continue to weigh heavily on the minds of Puerto Ricans.
Lourdes Garcia-Franqui has lived in Lancaster since 2016. In January, she visited her family for Christmas in Peñuelas, on the south coast of the island when two destructive earthquakes hit.
Before the first, the family was sleeping when the entire house started to shake. It seemed like the house might crumble, so she and her husband grabbed their two kids and ran outside.
Her daughter slept through it, but her son was awake and the memory has made him scared to go back to Puerto Rico.
Garcia-Franqui had to return to Pennsylvania for work and for her children to restart school, even as aftershocks kept people on constant alert. Her parents and siblings slept in tents outside their homes for more than a month. Garcia-Franqui says she felt terrible leaving her family, but did what she could to help from Pennsylvania. It echoed Hurricane Maria, when Garcia-Franqui could not reach her family for a month.
Less than two weeks later, blogger Lorenzo Delgado was among those who found and documented a warehouse full of supplies like water and baby food, many of them expired, that were reportedly meant for victims of Hurricane Maria. The supplies had been sitting there for years, unused. It was just the latest outrage at local government disaster response. Months earlier, a top FEMA official was indicted for taking bribes from a private company that was hired to repair electrical infrastructure.
"To have the Puerto Rico that everyone deserves," Garcia-Franqui said in Spanish, "we have to clean the house completely, but we need to clean it starting here. From the president on down."
Both major candidates seem to understand the power that Puerto Rican voters could have in November. Just before the anniversary and weeks before the election, Trump announced $13 billion in funding for Puerto Rico's electric grid and education system.
At the event in Lancaster, moderator Thaís Carrero described the move as a political ploy and said the administration should have released that money sooner. She is the state director of the immigrant and Latino advocacy group CASA, which aims to register at least 7,000 "first time and/or low-propensity Latinx, immigrant, and working-class voters" before November. The organization registered about 4,600 in 2016 and 2018.
"We are not going to let ourselves be fooled, thinking that now they are helping us to be able to move forward," she said.
Biden recently publicized his plan to help Puerto Rico while campaigning in Florida, timing the release with the start of Hispanic Heritage Month on Sept. 15. Democratic operatives in Pa. and other battleground states are using cellphone data to target newly eligible voters with Puerto Rican area codes.
'Preciosa'
Patricia Zapata, who was born in Puerto Rico and served in the U.S. Navy, has never had the opportunity to vote for president in a general election.
Before moving to York, Pa. she worked as purchasing director for a municipal government in Puerto Rico. She spent weeks after Maria on the front lines of the emergency, rushing to find food for city shelters and gas for emergency vehicles, asking for hundreds to thousands of dollars in credit, in part because card machines were not working. It took until February 2018, she said, for funding to start coming in so the town could pay vendors back. By then, Zapata was only working 25 hours a week and her two children's schools still weren't ready to open.
"I wanted to find something better for my kids," she said, "because what I was making, to be honest, was just to pay for my car."
She came to visit her sister in Pennsylvania and brought her kids five months later.
Zapata supports Biden and wants to see change in several areas, including health care, immigration, and policing. As for many in the Puerto Rican community, the island, too, is on her mind.
"Everything that happens here affects Puerto Rico," she said.
She also believes certain policy changes would make life in Puerto Rico more stable and just. She says one example is the Fiscal Oversight Management Board, or la junta, which oversees Puerto Rico's massive debt. The board, whose members are appointed by the U.S. president, has power over the economy and has promoted cuts to social spending.
"They're taking so much money out of the Puerto Rican people," Zapata said. "I think Puerto Rico should be handled by Puerto Rico."
The plan Biden released includes a debt audit and promises to "ensure representatives of Puerto Rico have a voice" while easing the island's "unsustainable debt burden." Biden was Vice President when Congress created the board with the Puerto Rico Oversight, Management, and Economic Stability Act of 2016.
Zapata also wants leaders to repeal the Jones Act, a shipping law which makes the cost of living in Puerto Rico more expensive than in U.S. states. Biden and Trump have defended the law.
At the event in Lancaster, organizers passed out the lyrics to a Puerto Rican classic: "Preciosa" by Rafael Hernández. As the group made its circle on the grass, Ramón Diaz said, "You know the funny thing about that song? It talks about Puerto Rico, but it wasn't written in Puerto Rico."
He explains, Hernández was living in Mexico when he wrote "Preciosa," a patriotic love song to his homeland.
Carrero nodded.
"Because he was missing the island," she said.
The song reflected some of the larger feelings of the moment at an event where people had described connections to their community in Pennsylvania, the urgency of using their voices in the upcoming U.S. election, and a lasting, precious commitment to Puerto Rico.
---
Alanna Elder produced this story as part of the America Amplified initiative using community engagement to inform and strengthen local, regional and national journalism. America Amplified is a public media initiative funded by the Corporation for Public Broadcasting.Alanna Elder spoke with Puerto Rican families in York and Lancaster to find out what issues are on their minds as they face the opportunity to influence the presidential election this November, and as both major candidates time their appeals to Puerto Rican and, more broadly, Latino voters around the anniversary of Hurricane Maria and the start of Hispanic Heritage Month.
Q: What did the people you talked to say about the experience of being interviewed for public radio?
Some welcomed the chance to talk about their experiences after Maria, even if these are stories they have told countless times before. When it came to politics and the election, some were cautious about sharing their opinions on major national issues, nervous that in this divided moment that sharing an opinion could disrupt their relationships. Still, pretty much everyone I talked to readily brought up abuses of power at various levels of government and across party lines. A couple of people compared the partisan divide across the U.S. to the rift that exists between major parties in Puerto Rico, the Popular Democratic Party and the New Progressive Party, as well as the Puerto Rican Independence Party.
Q: What surprised you about this type of community engagement?
I guess it was a little surprising – and telling – that it was sometimes harder to talk openly about politics than about a traumatic event, though that is totally understandable when I think about how our communities are divided right now. It wasn't surprising at all that connecting with people through a community organization was easier than trying to reach sources on my own. Perhaps because of the politics of the organization, it led me to people with fairly similar perspectives. I was able to find people with different views, though, by asking those I connected with through the organization if they knew others who might be interested in participating.
Q: What lessons do you have for others who want to do the same?
This is still a tricky time for community engagement. I'd recommend trying multiple avenues to find people to talk to, partnering with community groups that people trust, keeping in mind those groups' goals or bent, and using other strategies — such as posting in relevant social media groups, attending events if you feel safe doing so, and asking whoever you talk with who else you should hear from. Also, when talking about divisive issues, I'm working to make sure I really know where people are coming from. Restating what I heard back to a source is a strategy our team has talked about and that worked well for this piece. Sometimes it also helps to communicate why I am asking a question. And lastly, when people are sharing personal stories and beliefs, it's a good idea to communicate about the process that will lead to a finished story, so they know to some degree what to expect and when to expect it.
Get more Pennsylvania stories that matter
WHYY is your source for fact-based, in-depth journalism and information. As a nonprofit organization, we rely on financial support from readers like you. Please give today.