Stars cleaning stars on Philly's Walk of Fame
City life can tarnish even the brightest star. Some of Philly's music celebrities came to South Broad Street to keep their legacies bright.
From Philly and the Pa. suburbs to South Jersey and Delaware, what would you like WHYY News to cover? Let us know!
What do radio DJs listen to while they clean the house?
John DeBella, who spun classic rock for decades on WMGK 102.9, is a closet jazz head.
"Now that I've retired, I'm a big jazz fan," he said, "But no jazz when Lisa is around. My wife is not a jazz fan."
Patty Jackson, the longtime R&B DJ on WDAS, likes to get funky when she is tidying up.
"I love disco. I'm a disco fiend under all this," she said. "Do you know how much you'll get done listening to Harold Melvin and the Blues Notes' 'The Love I Lost?' The way that you'll be moving around, it's gonna get cleaned."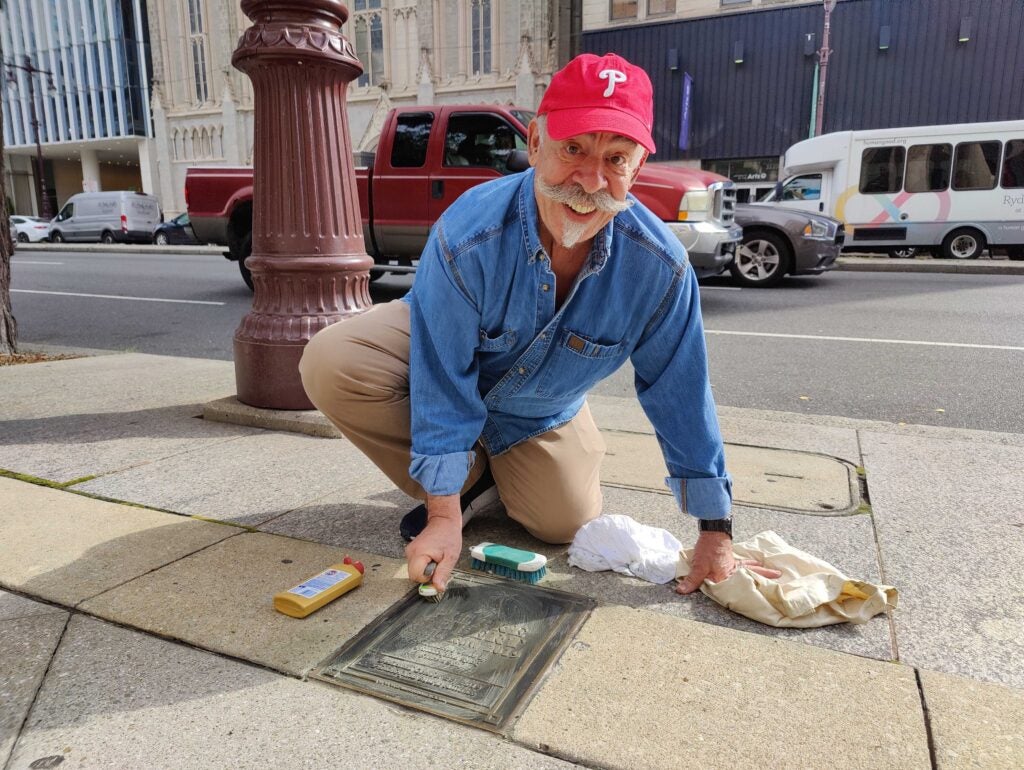 DeBella and Jackson put their cleaning chops to the test on Friday morning, giving a scrub to the tarnished brass plaques on the sidewalk of Philadelphia's Walk of Fame along South Broad Street. The pair were also cleaning their own stars — both were inducted into the promenade of the city's musical celebrities last spring.
"Normally, when they put your name on a plaque in the ground you don't get to see it," DeBella said. "So I'm ahead of the curve."
Because it was just put in last April, DeBella's plaque did not need much attention. It still had its new-star shine. So instead he spent some time scrubbing the plaque of DJ Pierre Robert, DeBella's former colleague when they both worked at rock station WMMR in the 1980s.
Since 1987, the Philadelphia Music Alliance has been putting plaques along Broad Street. In 2015 the Alliance started partnering with the International Alliance of Theatrical Stage Employees (ITSE), the stagehands union, to clean them every year.
Alan Rubens, the chair of the Music Alliance, said the sidewalk plaques pick up a lot of grime. Without care, the golden brass sheen can turn a dull black.
"A million people walking, the dust, the snow. But they have a great shine underneath," he said. "They weren't cleaned for the pandemic, so it's a few years of accumulation."
Rubens asked some of the stars to come out to clean their stars, like Russell Thompkins of the Stylistics, Larry Magid, former owner of the Electric Factory and producer of Live Aid, and drummer Earl Young, founder of The Trammps.
Mayor Jim Kenney issued a proclamation for the occasion of the fall cleaning, announcing the day as "Make the Arts Shine Day."
Like DeBella's plaque, Jackson's is still relatively new and did not need much cleaning. After six months she still is not used to seeing her name as a permanent part of Broad Street.
"You have to pinch yourself: my life is this?" she said. "I'm just a girl from South Philly who dreamed of being on the radio."
Kenny Gamble, the co-founder of Philadelphia International Records and one of the architects of the Sound of Philadelphia, was not able to attend the annual cleaning. Instead, his son, Caliph Gamble, came to keep his father's star shining.
"It's an incredible honor to be here today to put forth some good energy and sustain the legacy that my father contributed to the Philadelphia music scene," he said. "It's a beautiful thing to polish this up."
Charlie Gracie, one of the progenitors of rock and roll in the 1950s, was in the inaugural class of the Walk of Fame, among the first to have his name put into the sidewalk in 1987. He died last December at age 86. His son Charlie Gracie, Jr., came to clean the plaque.
Gracie said the experience of cleaning his father's plaque was emotional.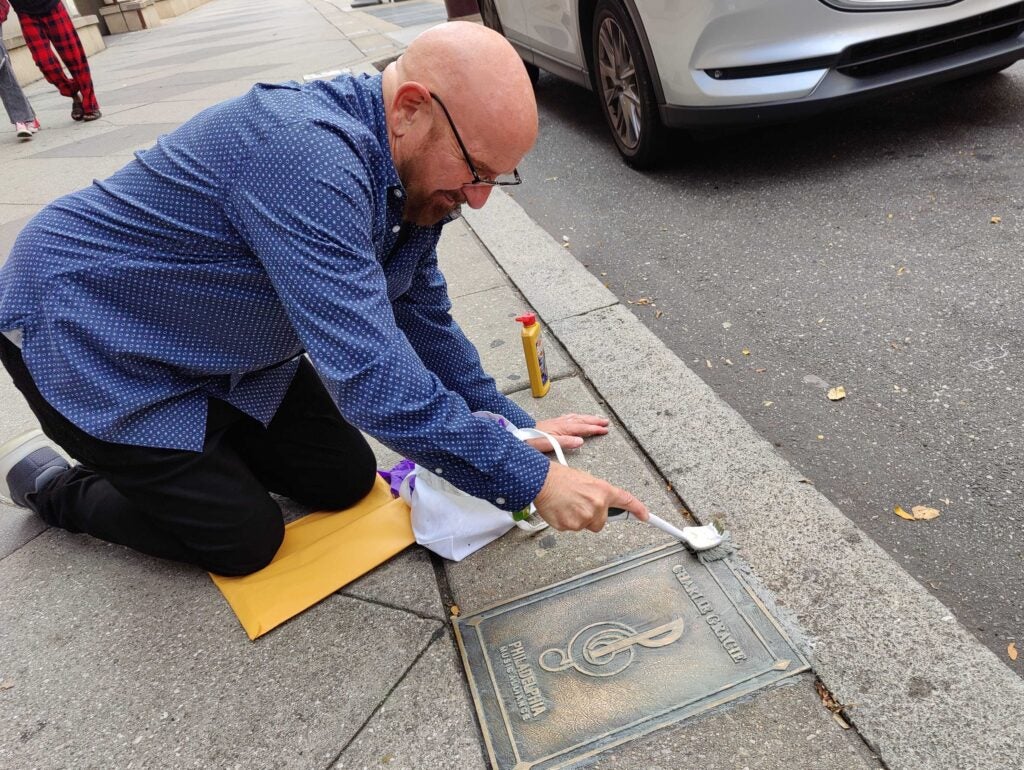 "My dad was cremated when he passed. I have some of his ashes with me," he said, pulling out of his pocket a small black vial on a chain. "I'm actually gonna touch this to the plaque. So in a sense, he's kind of here with me. Trying not to cry. I don't want to get sentimental on you, but, yeah."
Gracie found cleaning a plaque is not just emotional work, it takes a lot of elbow grease and a liberal amount of Brasso.


"It's a little tarnished. I've seen worse," he said. "We're gonna shine it up like the star that he was, and is. His music will live on forever."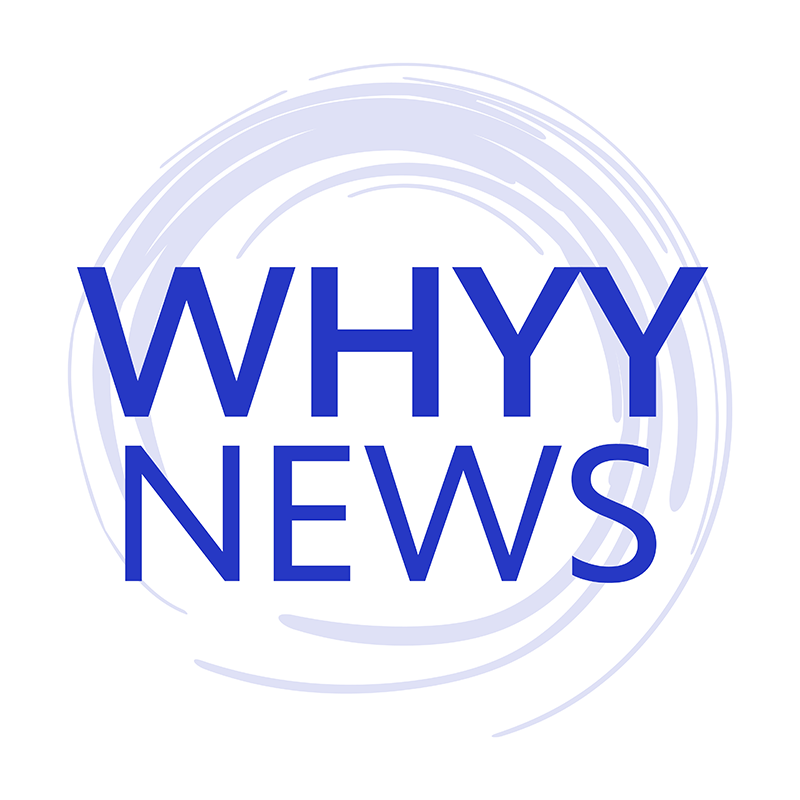 Get daily updates from WHYY News!
WHYY is your source for fact-based, in-depth journalism and information. As a nonprofit organization, we rely on financial support from readers like you. Please give today.