With an interactive display, Philly begins collecting community input for the Ben Franklin Parkway
Philadelphian Cherise Lawrence recalled Saturday what it was like trying to navigate a stretch of the Benjamin Franklin Parkway to get to high school – without getting hit by a car.
"This area can be hard to navigate," said the now 31-year-old Lawrence, who was back near the parkway, sharing her opinion on the city's plans to redesign the area.
"I used to walk to school to FLC [Franklin Learning Center] down there, and just getting through this space is always just like, 'Okay, I'm going to run now.'"
Lawrence and her friend, Ashley Lackey, 32, were among more than a dozen people who shared their visions for the area as the city launched the first phase of the Benjamin Franklin Parkway redesign. Lackey said she would also like to see safer, greener, designated paths for walkers and bikers, for the community's physical wellness.
Other nearby residents, meanwhile, said they wouldn't like to see any changes, fearful of increased traffic and reduced parking spaces.
"Our building captures sound and the noise would be impossible," said Elizabeth Savage, 77, who lives across the street from the Philadelphia Art Museum and doesn't want more events held nearby.
As part of the Saturday-morning information-gathering event, Design Workshop – the firm hired by the city to oversee the project – set up posters at the Oval XP entrance and asked passers-by what their visions were for the space between Logan Circle and the Philadelphia Art Museum.
The improvements were broken into five categories: environment, infrastructure, activities, economy and comfort, and history and culture. Consideration was given to mobility access, safety and public health, park programming, as well as public amenities and services. Post-it Notes and pens were available for people to write their answers.
Among the questions the firm asked were:
What opportunities do you see along the parkway and what are the problem areas?
What would you like to see more of along the parkway?
Emily McCoy, who sits on the board of Design Workshop and is one of the leaders in the project, said the project is starting "from scratch."
"I think the biggest issue that we have now is that some folks think there are plans out there, but there are not plans," said McCoy. "We're starting now and we're starting from a blank slate."
McCoy said they are dedicated to collecting data from all communities — people who live near the parkway, people who live farther from it, people who use the Parkway often, and those who don't.
In March 2021, PlanPhilly reported that Philadelphia is hoping to make the Parkway more accessible for people walking and biking. When originally seeking design proposals for the parkway, the city requested designs for "permanent improvements" aimed at making the avenue a more "pedestrian-oriented civic space."
The Parkway draws huge crowds and heavy traffic, and critics claim the boulevard can feel uninviting and even dangerous.
McCoy said the team is watching the process of soliciting public input and the weighing of plans around Washington Avenue, where safety advocates are urging the city to narrow the corridor, one of the most dangerous in the city.
"You'll never get full consensus, but finding those negotiating points where each group can have a little bit of what they want without sacrificing anything that's incredibly important to them," she said.
What's important to Marion Hoover, 78, is traffic flow.
"I think the Benjamin Franklin Parkway is an efficient way to move hundreds of cars from out of the city into the city and back out at night in a very beautiful way that people can enjoy as they come to the cultural institutions," she told WHYY.
Some runners passed by the hands-on survey experience and shared their input.
Jeanine Stewart, 38, from Graduate Hospital, said she's excited about the possibility of more nature, trails, and wildlife. "That wooden trail shown in the photo really caught my eye. It would be incredible to have more things like that," said Stewart.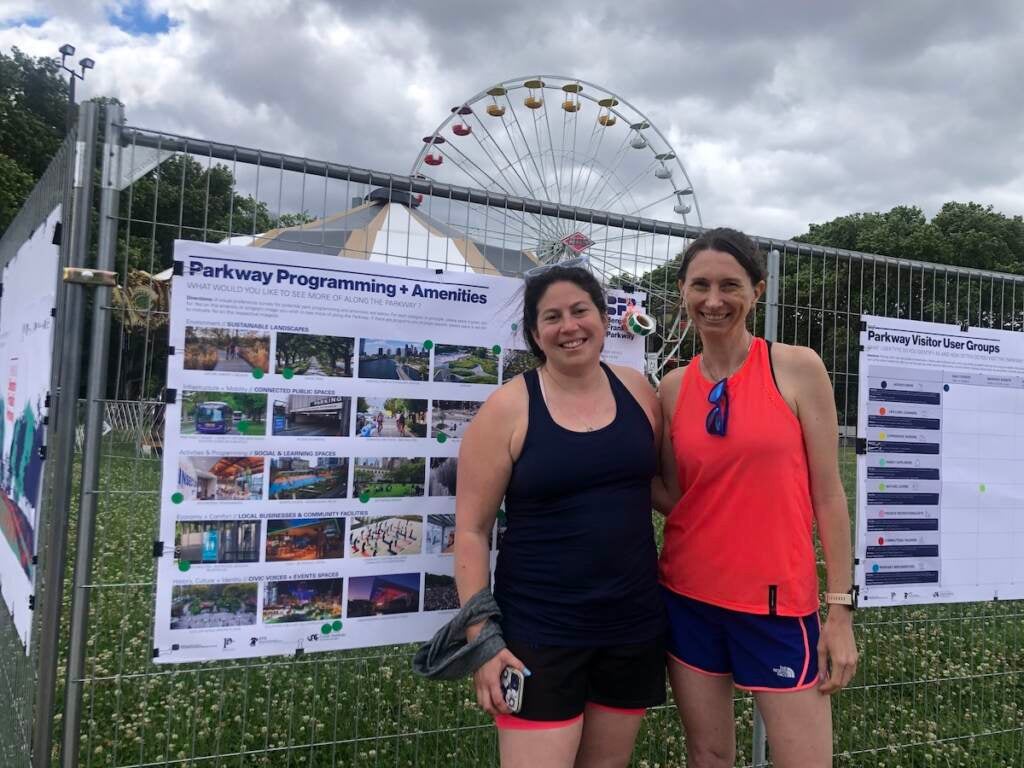 A family from Fishtown was visiting the Art Museum area. Anthuny Sung, 33, said he'd like to see more art installations, "unique self expressions of Philadelphia … it helps us grow as a city, you know, make it one of the hot destinations."
His wife, Lisa Sung, 34, said she'd like more child-friendly activities, like nature play or water activities, and pop-up marketplaces. "More things for residents to enjoy and do on mornings like this," said Sung.
To share input on the plans, residents can answer the city's online survey until August 15, 2022. McCoy said there has been a strong public response to the survey.
One of the more common requests: public restrooms.