Philly's iconic Ben Franklin Parkway to get a major redesign
The city released a request for proposals seeking designers to guide a major redesign of a stretch of the Parkway between Logan Circle and the Philadelphia Art Museum.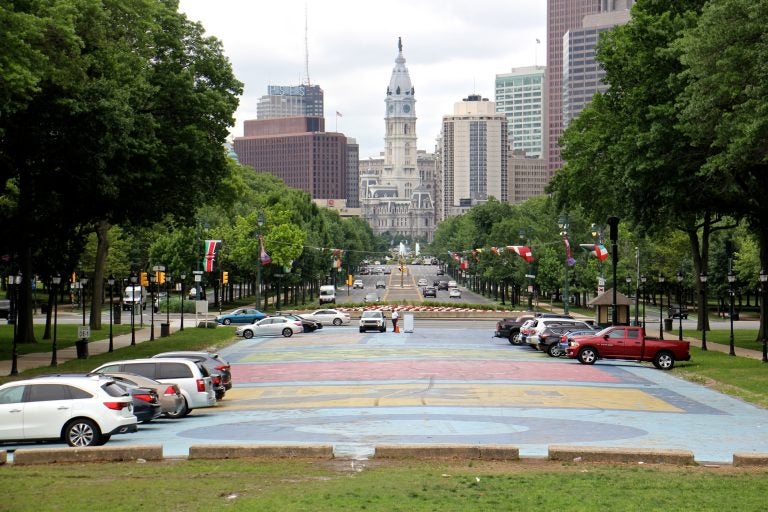 Philadelphia is moving forward on a long-term plan to overhaul much of the Benjamin Franklin Parkway with an eye toward improving access for people walking and biking.
The city released a request for proposals late Thursday seeking consultants for a major redesign of a stretch of the Parkway between Logan Circle and the Philadelphia Art Museum. According to documents obtained by PlanPhilly, the city is seeking designs for "permanent improvements" aimed at making the avenue a more "pedestrian-oriented civic space."
The joint RFP, filed by the Department of Parks and Recreation, the Office of Transportation Infrastructure and Sustainability and the Mayor's Fund, calls for a total redo of Eakins Oval –– including the removal of a surface parking lot –– and better infrastructure for public gatherings.
All of it will be driven in part by a public design workshop slated to kick off in June following the selection of a number of qualified design teams.
"We want to bring in some of the best thinkers and designers in the world, hopefully, to help us think about what this space could look like and how it could serve Philadelphians better in the future," said Parks and Recreation Commissioner Kathryn Ott Lovell. "We want more people to be on the Parkway. We want more pedestrians, we want more cyclists, we want more everyday users."
The RFP, funded with $360,000 from the William Penn Foundation, would be the culmination of a planning process and design improvements that trace back to a 2013 plan called "More Park, Less Way." Created by Parks and Rec in partnership with PennPraxis researchers, the plan ushered in a series of incremental investments in the auto-centric boulevard designed to make it a safer and more welcoming place for the hundreds of thousands of people who live or work within a 10-minute walk as well as the millions who visit each year.
Between the long-term momentum of these scattered — and sometimes temporary — improvements and the impending groundbreaking of a new museum to famed sculptor Alexander Calder this spring, it was time to finalize a unified vision for the upper portion of the Parkway, Ott Lovell said.
"We've made an incredible amount of investments already," she said. "But we've got a parking lot at the end of our Champs-Élysées. That's not the best use of that space."
Playing 'Frogger' to get to Rocky
Tens of thousands of people travel on the Parkway on the average weekday and huge crowds routinely descend for concerts, protests, and other events, yet critics have long assailed design elements that can make the boulevard feel uninviting and even dangerous.
Conceived in the 1870s as an early urban renewal project, the Parkway aimed to improve connections between Center City and the growing expanse of Fairmount Park. The final Parkway design iteration, drafted by Jacques Gréber in 1917, borrowed heavily from triumphalist avenues like the Champs-Élysées. Envisioned as a stage for the city's then-nascent cultural and civic institutions to be anchored by the forthcoming Art Museum, the upper stretch of the boulevard would come to host the Rodin Museum, the Barnes Foundation and will soon be home to a new museum dedicated to famed sculptor Alexander Calder.
However, various iterations of the Parkway have featured a traffic circulator at the end of the Parkway that is anchored by the museum. Subsequent redesigns grappled with a complex traffic pattern that included intersections with Kelly Drive, Martin Luther King Drive, the Spring Garden Bridge, and other city streets. The construction of interstates 76 and 676 in the later 20th century added dedicated highway ramp spurs along the southern portions of the Parkway, further complicating foot access.
Pedestrian access between the Parkway to the iconic Art Museum — and Philly's beloved, tourist-attracting statue of Sylvester Stallone's "Rocky" — was for years largely routed into a single crosswalk that required those on foot to cross six traffic lanes and two bike lanes. The situation has improved slightly but in practice, many still jaywalk.
"You end up playing 'Frogger' with the traffic patterns going on," said Mike Carroll, deputy managing director of the city's Office of Transportation and Infrastructure Systems, referring to the classic 1970s video game. "We want you to feel like you're in a welcoming urban space, not like you're in the middle of a highway."
Eakins Oval, a landscaped park enlarged by city planner Ed Bacon, sits at the center of these swirling auto lanes. Today, it functions as a glorified traffic island, partially used as a surface parking lot. Still, the sprawling 12-lane boulevard has long been under capacity, as much northwesterly traffic was routed onto the highways decades ago. Meanwhile, sections of green space, like a stretch fronting the 1970s-era Park Towne Place apartment complex, became lightly-used liminal spaces with counterintuitive pedestrian access.
Carroll said the city has already invested in addressing some of these issues. Space in the outer traffic lanes was demarcated for a large bike lane, while new pedestrian crosswalks, traffic-calming buffers, and rumble strips were installed. Last year, the city retained a traffic engineering firm to study bike and pedestrian improvements.
The city also invested in activating more of the park sections. Eakins Oval has been rebranded as "The Oval," a site for recurring six-week popups, including kid-friendly amenities and a beer garden. A Gerhard Marcks' sculpture, "Maja," long held in storage, was installed Friday in a redesigned section of park space in front of Park Towne Place, now dubbed "Maja Park."
With demand for public outdoor space only growing and new attractions coming to the area, city officials are now focused on a coherent plan that can help the boulevard transcend the autocentric and fragmented identity forged over the course of the last 100 years.
"We've got a lot of world-class assets here that work well in a lot of ways individually, but bringing them all together and getting them to work in concert is important," Ott Lovell said.
She said the RFP also seeks to address neighbors' concerns about the use of the Parkway as an event space. Although long a site for large gatherings, the strip is not purposefully outfitted for modern events. Some, like Made In America, have generated neighbor complaints and resulted in damage to park space.
"Whether you're the Pope, Jay-Z, or the NFL draft, this is where you want to be," Ott Lovell said. "It's time we designed a vision for the Parkway that allows us to serve all those different ideas and interests."
A civic space for the 'Post-COVID/George Floyd world'
Philadelphia officials are looking at examples like Montreal's Quartier des Spectacles as a possible inspiration for improvements. The arts district in the Quebec city is anchored by a plaza that doubles as an outdoor event space called the Place des Arts.
The RFP also notes the Parkway is also important for other gatherings, including public protests. The site of numerous marches following the killing of George Floyd by police last year, the Parkway also became home to a months-long encampment that aimed to draw attention to the city's affordable housing shortage.
"It was a natural gathering place for the many protests related to the Black Lives Matter movement," the RFP reads. "In light of the fast-moving events of the day and the continued uncertainty around what a post-COVID/post-George Floyd world is like, this project to design permanent improvements to the Parkway must address these issues head-on."
The Parkway has long faced calls from its two neighborhood groups and urban planning advocates to increase pedestrianization. Ben She, from urbanist advocacy group 5th Square, said it's time to permanently close some redundant traffic lanes –– and ideally go much further.
"We'd like to see, at minimum, the outer lanes pedestrianized," he said. "But closing off Eakins Oval at the Art Museum would be huge."
'Nothing is off the table'
City Councilmember Isaiah Thomas has called on the city to do more to address hit-and-runs and a generally increasing rate of fatal auto crashes — an issue on the Parkway — as well as many other streets with higher-than-average traffic speeds. He hailed the plan's focus on pedestrian safety and hoped the city would incorporate more of these elements into roadway improvements across the city.
"We need more infrastructure investments and pedestrian improvements; this is an important step and this attention must be applied to everywhere within the high-injury network," he said. "Any movement to address hit-and-runs is positive and important, but we need to look outside of Center City as well."
Carroll, of oTIS, admitted some of the clearest pedestrian obstacles –– like the daily "Frogger" game in front of the museum –– also presented serious design challenges. However, he also said "nothing is off the table" for redesign submissions and the city was open to ambitious solutions, like using a long-defunct trolley tunnel under Eakins Oval to redirect traffic away from pedestrian access points.
"We want to get some really transformative ideas," he said. "Even though they're going to need to be taken up by the broader community and another [mayoral] administration to bring them to fruition."
Following RFP submissions, the city will launch the public engagement process managed by the Lindy Institute for Urban Innovation at Drexel University to help a selection committee choose a final plan.
The RFP indicates the city hopes to have a final plan by the end of 2022.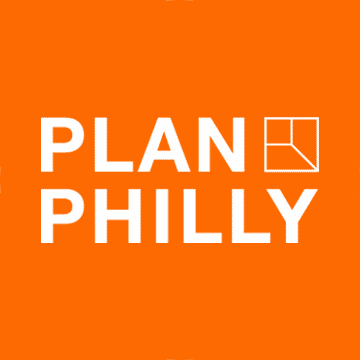 WHYY is your source for fact-based, in-depth journalism and information. As a nonprofit organization, we rely on financial support from readers like you. Please give today.