Neighbors split on reinstatement of Made in America festival on Philly's Parkway
Made in America will likely return to the Benjamin Franklin Parkway in future years. The neighborhood responds.
Listen
2:03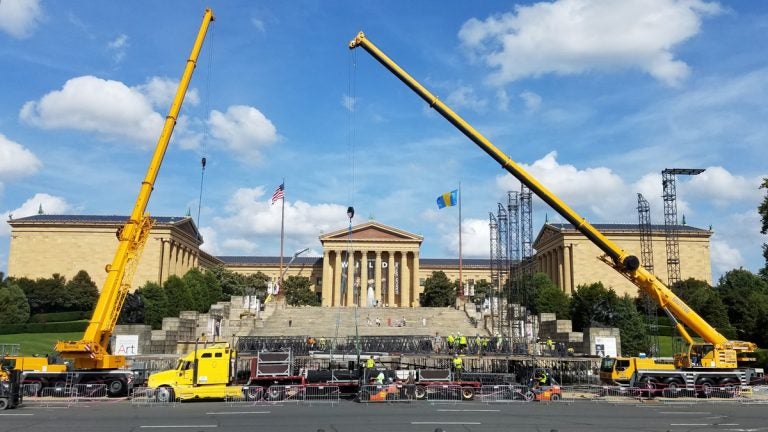 Before it ever went away, the Made in America concert on the Benjamin Franklin Parkway is back again.
After announcing last week that the massive Labor Day weekend festival would not be allowed to use Philadelphia's Parkway after this year, Mayor Jim Kenney has changed his mind — under the threat that rapper and producer Jay-Z would take MIA out of the city entirely.
Residents in the neighborhoods surround the iconic thoroughfare are divided in their opinions about that.
"As a 15-year resident of the area, I am extremely happy that this festival is moving," wrote Bernard Momasso in an email last week after the mayor announced he would boot the festival. "It's been very disruptive, to say the least."
He wasn't the only one expressing relief, albeit short-lived, that the festival would relocate. While the Parkway often plays host to large public events, the Made in America festival stands apart from most because it requires tickets and security fencing. Ticket holders — well over 100,000 of them who pay $175 and up — are not granted in-and-out privileges.
The multistage setup, breakdown, and food concessions that must be contained within the security zone add up to a significant number of road closures in the area, as well as trash and noise.
In an email, resident Michele Baymor wrote "the Parkway should be used for celebration and inclusion to build a stronger Philadelphia and neighborhood. The pope! The Eagles! Not for a for-profit festival."
In the Roberto Clemente playground on 18th Street, Todd Harrington was out with his 1- year-old daughter. The 30-year resident, who said he's seen a lot of happenings along the Parkway and Fairmount, said Made in America is part of life in the city.
"Living here this long, you get a feel for what's coming," he said. "As long as I know how to negotiate it, I'm OK with it."
Harrington said he frequently attended music festivals — he's partial to jam rock and Americana music — but has never attended Made in America. Nevertheless, he said he welcomes it as long as it's cleaned up afterward.
A relative newcomer to Fairmount, Bill Keeney moved there four years ago from Center City — in part because it's a neighborhood with a small-town feel within walking distance of downtown.
Sipping a latte in a coffeeshop on Fairmount Avenue, he said he fears that resistance to Made in America – which began as a festival of many kinds of music and has evolved into predominately a showcase for hip-hop acts — falls along racial lines.
"It's not an exclusively racial line, but it is around socioeconomic differences," he said. "I hear comments that it brings a lot of criminals into the area. I'm wondering if they're just seeing a lot of brown faces that make them think they might be criminals."
Everyone agrees that the festival causes problems in the neighborhood; parking becomes nearly impossible. Some find that intolerable, while others just roll with it.
When MIA began in 2012, Henry Kwiecinski lived within a stone's throw of its fencing and said he enjoyed sitting on his stoop watching and listening. He has since moved a few blocks away.
Despite the inconvenience, he likes having the event in the city.
"My only complaint about MIA is that they changed the format and types of artists," he wrote in an email. "I prefer they return to the original intent."
WHYY is your source for fact-based, in-depth journalism and information. As a nonprofit organization, we rely on financial support from readers like you. Please give today.