New playground in South Philly to be named after political trailblazer Anna Verna
Philadelphia's first female Council President Anna Verna was a longtime South Philly resident and lived near the site of the new playground park.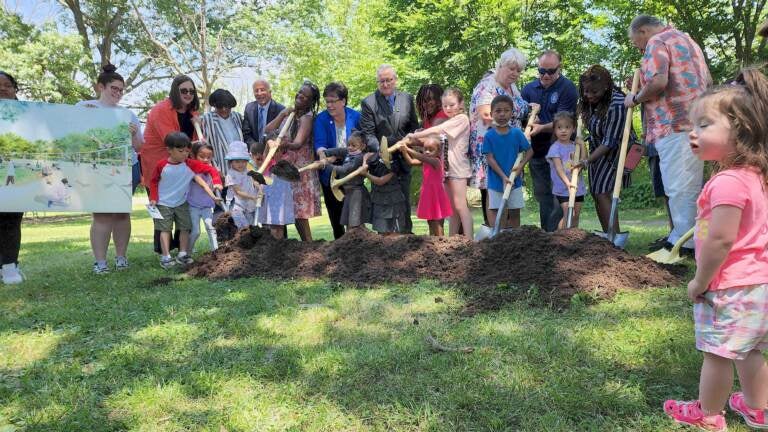 A new playground within FDR park in South Philadelphia will be named after the first woman elected president of Philadelphia's City Council.
The Anna C. Verna playground will span more than two acres in the park, which is located across the street from the stadium complex on Pattison Avenue.
Philadelphia's Parks and Recreation Commissioner Kathryn Ott Lovell said the facility will be different from any other space of its type in the city.
"We thought about something that would be completely innovative, completely different, very expensive, with custom-made equipment coming from Germany that is going to reflect the diverse communities, the diverse habitats, and the diverse uses of this park itself," she said.
Physically, the facility will be spread out and have state-of-the-art imported play equipment.
"We will have a mega swing set, a swing set that will literally envelop the entire park for adults and children. It will have 20 different swings designed for all ages. And while they swing, they will be able to look out onto the Patterson Lagoon," Ott Lovell said. "We will have nature-based play equipment, custom made in Germany, including spinners, log and boulder scrambles, and custom-made tree houses with tube slides stories high."
Mayor Jim Kenney said he's glad to have a place for people to come and have a safe space to enjoy the outdoors. He recalled years of riding his bike through the park, affectionately known as "the lakes" and said he always felt at home in the space.
Kenney talked about working with Verna for years and said she was like a "big sister" to him. He said he was so proud of her when she became the first woman to lead City Council.
Kenney said the park, like Verna, will be forward-thinking with more than just one or two pieces of equipment designed for those in wheelchairs. The Verna playground was designed so that the entire space will be handicapped accessible. He said it "sets a new high bar for public park design."
State Representative Regina Young also spoke at the groundbreaking Wednesday and said that the space is special.
"I love open spaces. I believe that it brings such a wholeness to who we are," Young said. "It brings a balanced mental wellness, mental and emotional space to help us understand we are bigger. We are not as big as this universe, but we can participate in it. And so, these parks stabilize me mentally."
Barbara Capozzi of the Friends of FDR Park said Verna was a woman who "showered people with love and affection, guidance and wisdom," and called her a "guardian angel" for the community. Capozzi said the park will become a destination and a model for others in the country.
Verna died last June at age 90 after a career in public service that spanned seven decades. She is the only woman to have been president of City Council.
Verna's father, who was also a member of council, also has a park named after him at 7700 Elmwood Ave in Philadelphia. One of Verna's former aides said she visited his park all the time to tell people the story of her father.
The new South Philadelphia facility is expected to be ready to open in about one year.
WHYY is your source for fact-based, in-depth journalism and information. As a nonprofit organization, we rely on financial support from readers like you. Please give today.