Multi-modal with MOTU: Biking about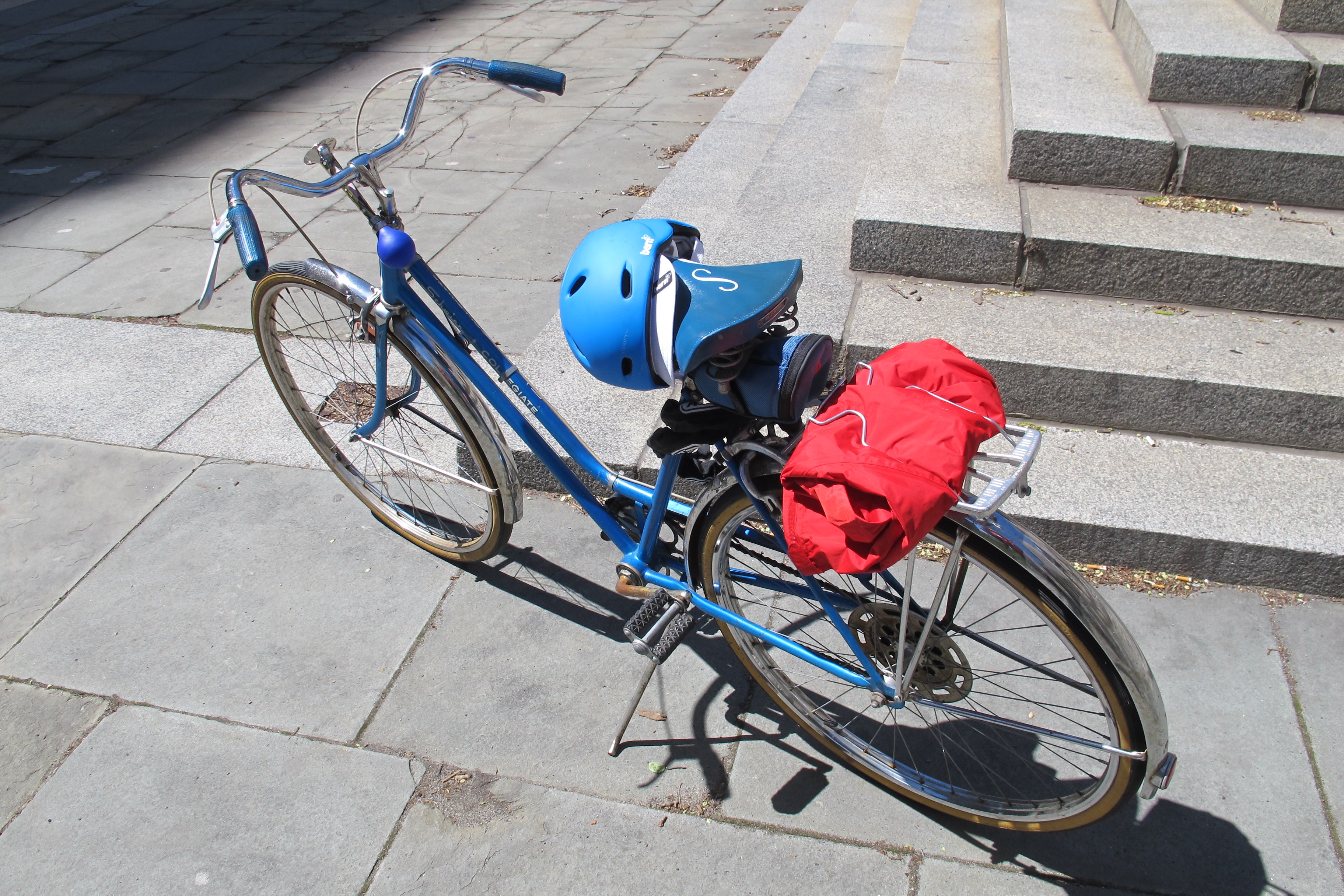 Multi-modal with MOTU is a new, occasional series where Eyes on the Street meets up with planners from the Mayor's Office of Transportation and Utilities to explore the city's infrastructure. We'll talk shop about what MOTU is doing to rethink and improve how people get around the city. We'll visit recent projects, examine pinch-points, and learn about work ahead. We begin this series with a two-part story on two wheels.
———
On a recent, and especially perfect spring day I put air in my bike tires and struck out to see the city alongside Charles Carmalt and Aaron Ritz, bike planners with the Mayor's Office of Transportation and Utilities (MOTU). Our mission: to explore a few recent and upcoming bicycle and pedestrian projects, and to get an up-close look at the challenges of changing city streets.
When Charles and Aaron rolled up to 34th and Spruce, I feared my vintage Schwinn Collegiate and I wouldn't keep up. Our route was finalized the day before our ride-about and I was a bit intimidated. While Charles and Aaron are real bike guys, I'm a novice city cyclist. They had mercy on me and kept a pleasant pace as we rode around for about 3 hours.
We biked about 10 miles, stop-starting as we checked out the site of a future pedestrian plaza, the birth of a Greenway, visited the Grays Ferry Crescent, and rode along the City's new and old bike lanes. Here's where we went:
Today, in part one of our journey, we'll take a look at bike/ped projects in West and Southwest Philly. Tomorrow, we'll finish our rideabout in Center City with a deeper look at the intricacy of reshaping city streets.
Philadelphia Cycle:
Philadelphia has more than 200 miles of bike lanes and a greater share of per capita bike commuters than any other big American city. Some of Philly's bike lanes were installed years ago on the city's widest streets simply because there was room. Others are part of a new wave of bike infrastructure that is happening in no small part because of Mayor Nutter's Complete Streets Executive Order. "Complete streets" are those where uses are more balanced in favor of multiple modes of transit, rather than complete auto-domination.
But just because bike planning is a public priority doesn't mean that MOTU has the go-ahead for a wild bike-infrastructure binge. Interventions that make the city bike-friendlier usually happen in conjunction with other projects – like utility work, track replacement, street paving, or bridge repair – and with multiple partners. Every move, particularly during these lean budgetary times, has to meet multiple bottom-lines. And it helps that MOTU is charged with inter-agency project coordination.
So what is MOTU up to when it comes to bike and pedestrian planning? Our journey begins in West Philly.
Pedestrian Plaza Preview:
Charles, Aaron and I pedaled up Spruce Street, then out Baltimore Avenue to check out the site where a new pedestrian plaza will be built this year. The intersection of Baltimore, Florence, and 48th is an awkward , wide 5-point knot of confused drivers, intersecting transit lines, with cyclists and pedestrians thrown into the mix. The upside: the intersection's huge expanse makes it ripe for new interpretation.
As PlanPhilly reported in December, MOTU awarded a pedestrian plaza grant to the University City District (UCD) to reclaim part of the roadbed and expand pedestrian space at three corners. We stopped by the intersection to discuss the planned interventions and MOTU's role in the project.
The project itself is an object lesson in the small-but-substantial adjustments that are a hallmark of MOTU's work. The idea is to work with community partners to improve a difficult intersection by making it safer and more appealing for all kinds of users.
Charles and Aaron explained that the road diet would reduce speeds, create narrower pedestrian crossings, and make the intersection safer for everyone.
The enlarged pedestrian space will be painted to show that the space isn't for cars and flexible bollards will mark the boundary. To make the space inviting, UCD will add planters and seating, and they will be responsible for maintaining the space. As with MOTU's parklet pilot program, the ideas is also to create a lively streetscape. So far there is strong community support for the improvements.
The idea might sound pretty straightforward, but it actually involves the coordination of multiple agencies. SEPTA is involved because any interventions have to accommodate Route 34 Trolley and the turns of the 64 Bus. PennDOT is due to resurface Baltimore Avenue (a state road) soon, at which point, the curb lines will be bumped out.
From the future pedestrian plaza, we rode out Florence and Springfield to check out the path of the 58th Street Greenway, which is currently under construction.
Connector Infrastructure:
Standing at 59th and Springfield, you can look downhill to Cobbs Creek Park, but it's hard to believe that a new Greenway is being built in this part of Southwest Philadelphia. Most of the bike lanes in this part of town are older no-frills models simply installed on wider roads. The surrounding landscape is mostly concrete and asphalt, but this particular corridor is about to look a whole lot greener.
The 58th Street Greenway, a project spearheaded by the Pennsylvania Environmental Council (PEC), will connect the Schuylkill River Trail and Bartram's Garden to Cobbs Creek Trail through a shared-use path carved out of the already wide street and sidewalks. Charles explained that the path for bikes and pedestrians would be separated from car traffic by a planted buffer. It is part of PEC's work to build pieces of the regional trail network to create a contiguous portion of the East Coast Greenway.
The 58th Street Greenway became very real in 2010 when a federal Transportation Investment Generating Economic Recovery (TIGER) Grant came through with $1 million in funding for the project. Construction began in February, so it's not much to look at yet.
We went to the corner of 59th and Cobbs Creek Parkway, where the tricky traffic pattern needed to change so cyclists could ride safely onto the Cobbs Creek Trail. The solution: a "super sharrow," which will funnel cyclists across traffic to turn onto the Cobbs Creek Trail. What on earth is a super sharrow? Aaron and Charles explained that it's one of those cyclist/arrow symbols made "super" because it's painted onto a colored shared bike/car lane.
There is already some construction underway at this intersection, which as Aaron explained is where the greenway meets the Water Department's green infrastructure work.
"Cobbs Creek has water quality issues related to stormwater runoff," Aaron explained. "Water runs off too fast, scours out the channel, kills wildlife. So this is mitigation infrastructure. It's basically going to be like a big sponge."
Back up the hill we went, along the route of the greenway-to-be. As we went along, Charles explained the work ahead and why the route was selected: "It's connection to a residential community" was important, plus it crosses commercial areas, passes Myers Recreation Center, and it creates a clear link to the Cobbs Creek Trail.
We also saw some of challenges the greenway's design faced, from at-grade railroad crossings to bus stops near the retirement home. Here too, MOTU is the coordinating agency for the project construction, working with PennDOT, Streets Department, SEPTA, Amtrak, and CSX. The greenway should be finished this fall.
Schuylkill Trail Possibilities:
We merged onto Lindbergh Boulevard from Elmwood at Bartram's Garden, and continued along the bike lane on Grays Avenue. This lane is far from ideal, but it's there. Between the trolleys, buses, parking, and car traffic, cyclists have to be on their toes. The trolley tracks make drivers veer off into the bike lanes and traffic moves swiftly.
On a Grays Avenue rail bridge, we pulled over to look at the wide rail right-of-way, a forlorn monument, and dream on the possibility of better Schuylkill River Trail connections between the Grays Ferry Crescent and Bartram's Garden. The Schuylkill River Development Corporation is studying several concepts, but options could include a trail along the rail right of way or closer to the river. Then it was on to the hostile and highway-like Grays Ferry Bridge.
The Grays Ferry Bridge is a hot mess for cyclists. Drivers whiz along at highway speed, it's hard to hear, and the shoulder is narrow. Of course, we stopped to take in the scenic overlook to the old Swing Bridge below.
PennDOT will need to redo the Grays Ferry Bridge soon, Charles noted. As part of that project, MOTU will take that opportunity to improve the sidewalk and make a two-way bike trail, separated from cars by a string of Jersey barriers. It's no greenway, but at least it will be safer.
We stopped on the Grays Ferry Bridge to see the "swing bridge," which could be reused (though it's not clear how exactly) as part of new trail infrastructure, linking the east and west sides of the Schuylkill for cyclists and pedestrians.
After safe passage over the Grays Ferry Bridge, we made a hairpin right turn onto the bright green approach to the Grays Ferry Crescent, a newer stretch of the Schuylkill Banks trail. It's small but it's a powerful glimpse of the kinds of riverfront recreational amenities that could come to the Lower Schuylkill. When we visited, crews were busy doing landscaping work and it felt like a world apart from the bridge above.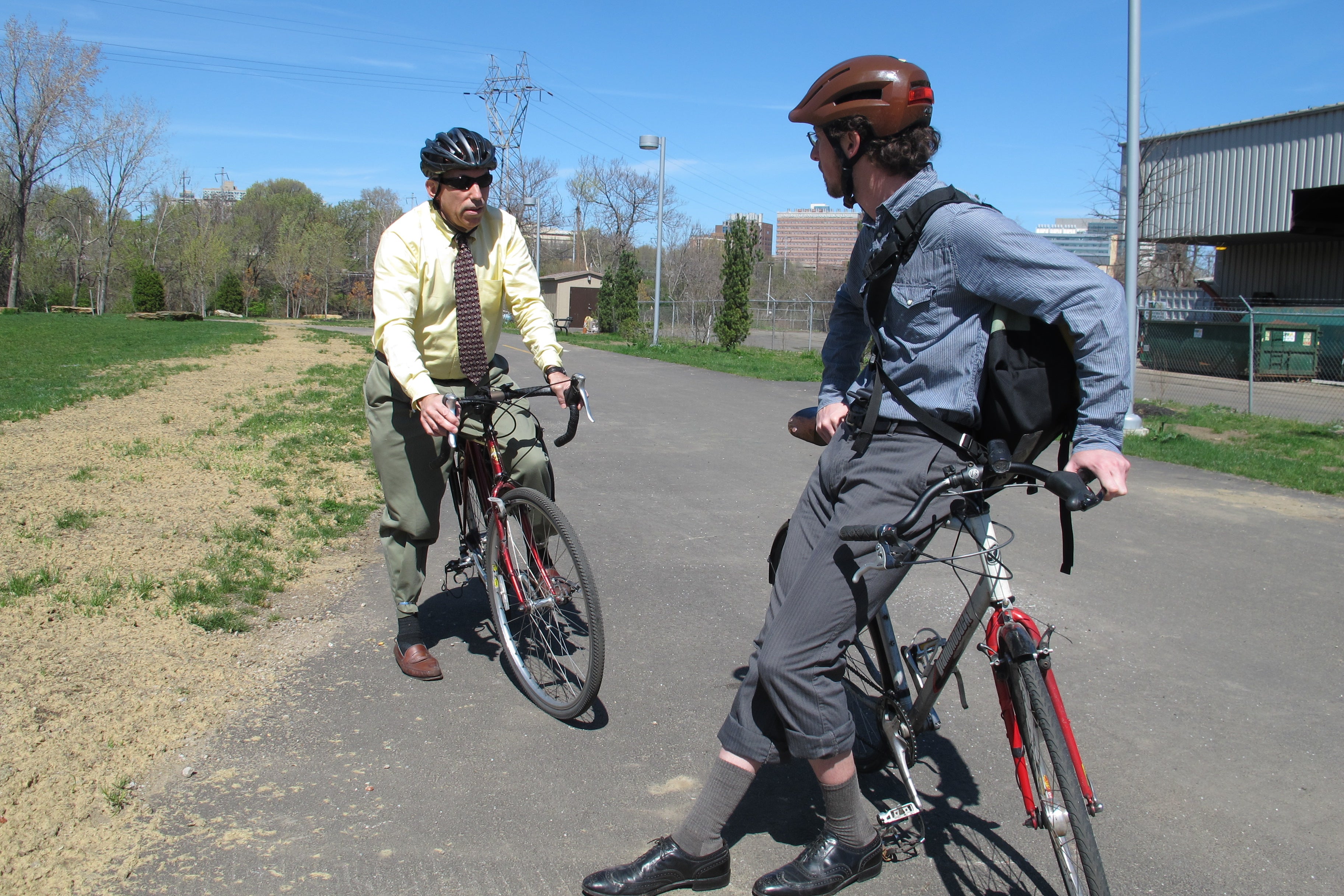 Back up the ramp onto 34th Street where it meets Grays Ferry. The intersection is vast and difficult to cross. But we did it, and headed north toward Washington Avenue where Charles peeled off to for a meeting. Aaron and I headed up Grays Ferry, east on Bainbridge, and north on 22nd Street to check in on Center City's newer bike infrastructure.
UP NEXT: In Part 2 of our adventure, we visit Center City's new bike lanes, and talk about the delicate challenges involved in adding new bike lanes to the city grid.