Mausoleum of Contemporary Art reopens after a 2-year zoning struggle
Philly's Mausoleum of Contemporary Art comes back to life after prolonged struggle with zoning variances and city code compliance.
Listen
1:30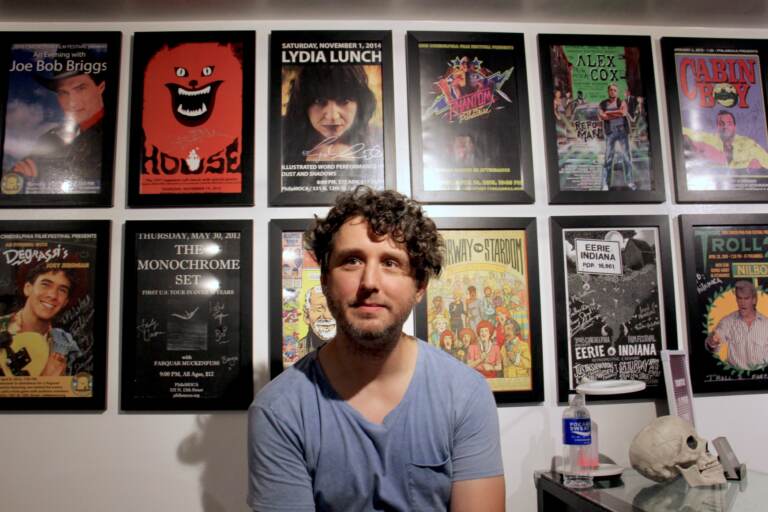 An alternative arts venue in Philadelphia is reopening this week after being shuttered for almost two years.
PhilaMOCA, a film and performance space at 12th Street and Spring Garden, has been closed since September 2019. Since then, it has been engaged in a prolonged struggle with zoning variances and fire codes, exacerbated by the pandemic.
"Unlike most venues, we actually closed prior to the pandemic," said manager Eric Bresler. "It was kind of a one-two punch when the pandemic came around."
PhilaMOCA, or the Mausoleum of Contemporary Art, is in a building that had once housed a manufacturer of mausoleums and burial monuments: "Finney & Son, established 1850" is still on the façade. For the last decade, Bresler has operated it as an underground arts venue, featuring local and touring bands, screenings of cult films, and visual art exhibitions.
With a capacity of 175 people and no bar, PhilaMOCA occupies a rare niche as a smaller venue that can host all-ages programming with a decidedly weird and adult sensibility.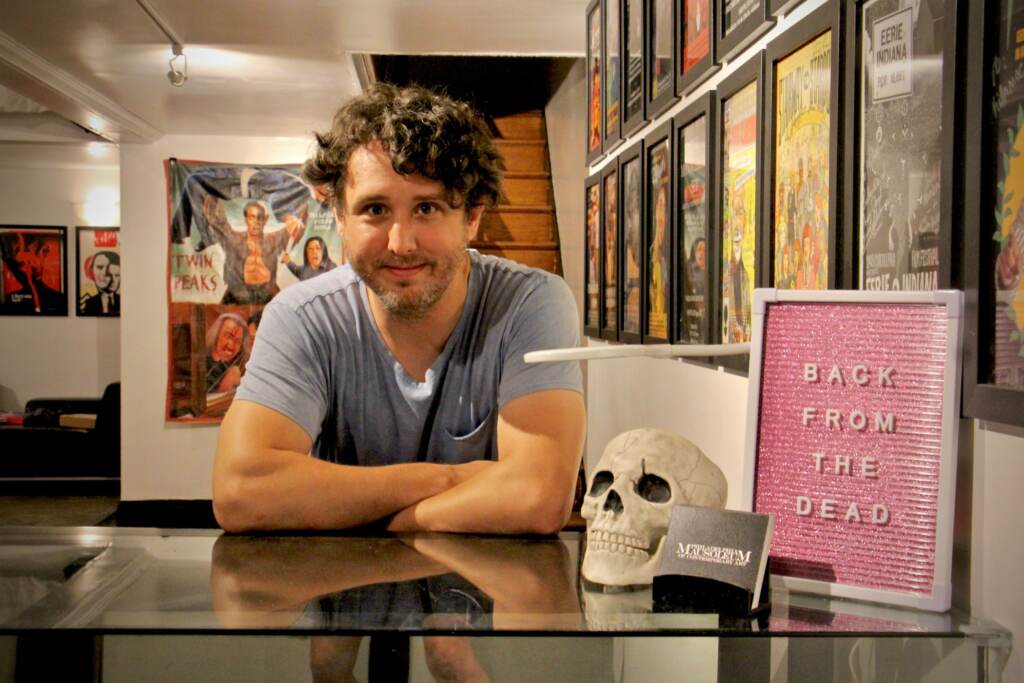 "The lack of all-ages venues really applies to a lot of bands who don't want to play in a traditional bar setting," said Bresler. "We provide a sizable, clean room where teenagers can come and experience a band that they love. That's always kind of been the mission of PhilaMOCA: Give people in their formative years a place where they could go and experience art and music and culture outside of, say, a West Philly basement."
During an inspection two years ago, Bresler suddenly discovered PhilaMOCA had evolved away from what it was originally zoned for. His predecessor, Gavin Hecker, started PhilaMOCA 20 years ago as an exhibition space. Under Bresler, it became primarily a performance and film venue, involving more people and thus a different zoning designation.
Bresler set about to get a variance from the city's Zoning Board of Adjustment, then discovered that a new zoning designation means a new set of fire safety codes from the Department of Licenses and Inspections: new electrical system, new exit doors, emergency lighting. He also needed to soundproof the front windows to comply with an assembly license.
When Bresler approached the neighborhood association to prepare for his zoning variance hearing, he discovered the association he was accustomed to dealing with for 10 years was actually in the wrong neighborhood. He hired a lawyer and an architect while maintaining rent and utilities on a building that was not generating any income. Bresler, who had his first baby arrive just months before, was pouring his personal savings into PhilaMOCA and had to get another job to pay the bills. He spent his spare time hustling paperwork, preparing for hearings, and overseeing $25,000 worth of upgrades to the building.
"I come from the DIY world of basement punk rock shows and independent filmmaking where I never relied on anyone for funding. I never followed rules," he said. "This experience was the complete opposite of that. I found it miserable."
There was a silver lining to Bresler's Odyssean ordeal: people stepped up to help. A crowdsourcing fundraiser generated about $50,000, enough to cover the rent for most of those two years.
"The public's response was amazing. It was the first time that I had proof that PhilaMOCA and its programming was appreciated by people," he said. "It still warms my heart to think about it."
Help came from other places, too. Vans shoes offered a custom, limited-edition sneaker designed by local artists, which benefited PhilaMOCA. Bresler was also able to tap into public pandemic relief funds and loans for small businesses.
On Thursday, Bresler will finally open the doors to audiences once again. The inaugural event will be a screening of — naturally — the 1983 schlock horror movie "Mausoleum." The rest of the summer calendar is quickly filling up with bands – like Catebite, Church Girls, and Ghösh — eager to be in front of audiences again.
There are also screenings of new films, such as documentaries about Tiny Tim and Lydia Lunch, the local premiere of Japanese filmmaker Makoto Tezuka's "Barbara," and a program of short films from the Sundance Film Festival.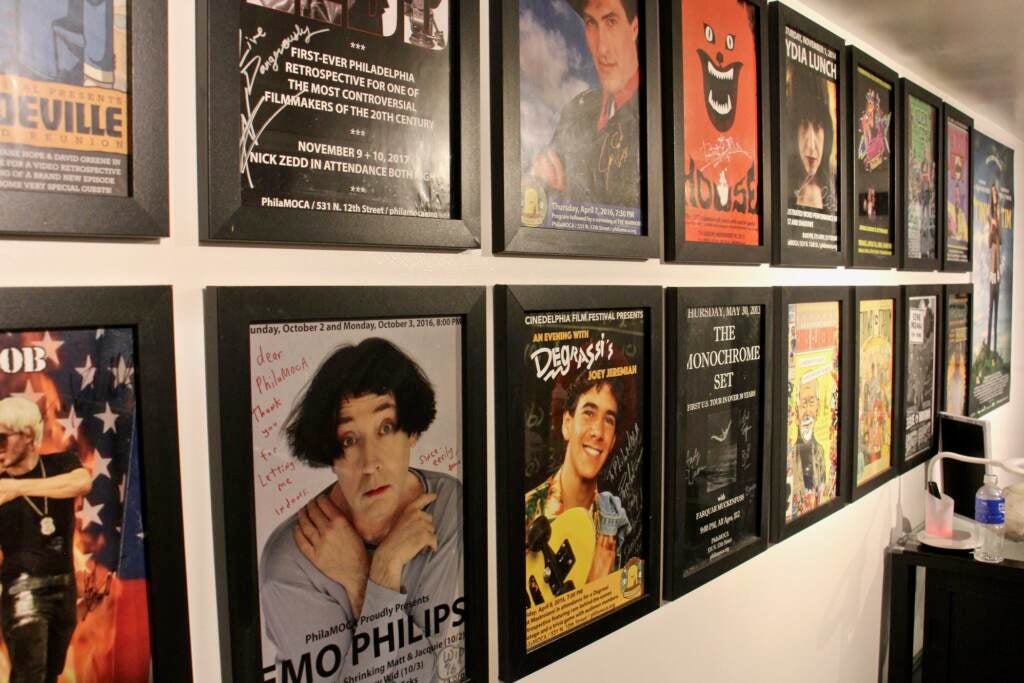 "Last month, when I started programming and booking again, it was the most exciting thing. I really had no idea how much I missed that until I was in the thick of it again," said Bresler. "I'm programming things that are as weird as I ever have, and people are responding. It's great to be back."
Bresler has programmed himself for his own opening weekend. Inspired by monologist Spalding Gray, Bresler has put together a staged presentation of his two-year journey through zoning hearings and code compliance. He will perform this recent chapter of his life story for audiences on Friday and Saturday evening.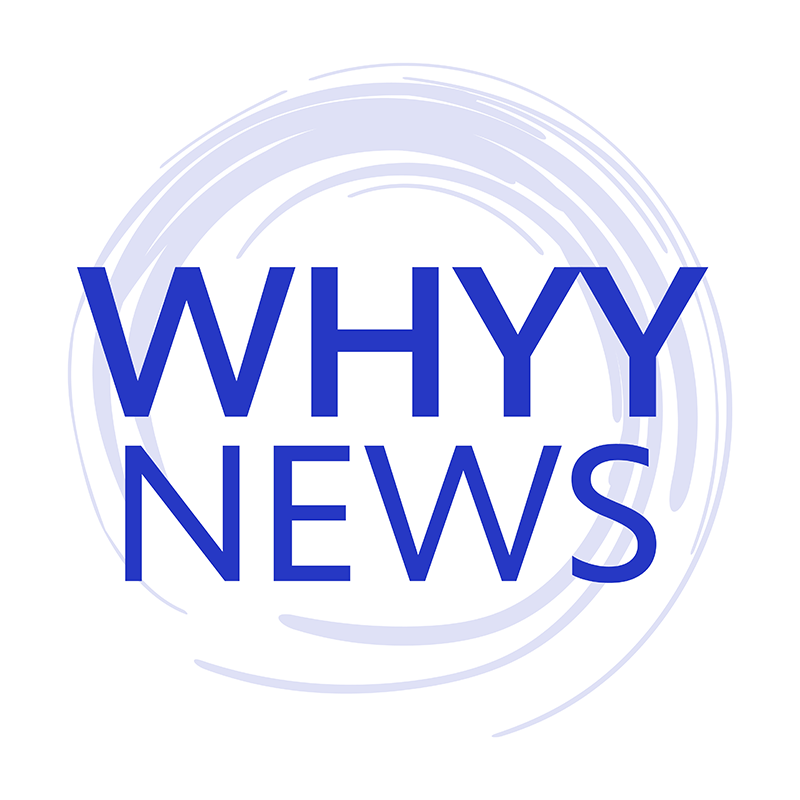 Get daily updates from WHYY News!
WHYY is your source for fact-based, in-depth journalism and information. As a nonprofit organization, we rely on financial support from readers like you. Please give today.