'It lifts our spirits': Philly area celebrates Easter with bagpipes, wearing PJs in parking lots
Listen
1:43
Bill Richardson was trying to make Easter morning as normal as possible for his family, despite the global pandemic.
"We woke up, had bunny rabbit pancakes. Now we're doing an egg hunt," he said from the small front lawn of his house in Chestnut Hill, watching his two kids, ages 4 and 8, hunt through the shrubbery for plastic eggs. "Just trying to enjoy the fine day."
What he didn't expect was that a bagpipe band would march past his home on Willow Grove Avenue, dressed in full tartan kits and playing hymns. They were led by an Episcopal priest dressed in a black cassock and four-peak biretta hat.
It was a sight — and sound — the family never expected on their block on Easter. Or, frankly, ever.
"It lifts our spirits," said Bill Richardson's wife, Dipa. "It's a great neighborhood. To see them do that is uplifting."
St. Martin-in-the-Fields Episcopal Church is just up the road from the Richardsons. Normally, it has a full house for Easter services, but this year the stone Gothic church was shuttered on the most sacred day of the Christian calendar to help prevent the spread of the COVID-19 virus.
As many other churches, St. Martin-in-the-Fields opted to offer Easter worship services online. But the church also wanted to do something in real space and time, to help the neighborhood celebrate the day in person, while maintaining a safe distance.
"We couldn't invite hundreds of people inside, so we had to figure out how to get that joy outside the building, and add that joy and fun to the neighborhood," said the Rev. Jarrett Kerbel. "What says joy and fun better than bagpipes?"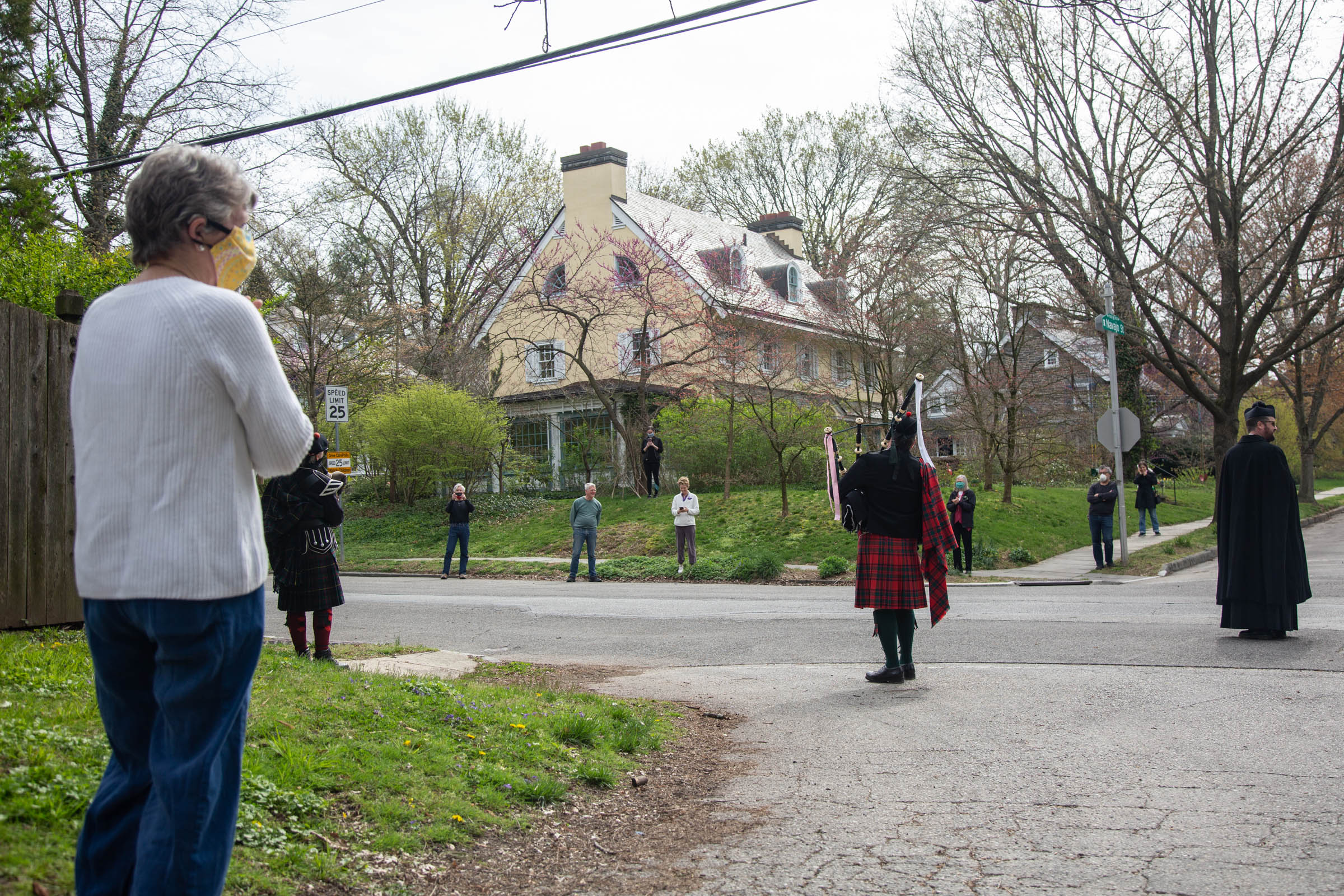 Kerbel hired two bagpipers and a drummer to walk through the neighborhood Sunday morning to play music for people sheltering inside their homes. The sound of bagpipes can pierce the stone walls of Wissahickon schist.
"My wife, who has Scottish ancestry, talks about how bagpipes were meant to raise morale, stir the blood and scare the hooey out of the MacConnell's in the next valley," he said. "They're also super loud. People can enjoy it from their living rooms as we march by. No one has to come out — that's a safety factor."
People did not stay in their living rooms, though, but rather opened their doors, looked out to the street and walked out onto their front lawns, many still dressed in their pajamas, to hear the music. Joggers and dog walkers stopped to whip out their cell phones.
"I wanted to breathe the fresh air, and be with our friends and neighbors," said Sarah Kalb, standing on her front walkway in her bare feet, hugging her daughter.
Neighbors saw one another in the sunlight, perhaps for the first time in weeks. They waved and said good morning to each other.
"I came out and it almost made me want to cry," said Phoebe Griswold. "Here was something different, but it's still Easter. I was extremely grateful to see people smiling and waving to each other."
The leader of the band was Rod Nevin, of Reading. He selected about 20 songs from the St. Martin-in-the-Fields hymnal and adapted them for bagpipe.
It was an unexpected and welcome opportunity for Nevin, as the governor's stay-at-home order has meant few in-person performance opportunities.
"I had a lot of gigs canceled around St Patrick's day, of course," said Nevin. "I played for one funeral since the start of the pandemic. I'm very grateful to play outside today."
It was his first-ever Easter gig, but it may not be Nevin's last. Kerbel beamed as he walked with the band through Chestnut Hill, watching crowds gather at every intersection and greeting them all. He mused that this should happen every year.
"They were instruments for troops marching," he said. "There is a victorious element to Easter that we want to capture."
'Different than any other Easter Sunday'
Churches across the region also tried to preserve the celebration — though pews remained empty and many congregants tuned in to services virtually or from the comfort of their cars.
Philadelphia's new Catholic Archbishop Nelson Pérez said his first Easter Mass at the Cathedral Basilica of Saints Peter and Paul, with a handful of worship assistants present and a few choral singers to accompany the organ — all while leaving several feet between one another in the large sanctuary.
During the service, which was streamed online and broadcast live on WHYY TV, Pérez encouraged the faithful watching from home to ground themselves in their faith on a day "different than any other Easter Sunday that we have experienced."
He thanked grocery store workers who were keeping the region fed with "a smile on their face," as well as "our health care providers and paramedics and doctors and nurses and aids, who are so much at the front lines of this crisis and we share our gratitude to them."
Perez said he understood that the virtual services were not the same as being physically present at church with other members, but added clergy were doing their best to serve congregnants.
"We certainly look forward to the time when we can all come back together to church," said Pérez.
Gary Whetstone, senior pastor of Victory Christian Fellowship in New Castle, Delaware hosted five services from his church's parking lot, wearing a suit and medical gloves. Whetstone kicked things off at 6 a.m. and estimates a total of 280 families showed up to worship from their cars in addition to the 2,000 people who tuned in online.
In-person attendees, who Whetstone told could wear pajamas, honked to celebrate the resurrection of Christ. People could request a prayer by phone and those in need were able to pick up food at the end of the service.
While working to feed their spiritual needs and mark the joy of the holiday, church leaders also urged worshippers to care for their health.
At Philadelphia's Enon Tabernacle Baptist Church, the first African-American Baptist church in Germantown, a handful of singers led online viewers in song as lyrics took over the screen so people at home could follow along.
Senior pastor Alyn E. Waller Waller told the thousands watching from home to think about how everyone will one day talk about this pandemic as a thing of the past, the way older relatives spoke of the Great Depression in 1929.
He also encouraged his members to eat healthily while at home and referenced how the African American community has been disproportionately affected by COVID-19 deaths.
"COVID-19 is showing us the myriad challenges and systemic problems of our city and our country," Waller said. "It's showing us the challenges that many of us have with our health already because the reality is COVID 19 takes advantage of other comorbidities. In our own community, we are seeing a disproportionate amount."