Hundreds march back onto I-676 in Philly, decrying city's response to protests
Organizers said the group is demanding Philly's mayor step down and that police be disarmed, following violent responses to protests last month.
Updated: 5:30 p.m.
___
More than 200 people marched from City Hall to I-676 Sunday afternoon, just over a month after officers tear-gassed anti-racism demonstrators who blocked traffic on the same highway to protest police brutality and the killing of George Floyd.
The day before the violent and chaotic incident, police had used tear gas, pepper spray and rubber bullets on protesters in a Black residential neighborhood in West Philadelphia.
"That's completely unfair and if we leave things like that unchecked, the police department will only get more and more bold against the people in the city," said Kayla Watkins with the Party for Socialism and Liberation. She was tear-gassed at both protests in West Philly and on I-676.
Kayla Watkins is with the Party for Socialism and Liberation. She was gassed at West Philly and I-676. "We should be allowed to peacefully protest," she says to the crowd of more than 100 ppl at city hall https://t.co/sKROr1sRxf pic.twitter.com/cmS1aFGwmY

— Ximena Conde (@RadioXimena) July 5, 2020
Watkins called out law enforcement who had very different responses to groups protesting the COVID-19 shutdowns and people in South Philly defending a Christopher Columbus statue.
"But for some reason, when we say 'Black Lives Matter,' they have to bring out the counterterrorism unit, they have to bring out rubber bullets, they have to bring out tear gas," said Watkins. "I don't understand when the protesters are majority white, why they are able to find peaceful solutions to deal with people then."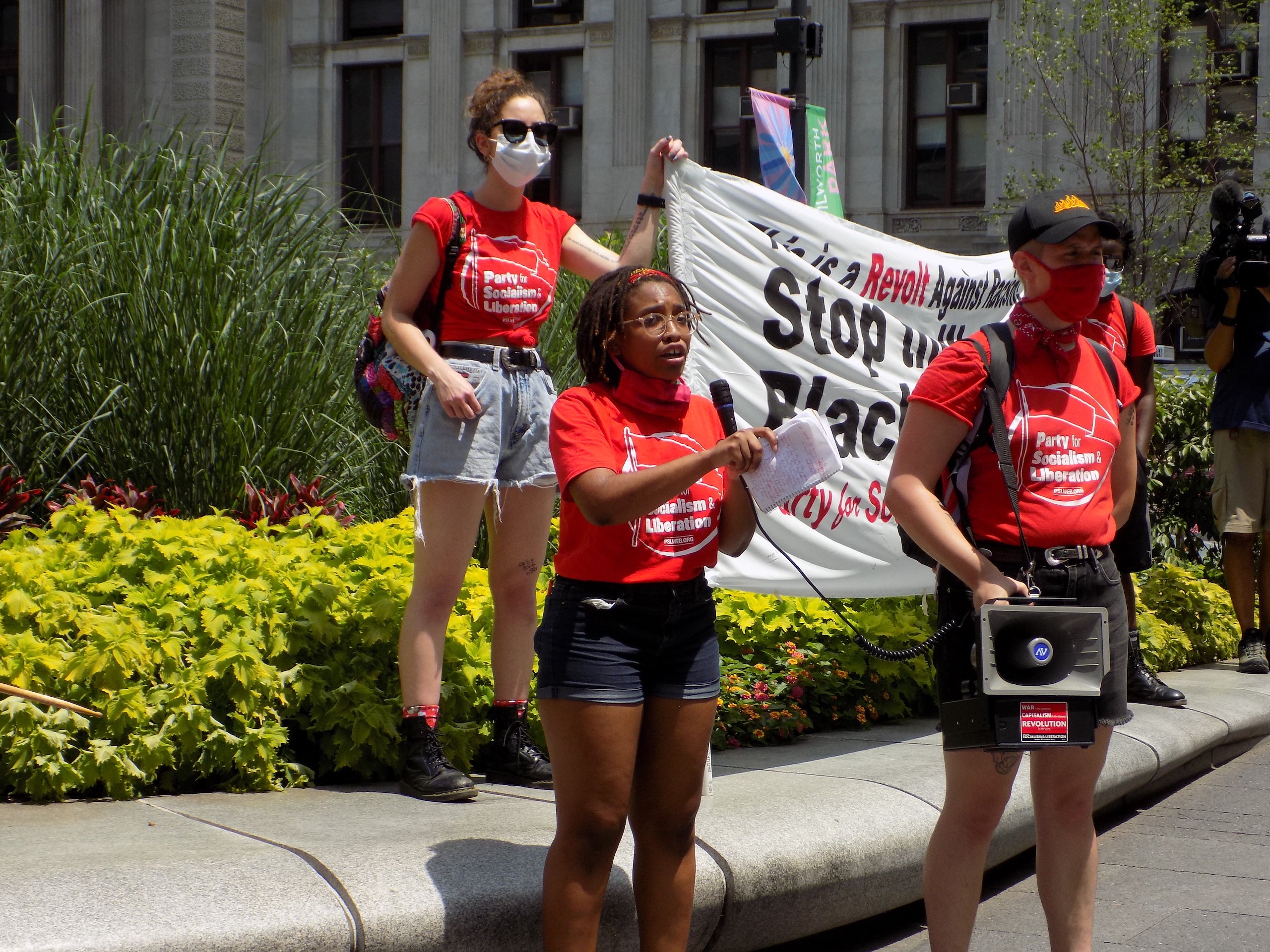 One speaker, introduced to the crowd as Jebediah with Socialist Alternative, said the city's handling of protestors was proof "Kenney isn't progressive and the PPD has not started treating Black people better just because we have a Black woman in charge now."
Organizers demanded Mayor Jim Kenney step down and that police be disarmed when keeping watch of demonstrators and when on patrol. Others, including Watkins, said Outlaw should step down, too.
This young man is with Socialist Alternative. He says the incident at 676 is proof "Kenney is not a progressive" and the PPD won't start treating Black residents better just because a Black woman is in charge pic.twitter.com/CUrxcQcSs3

— Ximena Conde (@RadioXimena) July 5, 2020

As protesters moved over barricades to get onto I-676 on Sunday, dozens of police officers on bicycles monitored them from above on nearby Vine Street.
Though Watkins joined hundreds on the highway, about at least another hundred people who worried about how police would react or couldn't physically get down cheered demonstrators and followed along from the street level.
Protesters are going around the barricades to march on the highway pic.twitter.com/rRxxUrOtVd

— Ximena Conde (@RadioXimena) July 5, 2020
The scene was in direct contrast to the incident on June 1, which drew international media attention, as did law enforcement's contradictory accounts of what happened on the highway.
Philadelphia Police Commissioner Danielle Outlaw and Kenney initially said tear-gassing of protesters on I-676 was justified. Outlaw cited reports that protesters trapped a state trooper in his vehicle and rocked the car back and forth.
Video footage obtained by WHYY News and Billy Penn, however, shows there was no trooper in the vehicle as protestors marched by. Save for some spray paint on the windshield, the vehicle was left largely undisturbed.
Outlaw and Kenney didn't apologize until the New York Times published an all-inclusive account of events, which followed weeks of local coverage. West Philadelphia residents, including local councilmembers, are demanding a similar investigation into the violent police response to protests and looting in the neighborhood.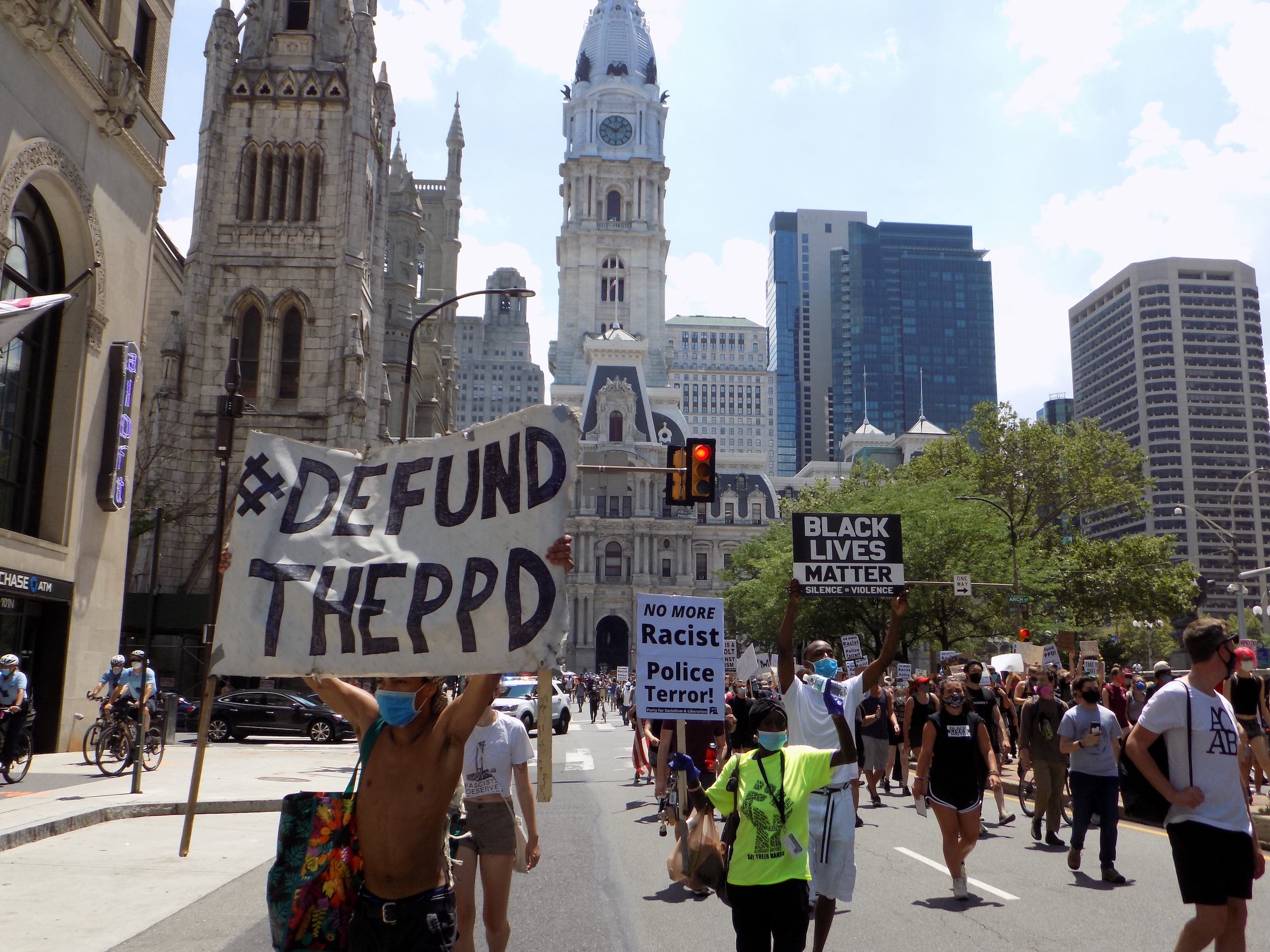 Isaac Scott, a Philadelphia resident who was also tear-gassed on the expressway June 1, said at this point, "no one trusts Mayor Kenney with his job."
For Scott, in addition to the late apology, Kenney hasn't met activists' calls to defund the police in his amended budget.
"It was just more of moving money around and getting money for different departments for the same officers," said Scott, referring to what the city advertised as a $33 million dollar cut to the police department.
The city actually moved $14 million, including funds for crossing guards and new public safety officers, to the Managing Director's Office.
"It was really a joke," said Scott.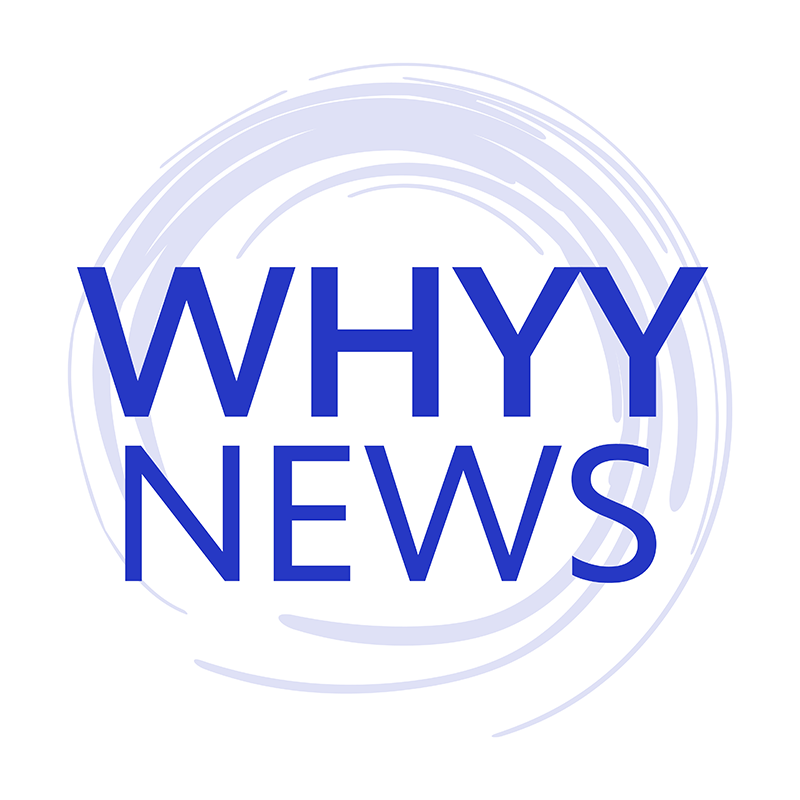 Get daily updates from WHYY News!
WHYY is your source for fact-based, in-depth journalism and information. As a nonprofit organization, we rely on financial support from readers like you. Please give today.