How is Diwali celebrated differently in India and the U.S.?
Listen
5:28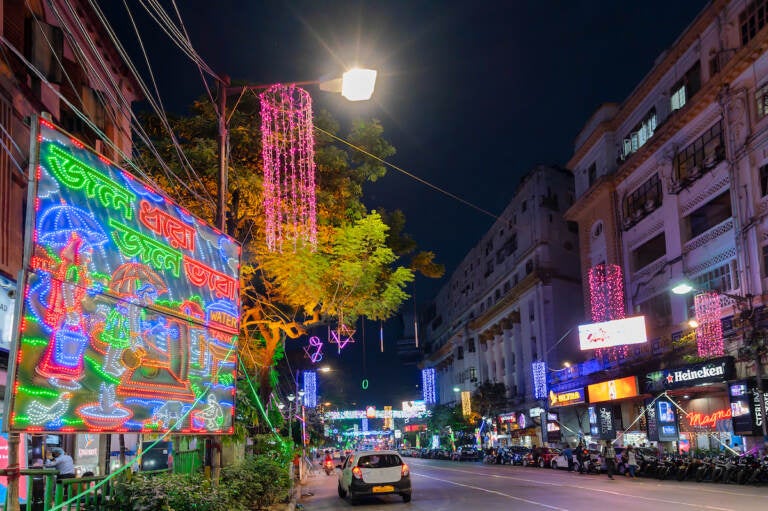 Diwali is celebrated by Hindus, Sikhs, Jains, and Buddhists and generally signifies the victory of good over evil, of knowledge over ignorance, and hope over despair.
WHYY host Priyanka Tewari spent her childhood in New Delhi, in North India. She shared her memories of Diwali with University of Pennsylvania's Annenberg School of Communications lecturer Dr. Murali Balaji, who spent his Diwalis as a kid in America.
–
My memories of Diwali are filled with cleaning the house, lighting it up with candles and diyas — small, earthenware lamps filled with oil — twinkling lights, wearing new traditional clothes, and praying to Goddess Lakshmi (the goddess of wealth) and Lord Ganesha (the remover of obstacles), wishing for wealth and prosperity. With open doors and open hearts, we visited and received relatives bearing boxes of sweets, getting together to play card games. The streets would light up with firecrackers on Diwali, and everybody was in a joyous, celebratory mood. It was like Fourth of July, Thanksgiving, Christmas, and New Year all rolled into one celebration. Of course, when me and my family moved to the United States, celebrating Diwali didn't quite have the same pomp and circumstance. It was quieter. But who says there's only one way to celebrate the festival of lights? And I wondered how other Indians in the Philadelphia region celebrate Diwali. So I reached out to Dr. Murali Balaji. He is a lecturer at the Annenberg School for Communication at the University of Pennsylvania, and he is an active member of the Hindu community in the Philadelphia region. Hello, Murali, and Happy Diwali!
Happy Diwali to you, Priyanka.
So your family is from the south of India?
Yes, Tamil Nadu. And my family was among the first wave to come after the repeal of the Asian Exclusion Act. It was really what we would call part of that temple-building generation, in the late '60s and into the early '70s.
I assume that your celebration of Diwali was very different from me, who grew up in India.
It certainly was. You know, it makes me envious hearing how you celebrated Diwali growing up. When I was growing up, being Hindu was, it was something that a lot of our parents felt very self-conscious about. They didn't want to necessarily boast. They wanted their kids to feel accepted by their peers. So Diwali was much more of a low-key affair because there were a lot fewer of us. And, you know, the stigmas of being an "other" were really apparent, and I was bullied incessantly for being Hindu. I also grew up in an era when Hindus were targeted, during the Dotbusters era, in New Jersey and in other parts of the East Coast. So a different time, … [we] grew up feeling much more muted about our religious identity.
If we look at it now, we've come a long way from when you were actually … penalized for being Hindu in school, whereas now some school districts actually celebrate Diwali.
Absolutely. We have come such a long way. I mean, Council Rock School District in Bucks County, for example, commemorating Diwali as a school holiday and other school districts doing things to have Diwali incorporated into their academic calendar. Even just having school-wide celebrations of Diwali just shows how far we've come and how much this newer generation of Indian Americans, Hindu South Asians, regardless of faith, are really pushing to have their identities included. I think it's phenomenal that the growing diversity of this region in this country is reflected in the inclusivity of holidays. And I think that's really the story of America changing one day at a time.
So do you think that this Diwali is going to be different?
I absolutely do. I think the pandemic really did underscore the importance of community. But, you know, the last few years have also taken a different meaning in terms of Diwali because of the climate that we're facing right now. It's so polarized, and Diwali really is that opportunity to turn a new page. The lighting of the diyas celebrates a new beginning. And so I think this year's Diwali celebration is really going to be a celebration of coming back together and kind of returning to that moral compass as a community.
That is absolutely beautiful. Dr. Murali Balaji, he is a lecturer at the Annenberg School for Communication at the University of Pennsylvania, active member of the Hindu community in the Philadelphia region. Murali, I wish you and your family a very, very happy Deepavali.
Priyanka, the same to you and yours. It was a pleasure to chat. Thank you.