Firefighter injured, residents displaced after fire at vacant West Philly home where 154 jugs of gasoline were found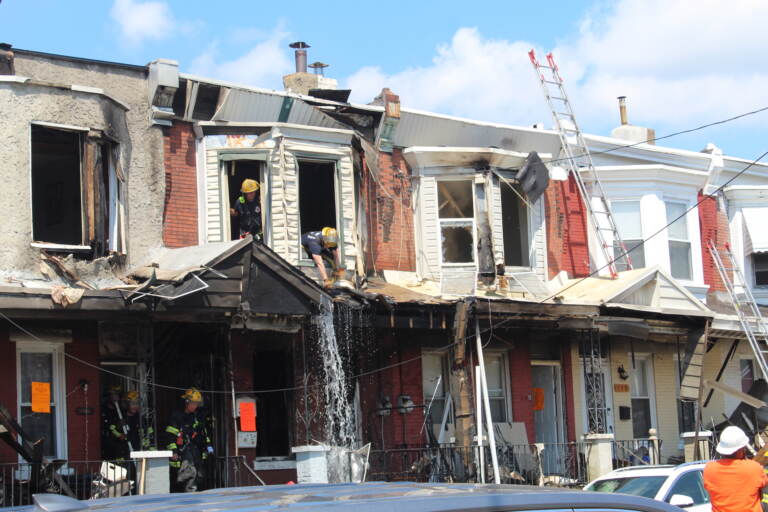 Several people are displaced after a fire at a vacant West Philly property spread to neighboring rowhouses.
The Philadelphia Fire Department said one firefighter hurt working the scene was transported to a local hospital, where they are listed in stable condition.
The fire broke out around 9:50 a.m. Tuesday on the 100 block of North 59th Street, the same home where 154 jugs of gasoline were removed by hazmat teams on Monday night.
Police called the situation very dangerous, adding that the gasoline could have fueled a blaze down the entire city block, per WHYY News partner 6abc. It remains unclear why so much gasoline was inside the vacant home.
Philadelphia Fire Department Executive Officer Derek Bowmer said the situation could have been worse if the jugs weren't removed.
"Luckily, this wasn't, 2 or 3 in the morning," Bowmer said. "This is a close-knit community, we know that. We have a great relationship with them in the community, so we want to ensure that they're safe."
Multiple witnesses report they saw a man enter the house after the gas jugs were removed and before the fire started Tuesday. Police are questioning a 37-year-old man who used to live in the home.
Three homes were damaged as a result of Tuesday's fire, the second that has broken out at the property this year.
"Again, [there] was a previous fire back in March," Bowmer said. "We did confirm that we had displaced members at that time also."
An investigation into the incident is being handled by the Fire Marshal's Office.