Fetterman dwarfs competition in first fundraising numbers for Pa.'s Senate race
Describing himself as "overwhelmed with gratitude," Fetterman noted that he has an email list over a million people long.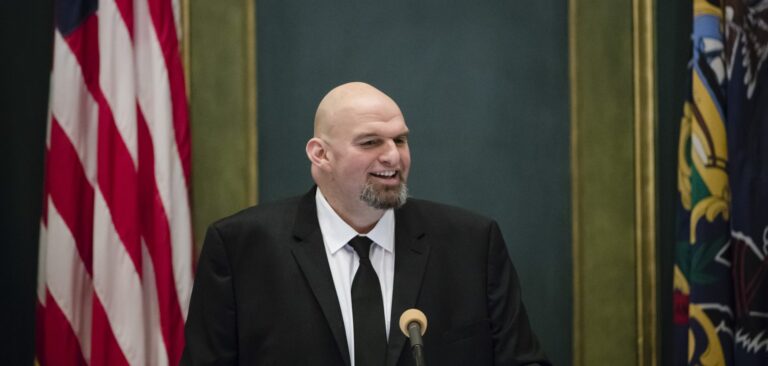 There's still well over a year until the 2022 election for Pennsylvania's open U.S. Senate seat, and already three of the candidates in the quickly expanding race have raised a combined total of around $5.5 million.
So far, Lt. Gov. John Fetterman and State Rep. Malcolm Kenyatta have established themselves as the highest-profile Democratic candidates in this early phase of the primary race, and real estate developer and GOP fundraiser Jeff Bartos has jumped into the primary ahead of most other likely party contenders.
Of the well-known candidates, those three were the only ones required to file campaign finance reports for the first quarter of 2021. More have already entered the race, however.
Of the early donations, the vast majority of the cash flowed into Fetterman's campaign.
Between January 1 and March 31, the first quarter for political campaigns, Fetterman, of Allegheny County, raised $3.9 million, for a total of more than $4 million since he began fundraising. He ended the quarter with $1.9 million on hand.
The biggest chunk of money, $10,000, came from the PAC When Democrats Turn Out. It has a history of backing candidates in tough, contested seats — like now-Democratic Sen. Mike Kelly's run in Arizona, and Amy McGrath's unsuccessful run against Sen. Minority Leader Mitch McConnell in Kentucky.
But Fetterman's campaign has stressed that most of the donations are smaller. There were about 140,000 of them overall, according to the campaign — many of which were bundled through lefty online fundraising platform ActBlue.
Calling himself "overwhelmed with gratitude," Fetterman also noted that he has an email list over a million people long. "We are going all-in and are committed to building a people-powered campaign," he said.
His closest competitor so far, meanwhile, offered a much more modest first-quarter showing.
Kenyatta, who represents a district in North Philadelphia, kicked off his campaign a little after Fetterman. Unlike the lieutenant governor — who ran unsuccessfully for U.S. Senate in 2016 — Kenyatta hasn't run a statewide race before.
He brought in a total $374,011 in the first quarter. Like Fetterman, most of his donations were small, and he also didn't get any large boosts from national groups. His biggest donation was $5,000 from the American Federation of Teachers.
In a post to Twitter, Kenyatta said he'd gotten under 12,000 donations in the five weeks he'd been fundraising, and they averaged about $33. Like Fetterman, he said the campaign is "people-powered," and he noted he hadn't taken any money from "corporate PACS."
"We're just getting started," he said.
On the other side of the aisle, Bartos brought in nearly $1.2 million in the first quarter, though only around $800,000 was through donations — $400,000 was a loan Bartos gifted to himself.
Like his Demcoratic opponents, most of Bartos's contributions were relatively small and many came through WinRed, Republicans' answer to Democrats' online fundraising success.
The biggest single contribution was $5,000 from the PAC affiliated with the Toll Brothers, major Philadelphia-area luxury home developers, one of whom has close ties to Donald Trump. Bartos used to serve as counsel for the company, and then became president of its home building division.
Bartos's campaign didn't comment on its early fundraising efforts, and the candidate's social media posts this week were more focused on his recent visits with small business owners around the commonwealth.
All three candidates had similar spending patterns, with the bulk of their money going to online advertising and building email lists.
Bartos paid nearly $42,000 to D.C. digital marketing firm IMGE for those services, and spent more than $65,000 all told. Kenyatta shelled out nearly $157,000 to a range of strategists, mainly for digital advertisements and consulting.
Fetterman spent a massive $2.1 million altogether, with the bulk of the money — nearly $1.4 million — going to Middle Seat Consulting, to build email lists and put out digital ads. The group is a digital advertising heavy-hitter run by former advisors for Vermont Sen. Bernie Sanders, and has worked for progressive Democrats like Missouri Rep. Cori Bush and Rep. Ayanna Pressley of Massachusetts.
The spending for the race is already on track to rival the historically expensive 2016 Pennsylvania U.S. Senate race, which saw more than $162 million pour into the contest between then-incumbent Republican Pat Toomey and Democrat Katie McGinty.
Toomey's decision not to seek reelection in 2022 cracked the field wide open on both sides of the aisle.
Other candidates seeking the office who haven't yet filed their first campaign finance reports are State Sen. Sharif Street, Montgomery County Commissioner Dr. Valerie Arkoosh, and Philadelphia doctor Kevin Baumlin, all Democrats.
More candidates, from both sides of the aisle, are still expected to join the race.
Get more Pennsylvania stories that matter
WHYY is your source for fact-based, in-depth journalism and information. As a nonprofit organization, we rely on financial support from readers like you. Please give today.