Fewer inmates will not mean a prison closure in 2019, Pa. officials say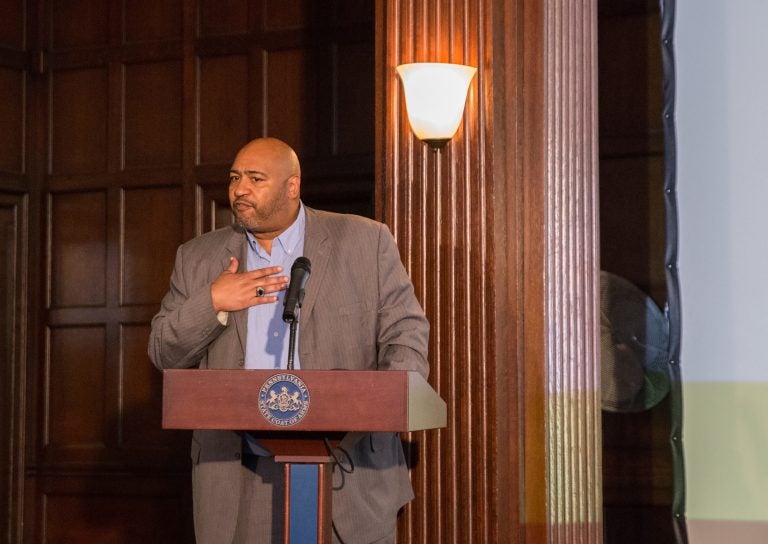 Pennsylvania's prison population has continued to decline, creating enough open facility space for correction officials to accept inmates from other states. Despite this, officials are not planning to close any prisons, citing the need for "stability" following a year that witnessed the death of a prison guard, a two-week lockdown and a supermax prison move that generated financial strain and turmoil.
The latest state figures show that Pennsylvania incarcerates about 46,000 inmates across 24 facilities. That's a roughly 2 percent reduction in the past year and a nearly 10 percent drop compared to six years ago.
The state prison population has been driven to its lowest point in a decade for a few reasons. Officials attributed the drop to declining crime rates in addition to state legislation that helped non-violent inmates leave prison after serving minimum sentences, eased penalties on low-level offenders and expanded alternative punishment options.
But Pa. Corrections Secretary John Wetzel said at a budget hearing Thursday before the Pa. Senate Appropriations Committee that it is not an ideal time to close a facility.
"So while the numbers are down significantly, the system is in need of some stability," Wetzel said. "It's going to be a constant conversation as we drop population: 'When's the right time to pull the trigger?'"
It will not be this year, Wetzel said, since state officials are still catching their breath after a recent whirlwind of difficulty.
In early 2018, a prison guard was killed following an altercation over an inmate's towel, the first correction officer killed in the state in 40 years. Later, dozens of corrections staff became sick after exposure to synthetic drugs, an ordeal that cost the state millions and resulted in a two-week statewide prison lockdown.
There was also the much-delayed and problem-ridden move of the century-old Graterford Prison to SCI Phoenix, which Wetzel described as a "terrible construction project." He is not alone in this assessment of the Montgomery County facility. Disputes over contracting work are ongoing and workers are reportedly owed tens of millions of dollars.
On Thursday, Wetzel said the move cost roughly $11 million in staff overtime to complete the transfer of 2,500 inmates to the new facility about a mile away.
That price tag drew scrutiny from some state lawmakers.
"One of the biggest ongoing concerns for all of us is the tremendous amount of overtime in the department," said Sen. Lisa Baker (R., Luzerne). "For many people, they want to know, what would cause the transition of inmates out of SCI Graterford into SCI Phoenix to cost more than $11 million?"
A potentially volatile prison population housed at the maximum-security site made officials particularly cautious in planning for the move, meaning many were working long shifts, Wetzel said.
"Some of these inmates hadn't been outside those walls in decades," Wetzel said. "It was a high-risk population."
Just before the move, Wetzel said, an inmate was caught trying to move a ladder over the fence of Graterford to escape. The incident forced the transfer date to be pushed off and made corrections officials rethink the project. A Correctional Emergency Response Team assisted in the move to SCI Phoenix, but prisoners told the Philadelphia Inquirer that some of the members intentionally destroyed their property.
Taken together, Wetzel noted that, "I didn't feel comfortable in the early part of this year that it would be prudent for us to announce a prison closure."
In the meantime, Wetzel said Pennsylvania's empty cells will be partially filled by some 330 prisoners from Delaware due to a shortage of correctional officers, in a deal worth up to about $30 million for Pennsylvania.
Layne Mullett with Decarcerate PA, a group that seeks to diminish mass incarceration, said she is "gravely disappointed" state officials have decided not to shutter a prison facility.
"The DOC is choosing to 'market' prison beds to other states rather than seize this opportunity to save taxpayer dollars through closing prisons," Mullett said. "Instead of using Pa.'s prison beds to warehouse people from other states, we are calling on the DOC and the General Assembly to take steps to further reduce the prison population, close facilities, and instead invest in education, healthcare, jobs."
Despite the population declines, across the state, only about 2 percent of prison beds are empty.
Wetzel estimated that shutting down one of the smaller prisons in Pennsylvania would save taxpayers around $50 million a year, but officials would not say which facility could be the next to close.