Delco to take back George W. Hill Correctional Facility from for-profit operators in April
This transition of operations takes place on the day the $259 million contract with prison operator, GEO Group, is officially terminated.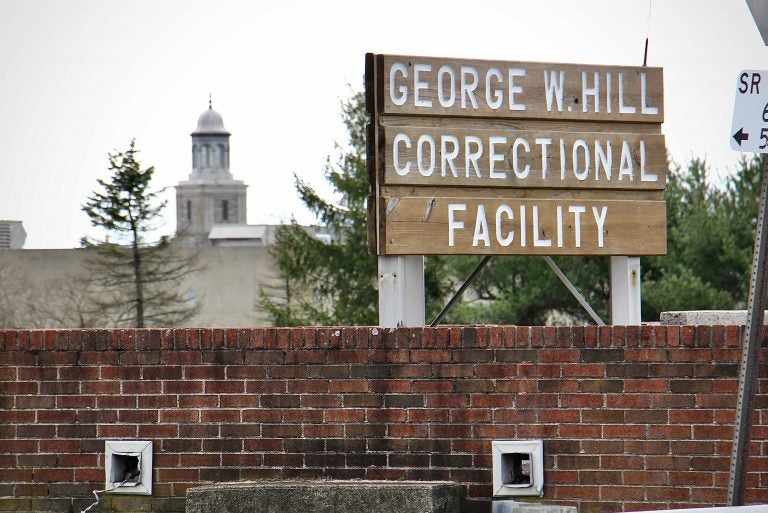 Delaware County will soon take back full control of the George W. Hill Correctional Facility, in Thornton, on April 6 — the day the $259 million contract with the for-profit prison operator, GEO Group, is officially terminated.
Councilmember Kevin Madden believes this transition will bring an improved approach to corrections, incarceration, and reform in the county.
"We're really taking an approach in Delaware County where it's beyond [incarceration], making sure it's a secure environment for the inmates, for the staff, and for the community … It's fundamental," Madden said. "Beyond that, we need to take a longer term look making sure that we're setting people up to succeed and that we're keeping them out of being perpetually entangled in the criminal justice system."
The all-Democratic Delco Council voted in October to deprivatize the facility, which happens to be Pennsylvania's only privately managed county prison. April 6 marks the end of the 180-day termination notice. The prison has been under private operation since 1998. Under GEO Group's watch, the prison has been accused of mistreating incarcerated people and staff.
The move capped off a campaign promise made by those council members elected in 2019.
Since then, the county has been tying up loose ends and shuffling things behind the scenes. Food, commissary, medical, and maintenance services needed to be addressed. Requests for proposals had to be fulfilled. Vendors needed to be selected. Staff changes had to be made.
Madden said that staffing has been one of the biggest challenges. He added that the county is offering increased pay for correctional officers and are hoping to foster a different culture.
"Most importantly, we have our new warden, after a truly national search. We identified Laura Williams, who comes to us from Allegheny County, where she was the deputy warden in charge of all programming and services. She started a few weeks ago and has hit the ground running," Madden said.
Williams has been involved informally, however, for several months, helping out behind the scenes with changes.
"She's really done a great job of making sure that we are where we need to be, and frankly, that the beginning on April 6, truly represents a new era — and that when we hire our staff, that they're coming in with a different mindset and a different approach as to what corrections looks like," Madden said.
Williams told WHYY News that most of the institutional measures in place at the correctional facility are going to remain the same, but she anticipates changes with the help of a "revitalized staff."
She believes that the pandemic has made an already complicated work environment even more difficult to work in.
"I think the staff here are really hungry for change. And I hope that I can support their professional development, get them to be able to act maybe differently than they've been able to in the past, be able to interact more frequently with the incarcerated population, and increase the standard of care that we provide in the entire institution," Williams said.
Williams comes from a background in substance abuse treatment and programs. She said she's invested in generating positive outcomes for people who find themselves in the correctional facility.
"​​After all, they're our neighbors, they're our friends, they're people that we care about — and hopefully they aren't us. But in all reality, I think most of us recognize that we are one drunken mistake or one desperate act from finding ourselves in institutions just like this one. So I want to advocate for the persons that are in the institution, staff included, and make sure that everybody, when they leave, does so in the best condition possible," Williams said.
She said that she finds it "very convenient" that society locks people up, and "forgets about them." Williams thinks that it's a problem.
Williams told WHYY News that she wants to change that. However, she often reflects on the "system within many others" that leaves people behind.
"Though I take pride in the work that we do, it's a sad state of affairs that for many people who come to this building, this might be the first consistent access to health care that they have. It might be the first time that they have access to mental health care, or substance use treatment," Williams said.
She wants to expand these services, and it makes her sad that those resources are not accessible to everyone before arriving.
WHYY is your source for fact-based, in-depth journalism and information. As a nonprofit organization, we rely on financial support from readers like you. Please give today.