Design concepts unveiled for Mantua Greenway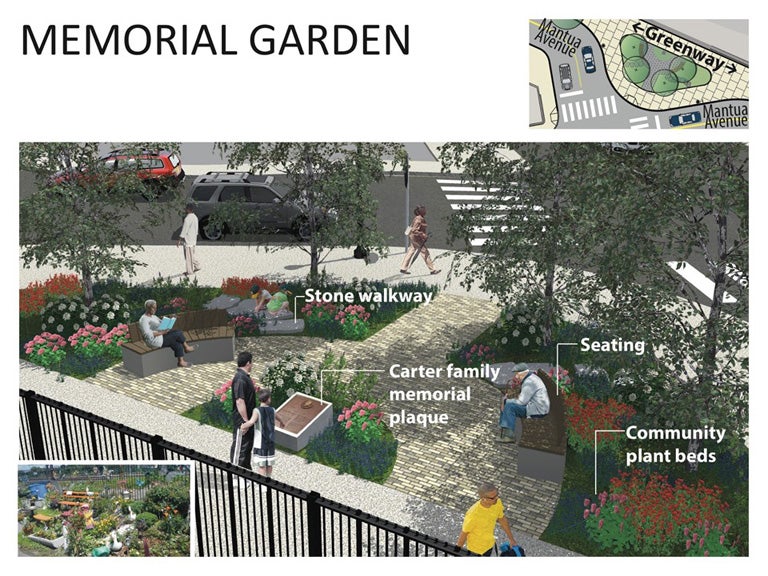 Spring was a season of progress for Mantua residents, who have been making plans for a green corridor and recreational trail along the neighborhood's northern border. By late 2017, residents and project leaders hope to break ground on construction and close this long-disconnected gap in Philadelphia's growing trail network.
The Mantua Greenway — a joint effort between Mantua residents, Philadelphia LISC, the National Park Service (NPS) Rivers and Trails Conservation Assistance (RTCA) program, the Philadelphia City Planning Commission, Commerce Department, Mt. Vernon Manor CDC, and other stakeholders — came about through the "We Are Mantua" Choice Neighborhoods Initiative, sponsored by the U.S. Department of Housing and Urban Development.
Years ago, Mantua residents like Bessie Carter started cleaning up the untended land around Amtrak's rail tracks. Carter, who has lived on the 3500 block of Mantua Avenue for more than 60 years, created a memorial garden for her parents along the tracks in 2009. They were both long-term residents of Mantua, and "investors in the block," Carter says. At first it was just tulips and petunias along the otherwise gray and unwelcoming railroad fence. But the garden quickly grew in size and color.
The garden has since become a neighborhood fixture, and the catalyst for formally beautifying the long-blighted strip into a greenway.
Project organizers have strived to maintain a neighbor-led vision for the greenway, beginning with the desire to preserve Carter's inspiring memorial garden in the new designs.
"These designs are very much concepts identified by the residents, and I wouldn't have it any other way," said Donna Griffin, a community engagement consultant for LISC. "At the end of the day, it's about the people who live in the community taking ownership, and this project can't be successful without that."
April was declared "Design Month" for the greenway, and residents participated in an open house, a community mural day, and a public meeting to review the preferred design plans.
Mantua Greenway

Mantua Greenway: Design palette

Mantua Greenway: 34th Street Gateway

Mantua Greenway: Mantua and Aspen streets

Mantua Greenway: 37th Street Triangle design

Mantua Greenway: Memorial Garden
Whitman, Requardt & Associates LLP (WRA), a Baltimore-based urban design group, has been contracted to bring to the greenway to life. The firm has compiled three years' worth of resident suggestions into these first renderings. From 40th Street to Parrish Street to Mantua Avenue, the plans feature three public spaces with a wide range of features.
Opening the trail at 34th Street and Mantua Avenue will be a gateway, replete with wayfinding signage, evergreen trees, and a new, more aesthetically pleasing fence along the rail tracks.
From start to finish, the sidewalks would be more pedestrian- and biker-friendly thanks to increased curb width, traffic-calming measures like curb bump-outs. Plans also envision benches with built-in bike racks, colorful tulip-shaped trash cans, increased lighting, and ample trees. Residents asked for tables with built-in chessboards, and the preferred design reflects that wish.
The Carter family memorial garden is one of the focal points of the new designs. Like the other public spaces, the memorial space is a well-greened alcove with curved benches, rain gardens, trellises, and stone walkways. At the center, designs show a memorial plaque for Bessie Carter's father, Dover Carter, and her mother, also named Bessie Carter.
Carter says the designs have been met with approving smiles from residents.
"Based on what we've seen on paper and in slides, I'm more than confident," she said. "We're excited that this project is going to come. It's no longer a dream."
Of course, it's a long road to completion. The final draft of designs isn't due until June 2017, and officials can't put a total dollar amount on the project until then.
LISC's unofficial estimate, however, hovers around $5 million for the new greenway. The Water Department has committed to contribute an undisclosed amount for the greenway's stormwater system.
David Ferris, a program assistant at LISC, says that Department of Conservation and Natural Resources (DCNR) funding is a good option, but they will wait until next year's funding cycle to apply. Until then, "we're all keeping our ear to the ground in terms of other funding opportunities to make some early wins," he said.
In the meantime, Mantua residents are elevating their own commitment to the greenway. At its community event in April, they painted a couple of street murals, crosswalks, a mosaic circle, and a large banner that says "We Are Mantua."
While the planning process can feel interminable, Ferris notes that other positive developments have emerged along the way. LISC helped write bylaws and hold elections for the Mantua Civic Association. The group now hosts regular cleanups along the greenway throughout the summer. The context of the greenway has also been a vehicle to discuss some of the neighbors' other concerns, from gentrification and displacement in Mantua to Amtrak's under-maintained land on the other side of the fence.
WRA will continue to refine the designs alongside a long list of public partners — from SEPTA to the Streets Department. By Spring 2017, they aim to hold the final public meeting to review the designs.
WHYY is your source for fact-based, in-depth journalism and information. As a nonprofit organization, we rely on financial support from readers like you. Please give today.