Wrong side of the tracks: Belmont residents concerned Amtrak sprayed herbicides into their backyards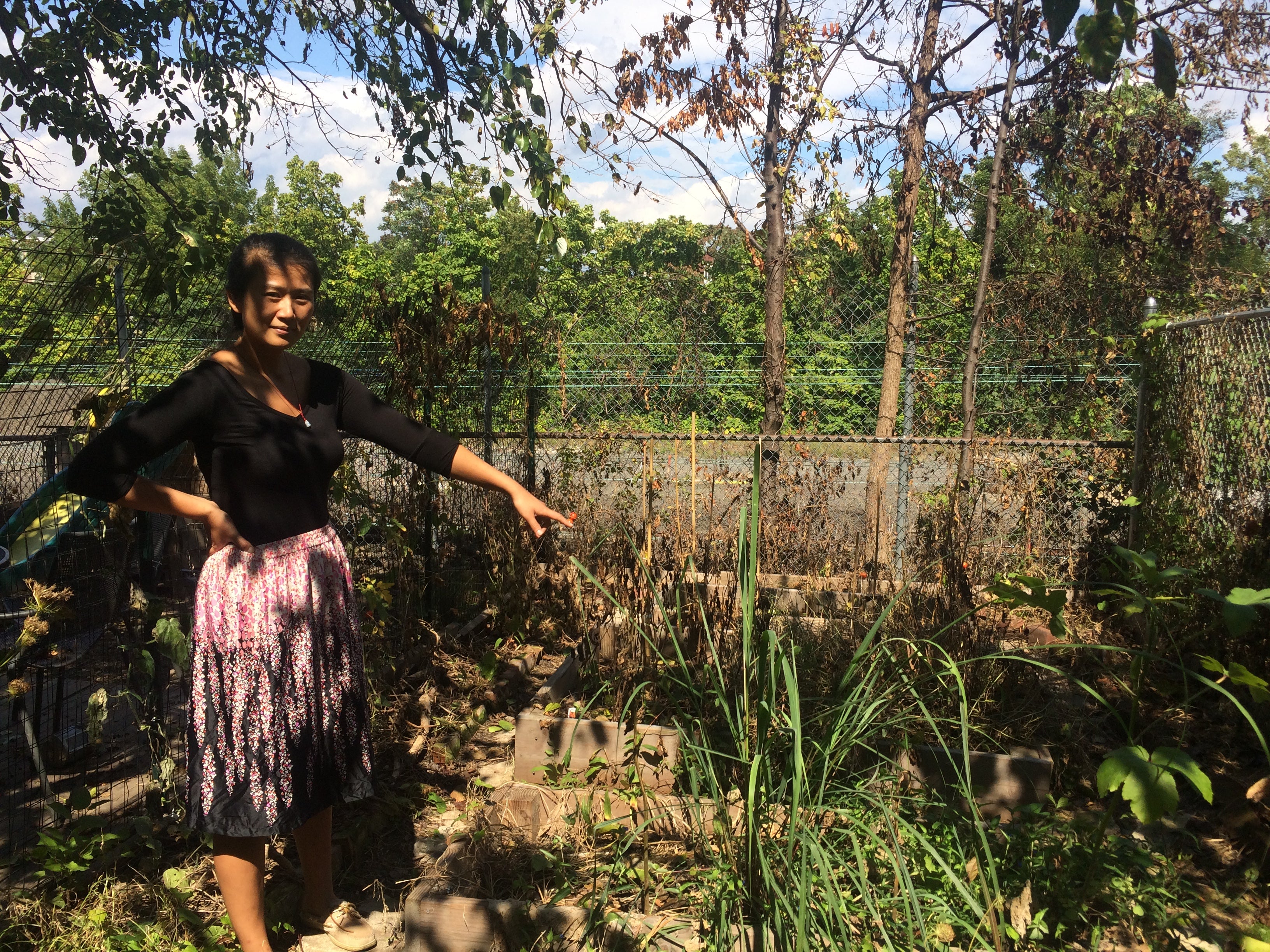 It was mid-August when Jenny Chen and her fianceé Brian Jordan first noticed their backyard garden turning brown. Over the last two summers, the couple grew flowers, herbs, tomatoes, squashes, and other vegetables.
"They were all being overcome with some kind of brown spots and it was affecting not just one type of vegetable or fruit," Chen said in her lifeless backyard. "It took about a week for it to get to look like what it does now, with just total die off."
Looking at her plants, Chen remembered Amtrak spraying herbicides near her house in Belmont back in 2015. Residents had been complaining about the jungle-like weeds growing near the tracks along Mantua Avenue between 31st and 34th street.
"Their response was just to spray everywhere [with herbicides] and it created a very similar look to what we noticed that week," Chen said.
Chen and Jordan's house on Mantua Avenue borders a rail yard with five tracks used by Amtrak and Septa trains. A three-foot fence marks the end of their backyard, then there's a three-foot alleyway with three relatively small trees, followed by an Amtrak fence, about six feet tall. Beyond that, there's a drop of about 25 feet into the closest track, and then another drop to a lower track.
Chen thinks Amtrak sprayed the herbicides up from the track area, resulting on the herbicides coming 16 feet into her yard. The trees look brown and half dead now, and Chen worries dead branches might now fall into her yard or down onto the tracks.
After the couple contacted Air Management Services from the city's Health Department, Daniel Duer, a field technician from Pennsylvania's Department of Agriculture, visited and took soil and plant samples. After his visit, Duer informed Chen and Jordan that on August 16th, Amtrak contractors had used four herbicides and two chemical surfactants, a solution that increases the herbicide penetration, coverage and effectiveness.
"It was kind of scary," Chen said.
Because they had received no notification, the couple continued to eat the vegetables from their garden.They're not sure what kind of health effect that could have.
Even setting aside the health concerns, the couple is sad to see their garden die and furious at Amtrak for apparently causing it. Not only did they lose their vegetable production, and all the work that went into it, but the couple lost something more sentimental, too. Last April, Jordan proposed to Chen by planting tulips in the garden beds.
"They spelled out J and B and this beautiful question mark design — and hearts and everything — and we were so excited that the tulips would come back every spring and we would kind of relive that each spring…. The front half, they may all be dead."
As soon as she found out about the herbicides, Chen contacted her neighbors. Claire Williams lives on the next house with her husband and five children, ages from 1 to 15. They also have a yard bordering the tracks. Williams said their pitbull, Sky, suffered from diarrhea and vomiting for a week during the end of August, after Amtrak sprayed on the 16th. After finding out about the herbicides, Williams wonders if the chemicals were what made her dog sick. And she worries of the health effects those same substances could have had on her family.
"They [the children] play in the backyard all the time — they are in the trees, they're in the grass, they're in the dirt. And we have the dogs and the cats back there also," Williams said.
Now, she doesn't allow anyone to go out the yard, which makes life a little bit harder. One of her children is autistic; playing in the front of the house is dangerous for him.
"It makes me really angry because, at least, if they wanted the weeds taken down they should have given us some kind of notice and let us know like 'look, can you do something about it?," Williams said. "You can't just go spraying things where ever you feel like it."
Chen contacted Clean Air Council's Russell Zerbo for help. After visiting her and her neighbors' yards, and seeing how far the alleyway is from the tracks — about 25 feet up — he said Amtrak should have sprayed the herbicides from the yards down.
"You don't have the authority to put pollution into something that's not yours. It's a simple law, the fence line rule," Zerbo said on Chen's yard. "It's just pretty reckless, and looking into the incline here, I realize that they couldn't even see what they're trying to spray, which obviously creates a lot margin for error."
Amtrak's Vernae Graham said in an email that vegetation control is important for maintaining Amtrak operations safe, because overgrown plants can compromise visibility and inhibit water drainage.
"Amtrak has a comprehensive program to control the growth of vegetation on our right of way, and we carefully apply the herbicides to try and prevent drift onto adjoining properties," Graham wrote in a statement. "This program is required by federal regulations and includes the application of herbicides to control the growth of invasive weeds, brushes and other vegetation. The herbicides we use, which meet federal standards and are approved by the state, are proven to be not harmful to people or pets."
(Catalina Jaramillo)

(Catalina Jaramillo)

(Catalina Jaramillo)
According to Duer's email to Chen, Amtrak used the herbicides Viewpoint, Escort XP and Arsenal. The labels on those products warn to keep them away from children and recommend first aid in case of contact with eyes, skin or clothing, or if swallowed or inhaled. Duer also said two chemical surfactants, Methylated Spray Oil and Grounded, were used.
According to Oregon State University's National Pesticide Information Center the chance of developing a health problem from a pesticide depends on its toxicity and the amount of exposure. Exposure can happen byways of ingestion, inhalation or get it into eyes or skin. "Even if a very toxic pesticide is used near your home, the risk may still be low," NPIC's website says.
The herbicides used by Amtrak are classified with the word "caution" which is the lowest in toxicity. Still, according to NPIC, some groups of people such as the elderly, infants and children, pregnant women and people with health conditions could be more sensitive to a pesticide than others.
Philadelphia's Health Department does not regulate pesticide or herbicide spraying on private property, said spokesperson James Garrow. Neighbors affected should contact Pennsylvania's Department of Agriculture, Garrow said.
Bonnie McCann from the Department of Agriculture said there's an ongoing investigation. They're looking into the samples collected by Duer in Chen's backyard to analyze possible health effects and responsibilities.
Chen and Jordan have retained lawyer Noah Axler to represent them in a potential lawsuit.
Chen works with Mt. Vernon Manor Community Development Corporation in Mantua, advocating for quality affordable housing. She worries that many other people living next to rail tracks might have this happening in their backyards without being notified.
"I think there's a major environmental racism aspect on this as well, even when they're spraying public property or streets — that's still chemicals going into the air without any notice," Chen said. "It's just not OK."
(Catalina Jaramillo)

(Catalina Jaramillo)

(Catalina Jaramillo)

(Catalina Jaramillo)
WHYY is your source for fact-based, in-depth journalism and information. As a nonprofit organization, we rely on financial support from readers like you. Please give today.