Wild strokes and wildflowers color the Northeast Corridor through Philly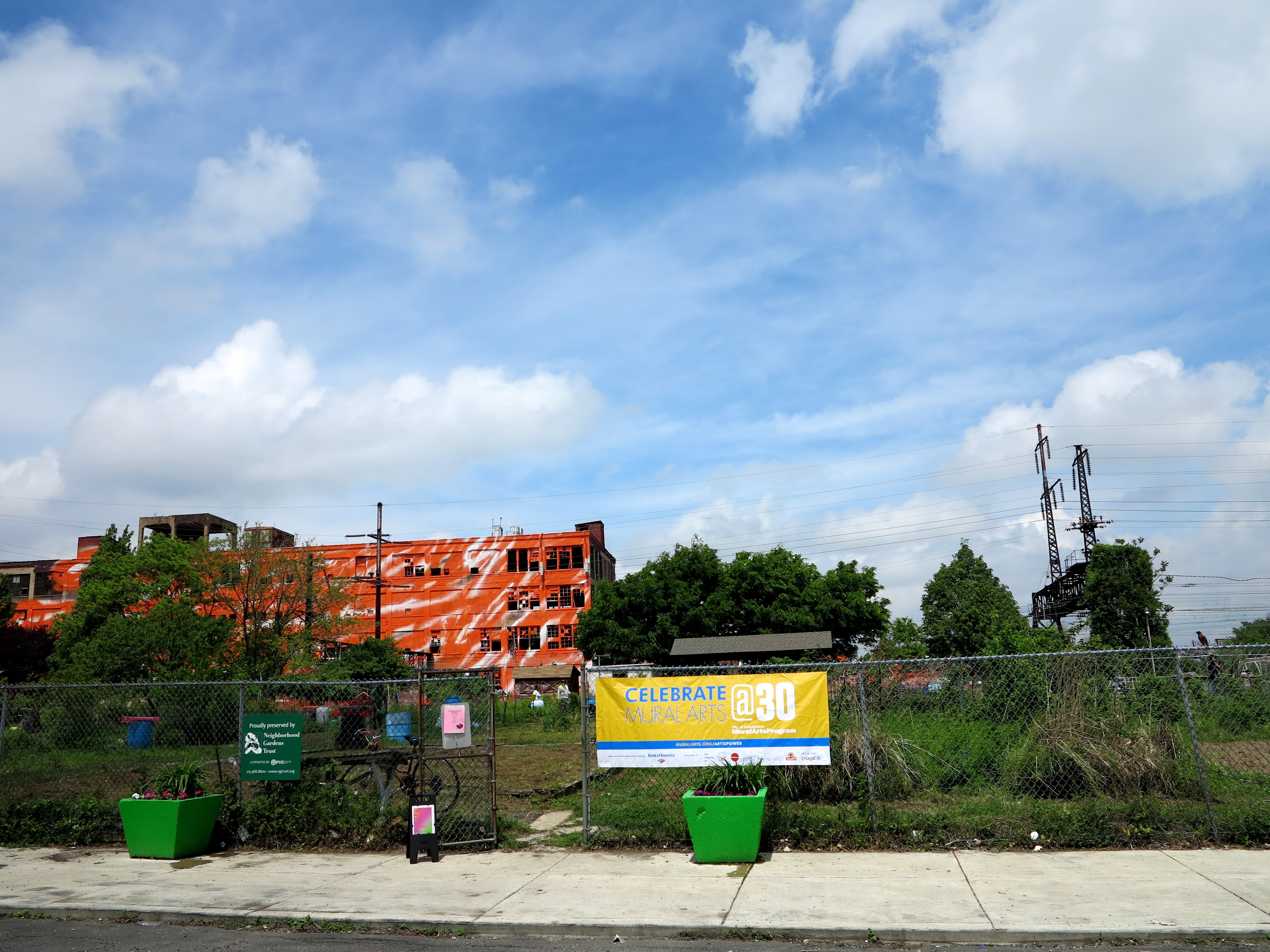 Glenwood Green Acres is a 30-year old community garden at North 18th and Glenwood Avenue, a 4-acre green oasis on the site of a former factory that burned down. The garden backs up to the Northeast Corridor train tracks used by Amtrak, NJ Transit, SEPTA, and CSX and it is a well-tended exception to the often dreary landscape visible from trains passing through this part of Philadelphia.
The view from a train window here is evidence to some of the scope of Philly's post-industrial decline; to others it is fertile ground. Now Glenwood Green Acres has a front-row seat to some bright shifts along this often-bleak corridor, and a huge orange former industrial building looms over the garden as one approaches it from the neighborhood.
That bolt of orange rising above the train tracks is part of psychylustro, an abstract Mural Arts landscape painting project that washes pieces of the corridor – from plants to industrial buildings – in electric shades of tangerine, fuchsia, and chartreuse.
Berlin-based artist Katharina Grosse developed this seven-site artwork between 30th Street Station and North Philadelphia Station, as a "choreographed experience" of art provocation, designed to be seen from a moving train. Mural Arts describes the project as "a real-time landscape painting, where the ever-evolving city is the canvas, and your window is the frame."
The artwork is bright, and when viewed from a passing train the color is at first a hot spot on the horizon, then a blip. Lime grasses. Pink trees. Orange wall. Back to graffiti.
Grosse's pieces are temporary. Mural Arts plans to maintain the artwork for six months and then the indoor-grade paint will be allowed to fade. But just days after celebrating its completion, graffiti has already started to reclaim Grosse's painted surfaces. Time will do the rest.
Of late Northeast Corridor has become a focal point among a diverse group of Philadelphians – from preservation thinkers to tourism and marketing types. It's a place that is at once untouchable, familiar, historic, and layered. It captures the imagination if you pay enough attention. Last year our contributor Brett Sturm made the case for a thoughtful approach that invites train passengers to look out the window and discover stories about Philadelphia, seeing past the grit for the first time.
Given this rising collective interest in the Northeast Corridor, and Philadelphia's insecurities about how people perceive this city based on initial impressions, it's hardly a surprise that Mural Arts isn't the only group working on this stretch of track.
Across from Grosse's largest installation by Glenwood Green Acres we'll also be able to watch for a different sort of colorful burst along the track edge next to the garden. The Pennsylvania Horticultural Society (PHS) has quietly seeded a colorful landscape along the trackside edge of Glenwood Green Acres, a site in the Neighborhood Gardens Trust affiliated with PHS. It doesn't look like much yet but this summer northeastern wildflowers like coneflowers, cosmos, bachelor's buttons, asters, poppies, and sunflowers will provide their own riot of color in a trackside meadow. Cherry trees and crape myrtle were also planted to add yet more seasonal color. PHS's work here is an early demonstration project to test one of the ideas articulated in the Civic Landscapes plan PHS developed a year ago.
Devoted readers and PHS-super-fans may recall that last May a plan released by PHS identified seven sites as the next generation of "civic landscapes" that will be a major focus for PHS as it approaches its 200th birthday in 2027. (It bears mentioning that this plan was developed with PennPraxis. PlanPhilly itself is a project of PennPraxis.) The section of the Northeast Corridor running through Philly is one of those important landscapes that PHS and its advisers considered as worthy of a better image. The idea is that people traveling through Philadelphia shouldn't think of it as an apocalyptic landscape of decline, but as a place of creative regeneration. The project hopes to be a transformational force, through partnerships and landscape-scale interventions.
Like PHS, Mural Arts was also thinking about the Northeast Corridor as a canvas. When Mural Arts staff called in PHS for advice about painting vegetation, it turned out they were considering similar trackside sites.
Both psychylustro and PHS's Civic Landscapes project are about casting this landscape in new light, disrupting the impression that this corridor is forgotten, inviting passersby to consider its potential or recognize its existence in the first place.
It's a "gesture that may be bombastic," said psychylustro curator Elizabeth Thomas, but it's also a "gentle work" that tries to sit within the corridor and "create a way of seeing" the space.
Though psychylustro is far from subtle, it underwhelms. Its scale isn't totally monumental, nor is it working with other interventions, which could heighten its effect.
The artwork primarily speaks to this landscape through its visual language – hot washes of color that look like a tag-in-progress, magnified 10,000x – feels like an attempt to subvert the vocabulary of graffiti, one of the forces that give the corridor its current appearance. (Check out Bradley Maule's piece on Hidden City Daily for a thoughtful consideration at the relationship between the Northeast Corridor's graffiti history and psychylustro.)
The spray-painted ghostly windows, dumped but now colorful trash and vegetation leave me a bit unsettled, which I suppose is part of the work's "disruptive" point. But is disruption enough? Perhaps we should instead see psychylustro as opening the door for longer-term, deeper interventions? Amtrak and SEPTA were cooperative partners, which may lay important groundwork for future projects by PHS or others.
Grosse and the project team cast the work as a new way of seeing, but I keep thinking about what will we see when the paint fades, and the now-bright structures look shabby (again). What will be lasting here? As my SEPTA conductor said, will it just be a clean slate for new graffiti? Will art – through paint or horticulture – help shape perceptions? That could well hinge on what PHS is able to bring to this landscape and how that work engages with residents and riders.
And what of the people who live adjacent to this visible but untouchable landscape? The target audience for the Mural Arts and PHS projects are people viewing the corridor from the train, not necessarily those who live with it. It's not possible to sufficiently treat this landscape's complexity with washes of color. But could these visual effects be the first step on a long road of fresh thinking? We can only hope.
(Ashley Hahn, EOTS)

Psychylustro's orange and white pops over Glenwood Green Acres

(Ashley Hahn, EOTS)

(Ashley Hahn, EOTS)

(Steve Weinik for the City of Philadelphia Mural Arts Program)

(Steve Weinik for the City of Philadelphia Mural Arts Program)

Pink trees of psychylustro

Graffiti begins to reclaim the walls

Amtrak approaching.
To see psychylustro yourself ride SEPTA's Chestnut Hill West line between 30th Street Station and North Philadelphia Station. You can also call (215) 525-1045 during the ride to hear interviews with Katharina Grosee, learn about the rail corridor, and hear an audio interpretation of the passages by sound artist Jesse Kudler.
On Wednesday, June 18, from 6-8pm, there will be a free panel discussion at the Center for Architecture (1218 Arch Street) about "Great gateways and the cities that make them" moderated by WHYY's Chris Satullo.