Delaware County holds its first-ever LGBTQ Pride parade
Community members from across Delco paraded through Media Borough to celebrate the beginning of Pride Month and the launch of the inaugural event.
Got a question about life in Philly's suburbs? Our suburban reporters want to hear from you! Ask us a question or send an idea for a story you think we should cover.
Organizers estimate more than 1,000 people gathered on Saturday at Barrall Community Park in Media to make history at Delaware County's first-ever LGBTQ Pride Parade.
Community members from Delco and beyond walked through the borough's streets to celebrate the beginning of Pride Month and the inaugural event.
U.D.T.J., the local social justice group that organized the parade, also organized the Upper Darby Pride Festival for the past two years. This year, they wanted to bring the entire county into the celebration.
"I am floored. Absolutely ecstatic. We had so many people come out," said Kyle McIntyre, co-founder of U.D.T.J. "Not only do we have so many people come out and join us in the parade itself, but just to watch, support, and attend…it was just heartwarming. And look, Pride is here to stay in Delaware County and it's just getting started. So we're so excited," McIntyre said.
Participants walked from the park through downtown Media shortly before crossing in front of the county courthouse, holding rainbow flags and signs that said, "Delaware County Pride."
The parade featured a color guard, cheer teams, drummers, and organizations from across Delaware County who were expressing their support for the LGBTQ community.
Main Line Independent members twirl flags in front of spectators at Delaware County's first Pride parade. (Kenny Cooper/WHYY)

Drummers cap off the end of Delaware County's first-ever Pride parade. (Kenny Cooper/WHYY)

Parade organizers say Delaware County's first-ever Pride parade brought in more than 1,000 attendees and spectators — well above expectations. (Kenny Cooper/WHYY)

Delaware County residents walk the streets of Media as they partake in Delaware County's Pride parade. (Kenny Cooper/WHYY)

The front of the Pride parade passes by the front of the Delaware County Courthouse in Media. (Kenny Cooper/WHYY)
"When my wife told me that she would be participating in the inaugural parade, it really kind of took me back," said Nick Leister of Haverford. He attended the parade with his daughter to watch.
"At times Delaware County — I don't know if it is considered the most progressive place. And so I think that this is a great step in the right direction for the future. And I look forward to the second, third, and the 10th parade," Leister said.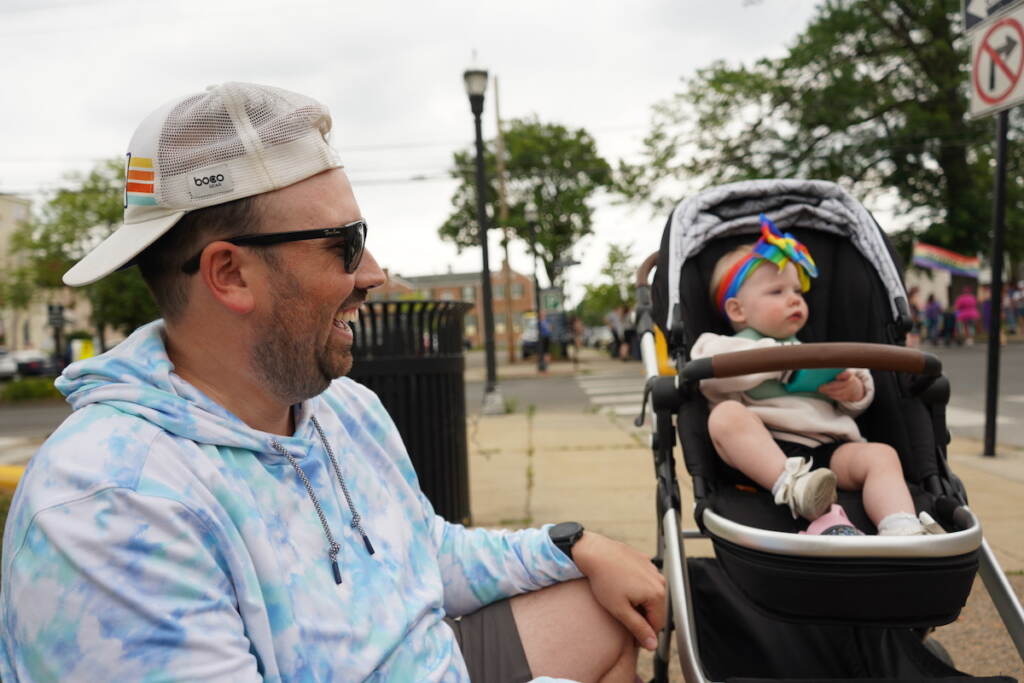 Danielle Kulp, of Drexel Hill, said the parade is a big deal.
"My friend and I, we grew up going to local schools. I remember we were part of the Alliance for Acceptance in Upper Darby before we were allowed to say anything about it being the gay club. So it's kind of a big deal to go from not not being allowed to say that we're gay in school and being worried what would happen after we got out of our club, to our county is celebrating it. And I'm taking my son to see and celebrate this, so it's really exciting," Kulp said.
Around the United States, Pride campaigns and events are facing growing threats of violence. Books with LGBTQ themes are being disproportionately targeted in ban-attempts, while numerous states are adopting legislation restricting gender-affirming care.
Tiffini Lanza and Autumn Dae Miller traveled from Montgomery County to participate in Delco's Pride parade.
"It's really important to recognize how unsafe it can be because of the times that we're in. And yet people are still standing up. People are still resisting. People are still saying, 'We are here, and we are not going anywhere.' So people are really putting their lives at stake in a lot of places to be at a Pride this month. And this is just beautiful," said Lanza, who is a therapist that provides gender-affirming care.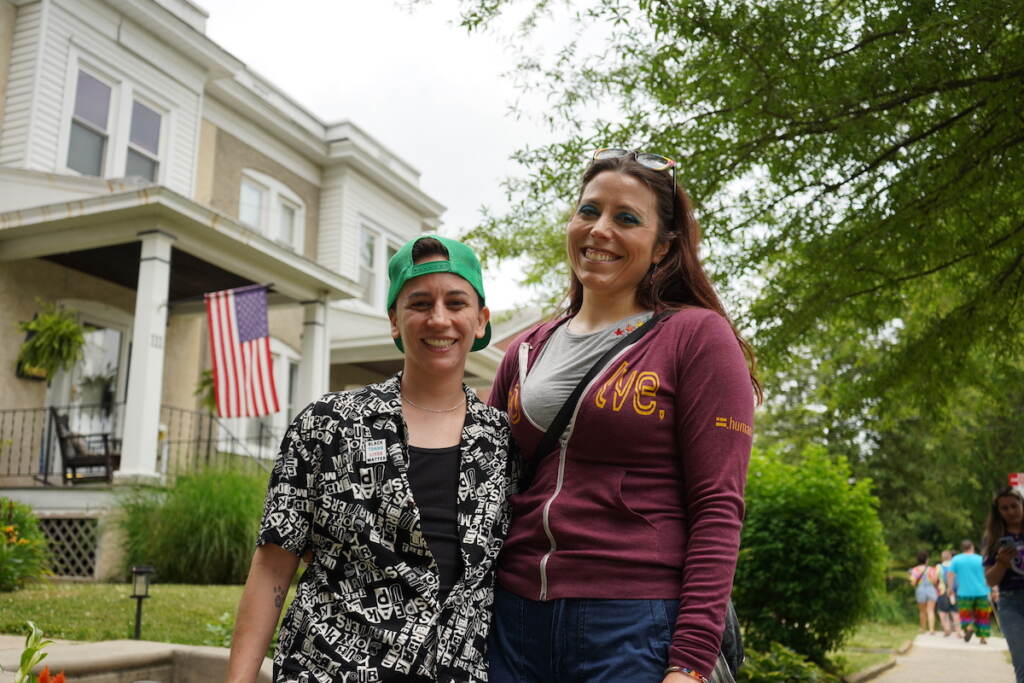 Miller said these parades serve a great purpose.
"This is all about just advocacy efforts. The more you see, the more you ask questions. The more you ask questions, the more you educate yourself and others, and really change the game," Miller said.
Advocacy organizations like PFLAG of Media, which Joan and Brian Bortnicker launched as a local chapter 12 years ago, were able to get a bigger platform to spread their message of acceptance and support to all attendees of the parade.
"This is an amazing event for Delaware County. In fact, it's our first Pride event ever. It's really important that we include people of the LGBTQ community and everybody in a very positive way," Joan Bortnicker said.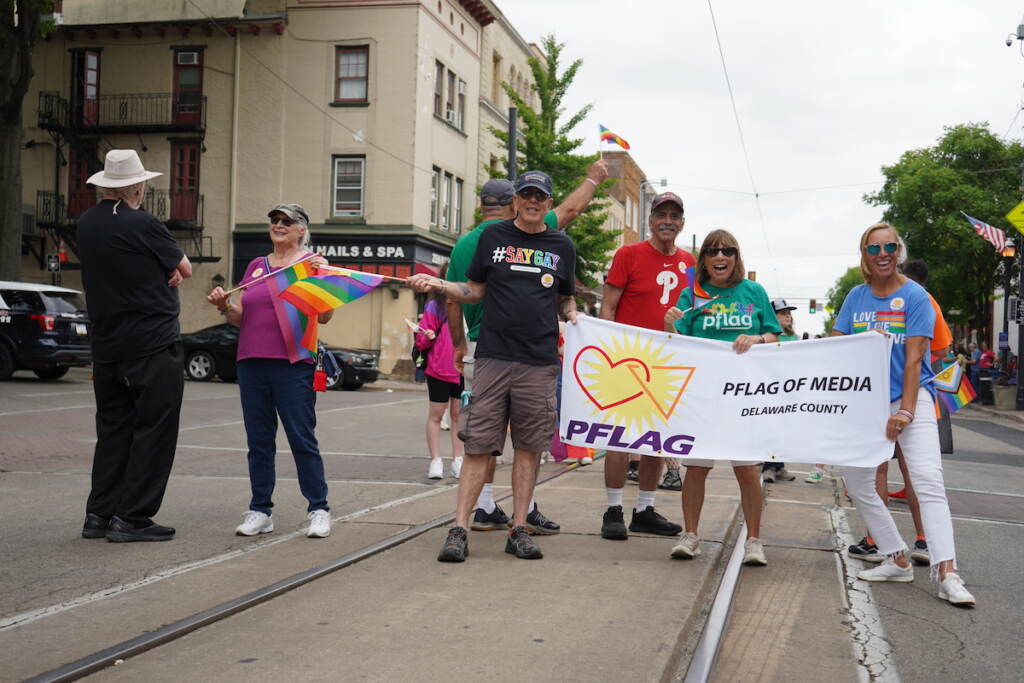 It was also an important day for groups like Free Mom Hugs-Pennsylvania and its local branch Free Mom Hugs-Delaware County.
"I've been in Delaware County almost my whole life. And first, let me tell you that Free Mom Hugs' mission is to empower the world to celebrate the LGBTQIA+ community through visibility, education, and conversation. And so that's what we strive to do everywhere we are. And how that has played out in Delaware County has really been sped along because of the work that the organizers of the Pride Festival and now today's Pride Parade have done," said Bonnie Kaplan, who serves as a state leader for the organization alongside Laurie Dzurko and Laurie Sigel.
Kaplan and Dzurko said that the organization is all-inclusive to anyone who wants to join. There is no requirement of being a mom, and you do not even have to be a "hugger." Kaplan said Pennsylvania's network is growing and now has the most Free Mom Hugs members out of any state in the country.
Following the parade, attendees were encouraged to stick around for Pride on State, in which businesses along State Street in Media hosted Pride-centric activities.
On June 10, the Delaware County Pride Festival will take place outside of the Upper Darby Township Municipal Building from 1:00 p.m. to 6:00 p.m.
"This is going to hopefully inspire many other LGBTQ youth to be more involved, come out their shell, and find community," said Elijah Neil, a co-founder of U.D.T.J.
Festival coordinators said the event in Upper Darby will welcome people of all ages, and will include live music, poetry readings, face painting, vendors, and drag performances.
"Next week, we're going to have up to 136 vendors, so we're super excited. We have people coming in from out of state. We have a lot of our Philly LGBTQ [organizations] coming out — we have about 30 of them joining us actually. They have a lot of local businesses, whether they're LGBTQ, BIPOC, newly-opened. We're just literally getting supporters from all over that just want to participate," said Dyamond Gibbs, a co-founder of U.D.T.J.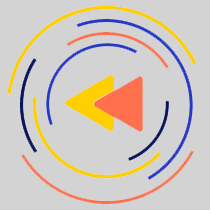 Saturdays just got more interesting.
WHYY is your source for fact-based, in-depth journalism and information. As a nonprofit organization, we rely on financial support from readers like you. Please give today.