Decrying pandemic 'profiteering,' protesters call for a Pa. public health care advocate
In Montgomery and Delaware counties, what do you wonder about the places, the people, and the culture that you want WHYY to explore?
Dozens of protesters from the activist group Put People First! PA marched in front of the Center City offices of health care providers and health insurers Saturday to call attention to what they describe as "health care profiteering" during a global pandemic.
Philadelphia is a major health care hub, and the organizers of the protest wanted to leverage the stage the city provides.
"We felt like we have an obligation to lift that up and … make the invisible, visible, and show the relationships between the health care industry in Philadelphia, which, again, is connected nationally and globally with Wall Street, with the political system, and even the media system," said Nijmie Dzurinko, a co-coordinator of the Philadelphia Healthcare Rights Committee of Put People First! PA.
The goal of the group is creation of a public health care advocate, which would be a state-level office that would "fight for the rights of all residents at the mercy of the medical industrial complex."
Saturday's "Health Care Reality March" began at Independence Blue Cross headquarters at 19th and Market streets and ended at 10th and Walnut, a Jefferson Health location — a route organizers dubbed the "Billion Dollar Mile." Along the way, the protesters made sure also to pass by Vybe Urgent Care and the nonprofit Public Health Management Corp., a major Philadelphia public health contractor.
"I think one of the things that we want to dispel is the idea that nonprofits can't be profiteers, because they certainly can," Dzurinko said.
Equipped with black umbrellas to represent the lives lost over the years and signs admonishing the health care system, the marchers made certain to get their point across to bypassers.
Jae Hubay, also an organizer for Put People First! PA, said that a majority of people have a stake in the fight to make health care a fundamental human right, whether they know it or not. He said there are often things that need to get covered by insurance companies or Medicaid that just don't.
"I think the pandemic is like a moment as clear as any that shows the need for actual health care as a human right, and how everybody's health impacts everybody else, right? If we don't have the health care that we need, it impacts us, it impacts our families, but then it also can be a danger to other people," Hubay said.
The march began with a call and response between its leaders, on a truck, and those following along in the streets. As it paused at each stop, recordings of people who had direct experiences with one of the four target companies played over a loudspeaker.
Several people, however, opted to march in person and talk to the spectators.
Dr. Ben Cocchiaro, a local physician, used to work for Public Health Management Corp. He told the crowd that efforts to cut costs led to outages of the medical records and phone systems. He said a local emergency department once called into the office and asked for the medical history of a patient who was in grave condition, but that the phone never rang.
"And by the time I heard the message the next day and called back, the patient had already died," Cocchiaro said.
In an interview with WHYY News, Cocchiaro said, "Forty-three other countries have universal health care. This is something that is possible. Our leaders would have us believe it's not. We should ask ourselves why that is.".
Tammy Murphy told the crowd about issues she had with Independence Blue Cross, saying she was wronged and the state didn't do anything. Murphy reached out to Put People First! PA to elevate her story and said that relief didn't come until after she consistently made her issues public.
She, too, said universal health care doesn't have to be a dream.
"We actually have enough money. Our country has that, we can cover everybody. This isn't necessary. We don't have to do it this way. Other countries don't do it this way. And we don't have to suffer with these insurance companies acting like the middleman kind of between us and our health care," Murphy said.
Colleen Goodwin, a nurse, said that the hospital where she worked throughout the pandemic treated her health and that of her colleagues as unimportant, and that the care her patients got was inadequate.
"Because, it's really disheartening to go to work every day when you want to help people and what you're doing is really just hurting them," Goodwin told WHYY News.
The last year has shown her that these companies should no longer be in charge of health care, Goodwin said. Pointing to the United States' high infant mortality rates, she said the cost of health care was "all about profit."
Delia Bopa brought her young son with her to march in solidarity.
"Knowing that there's millions and millions of people in this country who can have access to health care, decent health care, this is an international scandal," Bopa said.
The midday heat was oppressive, and though the protest organizers brought cold water for everyone, a man fainted. He was placed into a trailing car and returned to the march after he recovered.
Dzurinko said the pandemic has not changed the health care system for the better — insurance companies are still denying coverage and care, though medical systems are doing fewer procedures. But that's not hurting their wallets, she said, and so there was a need to protest on a hot and humid Saturday morning.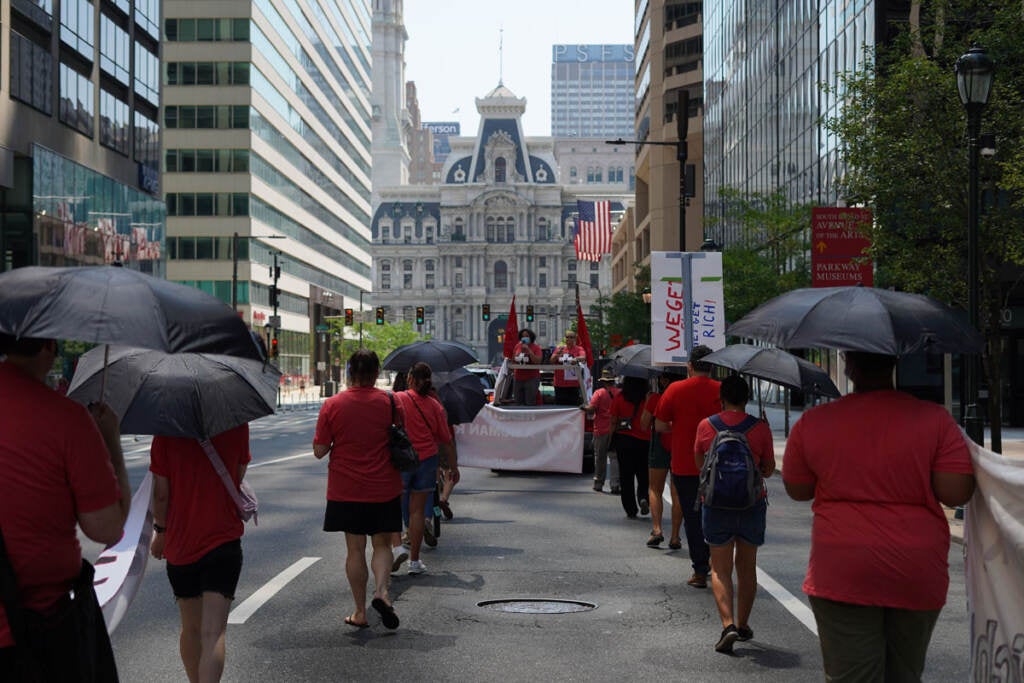 "The need for it is certainly to show this kind of everyday reality that we take for granted, because I think it's so normalized, right? That people just kind of get used to thinking like, 'This is just the way things are.' And what we want to do is disrupt the idea that this is normal, or that this should be accepted," Dzurinko said.
Some health systems might disagree with Dzurinko's assessment of how they have fared financially during the pandemic.
In November 2020, for example, Thomas Jefferson University announced that without help from the government, it would have taken a huge loss due to the pandemic and told bond investors that it would take a "multi-year" effort to return its multi-hospital system to pre-COVID profit levels.
However, an investigation by NPR and PBS's "Frontline" found that the financial gap between the country's more than 300 safety-net hospitals serving poor populations and hospitals serving the wealthy generally widened during the pandemic as medical centers taking care of underserved groups took huge losses.
Independence Health Group, parent company of Independence Blue Cross, reported big revenue gains for 2020, up $2.6 billion from 2019.

WHYY is one of over 20 news organizations producing Broke in Philly, a collaborative reporting project on solutions to poverty and the city's push towards economic justice. Follow us at @BrokeInPhilly.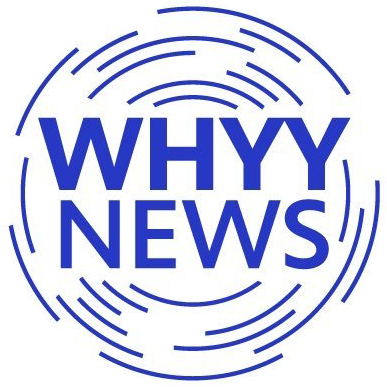 Get daily updates from WHYY News!