Curbside refreshment for man and beast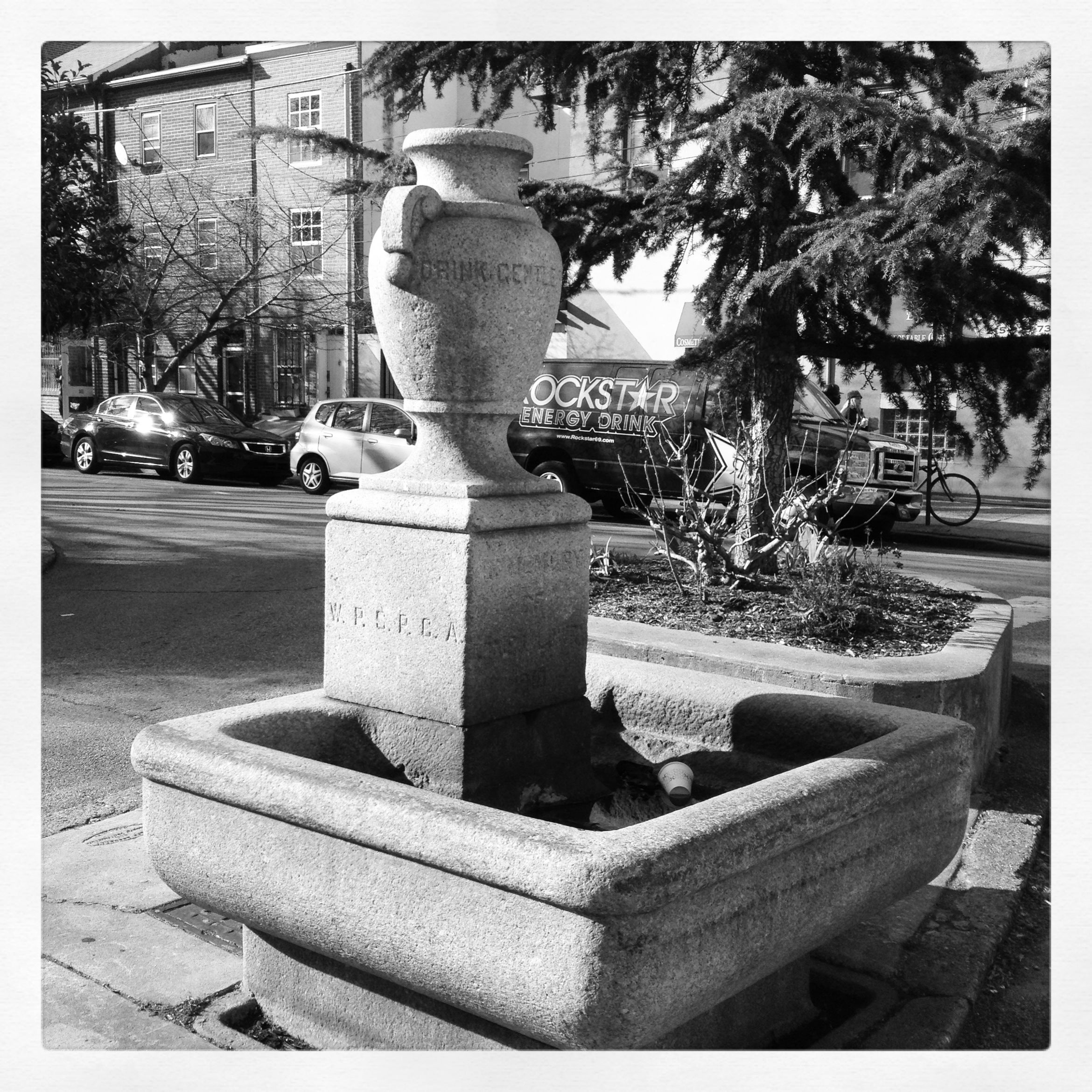 DRINK GENTLE FRIENDS reads the fading engraving on an urn, part of a fountain set in the median of Bainbridge at 3rd Street, where water softly trickles during fair weather. It's a quiet reminder of our city's horse-powered past and the kindness of previous generations of Philadelphians.
This fountain was installed in 1910 to provide drinking water for working people, horses, and small animals like dogs – with a different fountain level for each – as a charitable bequest by Annie Lowry to the Women's Pennsylvania Society for the Prevention of Cruelty to Animals. Now, a century later, it's a rare survivor of a once-commonplace kind of street furniture made possible through earlier generations of reform-minded Philadelphians, watched over by neighbors and turned on by a city crew every spring.
Of the 100 fountains and troughs that once dotted sidewalks, parks, medians and traffic triangles across the city, the fountain at Bainbridge Green is one of roughly a dozen that remains in place. Others like can still be spotted on the south side of Washington Square (the city's oldest), and at the Arch Street Meeting House. A few, like those on Bainbridge, South, and outside Fireman's Hall on North 2nd Street, still have running water used occasionally by birds, dogs, horses pulling carriages or the mounted police unit. One at 9th and Clinton outside Pennsylvania Hospital's wall is used as a flower planter. Others like the one at Fairhill Square seem like lost sculptures, adrift in their current environments. [See a map of these survivors here.]
Fresh drinking water was not easy to come by on the streets of Philadelphia 150 years ago. That posed real practical problems for working people and animals given the city's sweltering summers. But it wasn't until social reform agendas– most notably the temperance, humane and sanitary movements – started overlapping in the late 19th century that Philadelphians started building horse troughs and fountains to satisfy the city's thirst.
In late 19th century Philadelphia it became all the rage among the reform-minded elite to donate curbside fountains. Groups like the Woman's Christian Temperance Union, Womens Pennsylvania Society for the Prevention of Cruelty to Animals (WPSPCA), and the Philadelphia Fountain Society paid to install and maintain public drinking fountains for – as the Fountain Society's mission stated – "the health and refreshment of the inhabitants of Philadelphia, and for the benefit of the animals used by them." Some even had a curb-level trough for dogs (and other small animals) and a separate drinking fountain for people.
The Fountain Society led the charge with the installation of its first fountain in 1870 at 7th and Walnut (since relocated to Washington Square South).
(Philly History)

Today the Catharine Thorn fountain anchors one of the Grays Ferry Avenue triangles.
Dr. Wilson Cary Swann (as in Swann Fountain) put the need plainly in a speech to supporters in 1870: "The suffering caused by the absence of water in our streets is beyond description."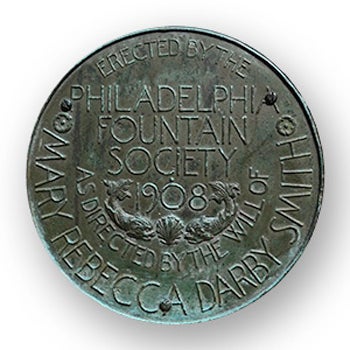 Without fresh water horses could collapse (or drop dead) in the street and working people were drawn to drink alcohol for lack of plentiful, less boozy alternatives. These concerns united reformers from the budding humane and temperance movements, who found that installing fountains met their common interests.
In the early days of the Fountain Society that dual appeal was made explicit for benefactors: "The greatest enemy to temperance, morality and virtue is more or less associated with thirst, " said Swann in that same speech. "Let these fountains be erected at convenient distances along our streets, and the temptation to resort to drinking saloons will soon be abated and, in time, abolished."
The crossover appeal among Philadelphians interested in alleviating animal cruelty, promoting temperance, and improving public health resulted in an explosion of fountain installation well into the early 20th century.
Troughs and fountains quickly became a surprisingly common feature on Philadelphia streets, often located at public spaces, outside busy workplaces, or important crossroads – not unlike the pedestrian plazas and parklets of today. These utilitarian objects were typically made of durable iron or stone, but they were also meant to add an element of beauty to the city's mean streets.
(PhillyHistory)

Rebecca at the Well was moved from 12th and Spring Garden to Horticultural Hall in 1934.
Several fountains installed by the WPSPCA were inscribed with mottos to inspire kinder treatment of animals- like those at 3rd and Bainbridge (DRINK GENTLE FRIENDS) and at 9th and Clinton (A MERCIFUL MAN IS MERCIFUL TO HIS BEAST). Some had biblical references, while others simply bear the names of donors who made their installation possible.
According to Fountain Society records at the Pennsylvania Historical Society, in 1880 there were 50 fountains operating 180 days per year, serving an estimated 3 million people and 1 million horses and other animals. Plus, the amount of horse deaths declined.
Though the horse fountain-building fad faded as the 20th century wore on, groups continued to install new ones throughout the city into the 1940s. It may seem oddly late to be building horse-oriented infrastructure at the dawn of the atomic age, but horses were still prevalent as working animals in the city of Philadelphia. Fountain Society records note that there were about 5,800 horses in the city in 1942, 1,000 of which were used to pull municipal garbage and ash wagons.
"The motorizing of horse-drawn vehicles has greatly decreased the requirements of our early years of activity," wrote Fountain Society president Martha Newkirk to the Chamber of Commerce in 1942. "At one time our Society owned and maintained upon the streets and Parks of the City, some 82 Fountains, today we have 10 fountains in active service." That same year the WPSPCA maintained 36 granite fountains, and 32 temporary, seasonal drinking stations for horses in areas without fountain service.
(PhillyHistory)

This trough and fountain outside Pennsylvania Hospital is more planter than water feature these days.
But fountains started to disappear as working horses became a thing of the past in the modernizing mid-century city. They were costly to maintain in the face of diminishing demand and careless motorists had a tendency to run into them.
In recent decades the Fairmount Park Commission (and now Parks and Recreation) looked after the fountains that remain at or near park sites, and neighbors have become primary stewards of several others.
Five of these fountains are listed in the Philadelphia Register of Historic Places: In 1971 the fountains at Bainbridge Green, at 9th/Clinton, and Washington Square were listed, followed by those at Fireman's Hall and Arch Street Meeting House in 2003.
Here's a look at several that remain:
Drink Gentle Friends – This trough and fountain at Bainbridge Green was installed in 1910.

3rd and Spring Garden: Horse trough in memory of Sarah Cresson (1922)

A horse trough outside Fireman's Hall at 147 N. 2nd Street.

Bi-level troughs, like this one outside Fireman's Hall on North 2nd Street, allowed for smaller animals like dogs to drink from the fountains too.

Give us water that we may drink reads the inscription on this fountain on Arch at 3rd Street. It originally stood outside Independence Hall on Chestnut Street.

Presented to the Philadelphia Fountain Society by a Lady reads the inscription on this trough at the edge of Fairhill Square. One Mrs. Forpaugh donated funds in 1895 for this trough.

This side of the fountain at Washington Square was meant for people to drink from.

"Let thy fountains be dispersed abroad, and rivers of waters in the streets" reads the inscription on this fountain at Washington Square. (1870)

Rebecca at the Well was moved from 12th and Spring Garden to Horticultural Hall in 1934.

Catharine Thorn fountain at Grays Ferry, South and 23rd Streets recently had its water restored.

This bi-level trough, one of three extant donated by Annie Lowry, is outside Roxborough High School.

This silted up trough with the lion's head motif was donated to the memory of John Harrison, sits along Kelly Drive near Fountain Green.

A Merciful Man is Merciful to His Beast – at 9th and Clinton.
Special thanks to the Historical Society of Pennsylvania for help locating Fountain Society records, part of the Fairmount Park Art Association archive. (The WPSPCA archive held there is in need of "adoption" so that it may be processed.) Also, a big thank you to Chris Dougherty, Planning and Development Specialist at Philadelphia Parks & Recreation, for his fountain suggestions, intel, and help understanding Parks' role in their continued life.