Child care workers 'scared, but they come' during coronavirus health emergency
A four-month-old baby bawls over soothing naptime music at Babes on the Square Too.
The room in this child care center in Brandywine Hundred, north of Wilmington is usually filled with snoozing infants, but the crying child is alone.
Andria Keating runs the center, which normally has about 125 kids ranging from six weeks to four years old. But since the coronavirus crisis began, the count has steadily dwindled. Now it's fewer than 40.
Her staff of nearly 40 continues to work, but that won't last.
"I didn't want to make any rash or rushed decisions, but by the end of this week I'll … probably have to lay off half of my staff,'' Keating said.
Keating's situation is being replicated at many of the 1,058 licensed child care facilities in Delaware, which have a capacity of 50,657 children.
In the best of times, it's a demanding industry, with razor thin-profit margins and poorly paid teachers and assistants for such an essential part of modern life.
Now it's under enormous stress, under what Gov. John Carney has declared a public health emergency, with 115 confirmed cases of COVID-10 as of early Wednesday afternoon.
Carney's administration, anticipating a health-related blow to the child care workforce, has relaxed some rules. Interns and aides, for example, are now permitted to care for children without supervision.
Nevertheless, enrollment has shrunk and front-line workers must come in close contact with children and parents, operators and state officials said. Some have closed, but the state Department of Services for Children, Youth and their Families, which regulates the industry, says it has no way of knowing how many.
The agency's director, Josette Manning, said in a written statement that officials "are extremely grateful for the child care providers that are able to keep their doors open."
Manning said "child care workers have been on the front lines, adapting, adjusting and working to best protect themselves and children. We cannot thank them enough and we will continue to work with them during this time."
Kimberly Krzanowski, who directs the state Department of Education's Office of Early Learning, said providers are reeling, but ready to take care of kids.
"We are already dealing with a workforce that is undervalued, underpaid and we have a lot of people who may have a lot of underlying health concerns themselves, so programs are very concerned about what this is going to look like as our health crisis keeps on shifting,'' Krzanowski said.
"Our early learning providers, as they always do, stand up for families and children. And in this case, they're really struggling because what's best for them may or may not be what they're able to offer."
Keating said Babes on the Square Too, which has a 5-star rating — the highest in Delaware's system based on curriculum, instructional strategies and other measures — will continue to uphold the state's top standards.
'Feel like we've been an afterthought'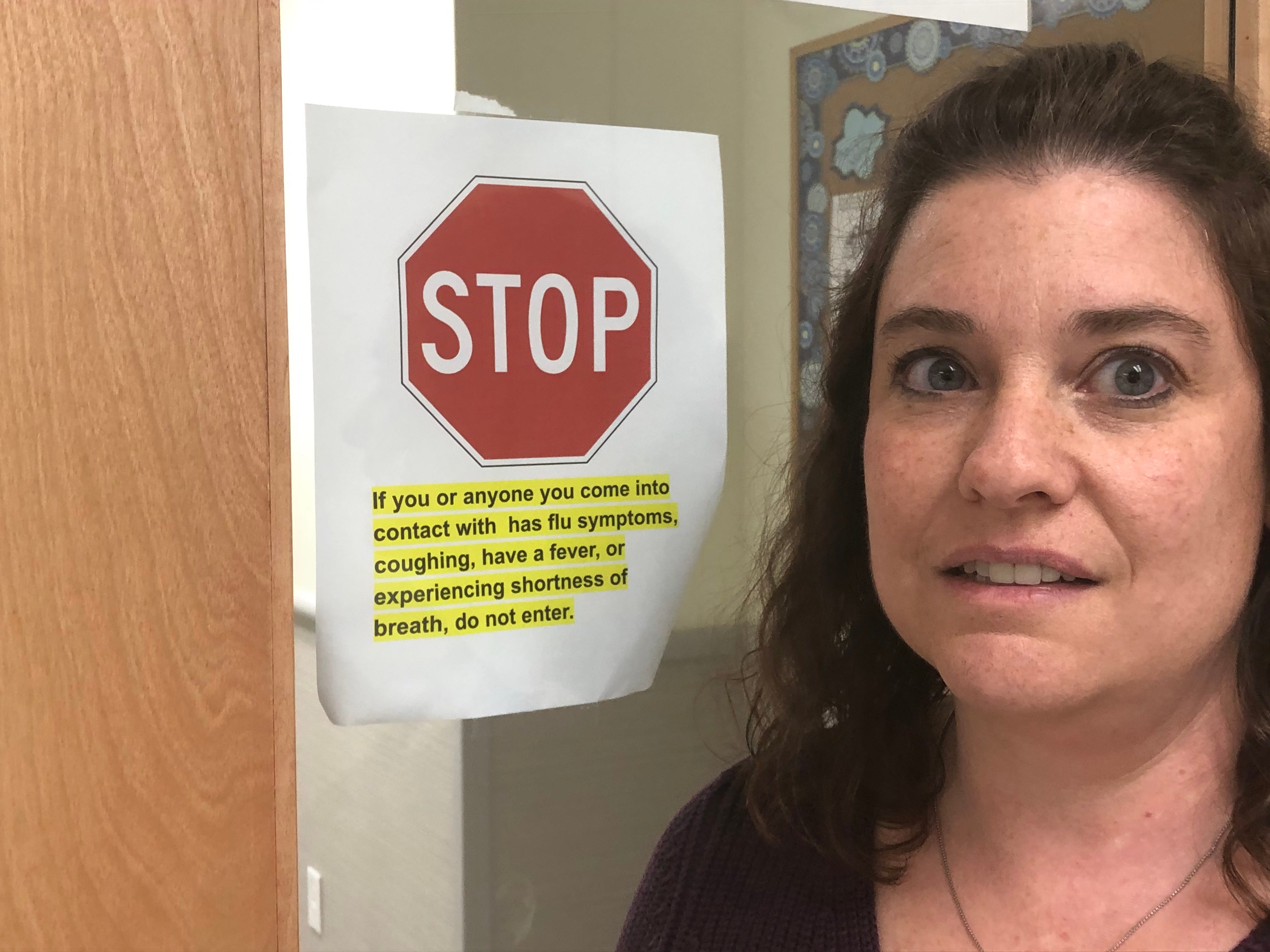 Keating wants the state to help her workforce beyond providing unemployment benefits. The state is offering no-interest loans to the hospitality industry, but Keating thinks hers has been slighted.
"We're deemed essential, but I kind of feel like we've been an afterthought,'' she said. "We're a means to a need. All of us are caregivers at heart. We're expected to be here. Yet, where's the support?"
Some of Keating's teachers are fearful of reporting for work because of their age, underlying health conditions, and fear of being exposed to a virus that has no vaccine or treatment.
"There's definitely some struggling emotionally with this,'' Keating said. "They are scared, uncomfortable. They're struggling to be here but they come.
Assistant teacher Shariece Beecham, 62, is sticking it out, holding, cleaning and rocking babies.
"I see both sides of it,'' Beecham said. "Parents need us to be open, and I see the part where people think of their health, because of touching your face and breathing and coughing.
"Even before there was talk of corona, we still have to wash our hands all day, clean our faces. It's just the nature of our business. We are doing more of it now just for safety precautions," added Beecham.
"I'll be glad when it's over so we can have normalcy again. But anytime anyone comes in my presence and they're down, I just try to speak of positive things, just try to be a light in a dark situation."
Mufatah Staten, who drives a truck for a food service business, had finished working and was picking up his 1-year-old daughter Ariana early on the day WHYY visited Babes on the Square Too.
"I'm feeling pretty safe with my daughter coming here,'' Staten said. "I don't plan on taking her out. Right now, it's a good thing they are still open for the parents that work still."
Merna Hawkins runs Little Steps Inc., a child care with a capacity of nine children. She says a few are not coming in and some are just staying for a half day.
"Their parents just need to do a few things at their job and then they come and get them,'' Hawkins said.
Hawkins does have some concerns about where parents and children have been, even though Carney put a "stay-at-home" order in place Tuesday.
"You never know where they are when they are not here, and who they have been around. It's a chance you take,'' she said. "But it's a job, and I'm OK as long as I practice safe hygiene."
Dr. Karyl Rattay, director of Delaware's Division of Public Health, says officials are grateful.
"Child care facilities play an important role in the continued functioning of our state right now," Rattay said. "Particularly with schools being closed for an extended period of time, parents who still have to work as part of essential businesses need someone to care for their children."
WHYY is your source for fact-based, in-depth journalism and information. As a nonprofit organization, we rely on financial support from readers like you. Please give today.