For cast at Arden Theatre, 'Bluest Eye' was a childhood turning point
The cast of "The Bluest Eye" remembers how important the Toni Morrison novel was to growing up black.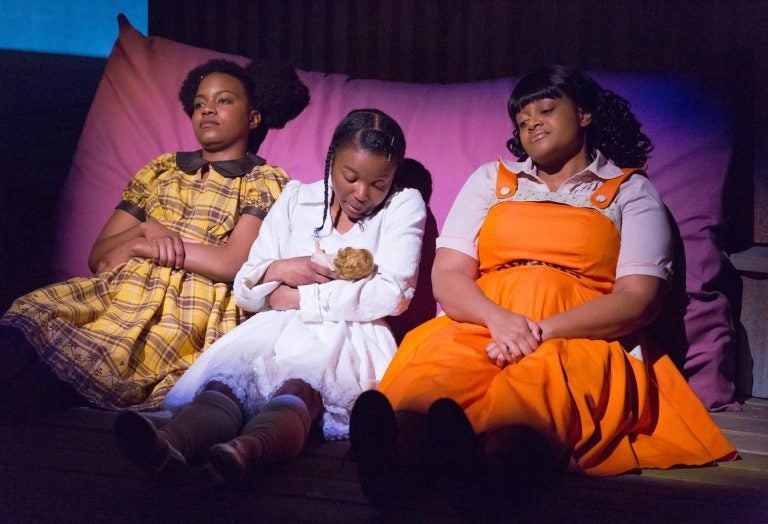 As a teenager, Nicolette Lynch was not much of a reader. But when she picked up Toni Morrison's "The Bluest Eye" for a class assignment, it really hit home.
"It was the first time I remembered having a narrator of color — a girl that was like me, my same skin complexion," she said. "She wasn't the sidekick to a Caucasian character. She wasn't somebody else's best friend. She was the main character and the main voice."
Lynch now stars in the stage version of the book at the Arden Theatre in Philadelphia's Old City. She plays Claudia, who helps tell the story of her foster sister, Pecola, who prays to look like a white girl. She believes having blue eyes and blond hair would shield her from the abuses of her difficult life.
To prepare for the production, the cast reread the book. For many of them, it was a visit to an important personal landmark.
The story has several troubling themes — rape, violence, and overt racism. Because of those themes, it often lands on the reading lists of college students, rather than younger teens.
That is a mistake, said director Raelle Myrick-Hodges whose aunt gave her the novel when she was 12.
"Everything that happens in 'The Bluest Eye' happens to young black people, not grown black people," she said. "We, as a community, are making sure our children are reading these books, where other communities get to wait until they are adults."
The central theme of the book — a desire to adhere to a standard of beauty based on Caucasian features — is not limited to young black children. Myrick-Hodges said she sees plenty of adult women, from a range of backgrounds, who fall prey to the beauty myth that is Pecola's mental undoing.
Myrick-Hodges's direction of the production is meant to be a call to action: Read the book.
The Arden Theater has just extended the run of "The Bluest Eye" until April 8. That will include several matinee performances for area schoolchildren.
WHYY is your source for fact-based, in-depth journalism and information. As a nonprofit organization, we rely on financial support from readers like you. Please give today.