Building Stories: The Roundhouse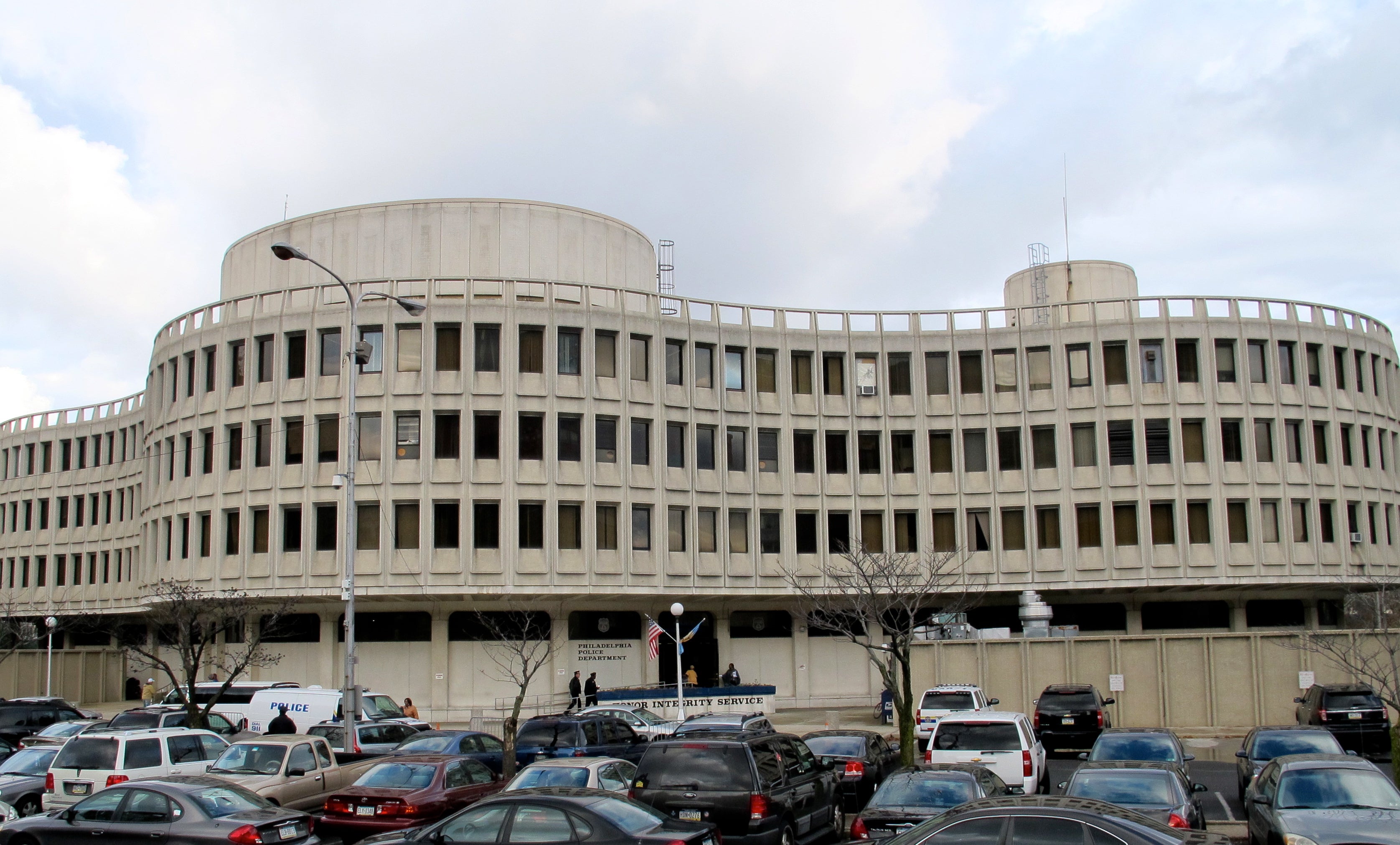 For our spring series Building Stories, we're bringing you design postcards from around the city. We're asking Philadelphia architects to take us to their favorite underappreciated or misunderstood buildings in Philadelphia, and explain what makes them great.
BUILDING: Philadelphia Police Administration Building / The Roundhouse
YEARS BUILT: 1959-1962
ARCHITECTS: Geddes, Brecher, Qualls & Cunningham
ENGINEER: August Komendant
LOCATION: 750 Race Street [MAP]
WHO: Fon Wang, Director of Historic Preservation at Ballinger
WHY: Expressionist, sculptural, rare
The Philadelphia Police have resided at "The Roundhouse" on Race Street since 1963. Now work is underway to relocate the police to a campus in West Philadelphia. As they leave, what will become of the Roundhouse, one of Philly's most polarizing buildings?
Is the Roundhouse a cruel handcuff-shaped concrete eyesore, a brutal structure with bad baggage, or is it a proud example of Philadelphia Modernism, optimistic, and sculptural? For architect Fon Wang, director of historic preservation at the firm Ballinger (and, by way of disclosure, a dear friend), it's the latter: a binocular-shaped, Expressionist marvel. And she argues it deserves a second look.
The Roundhouse was designed to house the Philadelphia Police Department by notable Philly firm Geddes, Brecher, Qualls & Cunningham in 1959 and was dedicated in 1963. It was born of modernist optimism, an important public investment in a depressed area, and a building that was intended to be inviting (at least compared to the police's former hub in City Hall's basement). Governments loved modern architecture as a physical expression of change, for the ways it could making the case that the chaos of city life could be tamed by design that cleanly expressed its purpose, function, and materiality. But Expressionist buildings like the Roundhouse reach beyond the straitjacket of purist modernism. It looks like the work of architects who could take a joke.
The Roundhouse is most notable for its undulating, curvilinear form, comprised of concrete panels that fit together like puzzle pieces, with three floors cantilevered above a solid concrete base with banded windows. It has more than 400 bronze-tinted windows, each set into pressed rectangular slots with deep sills, giving the building a waffle-like texture. The Roundhouse is almost entirely precast concrete panels or cast-in-place concrete. It was only the second building in the United States using the Schokbeton method to post-tension the concrete, so it's also known for its pioneering engineering. Not only is the building exterior curvy, but Wang said, everything inside is round too — from the exit signs to the elevators. It's roundness is relentless, and it remains strikingly unaltered.
"It's been through a lot. It has seen cleaner days. I can understand when people say they don't like it, it has seen better days. But I would encourage people to come back and look at it. It's not trendy right now. It's kind of actually getting back in fashion. It will be very much in fashion in a couple years," Wang says.
But it's distinctive love-it-or-hate-it architectural form isn't the only reason Wang sees significance. Its design and its purpose were civic expressions of a modernizing city. When the Roundhouse was built in the 1960s it was a bold move for the city to put resources into major civic architecture in a spot that was the city's Skid Row.
The building's detractors call out its stern, fortress-like presence and oppressive handcuff-esque shape. Making matters worse, it hasn't worked well for the Philadelphia Police in years. For all the haters, though, there is a chorus of Roundhouse admirers.
What if we could see this building divorced from the baggage of force? Wang suggests starting by stepping up on the north plaza and under the cantilevers, to let the form sweep over and around you. As you admire its curves, use your imagination to see a post-police future.
"If you walk around the whole building as an object you'll really experience the curves," she says.
Now that the police headquarters is relocating to West Philadelphia, the Roundhouse's future is uncertain. Could it be reused? Should it be reused? To Wang the answer to both questions is yes. But that too would be a design marvel. Reuse is a complicated prospect because the building's concrete construction is structural, which means alteration and adaptation would be difficult.
Certain kinds of Modern buildings may be an acquired taste but, Wang argues, the Roundhouse marks an important moment in Philadelphia's architectural and public history. And it's an increasingly rare example of its kind.
Detail of cantilever and curving concrete at the Roundhouse

Fon Wang at The Roundhouse

The Roundhouse

The Roundhouse
WHYY is your source for fact-based, in-depth journalism and information. As a nonprofit organization, we rely on financial support from readers like you. Please give today.