As Philly honors former mayor with street sign, protesters assail Goode's MOVE legacy
'I'm going to man up for what happened on May 13,' says W. Wilson Goode Sr.
Listen
2:26
Updated 10:28 p.m. Saturday
A public ceremony to honor former Philadelphia Mayor W. Wilson Goode Sr. devolved into a heated referendum on his time in office Friday morning.
The event in Overbrook Farms showcased the honorific plates renaming a portion of 59th Street where the city's former top official lives. "Wilson Goode Sr. Way" is a postscript to the standard green street sign.
But this minor alteration — the name tweak won't even show up on Google Maps — induced a furious backlash. Goode led the city during the deadly 1985 confrontation between the police and the radical organization MOVE. The standoff ended when police dropped an "incendiary device" on the armed group's fortified compound and allowed the ensuing fire to burn out of control.
Eleven MOVE members  — including five children — died in the flames, and two city blocks were burned out. A  battalion of angry protesters relentlessly highlighted that grim tally during the ceremony honoring Goode.
"People from around the world are appalled that we have done this," said Maisha Sullivan-Ongoza, a protest leader and Overbrook Farms resident. "You talk about wanting to reconcile, well the first step is taking down that sign."
The crowd grew in size and intensity as the ceremony wore on. Remaining MOVE members peppered the gathered dignitaries with volleys of emotionally charged expletives. As Goode stood to speak, the activists cranked up a stereo playing reggae music to try and drown out his words.
Goode hoarsely tried to be both defiant and conciliatory. He owned up to the events of May 13, 1985, but he also insisted that his legacy shouldn't be defined by that one day.
"I'm not going to let you follow me around and make me out something that I'm not — I refuse to do that," said Goode, 80.
Moments later, in a an almost reverent chant, he accepted his role in the tragedy.
"I was responsible, I was responsible, I was responsible," he said. "I'm going to man up for what happened on May 13."
Goode also highlighted the humble roots of his rise to power as the city's first black mayor.
After working as a sharecropper in North Carolina until the age of 16, he moved to Philadelphia. During the 1960s and 1970s, he was a community organizer in Southwest Philadelphia. He helped found the Black Political Forum to give black candidates backing outside the white Democratic establishment. After working as the city's managing director under Mayor Bill Green, Goode was elected to the office himself in 1983.
An array of prominent political figures attended the street-naming ceremony — including Mayor Jim Kenney, Laborers District Council president Ryan Boyer, Councilman Mark Squilla, and Councilman Curtis Jones, who introduced the legislation for the tribute. Prominent ministers offered prayers for Goode after he spoke.
Kenney said a few words before Goode's speech, expressing regret that his predecessor's celebratory day was marred by strife. But Kenney also noted the protesters were well within their rights and that such brash displays of free speech are quintessentially American.
After the ceremony, as protesters blasted Public Enemy's "Fight The Power," Kenney said that Goode clearly rued the bombing that wasn't entirely his fault.
"That was a mistake, obviously, and a tragic mistake," said Kenney. "Another tragic mistake was hiring a police commissioner who would recommend dropping a bomb on a rowhouse."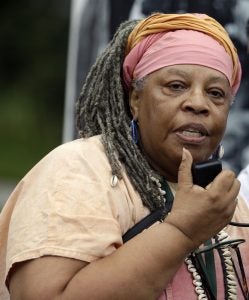 After the event, the crowd grew more restive. Sullivan-Ongoza tried to push her way through the police barricade to get to the exiting city officials.
Her supporters heatedly argued with the Rev. Robert P. James over Goode's legacy.
James pointed out that Goode won re-election as mayor in 1987 with the overwhelming support of black Philadelphians. (He won 97 percent of the black vote.) But the activists countered that Goode's opponent had a lot to do with that — Frank Rizzo, the former mayor and police commissioner, was running as a Republican to win back his seat in City Hall.
The man who urged voters in South Philadelphia to "vote white" in 1978 wasn't a good candidate to face off against the city's first black mayor.
"We didn't vote for [Goode], we voted against Rizzo," one woman shouted from the crowd.
Kenney told reporters that the street signs were likely to be vandalized, but that the city is prepared to replace them as many times as necessary. (No other safeguards will be out in place to protect them.)
The activists, meanwhile, promised to keep up the fight.
"I'm retired, I've got a lot of time on my hands, I live right around the corner," said Sullivan-Ongoza. "I'm going to bring my chair, and my cane, and all my other retirees who are offended by this. This is a protracted struggle, and we are in it to win it. We are morally compelled to remember those 11 people."
WHYY is your source for fact-based, in-depth journalism and information. As a nonprofit organization, we rely on financial support from readers like you. Please give today.