'A New View' in Camden: Citywide project to tackle illegal dumping through public art
Artists have transformed six places along Camden's public transit corridors for the next six months. The larger goal is to boost civic pride and economic development.
Listen
5:29
The City of Camden spends more than $4 million a year cleaning up after illegal dumpers.
Some are so bold, they've carved out specific dumping grounds. There's a place where mountains of old Christmas trees pile up. Other places have tons of kitchen and bathroom appliances or accumulate debris from housing construction and other garbage sources.
Camdenites have been fed up for a while. They see it as a combination of greed from the haulers that send their trash there and a form of urban insult.
"People come and throw their trash here," said Laradje Johnson. "They throw away Camden all together. You don't have to-it's a great community with great people within it."
Johnson was born in Camden, and her family has lived in the city for three generations — her grandmother was one of the first Black women to buy a home there. Johnson is also one of the apprentices in "A New View," a $1 million citywide art and social justice project.
Funded by the Bloomberg Philanthropies, dealing with illegal dumping in a creative way is at the core of the project. Its goal is to transform six places along the city's public transportation corridors into visually interesting spaces with installations that involve resident participation. The larger goal is to boost pride and economic development.
"It's a project that I hope is going to inspire people to understand the power of art," said artist Kimberly Camp, who was also born in Camden and is the "New View" co-curator. "We know from cases from around the world that if you provide opportunities and access for artists to move in,  economic development follows. The creative spark, creative placemaking, which we now call it,  of bringing artists that are innovators, curious, entrepreneurial — it's a fever that infects everybody in the community, and it's a tide that lifts all boats."
"A New View" will remain in Camden until October and might inspire some artists to remain in the city, but from the start, the curators hope to have an impact on residents.
And these are far from traditional public art installations.
Take, for instance, the large, tower-like sculpture dedicated to placing boxes and boxes of earth, populated by hundreds of mealworms who love the taste of Styrofoam. Yes, the infamous, non-biodegradable material nobody wants. For three months, the mealworms crunch the waste into compostable mulch that can be used in gardens, and then those mealworms turn into earth-friendly beetles.
Mitchel Joachim is the director of Terreform One, the collective that came up with Bio Informatic Digester, and he speaks fondly of the mealworms.
The idea, he said, is to allow "creatures that have no voice to be front and center, more important than any human."
"This is a very humble little mealworm, and they do amazing work by getting rid of polystyrene. We don't need chemicals, we don't need landfills, we don't need guys with big trucks dealing with Styrofoam. These worms devour them naturally, and then they turn into beetles so that birds and other insects can eat them, and the things that they produce for us become garden material."
All the way on top of the tower, boxed terrariums teeming with mycelium, fungus that absorbs nutrients from its environment, are waiting to start their bio-work.
A few blocks away, an old building displays portraits of 50 Camden residents in each window. Designed by Camden photographer and educator Erik James Montgomery, the artist asked each participant to complete the phrase "Camden is …" Some said, "Camden is legendary." Others, "It's my home" and "It's worthy." James Montgomery named his project "Camden is Bright not Blight."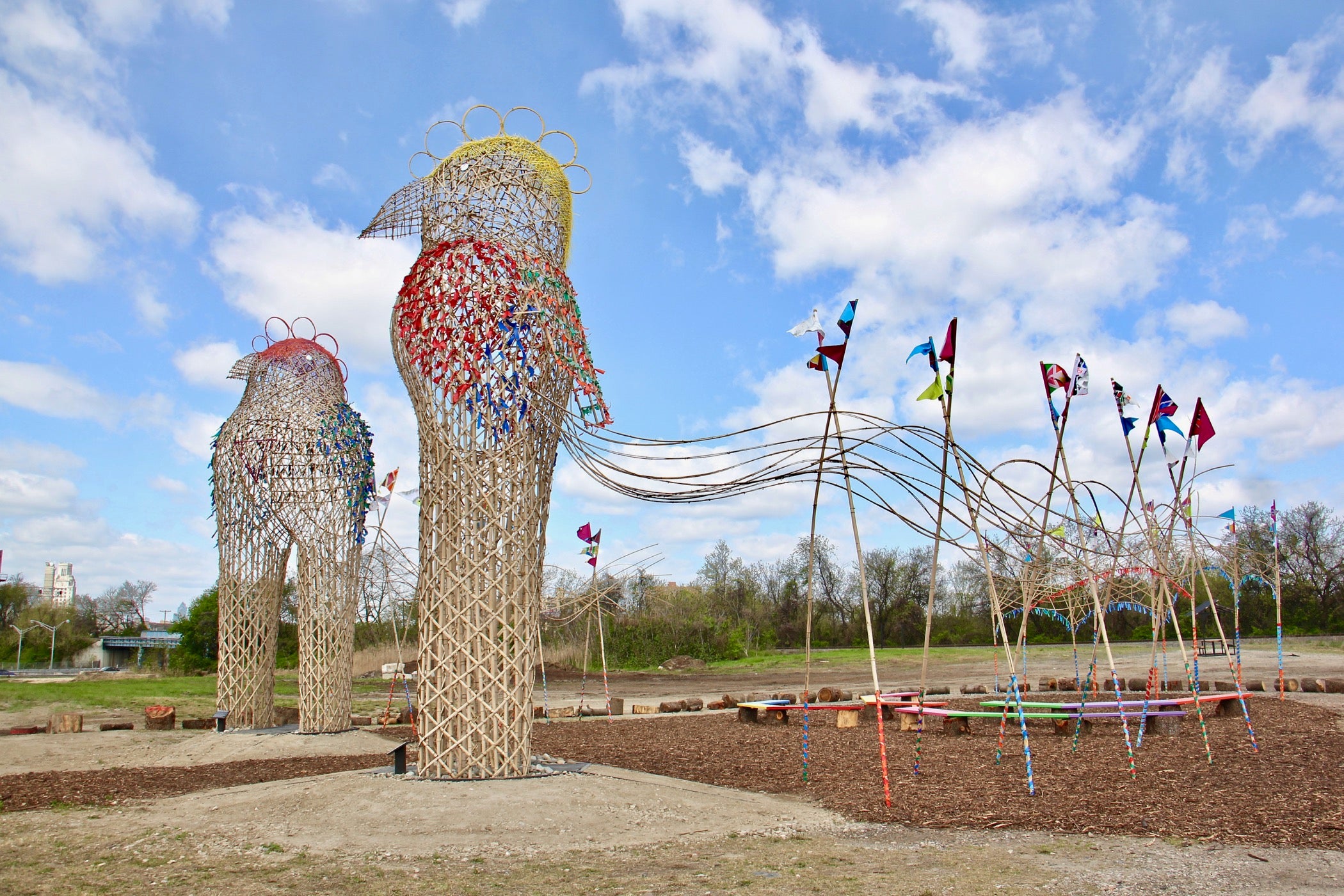 Each installation has interactive components for students of all ages. For instance, the heart for the 15-foot-tall Mechan 11 robot called "The Collector" was designed by a Camden high school student and then fabricated by Tyler Fuqua Creations. The robot stands near the State Street Bridge in the city's waterfront park. The metal giant grabs pieces of trash to remind passersby to take care of the city.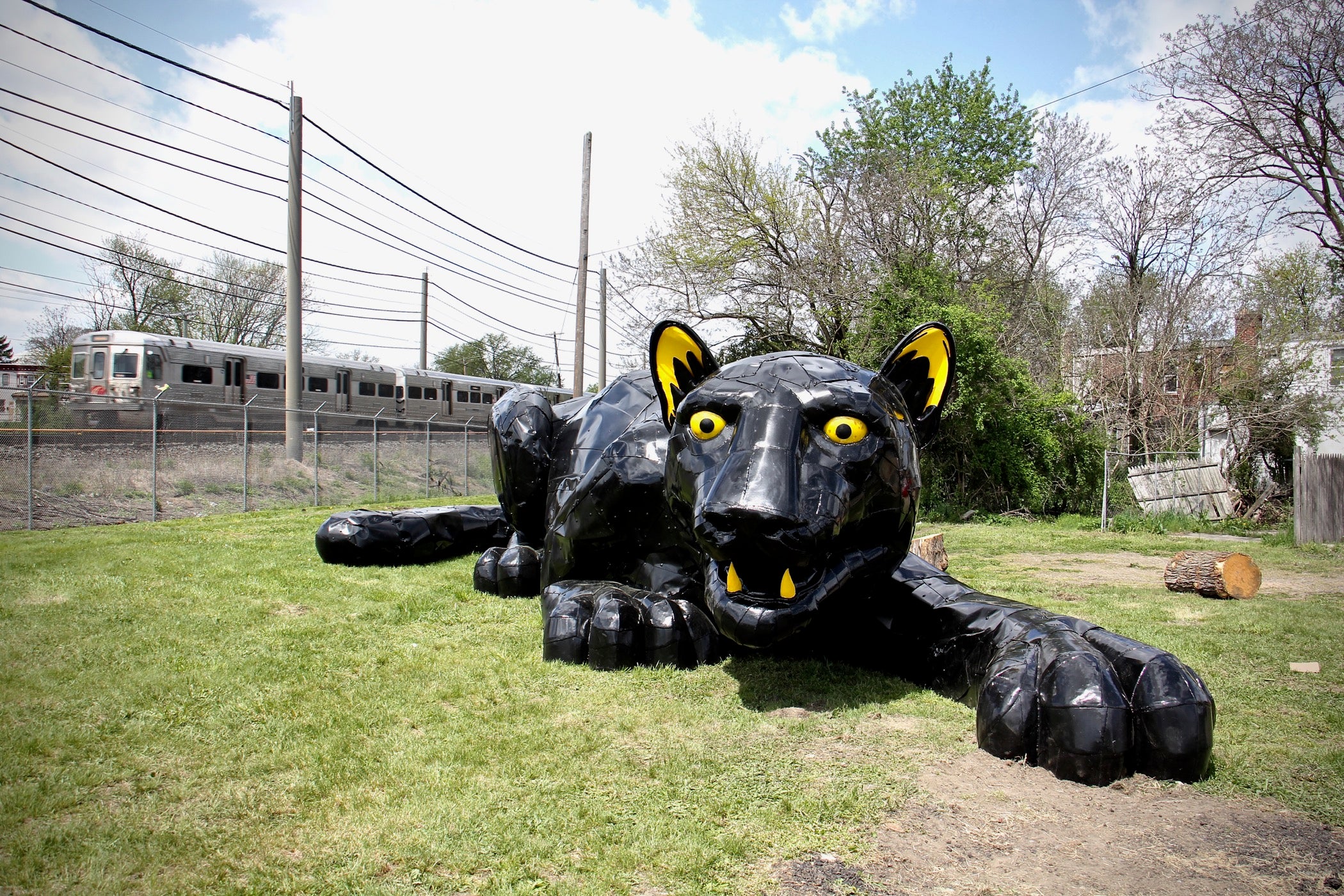 "Ultimately, this is about changing human behavior," said Kris Kolluri, president and CEO of  Coppers Ferry, one of the nonprofits behind "New View."
"The city has an amazing history," he said. "It has been a contributor to the region going back 100 years, and the people in the region deserve the same respect for the environment they live in …  For us, it's about reclaiming the land."
For example, remember that ugly pile of dead Christmas trees? They were hauled away to make space for the Avian Avatars, two 22-foot-tall colorful birds. The sculptures are woven out of bamboo, colorful strings, and other recycled materials, and can be seen from Route 30 and from the River Line light rail train.
WHYY is your source for fact-based, in-depth journalism and information. As a nonprofit organization, we rely on financial support from readers like you. Please give today.