40 years after Mumia Abu-Jamal's arrest, the case is 'a symbol' of a 'broken' justice system
Supporters of both Abu-Jamal and slain police officer Daniel Faulker agree the criminal justice system is "broken" — for very different reasons.
Listen
4:42
Forty years ago today, Philadelphia journalist Mumia Abu-Jamal was arrested and charged with the shooting death of 25-year-old Daniel Faulkner, a police officer for the city.
The following July, a jury delivered a unanimous guilty verdict. Abu-Jamal was sentenced to death and, though he maintains his innocence and his death sentence was dismissed in 2011, has remained in prison for the last four decades.
In that time, Abu-Jamal has become one of the most famous prisoners in the world.
"He became a symbol for a lot of the flaws in the American criminal justice system," says Linn Washington, who was an up-and-coming journalist in Philadelphia alongside Abu-Jamal and now teaches journalism at Temple University.
Before his incarceration, Abu-Jamal had worked for several Philadelphia radio stations, including WHYY, covering police brutality and developing a particular affinity for MOVE, the radical Black liberation group. Now 67, he has written prolifically from prison, churning out fifteen books — including the 1995 best-seller "Live from Death Row" — and hundreds of commentaries.
All the while, he has appealed his case, contesting evidence and arguing his trial was racially biased and compromised by misconduct from judges and prosecutors.
No court has ever overturned his criminal conviction, but many supporters, ranging far beyond Philadelphia and including international activists and journalists, have taken up his cause as illustrative of a justice system that is stacked against Black people.
Likewise, Faulkner's family and friends and their supporters, particularly the Fraternal Order of Police, have held firm: They believe the case against Abu-Jamal is solid, and they want him to stay in prison for the rest of his life.
This week, both camps are holding separate events to mark 40 years since Faulkner's death and Abu-Jamal's arrest.
Maureen Faulkner, who now lives in California, returned to Philadelphia for a Catholic mass at FOP headquarters on Tuesday. She gave a speech calling the criminal justice system "broken" — for continuing to allow Abu-Jamal's appeals — and her current lawyer, George Bochetto, said Abu-Jamal is a "no good, rotten cop killer" whom he is "honored" to keep in jail.
Abu-Jamal supporters are holding a Zoom event Thursday evening. Entitled "Free Mumia NOW!" it's expected to draw an international audience. Organizers plan to highlight other Philadelphia exonerations from the same period, provide updates on Abu-Jamal's ongoing appeals, and feature a panel on youth organizing.
They're also planning a Saturday march that will move from the statue of freedom fighter Octavius Catto, to the site of Faulkner's death and Abu-Jamal's arrest, to the city's criminal justice building.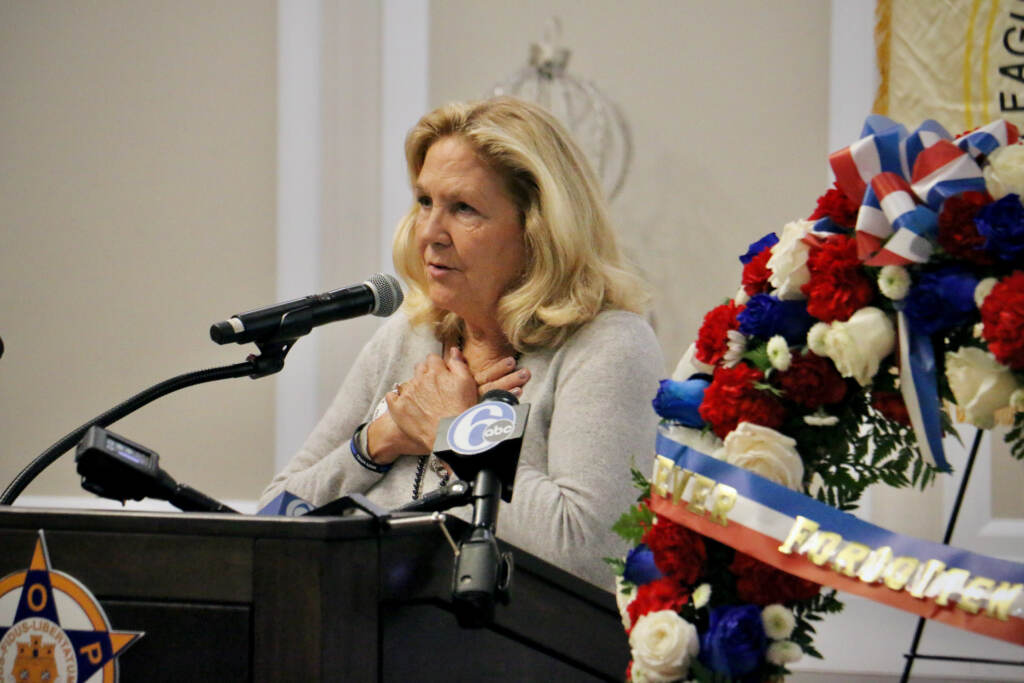 The two Philadelphias of 1981
When Abu-Jamal was arrested, it had been a little under two years since Frank Rizzo, the police commissioner-turned-mayor with a long record of brutal policing tactics aimed at Black Philadelphians, had departed City Hall.
Abu-Jamal came of age largely in Rizzo's Philadelphia, and as a reporter during the 1970s, his commentaries on the commissioner were highly critical.
He had joined the Black Panthers at 14 and, with the help of Philly police, had been put under surveillance by the FBI in its COINTELPRO program. At the time of his arrest in 1981, he was beginning to get more involved in activism than journalism, and was particularly interested in the escalating clashes between MOVE and Philly police.
It was a charged atmosphere, Washington recalls.
"You never knew what would happen if you had an encounter with a police officer," he said. "And in many instances, having a press card didn't provide you with some shield of protection. For many police officers, you were just seen as  — I hate to phrase it this way, but you were just seen as an N-word on the street."
Abu-Jamal, he added, "had dreadlocks at the time, and thus, he was seen as a MOVE member."
The MOVE members still calling for Abu-Jamal's release — some of whom were present four years later when Philadelphia police bombed the West Philly rowhouse where they lived, killing 11 people, including five children — describe those days in similarly intense terms. Member Pam Africa recalls that both she and Abu-Jamal were deeply affected by the 1978 shootout that broke out when police tried to vacate MOVE members from the Powelton Village property where they were living.
Africa wasn't yet a MOVE member, but says she lived down the street at the time.
"I really believed in the media, I believed in our legal system, what little I knew about it and all," she said. "My whole world that I believed in, this government, the media, and stuff, it failed."
Many of the police officers and their supporters and loved ones who turned out for the Tuesday morning memorial mass honoring Faulkner at FOP headquarters also remembered those days — but very differently.
Bochetto, the lawyer helping Maureen Faulkner continue opposing Abu-Jamal's release, says he thinks perhaps some criminal justice reforms needed to happen at the time — up to a point.
"I think there are certain prosecutors out there who … fail to turn over key documents and that type of thing," he said. "Those things have to be corrected … But by and large, we have officers that are risking their lives every day to try to make the streets safe. And we have prosecutors every day trying to do the best they can to present the case fairly to a judge and a jury."
Over the last five years, the Conviction Integrity Unit of the Philadelphia District Attorney's office has helped overturn 27 wrongful convictions, dating from 1984 to 2015. All but two of the exonerees were Black men. In a scathing July report on 20 those exonerations, the office detailed evidence of police coercing confessions through abuse, fabricating confessions, planting evidence, and lying in court.
Raymond Stackhouse, a former police officer who was friends with Danny and Maureen Faulkner before his death, noted that the turnout for the mass included "a lot of gray-haired guys" who had long histories in the PPD. He said the case has always seemed straightforward and clear to him; he refuses to even say Abu-Jamal's name.
"I hope that sooner than later, this all gets put to an end," he said of Abu-Jamal's appeals. "And that man is kept where he belongs."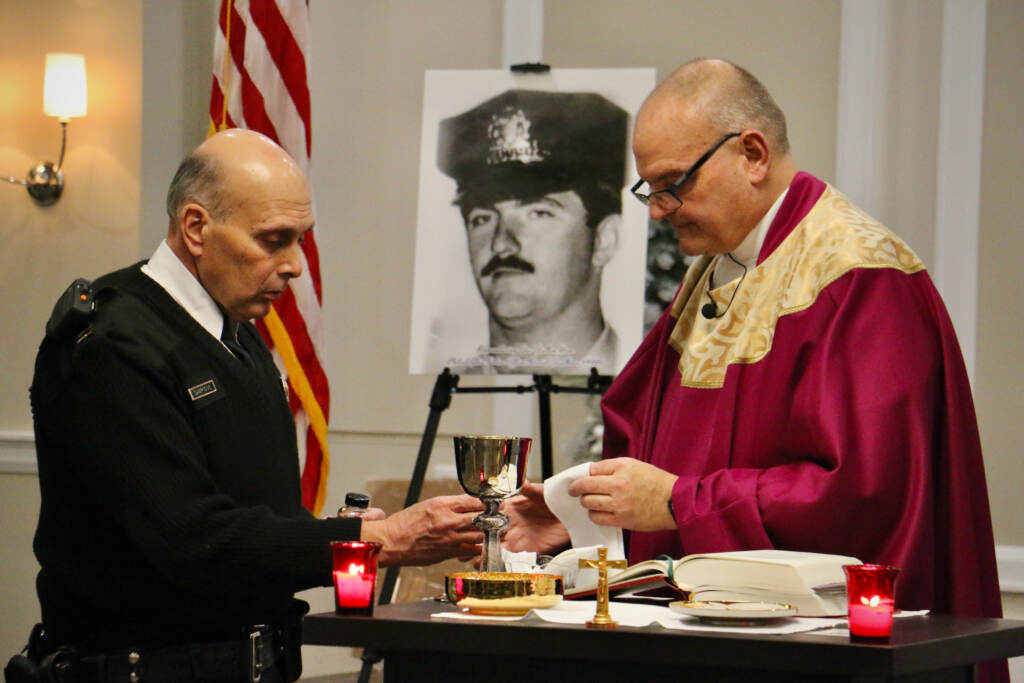 Maureen Faulkner's own recollections of that time are of a happy new marriage shattered by violence. She was the same age as Danny when he died, 25. At the time, they were living in Southwest Philadelphia and had only been married a year and a month. Her husband, she says, loved being a police officer and was also in college part time, working toward a degree.
Part of her, she said, is shocked it has been 40 years. She added, one of the images that has haunted her for all that time is the scene prosecutors painted of the shot that killed her husband: between the eyes, at close range.
"I think to myself, the last moments of my husband's life, he was looking down the barrel of a gun with fear," she said. "I mean, the fear must have been horrible for him."
What happened on Locust Street?
Over the years, Abu-Jamal, his lawyers, and his supporters have questioned much of the police narrative from the night Faulkner was shot.
Several people who didn't testify in the original trial have also come out with statements supporting Abu-Jamal's claim to innocence, and new evidence has surfaced — including a trove of previously unknown crime scene photos that appear to show details that differ from police accounts.
In all the tellings, a few facts remain concrete.
At about 3:50 a.m. on the night of Dec. 9, 1981, Faulkner pulled over a Volkswagen Beetle around the 1200 block of Locust Street in Center City. The car was driven by William Cook, Abu-Jamal's 25-year-old brother.
There was a struggle between Cook and Faulkner. Abu-Jamal, who drove a cab part-time and was nearby, ran across the street toward his brother. Faulkner was shot and killed, and Abu-Jamal was shot once in the chest.
The specific details splinter in hundreds of directions, depending on who is telling the story.
When prosecutors made their successful case in 1982, they said Cook had started the physical confrontation with Faulkner. They called several witnesses who testified, in varying degrees of detail, that Abu-Jamal had shot Faulkner when he ran across the street toward that altercation. Police said Faulkner returned fire, then Abu-Jamal stood over Faulkner and shot him, fatally, in the head.
Abu-Jamal has since said that he saw someone else shoot Faulkner, and that Faulkner shot him as he ran toward the altercation. Many Abu-Jamal supporters have argued that another man — Kenneth Freeman, who worked with Cook as a street vendor — was also in the car when it was stopped, and may have committed the shooting.
A 40-year court case
Most of these arguments, though, were never heard in court. Abu-Jamal and his supporters have held that he didn't get a fair chance to present his case.
Among other anomalies, they note that the judge initially granted Abu-Jamal's request to represent himself, then revoked it, eventually banning him from the courtroom for disrupting proceedings. Abu-Jamal's court-appointed defense attorney, Anthony Jackson, had also raised concerns that he didn't have the information necessary to properly prepare for the case, including details about the prosecution's witnesses and the documents they planned to use against him.
Pam Africa says regardless of her own feelings about what happened, she thinks there's ample reason to simply hold a new trial.
"During that trial, if you look at the paperwork, everything was criminal that they did," she said. "Officer Faulkner was murdered, and I don't believe in murder for nobody. And neither do Mumia. But it is evident. It is evident, and they want closure, so let's have this trial and close this out."
Washington, too, thinks there are some obvious discrepancies that deserve attention. For one, he believes that if police are correct that Abu-Jamal shot downward at Faulkner, missing several times, while Faulkner lay on the ground, then the sidewalk should have been pitted with bullet holes. But photos he has seen show no damage.
Maureen Faulkner says she has no interest in re-hearing any part of the case. As far as she's concerned, the right man is in prison.
The case remains ongoing.
Just last month, the state Superior court rejected one of Abu-Jamal's appeals, which had argued that former Pennsylvania Supreme Court Justice Ron Castille should not have taken part in a ruling on one of Abu-Jamal's death penalty appeals, because he had been the Philadelphia District Attorney during the original trial and was therefore unacceptably biased. The case can still be appealed to the state Supreme Court.
Abu-Jamal's legal team has also said they intend to file a new appeal based on several boxes of previously unknown material related to his case that District Attorney Larry Krasner found in his office, left over from previous administrations, in 2017.
After decades monitoring and writing about the case, Washington notes that it has taken on a significance far beyond a single murder conviction.
This case, he said, remains so polarizing for a reason.
"People try — on both sides — to make it one thing or the other, black or white, 'Mumia's a monster,' or 'Mumia's a martyr and a hero,'" Washington said. "The truth is somewhere in between."
Correction: A previous version of this article misstated the day of the March for Mumia. It will be held Saturday, not Sunday.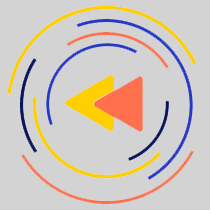 Saturdays just got more interesting.
WHYY is your source for fact-based, in-depth journalism and information. As a nonprofit organization, we rely on financial support from readers like you. Please give today.