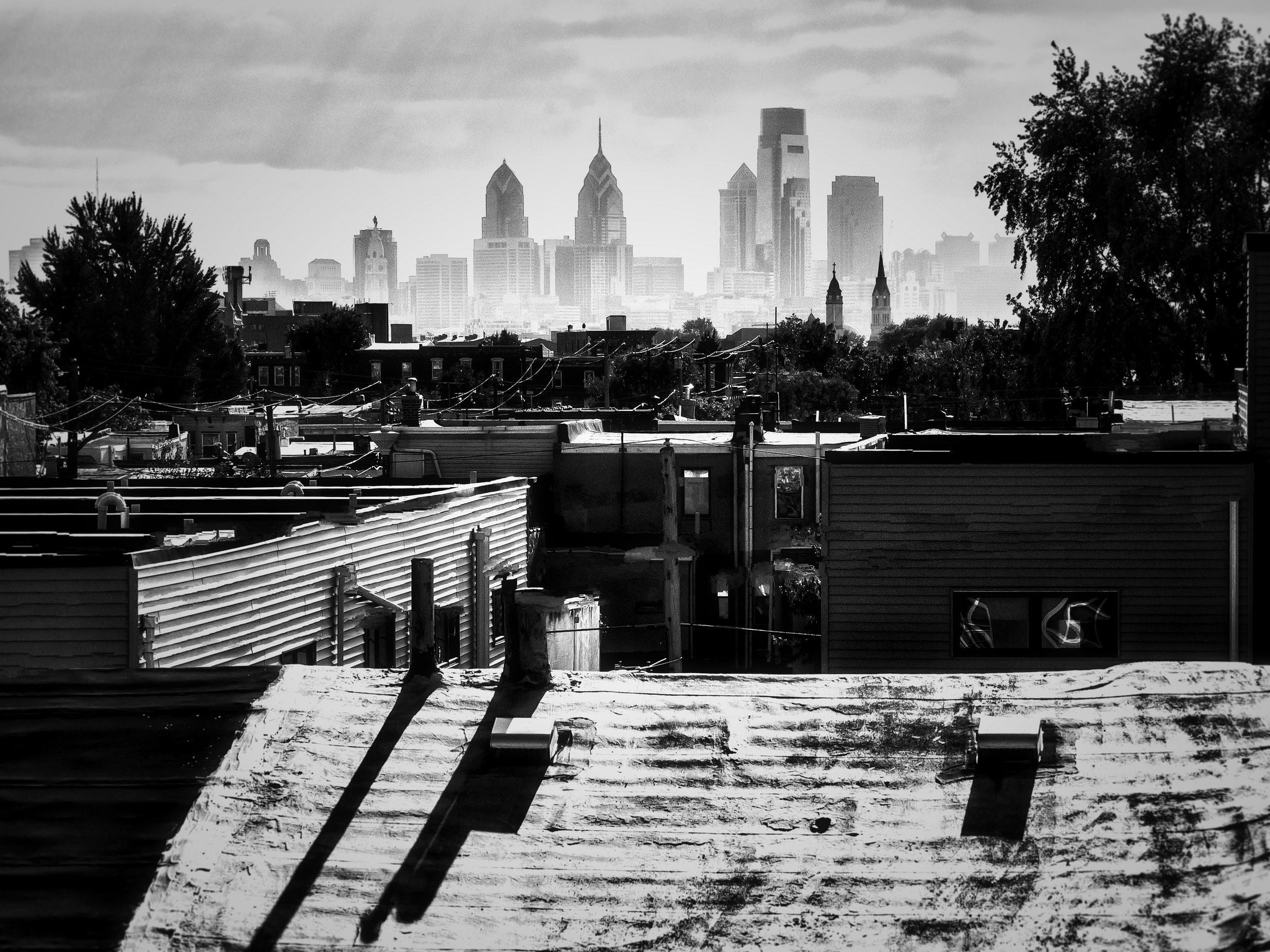 Each new year is full of unwritten promise. What will we collectively author for Philly in 2016? Here's my annual civic wish list, with seven hopes for change in 2016.
What's on your wish list? Share in the comments below.

Rethink Reyburn Plaza
Part public art boneyard, part blank canvas Reyburn Plaza (aka Thomas Paine Plaza, aka Municipal Service Building (MSB Plaza) is a depressing, vast civic landscape worthy of a rethink. After the reinvention of Dilworth Plaza at City Hall and soon Love Park's second act, it's time to start talking seriously about how to recast Reyburn Plaza as a vital civic space.
Reyburn Plaza has complications similar to LOVE Park – from fortresslike street walls to transit tunnels running below. It's time to create better pedestrian conditions and more functional and inviting public plaza spaces around the Municipal Services Building. Because the plaza is oversized and bi-level, there are plenty of alternatives that could work here in addition to making a better public plaza. Darrell Clarke could realize his abandoned dream for LOVE Park: carve out space for multiple food and beverage operations, which could help create a steady revenue stream for public space upkeep. Lower-level spaces could be repurposed with new uses like high-capacity bike parking or offices that serve as city service help desks.
Improving all of these public spaces means it's also time to think about evolving the traffic patterns on 15th Street and the knot of cars spinning off of City Hall, past MSB along JFK Boulevard. Road diets and that long-desired protected bike lane should be on the table to complement new investments in the public spaces at Center City's civic heart.
Deliberate Design for City Hall
The Nutter years left City Hall looking sharp. A lengthy exterior conservation project was finished, Dilworth Plaza was remade as Dilworth Park, and new gates based on an original unbuilt design by City Hall's architect John MacArthur were installed. Refreshed plantings in the courtyard and on non-Dilworth sides also soften the experience of City Hall at ground level. There remains, however, a disturbing lack of cohesion to City Hall's public realm. Scattershot plans to add monuments and murals crop up often enough, but there is no set of guiding design principles against which to measure these ideas for intervention.
It's time the city once again hired an Architect of City Hall, as recommended in the Central District Plan. An Architect of City Hall could develop a design vision for the building's public spaces, balancing permanent and temporary public space interventions against the building's historic integrity. Changes to City Hall's public spaces, inside and out, should respect the building's stature.
The Kenney administration, like those before it, has a chance to leave City Hall in better shape than today. Banishing parking from the north apron (aka City Hall Parking Lot) is a wonderful first step. In order to keep car creep at bay it's time to think of ways the wide, north apron can become a livelier public space. On Kenney's Public Property to-do list: an endowment for conservation work to City Hall, updated preservation-minded repair and adaptation guidelines, and a designer to help unify the vision for City Hall.
Preserve This World Heritage City
Last year Philadelphia became a World Heritage City. The easy part was spending hundreds of thousands of dollars preparing to join the Organization of World Heritage Cities. Now comes the heavy lifting.
Among the goals of Philadelphia as a World Heritage City is to "promote preservation and appreciation" of our historic resources. If we're to take the designation seriously, and consider Philadelphia's history as vital beyond the tourist economy around Independence Hall, then we need to ask ourselves what it really means to be a World Heritage City.
Being a World Heritage City should mean that we take our heritage seriously. We do not. Being historic is often treated as a selectively convenient fact of Philadelphia's existence, not a character-defining feature worthy of serious political consideration. I hope the extraordinary group of civic and business leaders who threw their weight behind becoming a World Heritage City will now put some muscle (and money) behind actual local preservation.
Some ways to achieve this are support for a citywide survey of historic resources which will help prioritize local designations, the establishment of more historic and conservation districts, new financing mechanisms that help property owners with repairs, and incentives that help give Philly's historic but vacant buildings new uses. Without this kind of substance, being a World Heritage City will be reduced to marketing and hashtags.
Appoint Professional Boards and Commissions
A new mayoral administration means fresh compositions for nearly 70 boards and commissions. May Mayor Jim Kenney's appointees be the best professionally, not who's best politically. During the primary season Kenney said this:
"You're not going to totally professionalize every board and commission without some political input, but I think you can do it with an eye towards appointees that also have the right professional credentials."
Clean out the hacks, keep the dedicated professionals, and pick replacements who deeply understand their subjects. Get zoning nerds and you'll have an engaged and smart Zoning Board of Adjustment. I hope to see Kenney aim especially high when it comes to appointments to that board as well as the Planning, Art, and Historical commissions. These are the people whose decisions will shape the future of Philadelphia in ways large and small. Get it right and Kenney has a chance to proactively shape the quality and character of the development boom underway, as well as the functionality of the process. Be bold, Mr. Mayor.
Transparency for L&I
From flouted inspection guidelines to unpermitted demolitions, the Department of Licenses & Inspections (L&I) is the city agency in most dire need of reform. There's a laundry list of reforms worth pursuing. But here's one L&I can accomplish today: Think sunshine. L&I chooses not to release information that it could make public, like demolition site safety plans. But transparency builds trust, and that will go much further than the agency's misspent cosmetic efforts, like branding, new uniforms, and paid newspaper stories. As new leadership works to rebuild L&I from within, it shouldn't lose sight of the ways robust information transparency can help rebuild public confidence in their work.
Get Back to Tech Basics
It's wonderful to hear Mayor Kenney's unequivocal support for open city data. Recent years have seen the city open up new data sets and create information pathways for citizens to connect with government – from starting 311 to revamping city websites. But here's the dirty secret: So much of Philadelphia government business is stuck decades in the past. The Zoning Board of Adjustment doesn't have computers that will allow detailed plan review. This is the first year that Parks and Rec will be able to use non-paper work orders for some trades. L&I has dated data systems that can't communicate with new ones. Office of Property Assessment and Department of Records address systems aren't uniform. Yes, we've come a long way in terms of tech and transparency, but Philly must also modernize its internal systems and repair our civic information infrastructure. It's time to step back, fix what's broken, bring some systems into the late 20th century, if not the 21st. This kind of work is manifestly unsexy, but it's essential to everything a high-functioning government environment requires.
Permit LOVE Park's Last Trick
This year signals the end for LOVE Park as we know it. The park will be scraped clean, garage below repaired, and the park rebuilt anew. Before all of that happens, the city should invite the skateboarding community back into LOVE Park for a fond farewell.
LOVE Park's reputation as a legendary skate spot culminated in a two-year run hosting the X Games in 2001 and 2002, and even inclusion in Tony Hawk Pro Skater 2. Immediately after came fines and enforcement of a skateboarding ban that crushed the park's place as a skateboarding mecca. But it is so renowned that skater petitions cropped up during the redesign process in protest.
As a councilman, Jim Kenney was receptive to the idea of bringing skateboarding back to LOVE in the park's redesign. His mayoral administration could go big and help host a competition, or at least sanction a skate-at-your-own-risk-free-for-all period when cops are told to look the other way before LOVE is dismantled. Paine's Park is a meaningful addition to the city's skateboarding spaces, but any skater will tell you it's no LOVE.