Cat fight: How to manage Philadelphia's exploding feral cat population
Philadelphia residents disagree on the best way to control the hundreds of thousands of cats freely roaming the city. The quandary involves
Listen
5:47
About 400,000 cats live outdoors in Philadelphia as stray or feral, according to the city's Animal Care and Control Team. That's roughly one cat for every household.
"It's definitely a mountain of cats," said Alley Cagnazzi, coordinator of ACCT's Community Cats program. "It's scary to think of that number."
Cagnazzi is a department one. She has no staff to go out into the field to contain the exploding cat population, so she leans on an army of volunteers. She trains residents on the best ways to feed and shelter feral cats and eventually to trap them for neutering so they cannot reproduce.
Hundreds of colonies
Throughout Philadelphia, you will find hundreds of colonies in vacant lots and out-of-the-way places: clusters of feral cats managed by residents who leave out food and shelters.
One of those lots is at 24th and Washington in South Philadelphia. Tucked into the overgrown weeds in a corner of the large empty lot are six blue storage tubs, each with a hole cut in the side and little door flap for makeshift shelters.
A group of volunteers with the Stray Cat Relief Fund came on a recent Saturday morning on a TNR mission: to trap, neuter, and release as many cats as possible back into their colonies. Those that are behaviorally adoptable are sent to foster homes.
"So what we do is take every cat that we've trapped, take them to ACCT," said Kelsey Lauder of the relief fund. "ACCT will perform the surgeries over the next few days, we will come pick up the cat when they are ready, and we release them."
The Stray Cat Relief Fund makes these kinds of efforts all over the city. While it does not feed and maintain this particular colony, it got a tip from nearby residents that it's time for TNR.
"This is an almost out of control colony. We're trying to contain it," said Lauder. "The more TNR you do, the more it's contained."
One of the challenges of managing cat colonies is encountering neighbors. The vacant lot at 24th and Washington abuts the backyards of a block of rowhomes and, while the volunteers were setting traps, angry voices sounded over the fence.
"Please go, and take these awful traps!" said Sean Moody, a resident who says he sometimes feeds the cats. He likes having a colony of feral cats behind his house to keep down the rodents — and he doesn't want the felines neutered.
"If you haven't noticed, this is a city," yelled Moody. "Cities have rats."
A few doors down another neighbor chimed in with a completely different outlook: Trap the cats, take them away, but don't bring them back here. He sees the cats as a nuisance.
"You want to know why there are rats? People leave cans of food," said the neighbor, who did not give his name. "People love cats, and they're not going to stop. I've seen so many colonies of cats — by Walmart, up in the Northeast. There are so many colonies. People bring them food,  then they live there and are permanent."
The volunteers, visibly frustrated, shot back: Where are we supposed to take the cats? The neighbor suggested putting them to sleep.
Worldwide issue
The three-way argument that played out in this South Philly neighborhood is a microcosm of the disagreement over how to tame exploding cat populations across the country — and around the world.
In the last several years, municipalities have adopted TNR programs as the most humane option available to control feral cats. One success story is in Atlantic City, where a TNR program has contained a population of cats along the Boardwalk for two decades.
About five years ago, the national organization Best Friends came into Philadelphia's animal control team to establish a Community Cats program, which has since been handed off to Cagnazzi. The program is based on controlling cat populations by leveraging community support.
"I rely so, so much on groups like Stray Cat Relief Fund, because those are the people who are actually out there, boots on the ground, doing the trapping," she said.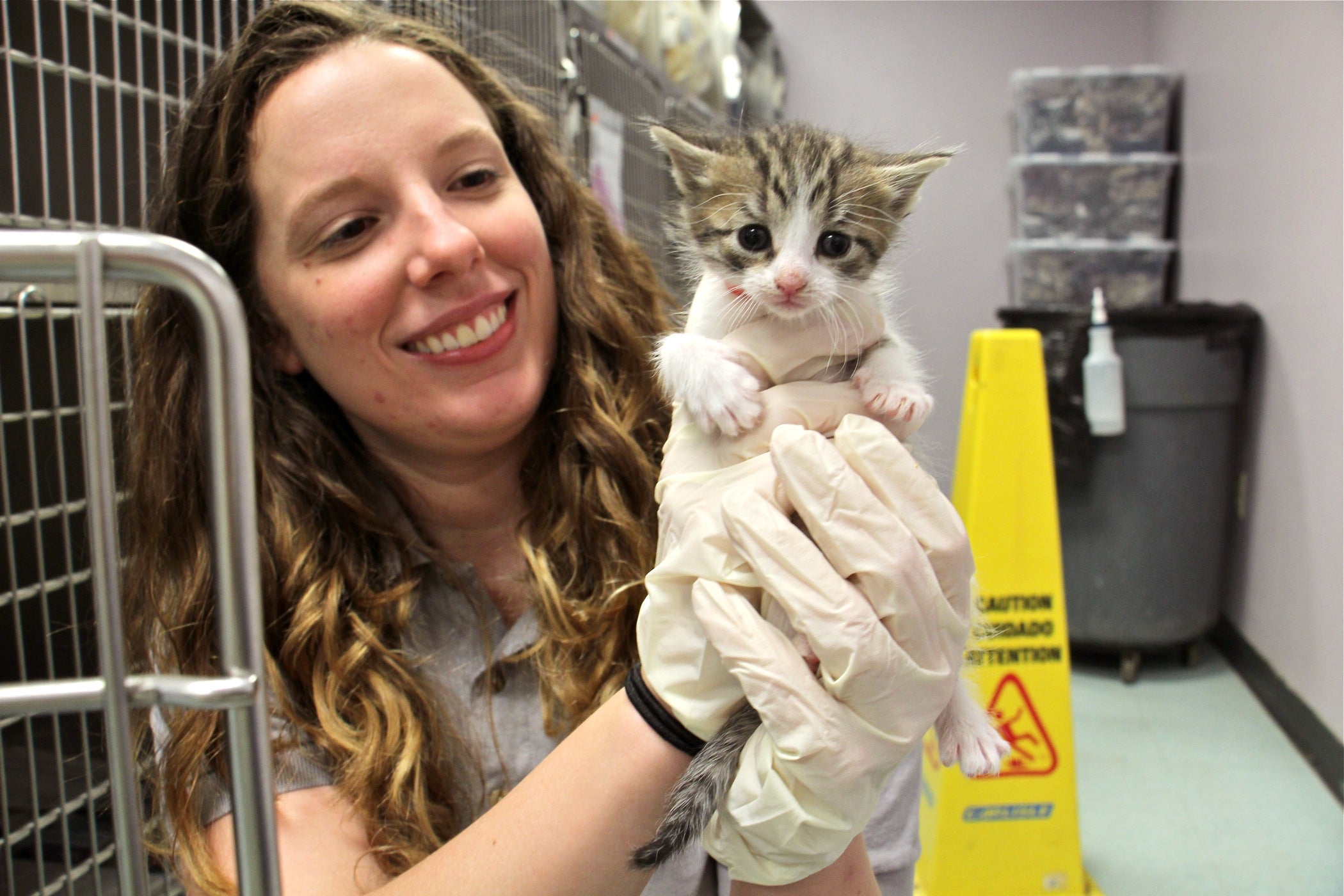 However, TNR is not universally embraced across city departments. The Department of Parks and Recreation treats cat colonies as debris, hauling away shelters and feeding stations when they are discovered on city park land.
Jason Mifflin, the stewardship program coordinator with Parks and Recreation, said the main objective is not the welfare of feral cats, but to maintain safe and accessible park spaces for city residents.
He also said it's difficult to talk openly about cats.
"It's a sensitive subject people feel strongly about, on multiple sides of the issue," he said. "We, as a department, don't have a position on how to manage feral cats."
While the department may not have an official position on cats, an article posted on its website, written by a staff member, reads like one.
"These outside cats will kill hundreds to thousands of wild prey in their lifetime," it states. "While it is understandable that some people have a strong emotional attachment towards outside cats since cats are such a popular pet, many other people feel similarly towards wildlife."
The article advises against feeding or sheltering feral cats, so they don't have a survival advantage over other forms of wildlife.
Birds and other creatures
Cats kill between 1.3 billion and 4 billion birds a year, according to a report published in the science journal Nature Communications. They kill about twice that many lizards, frogs, mice and other small mammals.
"2.4 billion birds are killed by cats. It's a gigantic problem," said Keith Russell of Audubon Pennsylvania, using the mean of the estimate. "People haven't connected the dots to see the whole picture. They naively think there's no harm in [feeding and sheltering feral cats]. And there is."
About five years ago, the Delaware River Waterfront Corporation acquired a stretch of post-industrial land along the Delaware River. The nonprofit intends to make the waterfront attractive and accessible to city residents; to that end, it wants to extend a biking trail where abandoned piers jut out into the river.
When the DRWC bought the land and its piers, it was swarming with hundreds of feral cats. It formed a partnership with ACCT and the Stray Cat Relief Fund to create a managed colony with shelters and feeding stations on the riverbank, in order to contain them and ultimately reduce the population by attrition.
It's been working. The population has dropped to a few dozen. The SCRF has requested that the exact location of the colony not be revealed in this story, for fear that people might believe it's a good place to dump an unwanted pet.
"Before I criticize them about the cats, I want to commend the DRWC for doing a lot by turning this forgotten landscape into a space that people want to use," said Bernard Brown, an environmentalist and host of an urban wildlife podcast.
But then he said the lot is one of the worst places in the city for managing cats. The site sits along a migratory path, a kind of highway in the sky for tens of thousands of birds going North and South every spring and fall.
"We see 183 species of birds documented here where we're standing," said Brown on a recent walk onto one of the overgrown piers. "Cats are an exotic species here. Any predator doesn't naturally exist in these concentrations. These colonies are entirely human-created."
Brown is a "herper," the name for enthusiasts of amphibians and reptiles. He pointed out that the five-lined skink, a kind of lizard rarely seen in Philadelphia, appears to prefer the wet, rotting planks of this pier where it is at risk of being killed by cats.
Cats have contributed to the extinction of species —  the Stephens Island wren is one of the most well-known. In the 1890s, a lighthouse keeper on Stephens Island, off the coast of New Zealand, had a cat named Tibbles (or, more likely, several cats) that regularly brought home dead birds.
"The lighthouse keeper, fortunately, was interested in natural history and knew how to prepare a specimen," said Jason Weckstein, an ornithologist with the Academy of Natural Sciences at Drexel University.
"He was able to document the species before it went extinct. The cat basically killed every single one on the island," said Weckstein, holding one of those historic specimens now archived in the Academy.
Ethical dilemma
The story of Tibbles and the Stephens Island wren open the book "Cat Wars: The Devastating Consequences of a Cuddly Killer," by Peter Marra. The American Bird Conservatory says cats are responsible for the extinction of more than 60 species.
"The people doing this are well-meaning: They want to help the cats. But we have an ethical responsibility to protect our native wildlife," said Weckstein. "By saving those cats, who are not native, we are dooming huge numbers of native animals to a pretty horrible death."
Studies looking at the effectiveness of TNR show that in order for it to work, roughly 70 percent of the local population needs to be fixed. Weckstein doesn't believe that's possible because, as long as people are leaving out food in a particular location, more cats congregate.
"You supply them with food. You're bringing in cats that are fertile and able to reproduce," he said. "And you're bringing in things like raccoons and skunks that carry rabies. It's a public health nightmare."
Weckstein is particularly worried about toxoplasmosis, a pathogen spread through cat feces. While trapped, neutered and released cats typically are treated for worms and vaccinated for rabies, there is no existing vaccination for toxoplasmosis.
"There's no easy answer to this," he said. "There are countries where they take a hard line."
A "hard line" is extermination. Officials in Australia and New Zealand have determined that killing cats is an effective means to manage the population. Those nations are particularly sensitive to the damage of invasive species in their native environments, and cats have proved relentlessly destructive.
Earlier this year the city council of Auckland, New Zealand, after months of heated public debate that included death threats against an adviser to council members, decided to euthanize feral cats. A few years ago, Australia vowed to kill 2 million cats, mostly in the outback, by the year 2020.
In Philadelphia, no one has suggested a widespread kill of stray cats. And Cagnazzi said the ACCT is committed to reducing its euthanasia rate.
However some unknown individual may have taken a hard line approach to the cat colony along the Delaware River. In 2017, the cat shelters on DRWC property were set on fire, repeatedly. In response, the DRWC erected a chain-link fence around the colony — not to contain the cats that pass freely under the fence at will, but to protect them from people. A security guard regularly checks the site.
"I want to be clear that arson is never the answer," said Brown. "However much some of us want this problem solved, that is not the way to do it."
So far, there is no viable solution that will satisfy both cat lovers and environmentalists. They are each protecting their own turf.
"These people care about birds. I care about cats. It seems like there's no common ground," said Cagnazzi. "I think we'll never come to an agreement."
WHYY is your source for fact-based, in-depth journalism and information. As a nonprofit organization, we rely on financial support from readers like you. Please give today.