Wolf unveils moderate budget proposal; GOP says it's a mixed bag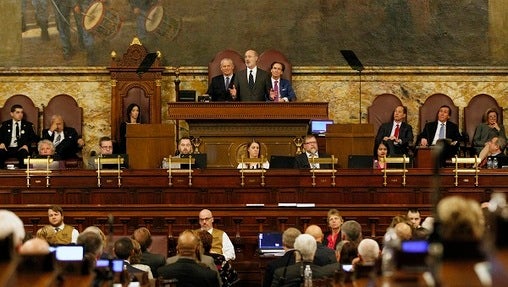 Governor Tom Wolf has released a familiar-sounding budget proposal in his annual address before the General Assembly.
Its most controversial components — a new natural gas tax and minimum wage increase — have been part and parcel of all Wolf's previous financial plans, too.
But one key thing sounds different from recent years: after a decade of tight state finances following the Great Recession, the administration is predicting some wiggle room. Instead of the roughly $1.5 billion deficit they had to contend with in the last budget, they're on track for a small surplus.
Wolf's plan would route almost $14 million to the long-near-empty Rainy Day Fund this fiscal year, and close to $4 million next year.
Overall spending would increase a little less than $1 billion — or about three percent.
One of the bigger boosts is $225 million in new education spending.
Republicans said they are happy with increased funding for career and technical education and job training. But Senate GOP Leader Jake Corman said overall, the spending hike is too much.
"We're going to have to find a significant amount of reductions in spending that he proposed here today," he said.
"But," he added, "this is the beginning."
He said the relative financial flexibility could help lawmakers avoid an extended impasse during an important election year.
"Hopefully we can bring this to a conclusion, who knows, maybe in May instead of June or October or November," Corman said. "I think the spirit is there, but it will be a challenge."
Corman and fellow Republicans said they probably won't support any new revenue — including Wolf's proposed severance tax on natural gas drillers.
Matthew Knittel, director of the state's independent fiscal office said without the tax, there will be an approximately $250 million hole that'll have to be filled.
WHYY is your source for fact-based, in-depth journalism and information. As a nonprofit organization, we rely on financial support from readers like you. Please give today.