The reel story of what happened to tape
Listen
10:47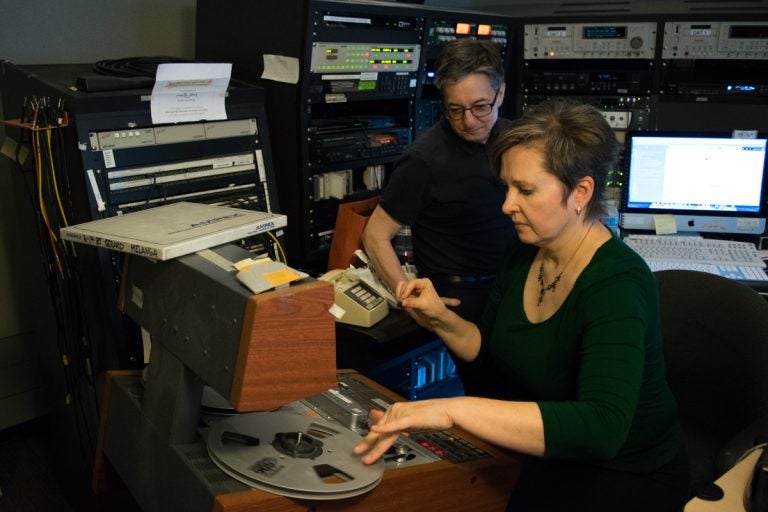 It was around 2006, and Danny Miller was in a panic.
"Ampex, which was the main tape manufacturer, stopped making tape," Miller recalled.
No tape being manufactured meant no recording or editing in the way he and his team had relied on for decades. It was at the core of the production magic behind "Fresh Air," hosted by Terry Gross.
Miller is the longtime executive producer of the public radio show, based at WHYY in Philadelphia. And for years, the producers used reels of tape to record, edit, and play back shows. They mastered a system, part science, part craft. So when Ampex tape stopped being made, Miller acted as any good producer would. He went into survival mode and bought a lot of tape.
"We eventually stockpiled about a year's worth of reel-to-reel tape," Miller said.
It wasn't that long ago that the things we heard on air — through speakers and through headphones — were all recorded, edited, and played back on reel-to-reel recorders. In "Fresh Air's production space there are still hints of tape and its influence all around. Miller points to a dusty Studer reel-to-reel machine in the corner of their studio.
Imagine a really big cassette tape, flat on a table, with two big spools.
"Fresh Air" chief engineer Audrey Bentham cues up an old reel.
"Just the sounds the machine makes, the sounds of the pinch-roller-hitting-machine sound, it's like the sounds of production for the past 20 years, the relics of what it used to be like," Bentham said.
Danny says editing an interview recorded on tape — as in, taking out part of the conversation or smoothing out a mistake — was all about using your ears to mark the changes and guide your hands.
"You would basically listen, and when you got to an edit point, you would take a little wax marker make a little white mark," Miller said.
Then you'd literally cut or splice the tape with a razor blade, take out what you didn't want, and put the two ends back together.
That may seem really cumbersome these days, but real-to-reel recording completely transformed how audio was produced.
Early possibilities
Sound recording has totally changed, so much so that these days tape may appear to be all but abandoned. But the technology has been a mainstay not just of "Fresh Air," or of all of public radio for that matter, but of so much of the soundtracks of the 20th century and beyond.
"It opened up all kinds of possibilities for editing," said Susan Schmidt Horning, a professor at St. John's University in New York and author of "Chasing Sound," a book about the history of recording technology.
Schmidt Horning got interested in the topic after playing in an all-girl rock band in the 1960s in Akron, Ohio. Her group, Chi-Pig, did a recording in her basement on her own reel-to-reel tape machine.
"So I did a little editing of tape myself," she said.
The concept of tape dates back to the late 1800s with the phonograph and the brush sound mirror recorder, but magnetic tape and the reel-to-reel process as we know it really took off after World War II.
"And it was based on a German recorder, the magnetophon, which was used by Hitler," she said.
Toward end of the war, United States servicemen discovered it, brought it home, and then, Susan says, song man Bing Crosby caught wind of it. He wanted an easier way to record and edit his radio show, and he got excited about the technological possibilities of this new machine.
"He understood what it could do for him. It enabled the engineers to edit the shows much more seamlessly," Schmidt Horning said.
He fronted the money for a manufacturer to make one, and with that, the reel-to-reel tape recorder of the 20th century was basically born. By the '50s and '60s, machines could record multiple tape tracks of separate voices or instruments. The sound quality got better and moved into stereo.
But then — you probably know where this is going — "digital recording replaced tape for many people."
Digital takes over
The digital age totally revolutionized the industry. No analogue tapes or reel-to-reel machines were needed, just computer software.
"Digital came in a couple of different ways," said Jim Anderson, an audio engineer who went through the transition.
Anderson teaches at New York University, and has recorded and mixed classical, rock and jazz artists. He's also worked on some NPR shows and "All Things Considered" promos:
Anderson mixed this "All Things Considered" promo on tape at Ken Nordine's studio in Chicago. It would have aired on local stations in 1981.
Anderson says the shift to digital began as people got frustrated with some of the limitations of tape, like the distortion sounds from the recording and playback process. Digital didn't really have this issue.
"It was a different sound, I think is what people responded to," Anderson said. "The bass would have been clearer, the top end maybe had a little more transient to it."
Early digital programs surfaced in the '70s, such as those from Japan. Sony popularized digital audio with the CD playback system, Anderson said. The technology was clunky at first, and the lack of a physical thing to edit and record on was a hard switch.
Tape was a tangible thing. You could play it back and hear something, even if it had a scratch. With digital, the problem is it "either works or doesn't work," Anderson said.
But the reliability and quality of digital improved in the following decades, with the one of the big digital software programs, Pro Tools, really turning professionals over by around 2003.
"It went from being a toy to being ubiquitous in studios," Anderson said.
Digital brought a lot of advantages. You could add even more tracks for recording, and editing was a whole new world. It's like a Microsoft Word document for audio, easily undoing and redoing, undoing and redoing a part.
Digital allowed producers to easily edit and shape sounds that would be super complicated, if not impossible with a razor blade.
"Especially in our orchestral work, we could do things that we could never do, especially in recording the dynamic range, the cross fades," Anderson said.
Digital didn't just make recording easier, it made it more portable, too.  This summer, for example, Anderson got a call to record jazz pianist Gonzalo Rubalcaba.
A few weeks later he was making a major recording.
"We went to Cuba and did a recording there in August, and we took with us took a laptop, a front-end and some microphones, and it all sat on the size of a card table," Anderson said. "And if we had done that in the past, like the guys from Mercury Living Presence in the '50s, they flew a truck to Russia. So, it's just crazy."
Digital has also democratized the process. People can produce sonic wonders in their basement.
But wait — tape hasn't gone away
But if you think tape has been totally abandoned, think again. Reel-to-reel recording still holds a special place among audio nerds and studio producers.
Brian McTear is a record producer and owns Miner Street Recordings in Philadelphia, where he's worked on albums for the likes of War on Drugs, Kurt Vile, Hop Along, and Joan Osborne.
"The War on Drugs 'Lost in the Dream' album was recorded a lot here at this studio between 2010 and 2015, and a lot of that process would be recording to this two-inch tape machine," McTear said.
"Recording studios still use tape! They do, and for a lot of reasons," said McTear, while standing over his Ampex tape machine. "It's not that unusual."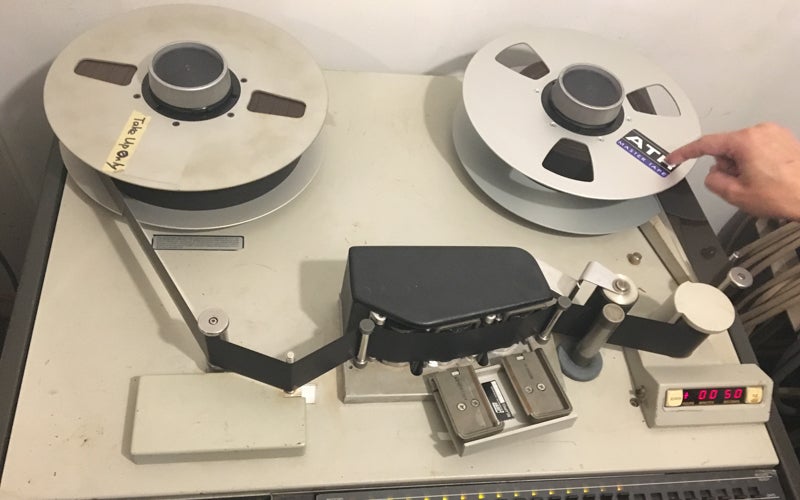 A company in York, Pennsylvania, even started manufacturing tape again, giving McTear and others a reliable source. McTear's main tape machine, an Ampex MM1200, appears to be some 400 pounds, the size of an industrial washer, and can record up to 24 tracks. For him the power of this machine, though, is greater than the type of sound that it records.
Recording on tape enforces a musical process, McTear explains. Band members must play together, recording all at once, instead of editing and manipulating sounds so perfectly that they're perfectly boring.
McTear says a song, especially in rock-and-roll, is not just the sum of its parts.
"Tape sort of reinforces the necessity of something we're all very used to — something that's very sort of central to what music is — and that is ensemble performance," he said.
He uses digital for editing and recording a lot, but he often starts bands off on tape. He also has an Otari MX5050 two-track tape machine for mixing recordings.
McTear uses tape for something else, too: creating specific sound effects that can be heard all over the records he and his team have produced over the years. He'll even play a digital file through a tape machine, to produce certain sounds that, he says, digital alone can't quite match.
Here's an example of something before and after he played it through a Roland RE-150 tape machine to create what he describes as special "dreamy ambient" effects.
A raw saxophone solo performed by Dan Wallace. It's part of Yuuki Ozaki's upcoming record, which McTear and his engineers then mixed.
McTear runs that solo through the Roland space echo machine, which is an old effects unit that uses analog tape. He then runs it through other old effects units and a guitar amp for reverb.
In a variation on this, McTear takes the original sax recording, reverses it, and runs a backward version of it through the same chain of tape effects and amp reverb.
A more basic example would be a flange or echo effect, similar to what one hears in the drum solo in the middle of Tears for Fears' song "Head Over Heels" (around the 2:42 mark).
"Everything stops and it sounds like the universe is split in two," McTear said. "That's a flange effect that you can do with a tape machine. It's super fun."
But, given the advancements in digital software and the new plug-in recording accessories that can mimic tape sounds, does McTear think he'll ever fully switch over?
Never, he said.
"I will definitely be using this tape machine for the rest of my life," McTear said. "And if no one wants it after I'm dead, they should bury it with me."
'Fresh Air' goes digital
Inside the "Fresh Air" studio, Audrey Bentham, the show's engineer, fast-forwards to the end of the tape reel until it hits the edges, circling around and around.
"It's just the classic sound of a tape machine spooling off," Bentham said.
Bentham is a little nostalgic. "Fresh Air" stopped using tape in 2007.
"We were actually pretty late to digital editing," said Danny Miller, the show's executive producer.
In the years that followed, a big archiving effort digitized their interview collection that had been recorded and stored on tape.
Miller says at first they held out over of concerns about the reliability of the digital software, and its ability to share recordings — mid edits — between the producers and engineers.
Even so, the language of reel-to-reel recording is still everywhere in the vocabulary and mindset of the show, and of public radio in general.
"We still refer to everything we do digitally as 'tape.' We have five 'reels' on our show — that is five different segments on our show — so we refer to those reels. We talk about, 'Did you get good tape? That was really boring tape,'" Miller said.
But once they switched over to digital, they haven't looked back.
"I mean, it's just so easy," Miller said.
"Digital is just so much more convenient," Bentham said.
"I kind of miss the showing off of the craft," Miller added.
So, do they miss cutting tape?
Both give a resounding response:
"No."
WHYY is your source for fact-based, in-depth journalism and information. As a nonprofit organization, we rely on financial support from readers like you. Please give today.