New ideas for abandoned mine lands
A bill aims to address abandoned mine lands with a focus on economic development. Proponents see it as a way to imagine a more sustainable future for old coal country.
Listen
8:06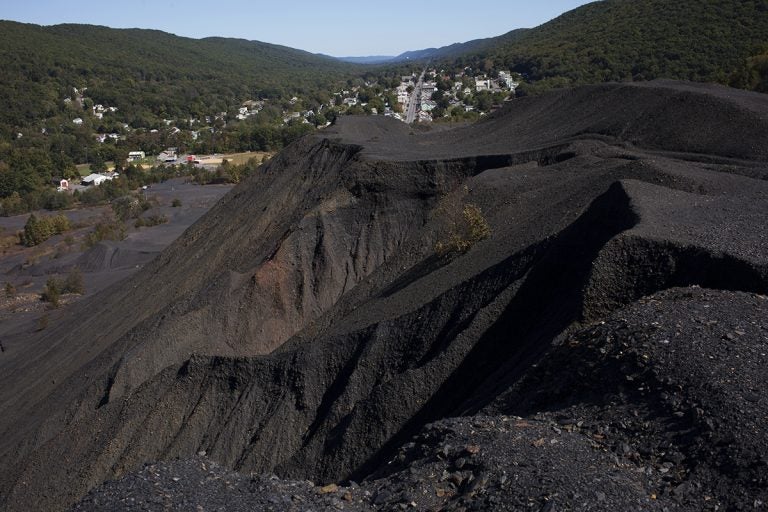 In central Pennsylvania coal country, people landscape their lawns with shiny chunks of anthracite coal and school athletic teams go by monikers like the Battlin' Miners. Mitch Troutman is a local, amateur historian, and on a crisp, early fall day, he steered his truck off a two-lane country road into what he called 'the strippins.'
"That's a whole lot of abandoned coal lands, abandoned from deep mines and strip mines. They've just been kind of left there," he said.
Decades ago, as companies finished mining the land around here, they deserted it. It wasn't until 1977 that Congress passed the Surface Mining Control and Reclamation Act and started requiring companies to properly clean up when a mine closed.
The legacy mines, tapped before the law took effect, are a national problem. In the United States, there are as many as half a million abandoned mines. But Pennsylvania has more abandoned mine lands than any other state.
"You just have a century or more of mines on top of mines on top of mines to the point of you can't even look around and imagine what was there before," Troutman said.
A bipartisan proposal in Congress is pushing to address the abandoned mine lands, with both money and a new focus on economic development. Proponents see it as a way imagine a more sustainable future for old coal country.
Quick Money
Abandoned mine lands aren't necessarily superfund-level polluters, but they can be dangerous. Mine subsidence — when land collapses into old tunnels or mined out seams — is common and kills people. Mine fires can burn for years, gases from mines can make air unsafe, soil and dust can hold contamination, ecosystems are disrupted. In Pennsylvania, more than 5,000 miles of streams are polluted by abandoned mines.
The law that now requires companies to clean up after themselves also established an abandoned mine land fund — sustained by a tax on current coal producers — to clean up the old mines. Each year, states and tribes with abandoned mine lands receive grants from this fund. States like Pennsylvania have been using that money to clean up for decades. The amount of money Pennsylvania receives annually for abandoned mine cleanup varies, but in the past decade, it averaged about $47 million per year. The state has used those dollars to backfill holes left by taking out coal, install water filtration systems, and plant trees and grass on repaired soils.
But the Secretary of the Interior has estimated that it will take another $10 billion to clean up the remaining abandoned mine lands nationally.
With coal communities struggling, there've been calls to do more, faster. A bill — called the RECLAIM Act — in front of Congress proposes distributing one billion additional dollars in clean-up money to states in the next five years. The money, which would come from the abandoned mine land fund, would double 2017 grant levels.
"We're behind that because we are tired of waiting for something to come here and nothing ever comes in our region that is getting us away from coal," said Robert Hughes, with the Eastern Pennsylvania Coalition for Abandoned Mine Reclamation. "And if we can't remove some of this stuff from the landscape, I'm not sure what we're going to attract here."
New Ideas
Mitch Troutman continued the tour of the strippins, bumping along on a coal covered path through young forest, towards Coal Hill. The woods parted onto a tall, bare, black mountain. "The biggest pile of coal you've ever seen," Troutman said.
Discarded coal dominated the landscape. Horizontal striations in the coal resembled layers of sedimentary rocks, and erosion sent vertical rivers of pebbles running down Coal Hill's sides. The geologic features looked natural, but the entire mountain is man-made.
Adults and kids on dirt bikes rode up and down Coal Hill, attempting tricks. Others picnicked at the foot of it. They were using this pile of coal refuse just like they might some beautiful public lands.
Troutman said the stripinns here do function as public lands. People recreate on the land, go camping with their families, party on it, and derive a sense of identity from it.
But without reclamation, or cleanup, the land is also a stain on communities. It's an economic issue. The pollution makes it hard to attract new businesses, the tracts of land can hem towns in from growing, and the unused parcels don't contribute as much as they could in revenues to government coffers.
The RECLAIM Act wants to address the economic piece, along with the environmental.
"The regular [Abandoned Mine Land] program that's funded with our grants focuses on health and safety aspects from past mining operations. There is no requirement for those projects to have any economic development or community revitalization aspect," said Eric Cavazza, director of the Pennsylvania Bureau of Abandoned Mine Reclamation. The RECLAIM Act would change that. In other words, the goal isn't just to clean up abandoned coal mines, but also to return that land to productive uses, so communities can imagine a good life without coal.
Anthracite Outdoor Adventure Area, about a 15-minute drive from Coal Hill, is an example of what that might look like. Started primarily with local funds, the offroading facility is like a formalized, cleaned up version of the strippins playground.
Dave Porzi, director of operations, calls himself a veteran trespasser on the land. He used to come hang out here when it was abandoned. Now, the trash is gone, holes from the mining operations are filled in. People bring all-terrain vehicles, dirt bikes, go-karts, Jeeps and trucks and ride the trail network through the woods.
He says people come from all over to ride these trails, and as their numbers grow, they'll need restaurants, gas stations, hotels –- which spells jobs, at least in theory. Porzi sees recreation as the new coal around these parts. He says you can't do much else on this mined-out land.
"You know I have three water softeners just to use the water to wash your hands and flush toilets. It's not potable. So ultimately, this outdoor recreation really is what this property is meant for," Porzi said.
Last year, Congress authorized the release of $90 million to three states — including Pennsylvania, Kentucky, and West Virginia — as a pilot for the proposed RECLAIM Act. The money was intended to clean up abandoned mine lands, but with a new caveat. States had to choose projects not just for their intention to protect health and safety, but also for their ability to spur long-term economic benefits for the local community.
Some of the Pennsylvania projects that received funding envisioned business parks, a botanic garden, and new roads on the abandoned mine lands. The Anthracite Outdoor Adventure Area didn't receive any of the pilot money, but is eyeing the next round to fund an expansion.
Troutman drove his truck to the top of Coal Hill and looked out. It dwarfed Trevorton, the town at the bottom of the mountain of coal. He says he isn't crazy about the offroading facility or paying to ride when he's got free access to the strippins in his backyard. But he doesn't quite know what to do with all this battered land.
"It's part of who everybody is out here," he said. "I don't want to see it turn into like a parking lot with a couple of McDonald's on it. It's hard to have an answer for that."
WHYY is your source for fact-based, in-depth journalism and information. As a nonprofit organization, we rely on financial support from readers like you. Please give today.