Pa. officials preach caution, but say worst of flood likely over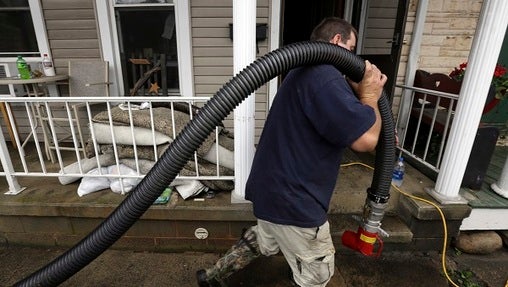 State officials say the rain that drenched much of Pennsylvania this week is tapering off. But as flood waters recede, they've confirmed that two people are dead and one is still missing.
After a tour of hard-hit Schuylkill County, Governor Tom Wolf and state Emergency Management Agency Director Rick Flinn reconvened in Harrisburg for an update.
Apart from a National Guard team still stationed in Dauphin County, the state's emergency responders have withdrawn. But Flinn said people should still be careful around creeks and rivers.
"There's still a lot of water, so we want to have folks, from a safety perspective, stay away from those areas," he said.
He said they've carried out "a lot of water rescues. A lot of folks driving in high water, which we preach all the time, try not to do that."
One hundred and twenty five state roads are still flooded, and 2,900 people remain without power.
The administration is now collecting data to see if it'll qualify for federal disaster aid. The state can get assistance for municipal governments if there's at least $18 million in damage.
And Wolf said he thinks there are other options, too.
"Whether we get grants from the federal government or not, we're pretty confident we can get access to Small Business Administration loans," he said.
Two people are confirmed dead — one in Adams County, and one in Allegheny. Their names and causes of death have not been released, but Wolf said both tried to escape their cars in flood waters.
A 19-year-old woman swept into a creek Monday night in York County is still considered missing.