N.J. may require that students learn to administer OD-reversing drug
The proposed legislation would require that naloxone instruction be paired with curriculum that educates students about the risks of opioid addiction.
Listen
1:47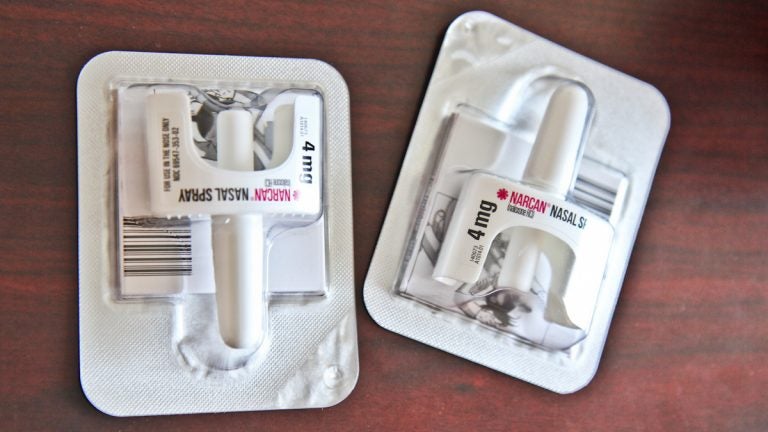 At the end of June, New Jersey lawmakers passed legislation requiring high schools to stock naloxone, the opioid-reversal drug, to be administered by school nurses in the case of an overdose.
Now, some Democrats in the state Assembly have gone step further. They have introduced a measure calling for all public school students in middle and high school to be trained in administering the life-saving drug.
More than 1,500 people have died of suspected overdoses so far this year in New Jersey, while more than four times that many people were given naloxone. Without that intercession, the number of fatal overdoses might have reached 6,000.
Those statistics motivated Assemblywoman Yvonne Lopez, D-Middlesex, to write a bill that would require all students grades seven through 12 to learn to recognize the signs of an overdose and how to administer naloxone. The drug is often referred to as Narcan, the brand name for a device that delivers naloxone.
The training this bill would mandate is a response to the times, said Juan Carlos Nordelo, legislative director for Lopez.
"There are situations in which a parent might be experiencing an overdose, a grandparent, another student that they know," he said. "Our students need to know how to recognize the signs of an overdose, to contact a first responder, and — should an opioid antidote be available — be able to safely administer that treatment."
Critics worry that educating students about the reversal option could pave the way for experimenting with opioids. In this case, some argue, if young people understand it's possible to come back from an overdose, they might want to try opioids.
Lopez considers that argument reductive.
"Teaching students how to administer naloxone does not in any way normalize or enable drug use," said Nordelo. "It teaches students how to respond to an emergency situation."
Many states have laws requiring naloxone to be stocked in schools, but it's less common to require schools to train students in administering the drug.
Many communities have undertaken grass-roots efforts to educate young people; in Manchester, New Hampshire, the schools have standardized a districtwide requirement to include naloxone demonstrations for middle-schoolers.
Nina Fekaris, president of the National Association of School Nurses, thinks requiring kids to learn to administer naloxone — beyond just having nurses trained to do so — would empower them, not enable them. She pointed to an example at the school where she works in Oregon in May, when a high school lacrosse player was hit in the chest with a ball and his heart stopped. Because two players on the team were trained in compression CPR, the student's life was saved.
"I'm the school nurse, and I wasn't there — that could happen with an opioid overdose just as easily," Fekaris said. "The more people trained in emergency response, whether it be CPR or naloxone administration, the more lives that can be saved."
The bill would require that naloxone instruction be paired with a curriculum that educates students about the risks of opioid addiction. Abstinence-only drug prevention programs in schools have been shown to do little to deter drug use.
The bill, in its very early stages, has been referred to the Assembly Education Committee. Lawmakers said they still need to work with districts to refine the proposed legislation.
Camden County has the highest number of overdose deaths in South Jersey so far this year. School district representatives there would not comment on the proposed bill.
The New Jersey Association of Educators, the state's largest teacher's union, said it has not analyzed the legislation yet.
WHYY is your source for fact-based, in-depth journalism and information. As a nonprofit organization, we rely on financial support from readers like you. Please give today.