Mummers off Broad: New book of photos documents a decade of wenches
Listen
5:40
Photos of Mummers from the book "January 1" (courtesy of Andrea Modica)

Photos of Mummers from the book "January 1" (courtesy of Andrea Modica)

Photos of Mummers from the book "January 1" (courtesy of Andrea Modica)

Photos of Mummers from the book "January 1" (courtesy of Andrea Modica)
Not many people have the Mummers on their minds in April, but photographer Andrea Modica is not the typical Mummer photographer. Thursday, she is releasing "January 1," a book of photographs shot over 10 years, one day per year.
It features formal, black and white portraits of wenches taken on Two Street immediately after the annual New Year's Day parade. The pictures show them dressed in their celebratory finery looking serious, exhausted, enthused, mischievous, threatening, holding a beer can, wearing blackface (a practice officially banned but – controversially – but still done).
Modica uses a century-old camera technique: a large-format, 8- by 10-inch camera that can hold only one negative at a time. The slow process of taking the image forces the subject to become a participant in the invention of the composition. The images were developed with a platinum process, giving them a 19th-century feel.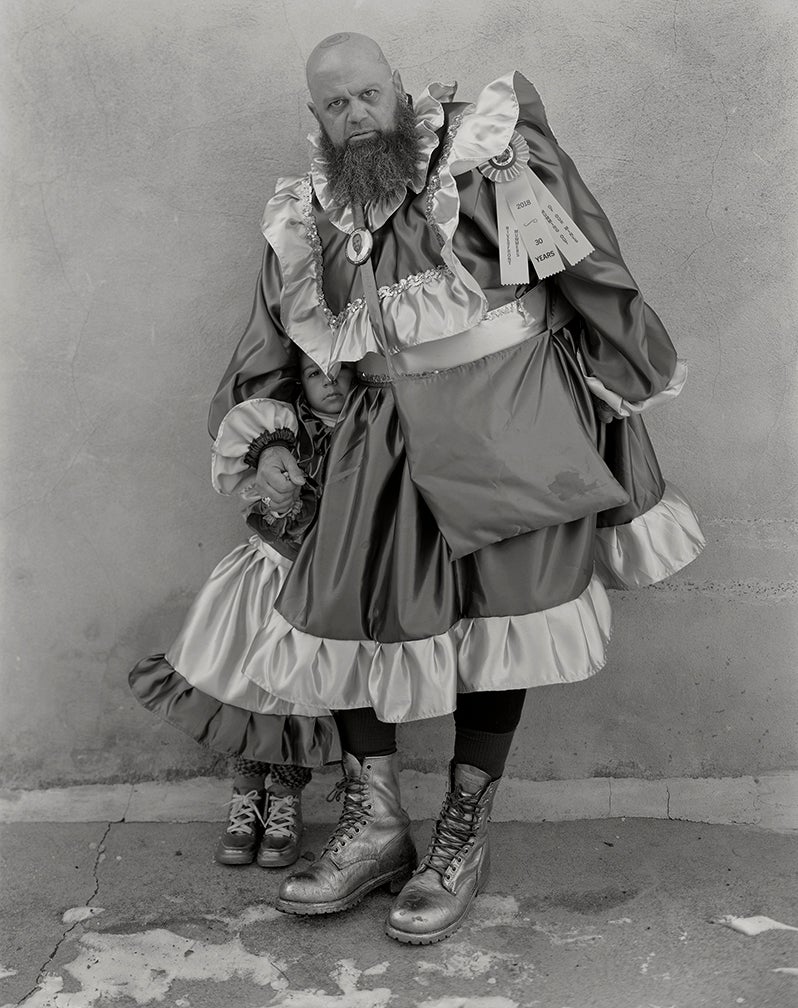 Modica is neither a documentary photographer nor a photojournalist, but an artist pursuing a subjectively personal interest. Her previous work is based on long relationships with her subjects who become collaborators in the photography process. She is well known for "Treadwell," a 17-year series of photos of an impoverished family in rural New York.
Coming to Philadelphia and discovering the Mummers a decade ago, she said she was attracted to the fact that the male-centric culture was closed to her.
WHYY's Peter Crimmins spoke with Modica about her interest in mummery. Listen to the audio above to hear the conversation.
WHYY is your source for fact-based, in-depth journalism and information. As a nonprofit organization, we rely on financial support from readers like you. Please give today.