Fixing a forest for Puerto Rico's recovery
Tourists once flocked to El Yunque National Forest. After landslides of hurricane damage in 2017, work crews are sweating to reopen it.
Listen
6:04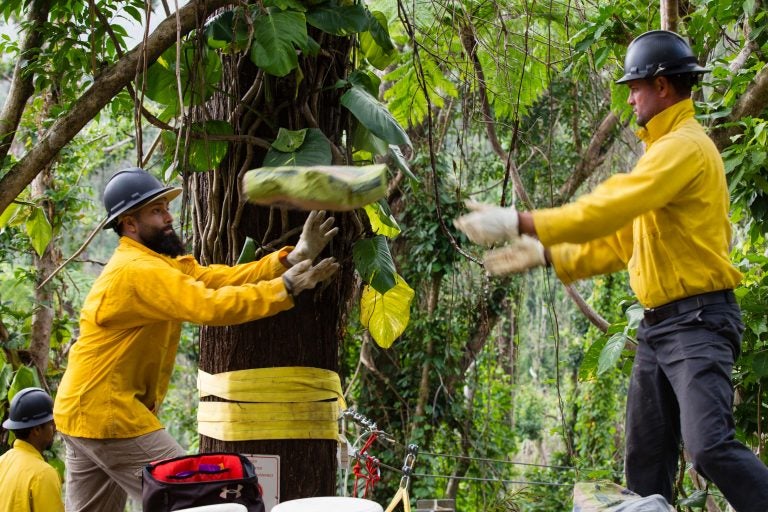 Luigi Ramirez lets a yellow rope slip through his hands slowly at first. Then, when his fingers open, 200 hundred pounds of concrete sail through the lush tropical canopy.
I met Ramirez in Puerto Rico's El Yunque National Forest.
Before Hurricane Maria, he sent tourists whizzing across ravines like this one, but that business closed.
"Because that company depends on the trees, and all the trees are damaged in the majority of the forest," Ramirez says. Now, he's running a zip line to deliver construction materials. The mission is to restore a water system, so the site can offer drinking water and flushing toilets again.
The system has been knocked out since September, when Hurricane Irma blasted Puerto Rico, and set the stage for even more devastation from Hurricane Maria just a few weeks later.
A member of a construction crew in El Yunque National Forest waits to send supplies down the hill on a custom-made zip line. The zip line can be used to transport heavy building materials, as well as injured workers in case of a medical emergency. (Courtesy of Bert Johnson)

A cargo sled descends the zip line, carrying bags of concrete to a work crew below. The crew custom built the sled and the zip line for the reconstruction of a water system in El Yunque National Forest. (Courtesy of Bert Johnson)

A construction crew carry bags of concrete in El Yunque National Forest. The building materials are sent down the hill on a zip line built for the U.S. Forest Service by former employees of a tourist adventure park, which closed after Hurricane María. (Courtesy of Bert Johnson)
Now, the absence of tourists inflicts a different kind of damage.
El Yunque National Forest was once one of the most visited places on the island. Five months later, it's closure leaves a gaping hole in the economy.
In the storm's immediate aftermath, earnings tied to tourism plummeted by more than a quarter. But quantifying all the losses is elusive — even the government won't vouch for its unemployment figures. Ramirez is one of about 50 temporary employees working on the recovery effort at El Yunque. The zip line crew includes two lawyers and a doctoral candidate. People from all walks of life need this work. Even before Maria, the overall unemployment rate in Puerto Rico was more than double the national average.
At a checkpoint up the road, I see David Hernandez Carrasquillo. He's a slim 21-year-old in a blue hoodie and a neon vest. He works as a security guard at the forest restoration site. He used to be a college student studying graphic design.
 
"I just had to stop my studies because I needed to search for a job. Because we lost many things in our home," he says. 
Carrasquillo's house flooded during Maria. "And we had like the first floor filled with water. We tried to search for help but nothing happens. We are just trying to survive," he says. On the road to El Yunque's tallest peak, I stop at the main visitor center. It's like a scene from Jurassic Park after the dinosaurs take over: a jungle creeps into the once-grand building.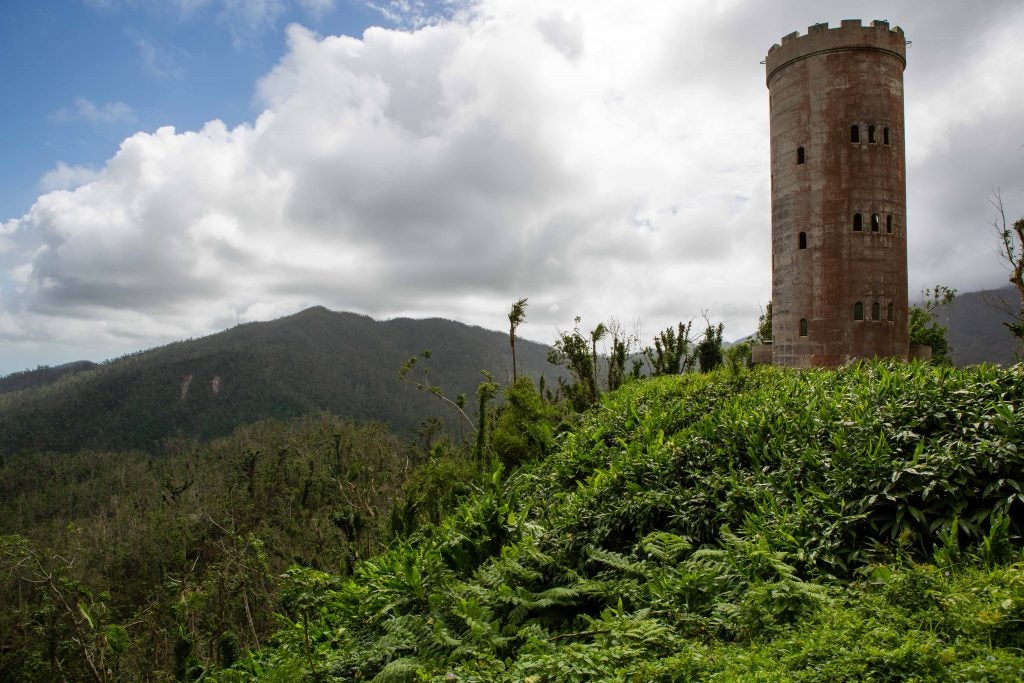 "It's completely wrecked," says Zorida Rosa. "It's going to be about a year or two years in order to get it operational again."
 
Rosa works for Eastern National, an organization that relies on tourists coming to this forest. Her group ran the visitor center and bookstore. "Since we've been completely closed, we've lost between $300,000 and $400,000 in sales. And it could be more," she says. Plus, thirteen bookstore employees were put on furlough. For now they've gotten work on the recovery effort. Before Maria, tourism-related jobs contributed nearly 10 percent of Puerto Rico's gross domestic product. And one out of every three Puerto Ricans worked in the service industry.
 
Today, Rosa's busy getting an ad-hoc visitor center open by a popular waterfall, so that when the roads are declared safe, they'll be ready for business. She's talking about the temporary building when — CRACK — in the distance, another tree tumbles down the mountain.
The hillsides are extremely unstable because torrential rains ripped out the plants holding them in place. "I've experienced mudslides here in El Yunque, however, with Maria, this has been totally devastation … There continues to be problems. [like] the road problems you are going to see," she says. I'm mostly seeing El Yunque from the backseat of a van. All but one trail is closed. And eventually, we have to stop driving up to the peak, because the road disappears into a chute of black mud and toppled trees — the result of a fresh landslide, only a few days old. 

"Now that the roads [have] given way, we don't have access to our facilities past here at this point," says El Yunque's Forest Supervisor Michael Crump.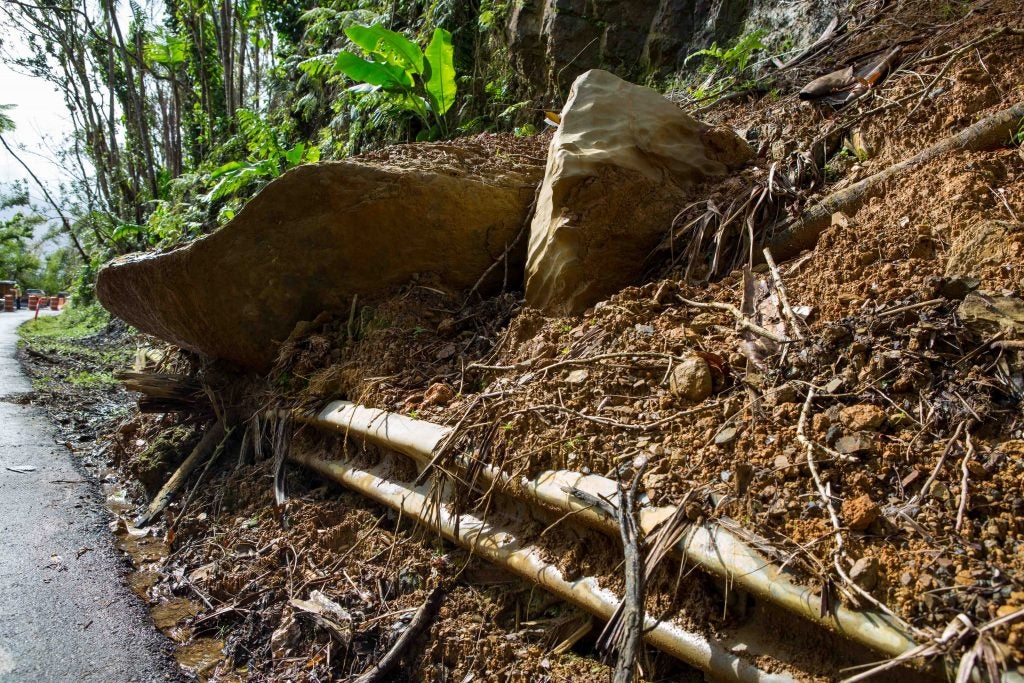 His goal is to get the big tourist draws re-opened by this summer. There's a popular waterfall, a tower with views of the Atlantic Ocean, and trails where you can glimpse the endangered Puerto Rican parrot.
Crump hopes the people who help draw tourists to this forest will hang in there.
 "If we didn't have them stepping back into their operations, then we wouldn't be able to provide the experience to people," he says.
At least hundreds of thousands of people across Puerto Rico left after Hurricane Maria. But Jamie Rivera stayed. Rivera drove the van that made my tour possible.
 
"I was lucky. Nothing happened to my house. I just lost the power. But now we have power again," Rivera says. He runs his own transportation company. He used to shuttle cruise ship passengers. Now, with so few tourists like me — he mostly caters to work crews.
For the time being, the forest sound of birds, bugs and waterfalls is punctuated by backhoes, chainsaws and generators.
WHYY is your source for fact-based, in-depth journalism and information. As a nonprofit organization, we rely on financial support from readers like you. Please give today.