Should tourists go to Antarctica?
Listen
7:20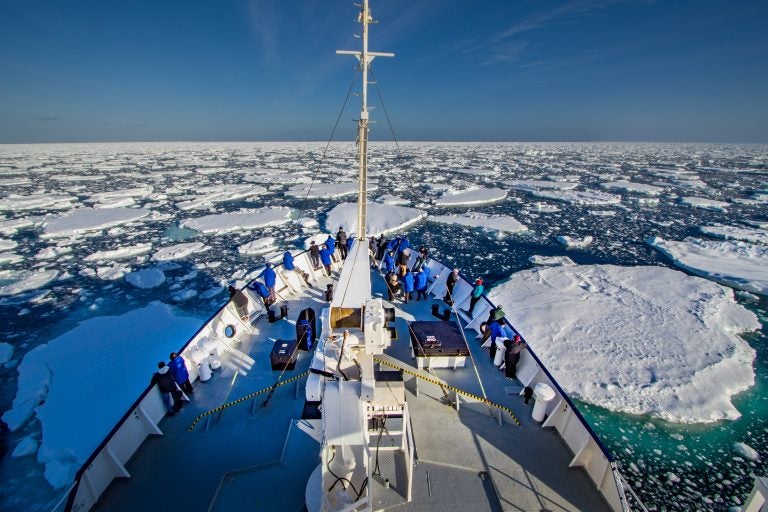 Travel blogger Sherry Ott has been all over the world, but, for her, Antarctica was life changing.
"I always say, when people ask me about Antarctica, that it's like the closest you can get to leaving this planet," Ott says. "This was the first place ever that I had been where clearly people were not in charge; it was the wildlife that owned this land."
The icy South Pole goes down to more than minus 70 degrees Fahrenheit in winter. But it's not completely desolate; there are about 40 research stations. Scientists stay there, but there's no native population.
One of Ott's favorite Antarctica memories is visiting an island off the coast. When she got there, she found 60,000 penguins, all waddling around and squawking.
"One of my best days on earth was being able to go to that island. We had, like, four hours where we could just sit there and walk about, and I could just sit on the beach, and king penguins would just walk right up to you. And the stiller you sat, pretty soon you get surrounded by them," Ott says.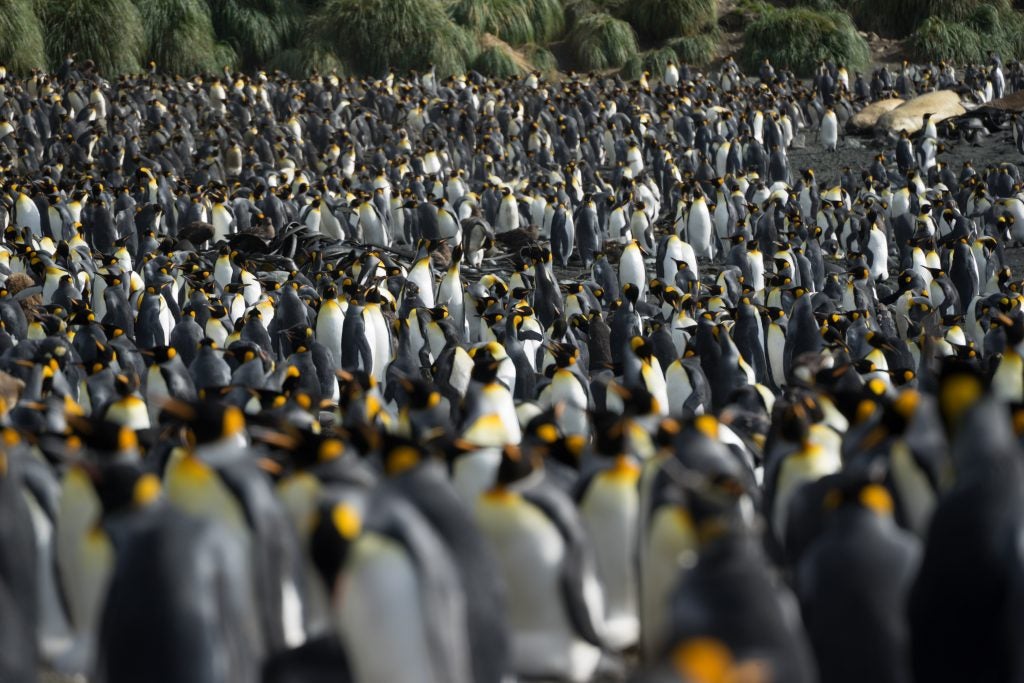 "And when you get thousands of them together, you can't even hear yourself talk sometimes, it can be so loud."
Besides the noise, it also smelled like thousands of penguins.
"The smell of guano is not a good smell … but then you kind of realize, like, I'm going to get this once in a lifetime chance, and I don't even care how it smells," Ott says.
Antarctica is a place where you can see icebergs breaking apart. And, seeing that, it's hard to ignore how climate change is affecting the planet.
Visitors contribute to that climate change and melting ice. Getting there involves flying somewhere and taking a ship. 
That travel isn't cheap — just the cruise itself could cost anywhere from $5,000 to $40,000.  Still, more than 40,000 people went to Antarctica as tourists last year, and that's part of a rising trend that started a few years back. Ott is conflicted about that.
"I want people to go to Antarctica and I don't," she says. "I wish everyone could see it once somehow and have that feeling of being in a place where humans aren't in charge, because I think that's a really wonderful feeling."
Last year, Ott went to one of the Antarctic islands with an expedition leader who had been going there for decades. But this trip was the first time they could actually set foot on the island during tourist season because it had gotten so warm that the ice around it melted.
"When you hear someone say that, that's one of those like uh oh moments," Ott says.
Climate change often feels like an  abstract, looming problem we hear about on the news, but on that trip Ott was seeing it in front of her.
"I have another level as a writer where I'm kind of making it worse, because then I come back and I write about these places, and I get people excited about going there, and I'm even perpetuating the problem even more," she says.
The scientists who go to Antarctica feel some pressure as well. Heather Lynch studies penguins; she is an associate professor of ecology and evolution at Stony Brook University in New York. She says every trip she takes to Antarctica comes with a lot of carbon emissions from the flight and the ship — she's racked up a carbon debt.
"All of us, scientists included, come back every year in debt, and we spend the rest of that year repaying that debt. And, in our case, we try and do that by making sure that the data we collect really ends up contributing to management of the Antarctic," Lynch says.
Lynch studies how climate change is affecting the penguins, and part of that involves doing a kind of penguin census. She and her staff literally count every single nest and chick.
This would not be possible without an assist from the ships that ferry tourists back and forth.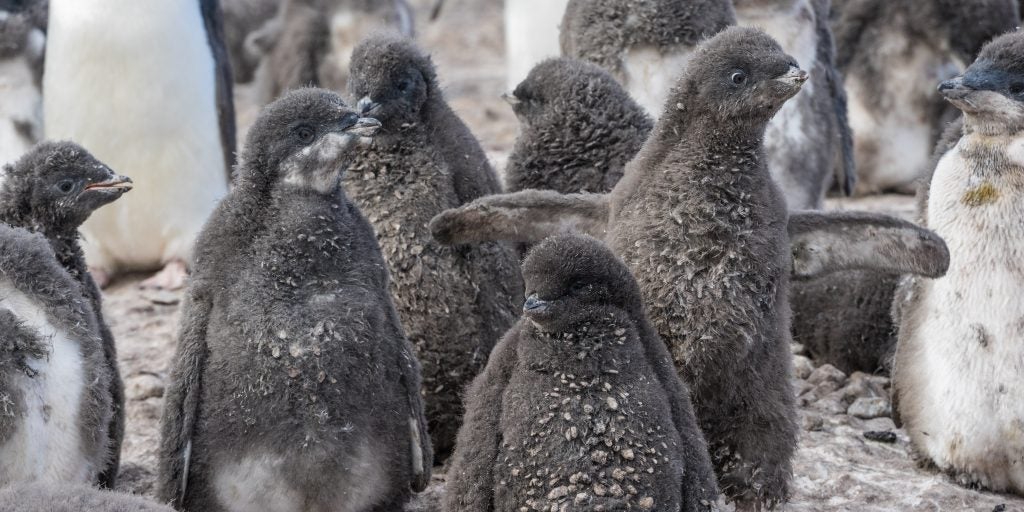 Science and tourism have forged an alliance of sorts in Antarctica. To get to Antarctica, Lynch gets a free ride from a tour company. In exchange, she gives lectures to other passengers to explain her work.
"We would have to spend hundreds of thousands of dollars a year just on paying for those trips," she says.
Tourists can also help scientists by collecting air samples (That's what travel blogger Sherry Ott did.) or sending in pictures of whales.
This kind of arrangement works for some scientists, but not all of them. They may need to get to places tour ships don't go, or their science expeditions happen outside of tourist season. In those cases, the government pays for the ships through the National Science Foundation.
Conservation scientist Justine Shaw, who works at the University of Queensland in Australia, says there's another thing to consider when travelers go to Antarctica.
"When we're standing there, and we have snot running out of our nose and cells coming off our body, technically it's pollution in Antarctica because we're introducing bacteria and viruses that have never been [there]," Shaw says.
Almost all tour operators follow very strict protocols, down to detailed instructions for how to wash your boots every time you get on and off the ice.
But Shaw says that, despite the careful guidelines, humans can still introduce flies, as well as invasive weeds that have taken full advantage of warming temperatures.
"The easy thing to do would be to say, everyone put down your tools, put down your toys, and just let Antarctica do its thing, but that's not going to happen," she says.
Scientists need to go to Antarctica to study everything from climate change to astrophysics, and Shaw says tourists play a role, too.
"No tourist goes to Antarctica and comes back and says, 'Ah yeah it's not that great,'" she says.  "Everyone is moved by its beauty, its uniqueness, and people getting to see it understand how special and valuable it is, and they get to understand what a risk climate change is to Antarctica. So it's a catch-22: people need to see something to know how valuable it is."
WHYY is your source for fact-based, in-depth journalism and information. As a nonprofit organization, we rely on financial support from readers like you. Please give today.