E-sports injuries send gamers to physical therapy
Listen
5:32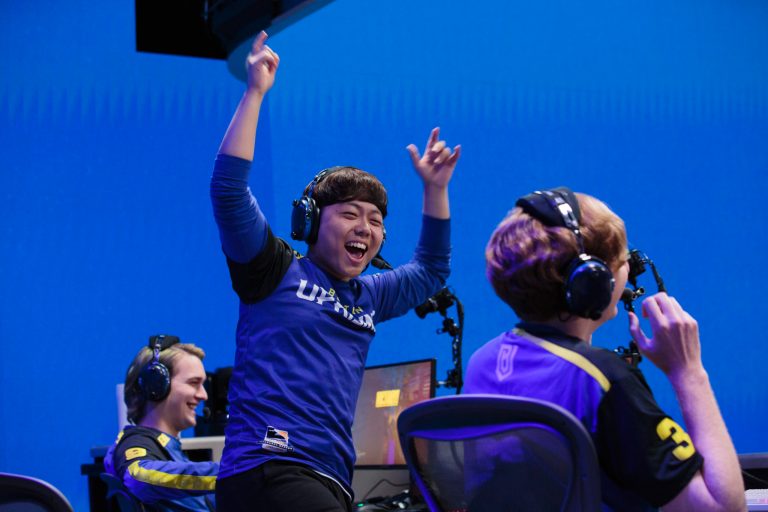 Jun An plays the battle arena game "League of Legends" for a few hours every day. He used to virtually fight monsters and attack enemy buildings while lying on his bed with his laptop on his stomach.
An is a junior at the Wharton School at the University of Pennsylvania and a member of the university's e-sports association.
After his freshman year, he bought a desktop computer, but his monitor was very low, so he was still staring down a lot of the time. That gave him back pain.
A year and a half ago, he got an X-ray as part of a physical examination for the Korean military. The doctor told An he had a crooked spine. The physician was so worried he gave An a copy of the image on a CD.
"Since then I realized, oh shit, I better have good posture," An says.
He got acupuncture and massages, and now he pays a lot more attention to how he sits. He uses a lot of old textbooks, which cost hundreds of dollars, to prop up his monitor.
"My monitor's like way up, and my posture's a lot better. I actually grew 2 centimeters after that, pretty sure it's became my spine started slowly straightening," he says.
It may not be as physically strenuous as playing football or running a marathon, but competitive video games, or e-sports, is now a global spectator sport. That means elite gamers now have their own medical specialists.
Caitlin McGee is one of them; she's a physical therapist in the Washington, D.C. area. She plays quite a few games herself but got interested in the health aspect of gaming when she started watching tournaments. Lots of people don't pay much attention to ergonomics, and McGee used to complain about players' bad habits.
Then, she decided to do something about it.
McGee now works with gamers to prevent and treat their common injuries. Those mostly have to do with repetitive stress or injuries related to bad posture. Some top players have had to retire because of hand and wrist injuries.
At tournaments, McGee sees one big problem over and over: players sit down to a match but don't custom adjust the equipment so it fits them.
"You'll have a 16-year-old kid and a 28-year-old — who are very different sizes in body shape and body type and height — in the same chair, and neither of them adjusted, so their arm rests are at the same level despite the fact that one of them is 5 foot 10 and one is 6 foot 3," she says.
As more people learn about e-sports, McGee says her colleagues have gone from "what do they need physical therapy for?" to asking her for advice.
Players are also paying more attention to their physical fitness. She says the stereotype of a gamer sitting on a couch in a basement drinking Mountain Dew is more and more outdated.
"Not only are individual players getting invested in their health, but teams are making it a priority," she says. "As they recognize there's a significant amount of money to be made in this business, the health and longevity of their players is exceptionally important."
WHYY is your source for fact-based, in-depth journalism and information. As a nonprofit organization, we rely on financial support from readers like you. Please give today.